Hi Lovelies,
Welcome back! And welcome, if you are new here ???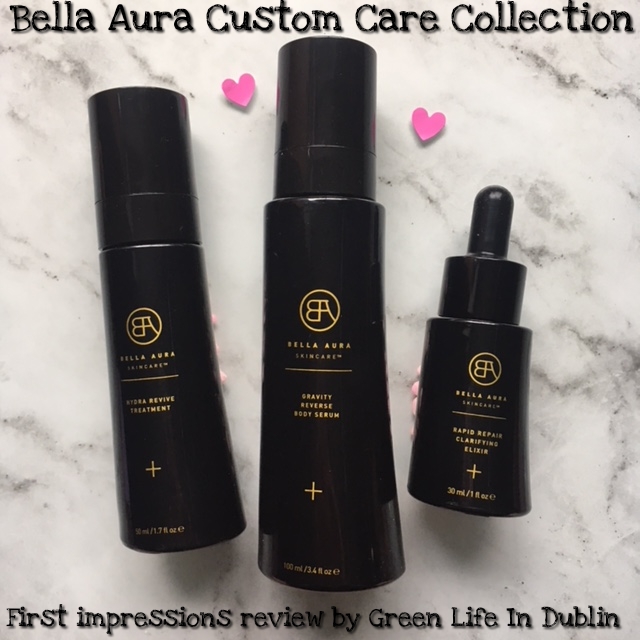 How are all of you? Hope you are well? Today I wanted to share my first impressions review of new and hotly anticipated Bella Aura's Custom Care Collection! I don't know how about You, but I certainly was at the edge of my seat for months, while Yasmine, the boss babe behind the Bella Aura brand, has been teasing us with spoilers via InstaStories. Yasmine herself is the best advert for her brand – you only have to look at her perfect glass skin to know you want to know what she's having!
You probably know my love for Bella Aura products knows no bounds (see review here, but please get a tea and a snack first, it is almost 4k words long. What can I say, I work hard and I like it that way)
The Swiss laboratory that Bella Aura partnered with is an international family business based in Switzerland that has been operating for over 75 years. As an innovative technology company, they supply demanding industries with natural and organic raw materials. They combine high-quality products, in-depth expertise and comprehensive services to offer their customers tailor-made integrated solutions. They think long-term, respond quickly, take a cooperative approach and are prepared to enter into and stand by commitments. They assume social and cultural responsibility and trust in the ability and loyalty of their employees and business partners.
Bella Aura is proud to source the ingredients from ethical and fair trade farms and artisan producers. All products are certified cruelty free and have high percentages of organic ingredients. I always knew Bella Aura is a fabulous brand, and I am happily witnessing it  collection various awards and certifications – don't just take my word for it, check their social media! Natrue and Nagoya compliant, Halal certified and bear both Ecocert and Cosmos certifications, no less.  Bella Aura bioactives are made with Swiss actives blended from ancient traditions, which are also certified Halal, Ecocert, Cosmos, Natrue, and Nagoya. Products are based on botanical extracts of plants, herbs, and trees and the protein content in their roots, leaves, flowers, fruits. They are 100% natural botanicals and biologically advanced ingredients essential to healthy skin.
So imagine my delight when these gorgeous products landed at my door on Halloween – all treats, no tricks, mind you! It's safe to say I did a happy dance on the spot, and I am still happy dancing! Let me cut to the the chase and tell you upfront that the products are as gorgeous as you imagine them to be, and even though I am testing them for a couple of days only, I think the products will take firm spots in my Holy Grail Products gallery – I am happy to report no initial reactions or irritations – including the perioral dermatitis patch I have on my left cheek. I think we all know how uber sensitive and reactive my skin is, and if the products suit me, chances are they will suit anyone, although of course, sample patch test is always recommended. I will follow up with the separate reviews on all the the products later on, this is first impressions review. And the impressions are good!
Shall we take a look at the individual products?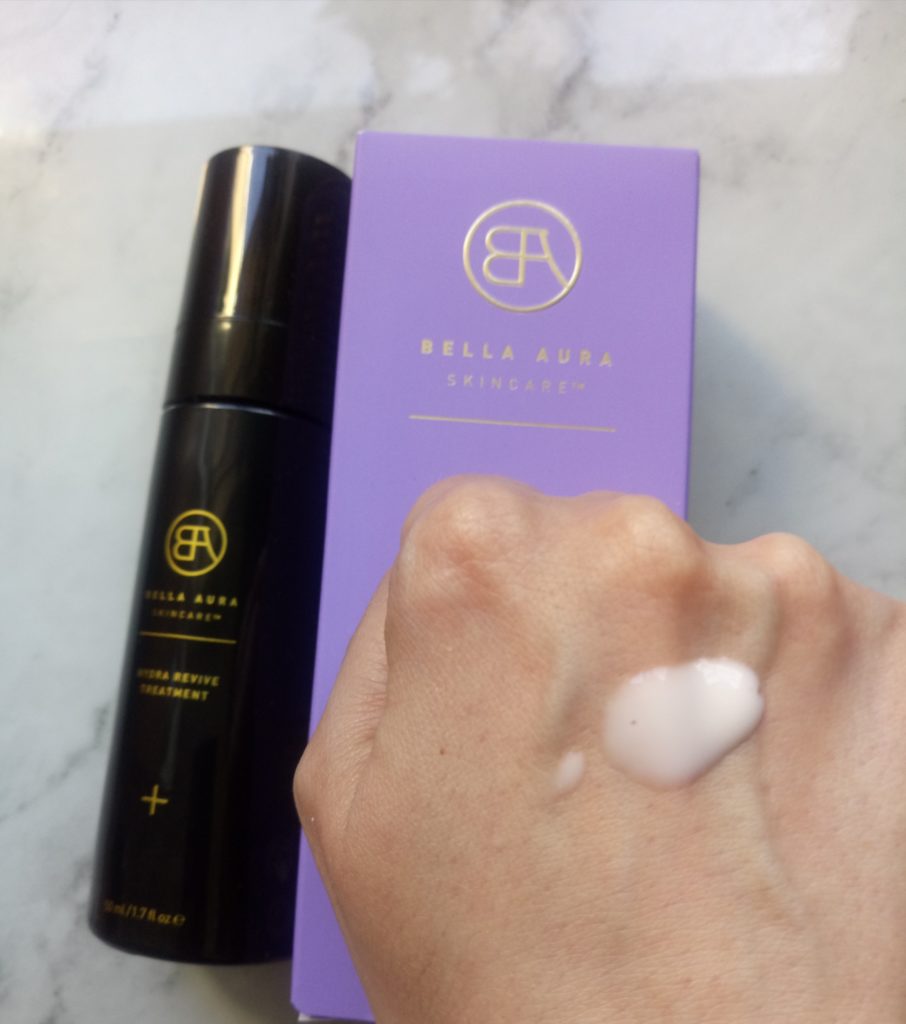 Hydra Revive Treatment
This is  essential oil-free serum that effectively hydrates, restores, calms and balances the skin.
Main ingredients: Icelandic moss extract, Magellan's peat extract, Polypodium Vulgare, Fern extract, Safflowerolosomes, olive oil extract.
This is the product I have tried first, and I was not disappointed! It has a similar consistency to other Bella Aura products, it is a thin emulsion that resembles a thin yogurt consistency, but do not let that fool you – the product is a powerhouse of wonderful natural ingredients and extracts like Icelandic moss and peat – say what? The ingredient list intrigues me to no end, and I am very curious to see what it will do to my skin in the long run. From the first impressions point of view I can say that my skin felt very smooth and soft the the touch, and once I followed up with Bella Aura day moisturiser, it felt good and moisturised for hours on end.  The product description promises to revive dry and dull skin and rejuvenate 20 years of youthfulness within four weeks (in-vivo study). Polysaccharides in evergreen fern extracts will help the skin to retain moisture and provide intense hydration. Skin will look fresh and young with increased smoothness, elasticity and firmness. Eight benefits in one product, doesn't that sound like a dream? This is aimed at dry and dehydrated skin, with loss of elasticity and uneven texture, dehydrated skin, eczema type conditions, dull skin, oxidized skin and fine lines.
Right? I feel this is the product that was made for me, and I will make sure to follow up with a detailed review in about four to six weeks – I always take that much time to really test skincare products.  Oh, and you get 50ml or 1.7oz of this product.
ACTIVE BOTANICALS
Icelandic Moss Extract, Magellan's Peat Moss Extract, Polypodium Vulgare Fern Extract, Safflower Oleosomes, Olive Oil Extract.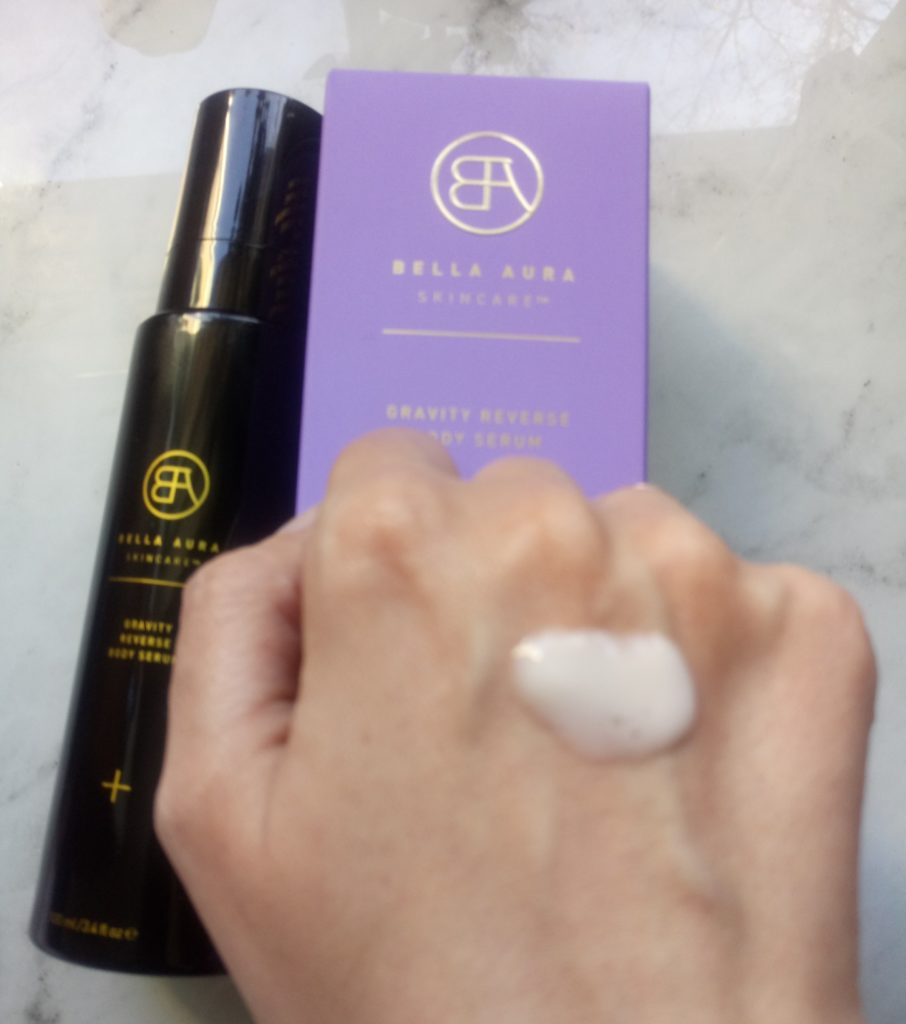 Gravity Reverse Body Serum
This is lightweight yet powerful body contour serum that deeply hydrates, restores skin firmness, smoothes skin texture and stimulates collagen production for measurably firmer, smoother and rejuvenated skin. There's that signature Bella Aura texture again, the serum takes no time to sink in into the skin, yet it leaves the skin deeply hydrated and super soft.
This multifunctional product is an intelligent collagen booster obtained from the leaf sap of the South African medical plant Bulbine frutescens. Smart skin collagen management is essential, because uncontrolled activation of collagen synthesis can lead to the induction of inflammatory processes and the development of low quality collagen. Thanks to the active substances knipholone and acetylated polymannose, BioActives recalibrates the equilibrium between the decomposition and reconstruction of dermal structures, thus providing the skin with an extra portion of high quality collagen. The active ingredient heralds a new era of natural high quality collagen boosters and paves the way for exciting cosmetic applications:
Aging gracefully
Lifting
Wrinkle filling
Contour remodelling
Reduction of stretch marks
Nail care
Tattoo aftercare
138 % improvement of wrinkle appearance and 100 % more facial collagen density as compared to placebo.
53 % reduction of stretch marks volume and 212 % visible improvement of stretch marks appearance as compared to placebo.
I am really looking forward to using this, especially seeing the effects promised- and knowing I'll be testing this in the cold months of the year, I'm interested to know how it will work on my skin.  Yasmine told me it is supposed to work on cellulite too, so I am really curious! I am yet to find a product that works in this area, and if this does, I will make sure to shout about it from the rooftops.
Oh, and you get 100ml of this product.
ACTIVE BOTANICALS
Bulbine Frutescens (Stalked Bulbine), Amazonian White Clay, Olive Oil Extract, Safflower Oleosomes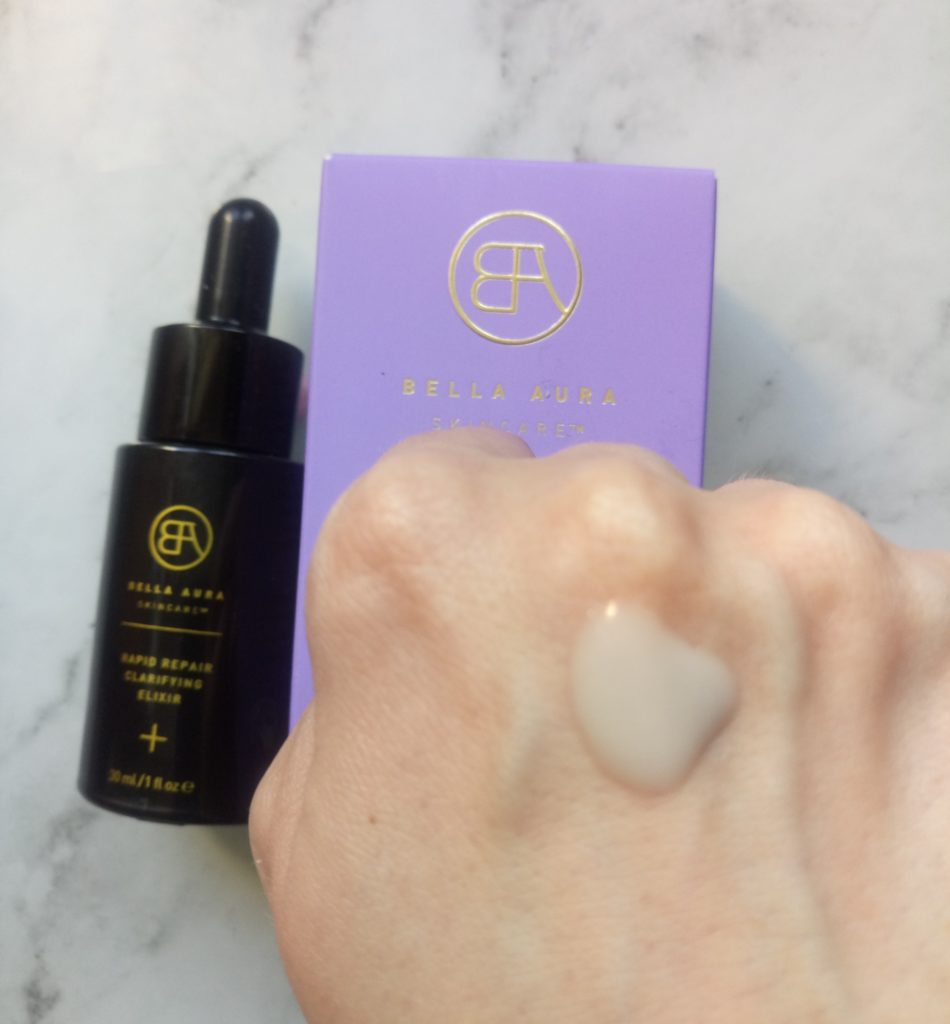 Bella Aura Rapid Repair Clarifying Elixir
This is another product I was dying to try and for a good reason – it has a highly concentrated antioxidants from Norvegian Spruce extract, as well as other amazing ingredients of course, but hear this – ten drops contains the same concentration of Lignans as the following:
50 cups of green tea?
100 cups of tomatoes ?
510 cups of lettuce
1800 cups of apples ?
70 cups of oranges ?
30 cups of cauliflowers
150 cups of onions
40 cups of cherries ?
160 cups of cabbage
50 cups of strawberries ?
40 cups of kiwis ?
77 cups of oats
Powerful antioxidants 24x more than flaxseeds
Say what? Shall we look further into the ingredients? This beauty also has rosemary leaf extract, blackcurrant seed oil, sunflower oil and microsilver. Sounds good? I think so! Just like Hydra Revive Treatment, this is another 8 in 1 product meant for acne prone skin that might have inflammation and dehydration, as well as redness, congestion and hypersensitivity, oxidized skin  and eczema type conditions.
This product is a bit different from the others in terms of colour  and smell – as you can see from the photo, it has a slightly darker than white colour, almost grey, and the smell isn't of neroli like  the other products. I actually like the smell, it is slightly herbal and forest like, it is like you would take a walk in the pine forest in sunshine and absorb all the smells around you. The texture is the same as all the other products, might be ever so thicker, and of course, it sinks in within seconds, leaving no residue, no tight or uncomfortable feeling or anything of that sorts. It actually holds up alone if I use instead of moisturiser, and it carries me through the day beautifully on it's own. Again, really interested to see what changes it will bring to my skin – and pinky swear to follow up with a review in a few weeks time!
ACTIVE BOTANICALS
Norwegian Spruce Extract, Blackcurrant Seed Oil, Sunflower Oil Concentrate, Balloon Vine Extract, Rosemary Leaf Extract, Safflower Oleosomes, Micro Silver.
So what are my final thoughts? I like the products so far, as I already mentioned, there were no initial reactions, which are more than likely if I test any kind of new product, so I am well chuffed. My happy and plump skin agrees! Let's hope things will continue this way – and I will certainly make sure to follow up with the reviews of all of these products in the next following weeks.
If you are interested in trying any of these new launches (and we both know you want to), here are some more good news – you can save 15% off them with my ambassador code "renata15", so make sure to use it at the checkout at BellaAura.com . They ship worldwide!
Wait, there's more! Keep your eyes firmly on my IG page as there *might* be a giveaway coming soon! My lips are sealed for now 🙂
If you want to know my thoughts on the main Bella Aura Collection and why they are my Holy Grail products, click here. (my code is valid on them too)
*Update on why I no longer stand by this brand, even though I still think their products are fantastic, can be seen here, scroll down to the very end.
That's all for now, see you here again next Tuesday!
Lots of Love,
Renata.

Enjoy my content? A  tip into my PayPal Tip Jar -  will get You my eternal gratitude and more awesome green beauty reviews Your way! I weed out all the greenwashing products so You won't have to.