Hi Lovelies,
Welcome back! And if you are new here, welcome ???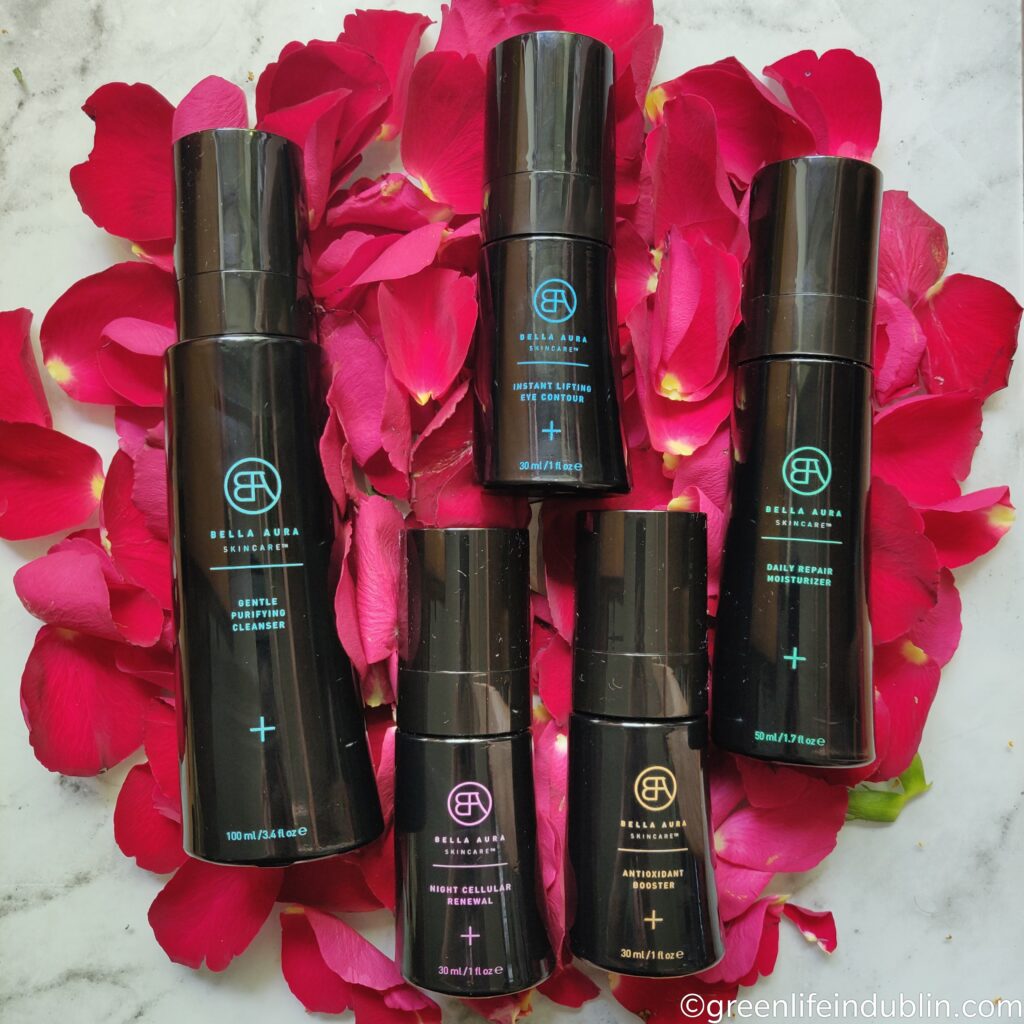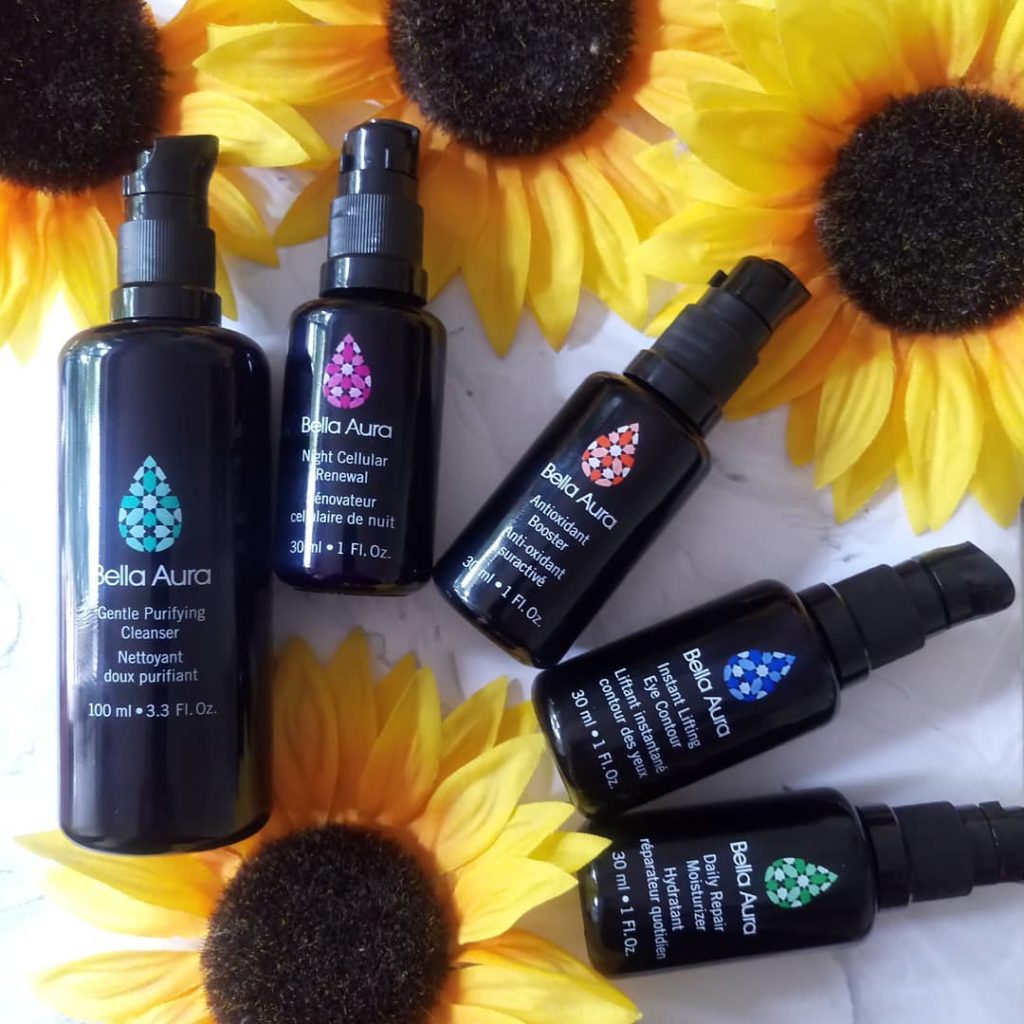 Let me present the review of something that really works for my sensitive skin – step forward Bella Aura products! I can't express my feelings enough about the whole line and how wonderful it is! I have started this review many times and every time it does not come out right, so I delete everything and start again. And again. It's just because there is so much I want to say and so much joy I want to express, the words are tumbling down faster than I can write them down. Let me put it in a nutshell – my sensitive skin found home! I am so amazed at this, as every single product in the line works amazingly well for my skin, and when used in conjunction I have clear and happy skin. And continuously so! I never had this with any other line or brand, and I never seen my skin changing so fast either. Needless to say I recommend this brand to just about anyone, because if it works for me, with uber sensitive skin, chances are it will work for you too.
Let me tell you a little pre-story – the day I received Bella Aura, I was sporting rare dermatitis breakout on my face, as many of you might know, I have form of Celiac called Dermatitis Herpetiformis, where the only outwards symptoms you get are dermatitis rashes all over the body. Nothing to do with herpes, mind you. And in my case it is extremely frustrating and annoying – because it always starts on my face before it spreads to anywhere else on my body. I am lucky girl, I know! Soo, long story short, Bella Aura products cleared the outbreak in three days! Even though they aren't specifically designed for that purpose. Let's pause here for a second and let that sink in and be a testament for the brand. Yasmine, you did a wonderful job! I was so amazed and delighted, as so so relieved I decided to go for it – as you might understand, trying new products is a scary thing for me. So many hyped up products in the green beauty community didn't work for me – if I didn't get an initial reaction, then most likely they were not working well on my dermatitis patch, making it redder and angrier. None of that with Bella Aura! In fact, the opposite was true – my skin (and my dermatitis patch) were soothed, nourished, glowing and happy. Needless to say everything else I own went into the fridge for the time being. Upon inspecting the ingredients I was happy to find out my
skin receives a supercharged cocktail of vitamins, minerals, antioxidants, peptides, hyaluronic acid,  coenzyme Q10 and more, delivered in a creamy white emulsion. During use, my skin was the clearest it has ever been—and I'm not exaggerating. Bella Aura is starting to collect awards, so don't just take my word for it – the line speaks for itself!
Bella Aura line came about when Yasmine Jones, the creator of the line, was suffering from deteriorating skin & acne scars after going through a traumatic experience with her mother's battle against leukemia (You can read her full story on Bella Aura website, link at the end of this post). After spending thousands on skincare products and consulting with skincare specialists, she found nothing was working to improve her skin. It was during a trip to Morocco that she met a prominent chemist/herbalist who believed that his oils would help her skin and after months of trying them, she began to see her skin improving. Yasmine wanted to add active ingredients to these oils, and with the help of Swiss skincare technology, Bella Aura line was born. According to Yasmine, most skincare regimens incorporate both serums and creams in order to balance out the advantages and disadvantages of each. By combining them into an emulsion for Bella Aura's blends, the best of both is fused into one.
There are only five products in the line so far (hold the horses for not one, not two, but THREE new products launching super soon! And what's more, there *might*be a giveaway for them on my IG page. What can I say, I am so excited!)  and they work amazingly well together – there's emphasis on less is more, and I have to agree in this case – these products are all my skin needs. For the most part, that's it, but let me explain that further on in this review.
Bella Aura products
The textures are that of thin lotion, but do not let that fool you – they are true powerhouses of amazing ingredients blended together into a powerful fusion. Yasmine describes it as a serum in a cream emulsion. As the products are light, they sink in very quickly, leaving no residue or heavy feeling you sometimes tend to get with oils. If it worked amazingly well for me, it will work for you too. Let's see some amazing ingredients in these products? All of the minerals and vitamins in Bella Aura products are derived from natural botanical fruit and vegetable extracts. Black oats, Nigela Sativa oil (also known as black cumin or black seed oil) and prickly pear (also known as fig de barbary or cactus oil) are the key ingredients in products.
Black Oats contain lipids and proteins which have humectant and emollient properties that help to moisturize the skin keeping it soft and supple.
They also contain antioxidant properties making them extremely anti-aging, and helps with inflammation as well.  Black Oats are known for helping with more sensitive skin conditions such as eczema and psoriasis. and they also contain saponins which make them a gentle cleanser for more sensitive skin.
Nigella Sativa is a flowering plant that originates from Southwest Asia, India and North Africa. The flowers are usually white and pale blue. They belong to the plant family known as Ranunculacease (buttercup family). This miracle oil has been used in traditional medicine as a remarkable healing agent with powerful restorative properties since the beginning of civilization.  Originally, it was called Panacea, which means to cure all.  It is said that Cleopatra used Nigella Sativa oil in her beauty routine for hair and skin. It was also reported that the oil was found in the tomb of King Tut in Ancient Egypt.  Bella Aura uses Nigella Sativa that farmed and processed in Morocco. They work in partnership with local farmers to produce 100% premium, natural, organic Nigella Sativa seeds, and never use any chemicals or pesticides during the planting, farming or production process. The virgin seeds are cold pressed, bottled in dark glass bottles and stored in a dark cool place to ensure that the chemical properties of the black seeds are retained.
Nigella Sativa, (also known as Black Cumin Seed or Fennel Seed) contains over 100 chemical compounds that are direct contributors to having beautiful skin. This is the most powerful oil in the world with a significant amount of protein and exceptionally high in antioxidants. It is rich in unsaturated fatty acids, calcium, selenium, magnesium, iron, beta-sitosterol, copper, zinc, potassium, paltimol, niacin, vitamins A-B-B2&B3-C-D&E in the seeds. Nigella also delivers the essential Omega3&6 fatty acids that are not produced naturally by the body. This extraordinary oil also has anti-inflammatory and anti-fungal properties.
Nigella Sativa oil is renowned for keeping your skin looking flawless, young and radiant. This powerful oil helps prevent blemishes, fine lines, age spots, dry or oily skin. Some clinical studies suggest that it is beneficial for removing scars in the skin as well.
Fig de Barbary, also known as (Prickly Pear, Cactus Oil and Opuntia Ficus Indica) is one of the richest oils that fortify the skin with the essential vitamins A-B1&B2-C-D-E-F-K and Omega 3-6-9 fatty acids. It also delivers a wide range of the vital minerals magnesium, zinc, iron, calcium, potassium, thiamin, niacin, beta carotene, amino acids, selenium and many more. Fig de Barbary is miraculous oil that acts as a natural barrier against free radical damage, which is the major cause of premature aging.
This extraordinary oil has a powerful anti-oxidative activity and high moisturizing value to rejuvenate mature skin for a remarkable lifting effect. It reduces dark circles under the eyes, hydrates, smooths, firms and refines skin texture plus brightens the complexion. It is a true beauty elixir that is quickly absorbed into the skin and leaves no greasy residue. This age-defying oil contains almost 150% more of the anti-aging antioxidant Tocopherol in comparison to any other oil in the beauty care industry, including Argan oil.
The Fig de Barbary oil is produced in Sidi Ifni that is located in southwest Morocco. It is one of the most expensive oils in the world to extract and requires the production of about 1 million seeds to acquire just one liter of this precious oil. Our Fig de Barbary plants are completely pure and organic with no chemicals or pesticides used during the farming process.
If we want to break down ingredients further to singular mineral and vitamins, here's what they do:
Omegas 3-6-9s play an important role in all skin conditions, such as combating wrinkles, lines, acne, eczema, psoriasis and even dry, flaking or very oily skins. These good fats are credited with helping your skin's cell membranes stay healthy, which acts as a barrier to harmful exterior conditions. The cell membranes influence the cells ability to retain moister, thereby producing a softer, more subtle and more wrinkle-free skin. The anti-inflammatory compounds in 3-6-9s help to affect how healthy the skin looks and feels during the aging process.Magnesium is a powerhouse mineral that is essential for keeping your skin performing at its best. It has anti-oxidant clout with enzymes that regulate DNA replication and repair to prevent the skin being subject to a host of wrinkle-producing malefactors, such as free radical damage and inflammation. Without the DNA repair from Magnesium, you will continue to be assaulted by free radicals and it's only a matter of time before fine lines and wrinkles begin showing up.
Zinc is beneficial for many acne sufferers who are deficient in zinc. Once they start obtaining zinc in their daily regimen, their acne often improves. It is a trace mineral essential to all forms of life, such as gene expression, cell growth and cell replication and especially important for clear skin.
Calcium includes cell renewal, lipid barrier function, and antioxidant protection from DNA damage. Calcium is the most abundant mineral in the human body and a deficiency can manifest itself in skin dryness, itching and premature wrinkling.
Potassium is a vital indicator of healthy looking skin because it is a key player in cell integrity by maintaining electrolyte balance and internal fluids, thus keeping cells hydrated and skin internally moisturized.
Beta Carotene is a carotenoid known for its antioxidant properties. Its ingredient in skin care products can include skin cleansers, facial moisturizers, foundation, sun products and anti-aging treatments. Beta-Carotene provides protection against sun damage and helps to even out skin tone and improve skin texture.
Amino Acids are the building blocks of beautiful skin. They help to produce collagen, elastin, and other proteins and fibers for strong, soft and desirable skin. Selenium has a number of positive attributes in skin care with the key role relating to its antioxidant properties and ability to tackle free radicals. Free radicals result in the disruption of living cells such as skin cells. Selenium helps to retard negative environmental factors such as pollution, radiation, cigarette smoke and herbicides, which can spawn free radicals.
Copper holds promise for prolonging youthful looking skin. It plays an important role in maintaining healthy skin because it helps to develop collagen and elastin, which maintain the strength of the skin for less sagging and fewer facial lines. It also has antibacterial and antifungal properties, which help prevent skin infections.
Sterols are natural compounds derived from plants, fruits and vegetables and essentially vegetable fats that enhance the human immune system. Phytosterols are extracted from different botanical sources. Phytosterols contribute to the structure of the cell membrane and have anti-inflammatory properties, which contributes to anti-aging properties. Phytosterols and polyphenols improve sun-damaged skin.
Carotenoids come from fruits and vegetable and help your skin's complexion look healthy. They travel through and get stored in our bodies with the help of fats and enhance skin color and tone for a beautiful glow.
Ferulic Acid is found in the cell walls of plants and acts as an anti-oxidant that seeks and destroys several types of free radicals that cause skin damage. It act synergistically with other antioxidants such as Vitamin C & E and makes them more effective and powerful in preventing wrinkles.
Lemon Balm contains romarinic acid, which offers stronger antioxidant activity than vitamins C and E. This antioxidant-rich botanical helps to prevent free radical cell damage.Rutin is a type of bioflavonoid that has a very high anti-oxidative capacity and the ability to increase collagen production for reducing fine lines and plumping the skin. It also acts as a protectant from oxidative damage caused by sun exposure.
You may or may not know that I road test every new skincare product prior to writing a review on it, and this was no exception. Your skin renews itself at around 30 days period (40 if you are 40, yay or what?), so I need to make sure I test the product thoroughly before I speak about them. I see no point in doing first impressions reviews on skincare, but that's just me. Here's my skincare routine for the last year or so:
AM: no cleanser, refreshing my skin with thermal water and konjac sponge or washcloth.
1 pump of Antioxidant Booster mixed with 2 pumps of Daily Repair Moisturizer applied all over the face
1 pump of Instant Lifting Eye Contour, applied on the under eye area, upped lid, eyebrows and around lips.
PM: skin cleansed with a few pumps of Gentle Purifying Cleanser, followed by
1 pump of Antioxidant Booster mixed with 2 pumps of Night Cellular Renewal all over the face, followed by
1 pump of Instant lifting Eye Contour, applied like in the morning – on the under eye area, as well as on the upper lids and around the lips.
As I already mentioned, I shelved or rather refrigerated all the other facial products I used and stopped all PR products when it comes to skincare. What can I say, coming from a beauty blogger, this is BIG. I think you already got the impression on how great my skin loved these products (see the gushing at the beginning of this post) . Also worth noting is that when I first tested the products a year ago, I tried to stop using the entire line and go back to my usual products only incorporating one or two Bella Aura product into the set up – and that's when my redness and skin irritations came back. So that's why I wouldn't recommend getting just one of moisturizers if you are new to the brand, you might not see the full potential of the products, and/or it might not mesh well with whatever else you are using. I would recommend getting a sample set first, and using all the Bella Aura products together – in the sample set you will get 10ml of each of the product, and trust me, they will give you enough use for a couple of weeks – plenty of time to see if the products are for you or not. I can bet you will end up falling in love with the products in the first couple of days, just like I did. The day and the night creams are very similar in consistency, as well as how they feel on the skin, but upon inspecting the ingredients I realized they have different ingredients, thus you might not cut corners and use only one of them. The Antioxidant Booster is a true star in my book, makes everything so much better and my skin truly likes it. For a while, I wondered how it would perform boosting my other creams I own, but at the same time I didn't really want to try it, as I enjoy using Bella Aura exclusively too much. The eye cream works great, is light and sinks in quickly. I was a bit worried about it at first, as prior to this, I only used under eye oils for two years straight (Earthwise Beauty Passion Eye Serum and Wabi-Sabi Botanicals Budhi Eye Nectar – they might be called serums or nectars, but in reality they are oils). So I was a bit worried about not getting enough hydration in this delicate area, but my qualms were quickly squashed, it works great! It is also the first eye product to make a difference in darkness I have – not a stark night-and-day kind of difference, but I am impressed nonetheless. The cleanser I too found great, the same milky consistency like other products, but you get huge bottle of it, and must say it works great for my sensitive skin, it does not irritate it, which is super rare for me. It does not lather, but it cleans your face nonetheless. I find no need to double cleanse, and it takes all of my make up beautifully in one use. Even eye make up, but please take my advice and do not open your eyes when doing it. Rinse well first. Just saying.
Yasmine herself is the best advert for her brand – not only she looks drop dead gorgeous, but what drew me in was her gorgeous soul – so I am so glad green beauty community connected us! She not only supports several charities and works with the communities in her native Morocco, but I also witnessed her supporting her fellow green beauty sisters in a big way – she donated a portion of her profits to Lily's aka Genuine Glow hubby's cancer treatments, as well as when Taylor from My Lucite Dreams lost her home (and a dog) to a fire. Now, how amazing and thoughtful is that?! Be sure to check out the blog portion of her website and her Instagram too – you can find so many helpful tips over there, as well as facial massage videos – I think those are well worth checking out.
My overall thoughts – I was deeply impressed by every single product in this line, and honestly, I can't even begin to pick a favorite! This truly is a beautiful and thoughtful line that really does deliver on its claims. My skin is so temperamental and difficult to please most times and during the entire testing period (about 1 year now, if you can call 1 year a testing time? I think we can all agree it is so much more that that), my skin is calm, clear, hydrated and just healthy looking, which it hasn't been in a long while. I know it's not the most wallet-friendly brand, but trust me, it is worth every single penny! As anyone with the troubled skin know the value of good skin days – it gives you wings and this new found zest for life! And that to me is priceless – I am willing to stop spending all my money elsewhere "for the sake of blogging and reviewing content" and truly invest in me, you know?
If you asked me to point out anything bad about the products, the only thing that comes to my mind is that the eye product could do with a different pump – the way it is now, I find it dispenses too much product, and I can't half-pump it. With the amount it gives, I can easily do under eyes, upper lids, eyebrows, around the lips, and oftentimes I find I still have some product left, which I use on my neck. But that's a good problem to have, isn't it?
Bella Aura products have had a make over with new packaging and slight formula tweaks, so this might be the last time You see this packaging, although I am sure my and BA love affair will continue. It's the same as finding THE ONE – you just know!
You can get it from BellaAura.com (use my code "renata15" to get 15% off your order) and EU distributor for it BeautyWiseShop.be. (shop no longer exists).
(none of the links is affiliate link, just FYI, so we would be on the same page. One of them is an ambassador link, the other is purely for your convenience)
*Update on why I no longer stand by this brand, even though I still think their products are fantastic here, scroll down to the very end.
Have you tried Bella Aura products? What are your thoughts on them? Please share, I would love to know!
Psst, keep your eyes peeled for the launch of the new products and my first impression review post very very soon!
That's all for now! Ta-ta & I will see you here shortly. Always new posts on Tuesdays.
Ps. I have since been asked to be Bella Aura ambassador, and of course, I said yes in a heartbeat!
Lots of Love
Renata.

Enjoy my content? A  tip into my PayPal Tip Jar -  will get You my eternal gratitude and more awesome green beauty reviews Your way! I weed out all the greenwashing products so You won't have to.
*Post features PR products and an ambassador link. So you'd know and we would be on the same page.