Hi Lovelies,
Welcome back! And welcome, if you are are new here xoxo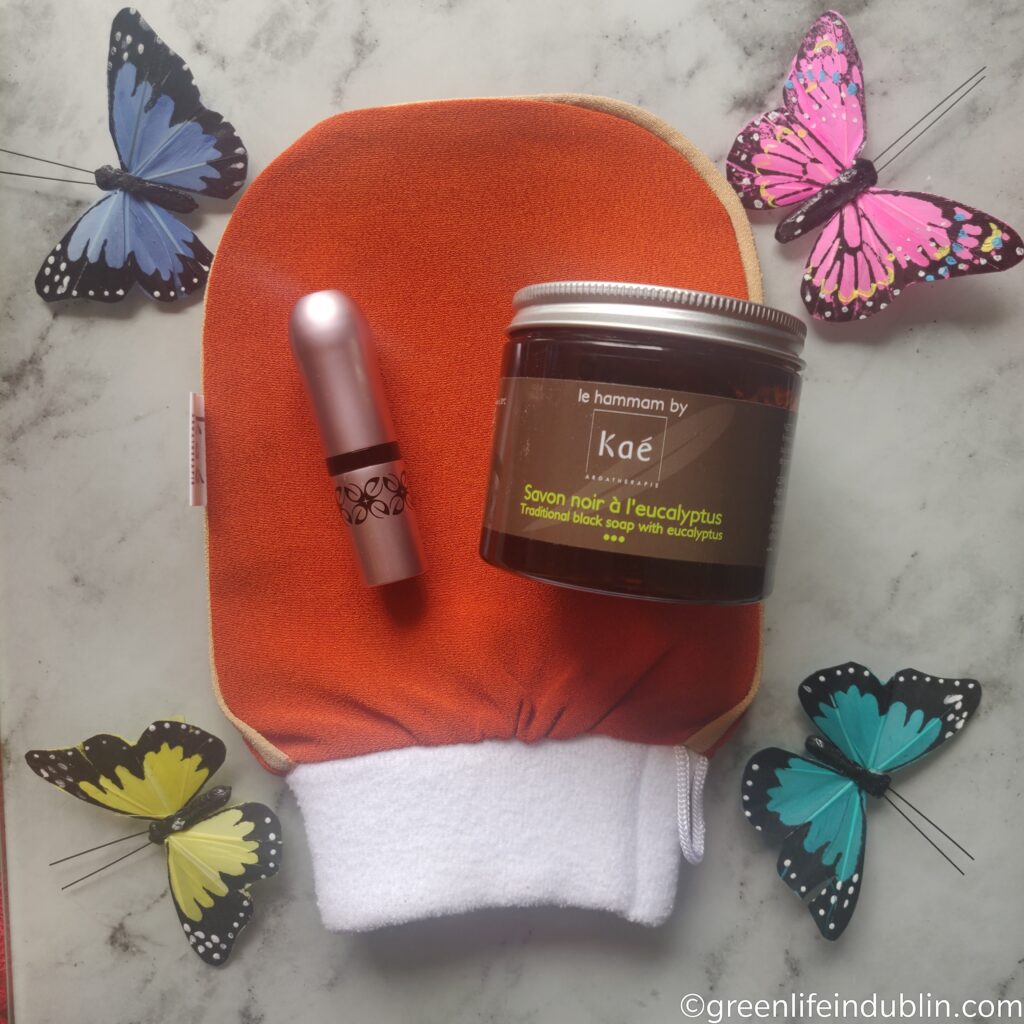 As I explained in my last month's post, Love Lula* wants us, lucky ducks also known as Love Lula bloggers, to post about the products we pick in the same month, so therefore I am changing the way I blog about them too. I used to collect a few products over time and only then post my reviews, but from now on, I have decided to talk about the products I pick in the given month on a first impressions basis, and give more detailed feedback about my last month's picks at the end of the post. I think this will work out pretty well for all of us, don't you think? I will do the same for the Love Lula Beauty Box posts too.
*sadly Love Lula is no more. Sob!
So without further ado, let's see what took my fancy this month? Well, it might be a bit of an odd choice, but I picked Kai Hamman style soap with a matching glove… and a lipstick. Insert blushing emoji here 🙂 Let me explain! Due to a bit of surplus of skincare past The Beauty Shortlist Awards, I had a good talk with myself asking what I actually needed at the moment, so I settled on the products mentioned. Trust me to be attracted to all the things weird and a bit off norm – step forward gloopy exfoliating soaps (Kai) and products with flower and crystal essences!  (Nature's Wish, talked about in my last month's post) I wanted to try this sauna type soap for forever, not even sure why, I have been to an actual sauna just a couple of times in my life! I actually wanted it for the start of the winter due to eucalyptus, I figured out it must be a good thing to use in winter to stay healthy. It seemed to be sold out every time I looked for it, so now is a good time as any, so I am very excited to be trying it. I also made sure to get a kessa glove after reading a lot of reviews, I knew it is crucial step to get the most out of the experience. Shall we look in the ingredients of the products? The list is impressively short and truly natural – some cheaper hammam soaps I've looked into (not on Love Lula, mind you!) had sneaky fillers in form of mineral oil and other nasties, so here's a little takeaway for you – make sure to always, always check the ingredients prior to buying anything!
KAE TRADITIONAL BLACK HAMMAM SOAP WITH EUCALYPTUS*
Ingredients: AQUA, OLEA EUROPEA, POTASSIUM HYDROXYDE, EUCALYPTUS GLOBULUS, CITRUS PARADISII EXTRACT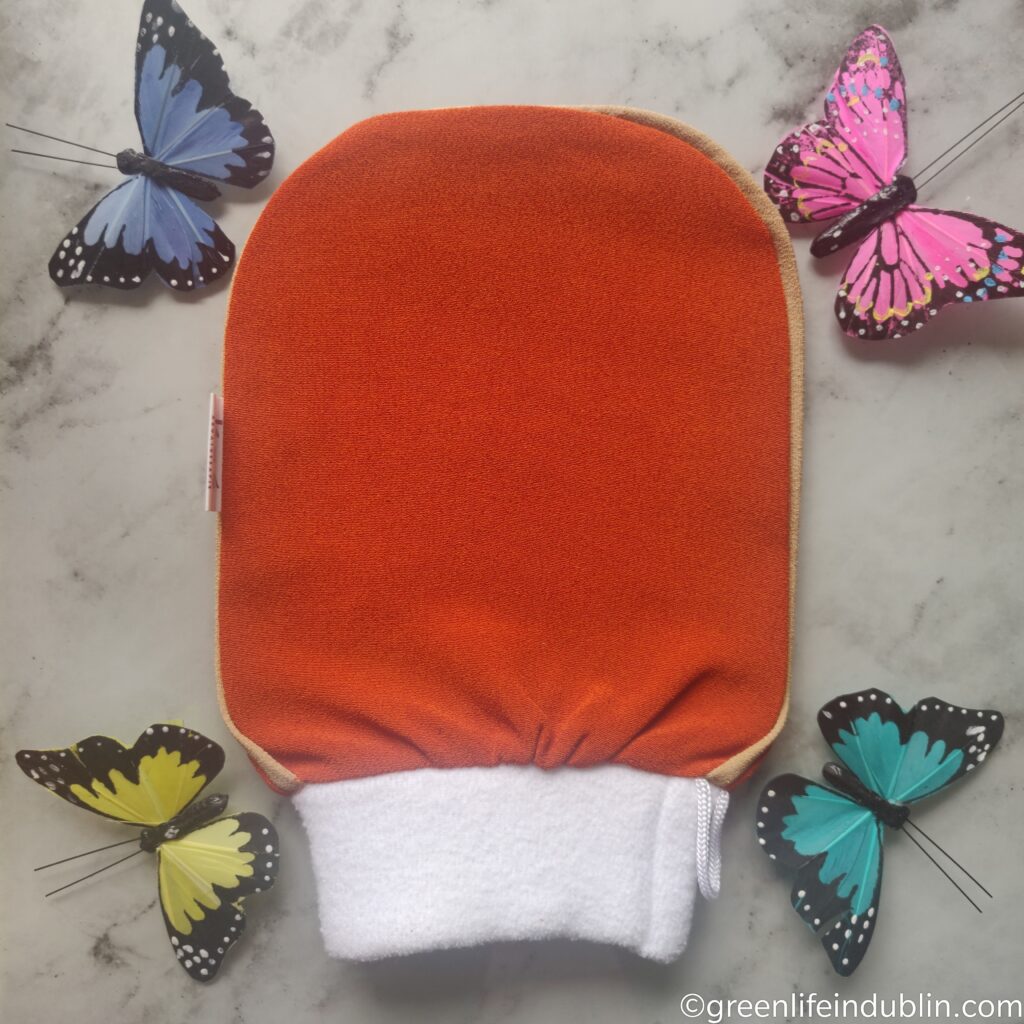 KAE TRADITIONAL HAMMAM GLOVE (KESSA GLOVE)*
(I did not find what's it made from either on Love Lula or the brand's website)
Like the soaps traditionally used in the oriental hammam (steam room), Savon Noir Black Soap is a 100% vegetable paste made of olive oil, eucalyptus essential oil and salt. It cleanses and removes dead skin cells while hydrating and firming skin . It is rich in vitamin E and is suitable for all skin types.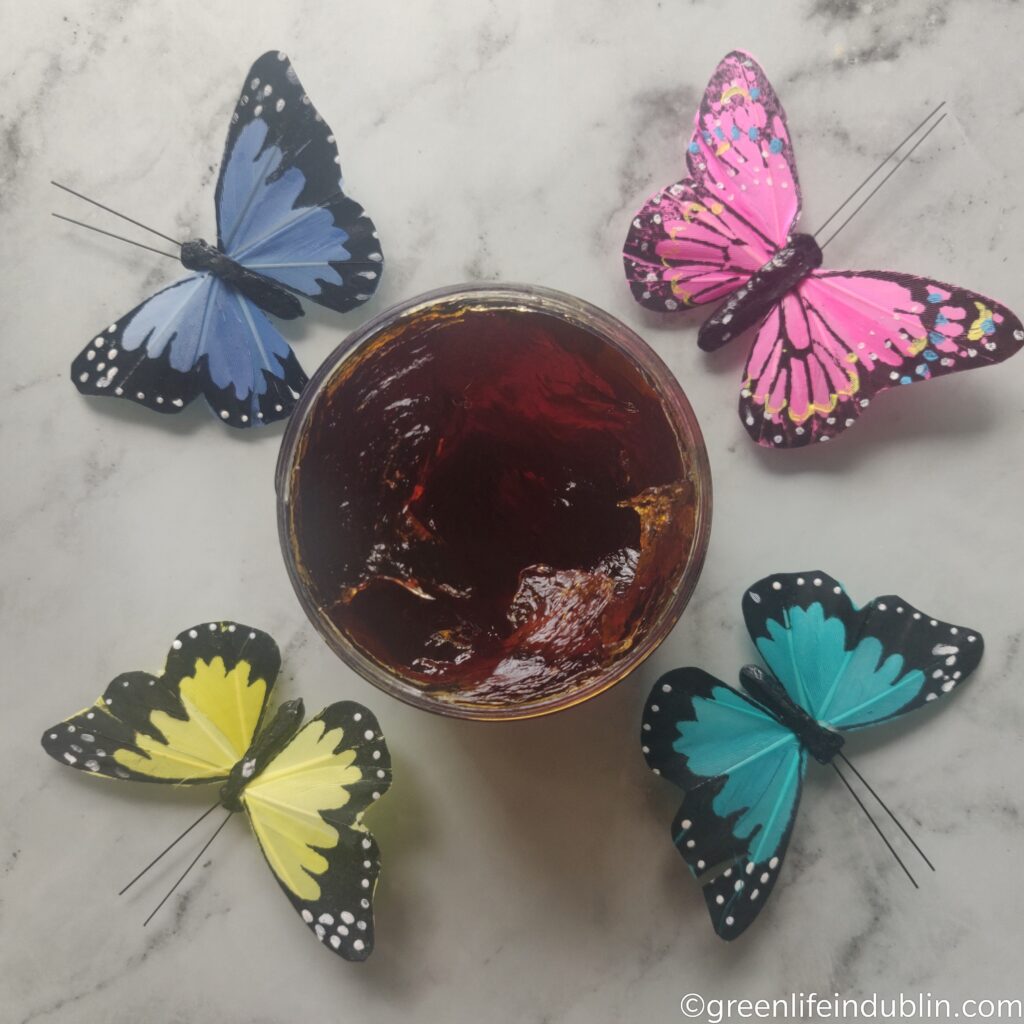 How to use Kae Traditional Black Hammam Soap with Eucalyptus:
In the shower : massage in the black soap on your wet skin, rinse then scrub vigorously with the Kaé "kessa" glove. Rinse with cool water keeping on scrubbing in order to eliminate dead cells. Black soap can replace your common soap or shower gel. Result : a remarkably soft skin.
In the bath : apply on body with your hand then scrub vigorously with the Kaé "kessa" glove (for the face, use your hands).This will take off dead cells for a suppler, well hydrated skin and a firming effect in the long run.
Both the soap and the glove have five star reviews on the website, so I am expecting good things from it. We shall see. So far I used it twice or trice, and first impressions are really good! The soap has a nice texture and uplifting eucalyptus scent, which might be not to everyone's liking, but let me tell you it is so good to experience those additional aromatherapy benefits, and it is so good at clearing your sinuses. I already can tell you for a fact I will be purchasing another jar at the start of every winter to come. The kessa glove looks like it is a good quality product, it shrunk a bit on the first use, but that's not a problem at all as it fits my hand very comfortably now, whereas it was too big when I purchased. Its is the best exfoliating glove I've had to date, so so good at removing those pesky dead skin layers. Up until now I wasn't the one to invest in the proper shower glove, preferring to buy any cheapie instead, but this blows them all out of water. Rally enjoying the soap itself too, it really does what it say on the box (err, plastic jar) – cleanses, removes dead skin cells, is not drying in the slightest, which I love. The brand also says it should firm the skin with continuous use. I am yet to see that, but would be very happy to see the firming action going on – at a (very) wrong end of 30s, I want all the firming action I can get, haha! I will definitely update you on this next month. So far, so good, I am very happy with my choice.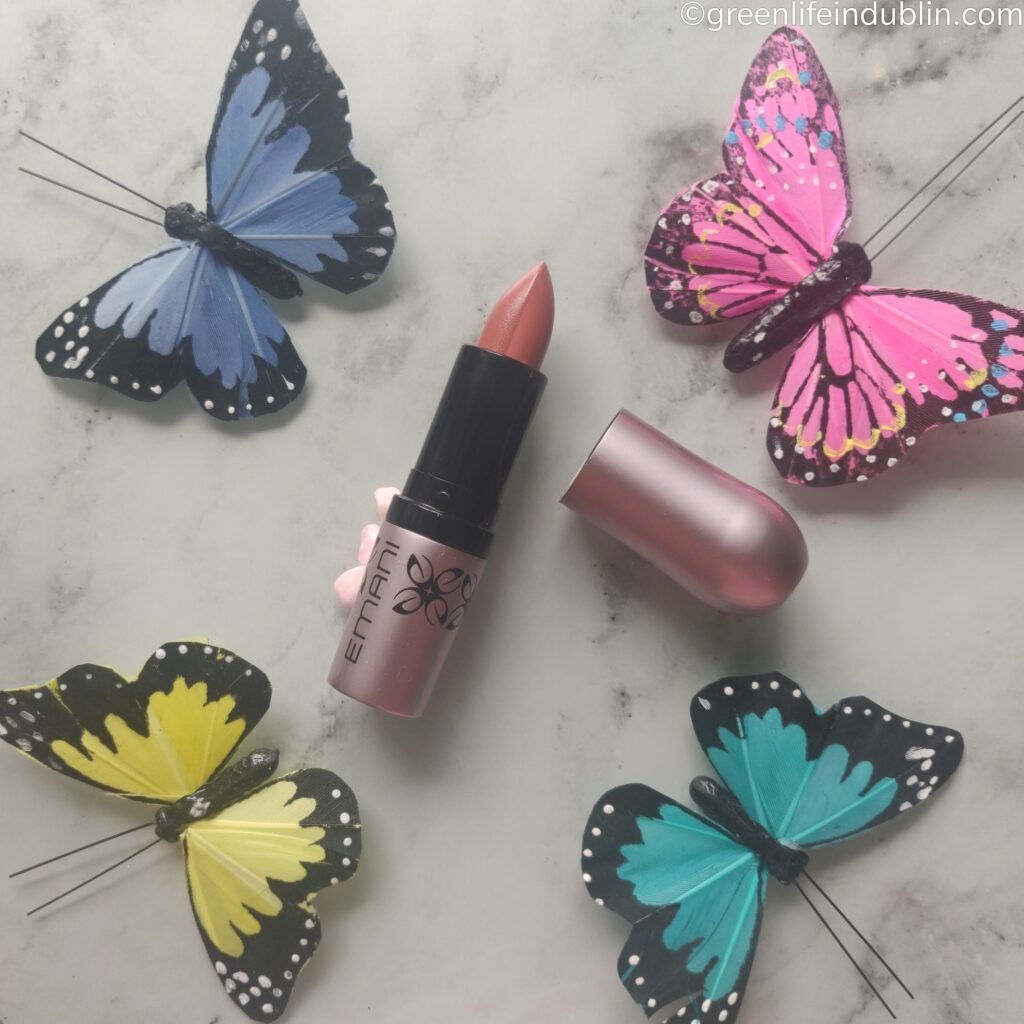 EMANI VEGAN COSMETICS DUO LIPSTICK IN XANADU*
Another product that caught my eye was a duo lipstick from Emani. I don't know about you, but I was like a little kid when I spotted them on the website – the thought of having different colours on my top and bottom lips excites me! Like a mini rebellion in an office environment or something 🙂 After mulling over which one to choose, I went for Xanadu, which is described as peach and pink, but looks rather dark on the website. From the experience I know what you expect and what you will actually get might be two very different things, so I poked around online and IG for the reviews and swatches, and I settled for Xanadu, but Shangri La (hot pink and soft pink) also called my name – maybe that's my next purchase, who knows? Here you can see it swatched, both sides, but no picture of me modelling it yet, truth to be told I am sporting not only a juicy cold sore but also a dermatitis outbreak at the moment, so no can do, sorry, but there's always next month, right? Plus I am also including it in the Green Beauty Swatch Gallery post right here.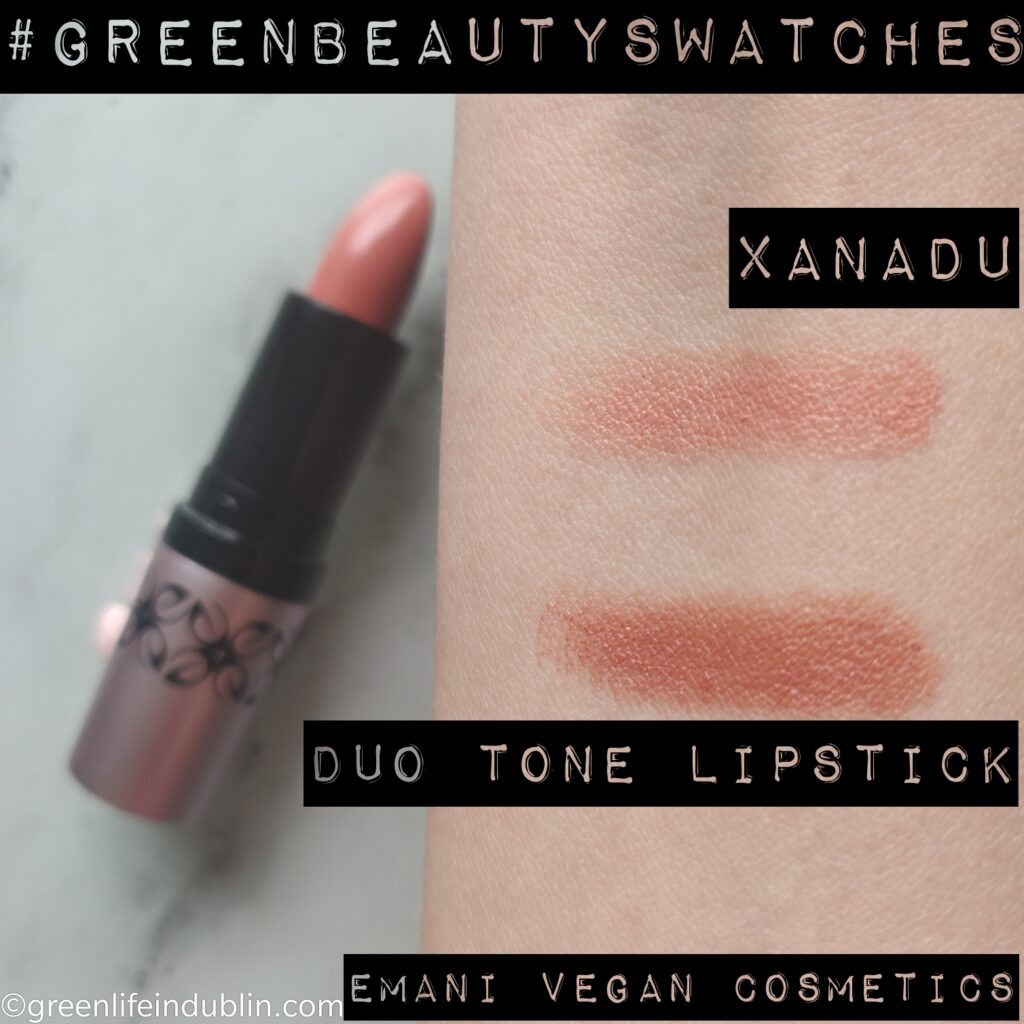 Ingredients: Ricinus Comunis Seed Oil, Jojoba Ester, Castor Isostearate Succinate, Caprylic/Capric Triglyceride, Euphorbia Cerifera, Copernica Cerifera Cera, Mica, Titanium Dioxide, Iron Oxides Ci 77947, Ci 77489, Ci 77491 May Contain Ci 15850/ Red 6, Ci15850/ Red 7, Ci91490/ Yellow 5
So here are my choices for this month, happy enough with everything. Let's see my thoughts about the products from last month, shall we? I thought you will never ask!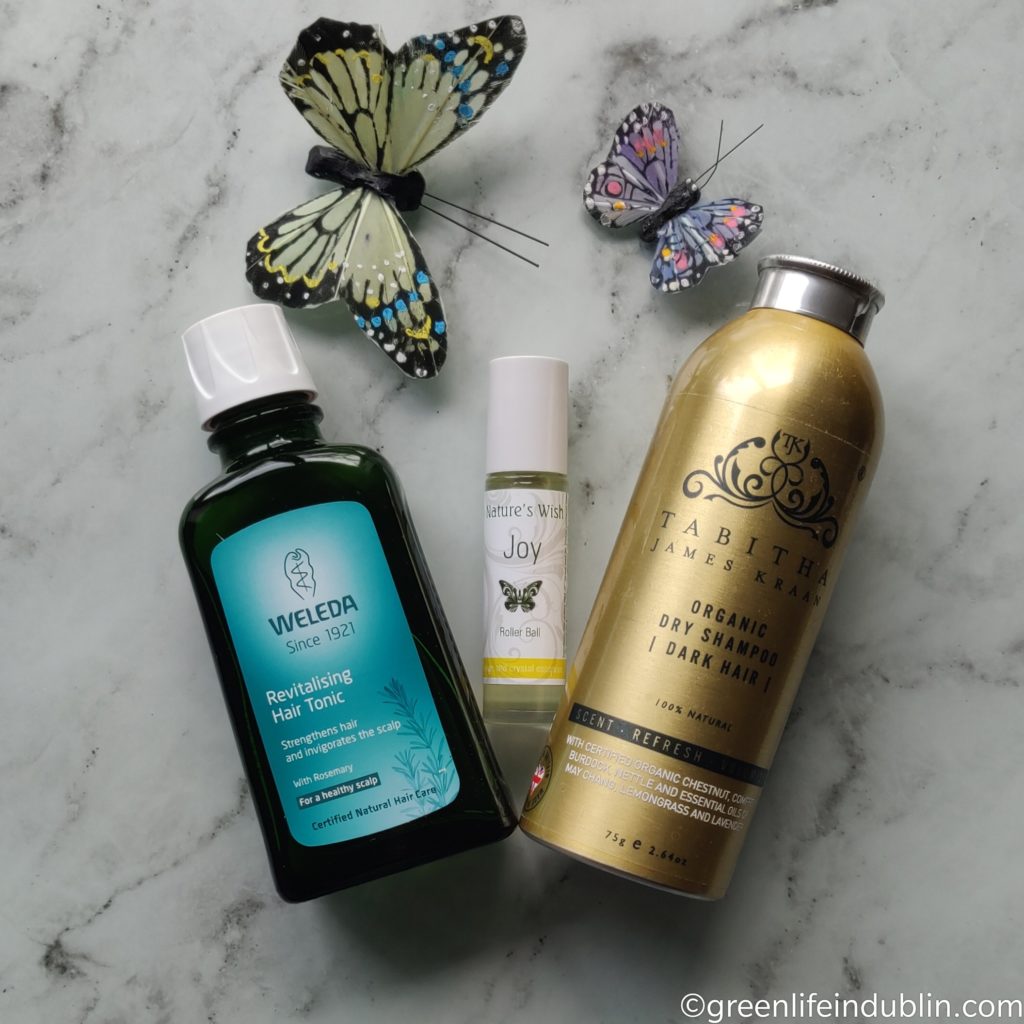 TABITHA JAMES KRAAN ORGANIC DRY SHAMPOO FOR DARK HAIR*
If you are still using conventional Batiste type of stuff, you should know this is very different from that and might take some adjusting. Not a spray can by any means, this is shake and apply kind of mechanism. For the product itself, imagine the cleanest ingredients possible, with nice extracts and powdered herbs like nettle. I don't know if this is my do all and end all natural dry shampoo, it is nice and I like it, but I'll probably get something else when  I will run out. Purely because this is only my second bottle of brand shampoo – up until now I've been DIYing it. So I will probably want to see what else is out there, you know? At rate I am using it, I am good for a year or something – you need only a little.
Weleda Revitalising Rosemary Hair Tonic*
Umm, let me be clear with you, I didn't use it enough to form a final opinion on it yet. The instructions say to use it twice a day, basically soak the scalp with it and rub it in. The morning soak didn't happen – my mornings are too rushed and stressful, and besides I don't want to leave  the house with a wet head. From what I remembered to use in the evenings, I didn't see any difference if I am honest. I am half a bottle down and I am debating with myself whether to continue or give it to my husband who has mild scalp psoriasis and weird acne that was never there before. We will see. I was expecting big things from it and I was pretty underwhelmed. Sorry, just being honest.
Nature's Wish Joy Roller Ball*
I spotted this brand as soon as they appeared in Love Lula – and almost immediately all of the products went into my Pinterest Wishlist. Well, not only I enjoy using this product, I am also collaborating with a brand for a separate review and there *might* be a mini giveaway involved too 🙂 So please keep your eyes peeled and keep checking back often 🙂
P.s. Please make my day and subscribe & share this or any of my blog posts on social media – it helps to get the green beauty word out and for that I Thank You!
FOLLOW ME ON
See my last Love Lula related post, February 2019 picks – Weleda, Nature's Wish, Tabitha James Kraan
Check out my previous blog with 400+ posts here. Lots of green beauty reviews  and honesty about products performance guaranteed 🙂
Lots of Love,
Renata.

Enjoy my content? A  tip into my PayPal Tip Jar -  will get You my eternal gratitude and more awesome green beauty reviews Your way! I weed out all the greenwashing products so You won't have to.