Hi Lovelies,
Welcome back! And welcome if you are new here xoxo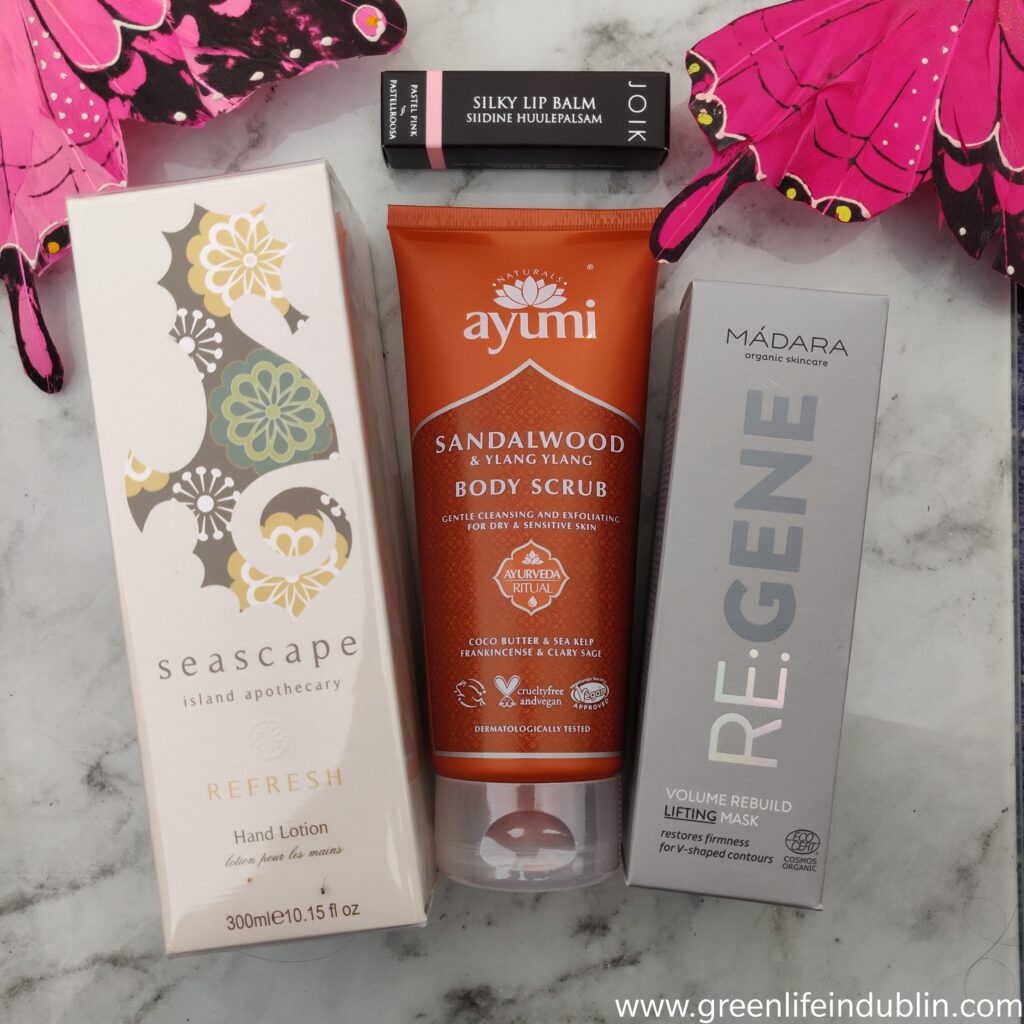 How are all of you, I hope you are well?
10th-11th of any new month is a day I can't wait to get up and check my Facebook – to check for the spoilers of new Love Lula Beauty Box (sadly no more). Love Lula has a closed group called Love Lula Natural Beauty Club (also no more) & a special thread for spoilers is created – so the people like me could check it out & comment and the people who like a surprise can skim over it. A girl with no patience here, I will be the first to admit it! Besides I like knowing what's coming more than I like a surprise – by the time I get it around a week later, I already have researched everything I need to know about the products, from the ingredients to the right ways to use them. And when I actually get the box, it is a joyful moment all over again.
As you might know, in the recent months I  started adding reviews of last month's beauty box products, and I am happy you guys liked it too. I think it is the best thing to do all around, you get more out of the post & it forces me to be more consistent instead of putting unboxed products & telling myself I will test them "later". Of course it means additional time, effort, spreadsheets and a bit more open products at any given time, but so far so good 🙂 I also have to say I released myself from pressure to test every single product my way, it is simply not possible to be using everything under the sun, and that's especially true with my super sensitive skin. So I will be sharing some products with you in mini giveaways – I think it is only fair I shared some love with my readers, would you agree? 🙂

So let's see what's in this month's Beauty Box, shall we?
AYUMI SANDALWOOD BODY SCRUB €7.92 for 200ml*
I was delighted to see this in the Beauty Box – you see, I have ordered myself a bunch of Ayumi products this month (see post here) and this was one of them. It is a surprisingly foamy scrub, smells delightful, but I wish it had a bit more scrubby bits to it. A bit too gentle for my liking, but it is ok – I am happy to have two as I know it will be used up in the near future. Everyone in the family loves this smell and I think I will repurchase the whole line once we are out.
INGREDIENTS: Aqua (Water), Ammonium Lauryl Sulfate, Pumice, Acrylates Copolymer, Cocamidopropyl Betaine, Coco-Glucoside, Parfum (Fragrance Essential Oil blend), Decyl Glucoside, Glycerin, Disodium Lauryl Sulfosuccinate, Olea Europaea (Olive) Seed Powder, Cananga Odorata (Ylang Ylang) Flower Oil, Pogostemon Cablin Leaf Oil, Lavandula Angustifolia (Lavender) Oil, Simmondsia Chinensis (Jojoba) Seed Oil, Orbignya Oleifera Seed Oil, Santalum Spicatum (Sandalwood) Wood Oil, Piper Nigrum (Black Pepper) Seed Extract, Zingiber Officinale (Ginger) Root Extract, Jasminum Grandiflorum Flower Extract., Cinnamomum Zeylanicum (Cinnamon) Bark Extract, Sodium Chloride, Citric Acid, Potassium Sorbate, Sodium Benzoate, Linalool, Alpha-Isomethyl Ionone
SEASCAPE ISLAND APOTHECARY REFRESH HAND LOTION 300ML – 16£ or 18.14€*
I am not going to lie, I was a bit surprised to see this as we had a hand cream from this brand not too long ago, in December Love Lula Beauty Box actually. Due to the surplus of products and really loving Kiss The Moon Love Night Cream For Hands at that time (I still do!) I gave the cream away to my co-worker, so I was really glad at getting the second chance to try this hand product by Seascape, even if it a lotion, not a cream. You see, the thing is, she declared that hand cream the best she ever had – and I was like "oh man, have I made a mistake giving it away?" 🙂 So big thanks to Love Lula to coming to the rescue and making both of us happy – this hand lotion now lives at my work and I've told my co-workers they can use it too. So curious to know their thoughts later on.
INGREDIENTS: Aqua (Water), Stearic Acid, (a stabiliser derived from Palm Oil) Caprylic / Capric Triglyceride (an emollient sourced from Coconut Oil), Cetearyl Alcohol (an emollient sourced from Palm Oil), Glycerin (a skin conditioner derived from Rapeseed Oil), Triethanolamine (a synthetic ph adjuster), Phenoxyethanol (a synthetic preservative), Aloe Barbadensis (Aloe Vera) Leaf Juice, Butyrospermum Parkii (Shea) Butter, Limonene (a fragrance component naturally occurring in fruits and plants), Lavandula Angustifolia (Lavender) Oil, Linalool (a fragrance component naturally occurring in fruits and plants), Ethylhexylglycerin (a skin conditioner derived from glycerin), Citronellol (a fragrance component naturally occurring in fruits and plants), Pelargonium Graveolens (Geranium) Flower Oil, Citral (a fragrance component naturally occurring in fruits and plants), Geraniol (a fragrance component naturally occurring in fruits and plants), Citrus Aurantium Dulcis (Orange) Peel Oil, Potassium Sorbate (a preservative in the form of salt derived from sorbic acid), Cymbopogon Schoenanthus (Lemongrass) Oil, Citric Acid (a ph adjuster derived from citrus fruit).
JOIK SILKY LIP BALM PASTEL PINK  7G – 6£ OR €6.80*
Another product I was delighted to see in the box as it was on my wishlist anyway. So far, so good Love Lula! Lip balms are always welcome in my house, the more, the better. This is another thing I have decided to leave at work, I will rest happy knowing it is always there when I need it. Anyone else have multiple lip balms on the go? I need one for my handbag, one next to the computer, one in the bedroom, they are everywhere really 🙂
INGREDIENTS: Cera alba, orbignya oleifera seed oil, persea gratissima oil, ricinus commuunis seed oil, simmondsia chinensis seed oil, theobroma cacao seed butter, CI 77491, CI 77492, CI 77499.
MADARA RE:GENE VOLUME REBUILD LIFTING MASK 60ML – £35 OR €39.67*
If you love Madara, you have to get Love Lula Beauty Box subscription – they are featured more than any brand, it would make you happy, I swear! This seems like an interesting product targeting v shaped contours of the face, or jowls to you and me. As someone five-minutes-to-forty (ahem ahem) I definitely need help in this area as I see things heading south. This seems like a mask that can be left overnight, but I would still suggest wiping it off after 20mins or so, as the few times I forgot to do this, I went past the mirror and noticed big dark marks on the lower part of the face. Good thing I haven't left the house 🙂 I love the fact it is a vegan product with 99% natural and whooping 81% organic ingredients, well done Madara! Let's hope I will see results in upcoming weeks.
INGREDIENTS: Betula Alba (Birch) Juice*, Helianthus Annuus (Sunflower) Seed Oil*, Butyrospermum Parkii (Shea) Butter*, Dicaprylyl Carbonate, Glycerin, Simmondsia Chinensis (Jojoba) Seed Oil*, Cetearyl Alcohol, Polyglyceryl-3 Distearate, Hydrogenated Macadamia Seed Oil, Theobroma Cacao (Cocoa) Seed Butter*, Hippophae Rhamnoides (Sea Buckthorn) Fruit Extract*, Isoamyl Laurate, Vaccinium Myrtillus (Blueberry) Fruit Extract*, Trifolium Pratense (Red Clover) Flower Extract*, Equisetum Arvense (Horsetail) Extract*, Alchemilla Vulgaris (Lady's Mantle) Extract*, Hydrolyzed Hyaluronic Acid, Sodium Hyaluronate, Aesculus Hippocastanum (Horse Chestnut) Extract*, Galium Verum (Bedstraw) Extract*, Sodium Levulinate, CI 77019 (Mica)**, CI 77891 (Titanium dioxide)**, CI 77491 (Iron oxide)**, Cellulose, Aqua/Water, Glyceryl Stearate Citrate, Palmitic Acid, Sodium Anisate, Stearic Acid, Lactic Acid, Palmitoyl Isoleucine, Xanthan Gum, Charcoal Powder, Aroma/Fragrance, Ascorbyl Palmitate (Vitamin C), Tocopherol (Vitamin E), Betaine, Sodium PCA, Sodium Phytate
+ A SAMPLE of VESTIGE VERDANT ORGANIC PEAT FACIAL MASK*
I have a full size of it and I am about to review it, so my lips are sealed for now (sorry) but what I can say is this – if you are after a potent mask, you need it.
INGREDIENTS: Sphagnum Peat Moss Extract, Aqua. Does not contain parabens, allergens or carcinogens. 100% Organic and Vegan
So, all in all it was a great box, I say well done Love Lula! I believe this time UK box and the international box were the same (sometimes they substitute other products for the ones they can't send internationally, like nail polishes, perfumes, etc..) and it is worth whopping 67£, meaning well over 70€. Four full size products people! Where else you would get that good of a value at the budget price you pay for? Exactly! What I like about Love Lula box is that you are guaranteed to get at least two or three full size products each month, the sample sizes are almost always deluxe samples, like travel sizes. In nearly two years I am getting this box, I've seen sample sachets less than five times, I swear. Are you interested yet? Check out here.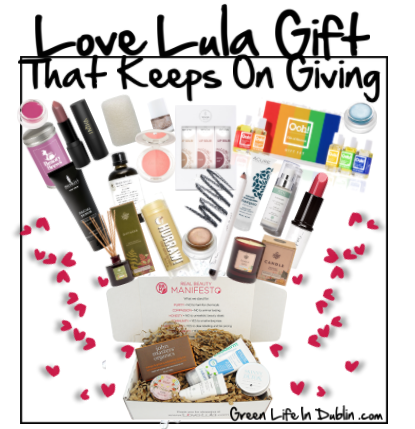 ---
---
Now, let's see my mini reviews of the products that came into April's box?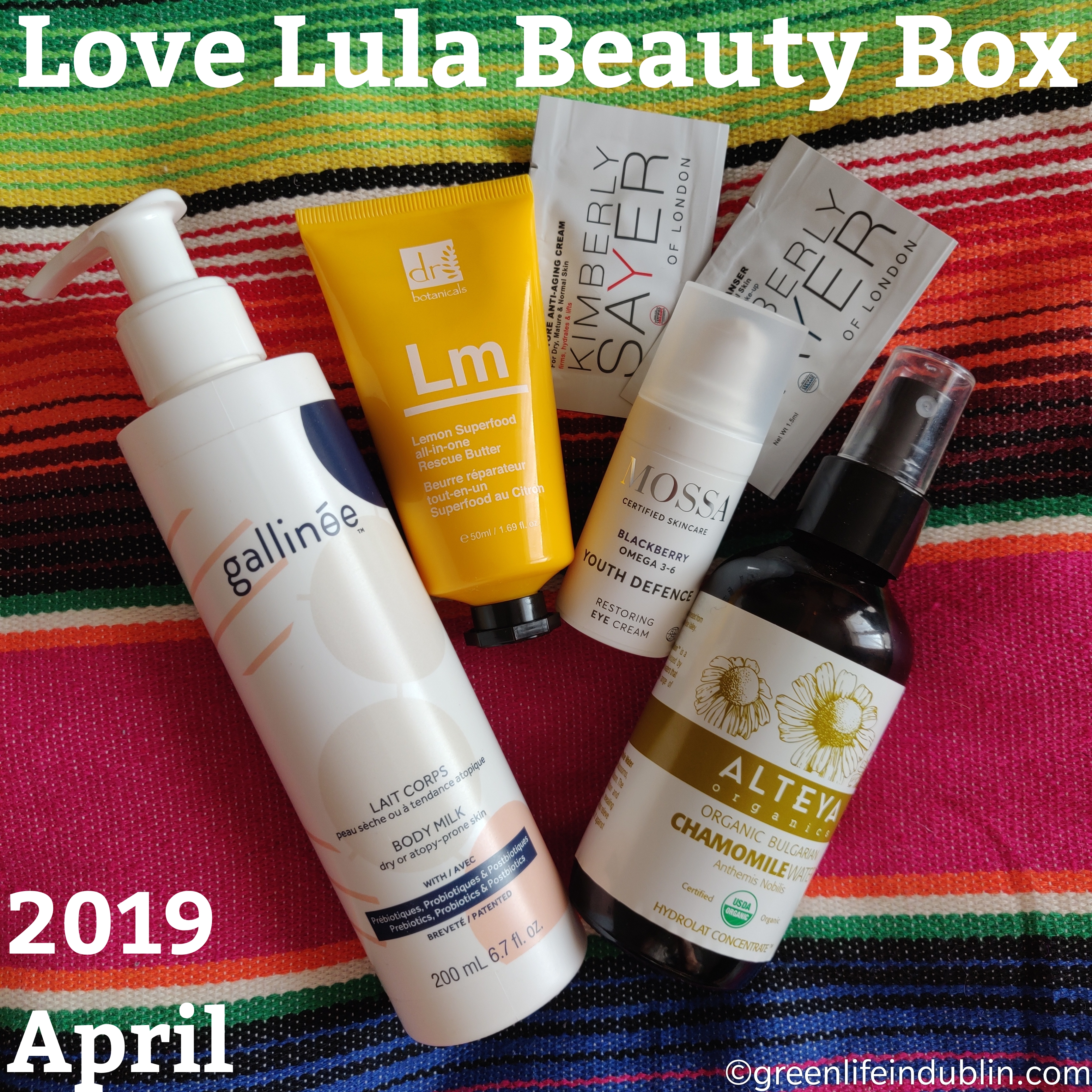 ALTEYA ORGANICS CERTIFIED ORGANIC CAMOMILE WATER IN A GLASS BOTTLE (£7.95 FOR 120ML)
Very well loved here! This was a super pleasant discovery for me once Love Lula started carrying Alteya Organics line – and I have already reviewed this back in November or December (see here). I can say this – if you have irritated skin, you need this. If you have dry skin, you need this.
GALINEE PROBIOTIC BODY MILK (28£ FOR 200ML)
I will be honest, I haven't used this yet – it is waiting in line as I am currently using Madara body lotion that also came in Love Lula box a few months back. I might give it away as not to waste a good product, I don't know yet.
DR.BOTANICALS LEMON SUPERFOOD ALL-IN-ONE RESCUE BUTTER (£19 FOR 50ML)
There was a fight over this in Casa Green Life In Dublin, as everyone wanted a piece of this (it smells amazing!) Now it lives in the corridor in the products basket next to the hair products and sunscreen, and it is used every day by multiple family members as a hand cream. My original plan was to take it on upcoming holidays in August, but I don't think I'll have any left 🙂
MOSSA RESTORING EYE CREAM (13£ FOR 15ML)
I have decided to give it away via Instagram, but all didn't go to the plan, my package was returned to me without any explanations. I hope I didn't get in trouble with postal laws sending it outside Ireland as it might be classed as a liquid? I know for the fact I've been turned away trying to send a foundation to my friend in the UK, and the postal lady wouldn't budge no matter how I pleaded. I contacted the winner and she said she was away for the week the following week, so I waited a bit and sent it again. Let's hope the winner will get it pretty soon.
*KIMBERLY SAYER SAMPLES
Their Ultra Light Organic Facial Moisturizer SPF30 is already my Holy Grail item for the last five years or so, see every Yearly Favourites and it will be there. See Natural Products I Love & Recommend and it is there. See almost all my Favourites post I do seasonally, and it will be there. I am yet to try the other sample. I have grown reluctant to try samples of the products I didn't originally want – insert a blushing emoji here.
If you want to, shop away at  Love Lula, one of my favourite online shops! I've written over 60+ blog posts related to products found in this online shop, as well as their wonderful Beauty Box,  that I love so much. In the case you missed it, find my Natural Beauty interview with a CEO Sonia White here and all the other posts in this Facebook album here. Too many blog posts to link up individually, let me tell you this much ? See my top recommendations on "Bloggers Recommend" Love Lula page here and if you want to know my rather extensive wishlist, you can check out my Pinterest board here – I've been working on it for the last few days, and I am far from finished! Follow me there for all the updates – and let's be friends all over social media, shall we?
Please like and share my posts on social media, it really helps to get the green beauty word out – and you will forever have my gratitude!
Follow me on
That's all my lovelies, thanks for reading! See You here next Tuesday if not sooner xo
Lots of Love,
Renata.

Enjoy my content? A  tip into my PayPal Tip Jar -  will get You my eternal gratitude and more awesome green beauty reviews Your way! I weed out all the greenwashing products so You won't have to.