Hi Lovelies,
Welcome back! And welcome if you are new here xoxo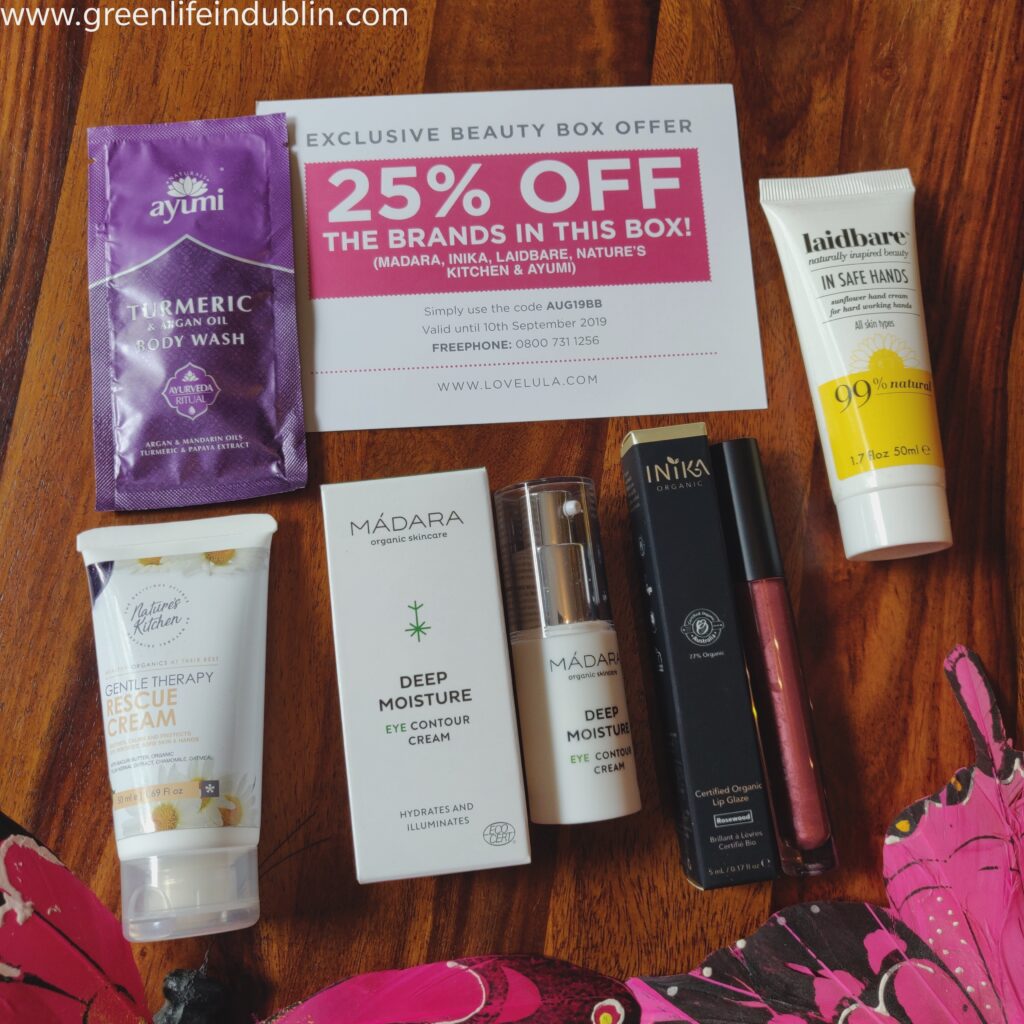 How are all of you, I hope you are well?
Today I am going to share what natural and organic products came in the Love Lula Beauty Box August 2019. Amazing box or what?
*sadly Love Lula is no more.. Sob!


In the case you might not know, Love Lula Beauty Box is THE BOX to subscribe! Why, you might ask? Well, if discovering new natural and organic products is your thing, this is the box for you. If you like saving money while doing so, this is the box for you. If you like getting full size products more often than not, this is the box for you. Do I need to go on? They go far above and beyond with providing fantastic value month after month, the lowest I have seen was 49.95£ with the highest well above 100£+ and also worth noting that they tend to be on the higher end more often than not. You are also guaranteed to get 2-3 full size products each month, often more.  They ship worldwide, and the price is 13.95£ monthly recurring for UK and for us international gals there are two options of three months (52.50£) or a year (210£) including post and packaging. Green beauty boxes are a great way to discover new items you might have missed otherwise, and I love that anything coming from LoveLula is cruelty free and guaranteed not to have any toxic ingredients – they have very strict criteria for any product they accept, and that is taking the guesswork off your shoulders. Also, you constantly get 25% off for the brands featured that month, how amazing is that? Black Fridays who?
By the way, don't forget to check out my interview with the owner and co-founder Sonia White as a part of my Natural Beauties segment here. I still can't believe Sonia said yes!
Psst, I will tell you one secret – after a couple of weeks of releasing their Beauty Boxes, Love Lula is giving them away for free with any orders above £60, so keep your eyes peeled! Also know that you can buy their previous month's boxes at a very reasonable prices – you will see them under "Special Offers" tab on the website. Plus you can see what you are actually getting in the case you don't like surprises. But I am getting a little ahead of myself here 🙂 Let's jump in!
AYUMI Turmeric & Argan Oil Body Wash
I am having so much success with this brand, so so glad they appeared on Love Lula earlier this year. I scooped up the whole lot of them and still can't get enough (see post here). This body was is really good, and so are the scrubs, all the other body washes, shampoos, oils and soaps. Budget price point helps, because Ayumi became family favourite and fast! *Note – you have to know some products do have fragrance in them, but it didn't cause any issues with any of us, and we are a bunch of sensitive people.
INGREDIENTS: Aqua (Water), Glycerin, Ammonium Lauryl Sulfate, Coco-Glucoside, Carica Papaya Fruit Papaya Extract, Polysorbate 20, Cocamidopropyl Betaine, Acrylates Copolymer, Parfum (Fragrance), Glyceryl Oleate, Sodium Chloride, Glyceryl Laurate, Sodium Hydroxide, Ethylhexylglycerin, Argania (Argan) Spinosa Kernel Oil, Sodium Ascorbyl Phosphate, Eucalyptus Globulus Leaf Oil, Citrus Limon (Lemon) Peel Oil, Citrus Nobilis (Mandarin Orange) Peel Oil, Cymbopogon Schoeanthus Oil, Curcuma Longa (Turmeric) Root Extract, Phyllanthus Emblica Extract, Phenoxyethanol, Sodium Benzoate, Potassium Sorbate, Limonene, Linalool, Hexyl Cinnamal, Benzyl Benzoate, Benzyl Salicylate, Citral, Cintronellol
NATURE'S KITCHEN ORGANIC SKINCARE Gentle Therapy Rescue Cream
A new brand discovery for me, a very pleasant one I should say. Came just in time, the package was waiting for us when we landed post vacay (see post here) and this product was swiftly claimed by my hubby who was the only one to come back with the sunburn all over his torso (someone decided to forego the sunscreen for a day to prove something that we don't really need sunscreen and it is all just a fad. Well, it wasn't me and I am not the one who got home burned to the crisp). Thanks goodness for this product that worked like a charm too soothe and heal the skin! Really good product if you ask me.
INGREDIENTS: Aqua (water), cetearyl alcohol, polysorbate 60, palm free vegetable glycerin, organic grape seed (vitis vinifera) oil, organic olive oil (olea europaea), organic coconut oil (cocos nucifera), organic shea butter (butyrospermum parkii), organic apricot kernel oil (prunus armeniaca), bacuri virgin (platonia insignis seed) butter, palm stearic acid, xanthan gum, organic plum kernel extract (prunus domestica), jojoba (simmondsia chinensis) oil, borage seed oil (borago officinalis), evening primrose oil (oenothera biennis), chamomile (anthemis nobilis flower) oil, safflower (carthamus tinctorius) oil, tamanu (calophyllum inophyllum) oil, organic aloe vera leaf juice (Aloe Barbadensis), organic rose hips oil (rosa rubginosa), green tea (camellia sinensis) extract, flaxseed (linum usitatissimum) oil, phenoxyethanol, ethylhexylglycerin.
LAIDBARE In Safe Hands Hand Cream
I love a good hand cream, I crave a good hand cream, so it is something I also appreciated a lot. Thank you Love Lula! Works great, sinks in quickly, is 99% natural and does not break the bank either. What's not to love? Assuming you can overlook parfum in it.
INGREDIENTS: Aqua Theobroma Cacao Seed Butter Butyrospermum Parkii Butter Glyceryl Stearate SE Isopropyl Myristate Helianthus Annuus Seed Oil Stearic Acid Persea Gratissma Oil Glycerin Benzyl Alcohol Parfum Tocopherol Linalool Dehydroacetic Acid Geraniol Limonene Benzyl Benzoate Benzyl Salicylate Farnesol Eugenol Citral
INIKA Certified Organic Lip Gloss in Rosewood
I love Inika, many of their products are in rotation in my make up stash and have been for years. I also can appreciate an organic lip gloss, but after thoughtful consideration I have decided to pass this one to my friend at work purely because I found it too dark on me and it didn't really suit my skin tone either. Much better gift it to someone who will enjoy it, rather than let it sit in my stash unloved for months, no?
INGREDIENTS: Ricinus Communis (Castor) Seed Oil*, Hydrogenated Vegetable Oil, Copernicia Cerifera (Carnauba) Wax*, Mica, Titanium Dioxide (CI 77891), Tocopherol (Vitamin E), Vanilla Planifolia (Vanilla Oil) Fruit Extract*, Glycine Soja (Soybean) Oil, Iron Oxide (CI 77491). *Certified Organic
MADARA Deep Moisture Eye Contour Cream
I will be honest with you here, I have passed this one too, although I had my doubts if I won't regret this later. I am in a midst Marie-Kondoing my whole house, including my beauty stash, so after a little debate with myself (what, I needed to talk with someone sensible!) I have decided to make someone else happy with this. You see, I am kind of aiming to have only one open product in any given category, for the most part. I already have my Holy Grail when it comes to eye creams, plus I am finishing up another Madara eye cream, (Smart Antioxidants Eye Cream) which also came in Love Lula beauty box ages and ages ago and is about to expire. Many thanks Love Lula, I hope you won't mind – you can't please everyone and I know plenty of other people enjoy that.
INGREDIENTS: Aqua, Rosa Damascena (Rosa) Flower Water, Alcohol, Glycerin, Decyl Cocoate, Persea Gratissima (Avocado) Oil, Glyceryl Stearate, Behenyl Alcohol, Aesculus Hippocastanum (Horse-chestnut) Seed Extract, Cucumis Sativus (Cucumber) Fruit Extract, Carum Petroselinum (Parsley) Extract, Lecithin, Cetearyl Alcohol, Theobroma Cacao (Cocoa) Seed Butter, Xanthan Gum, Mentha Piperita (Peppermint) Leaf Extract, CI 77019 (Mica), CI 77891 (Titanium Dioxide), Glycine Soja (Soybean) Sterols, Aloe Barbadensis (Aloe) Leaf Juice, Sodium Hyaluronate, Betaine, Tocopherol, Ascorbyl Palmitate, Sodium Phytate, Aroma
So all in all I think that was another great box, with a good product selection and fantastic value yet again. I believe this month UK and international customers go the same box, which is not always the case because of the shipping restrictions. I think this is a great way to switch your products to clean products without spending a fortune if you are only starting out your green beauty journey, and if you are advanced in it, it is always fun to discover something new, isn't it? This box total value is £61! I know I love getting new products, nearly ten years in into my green beauty journey I still get excited getting boxes in the mail. What about you?
That's all for now. Please like and share this or any of my other posts on social media, it really helps to get the green beauty word out – and you will forever have my gratitude!
FOLLOW ME ON:
Lots of Love,
Renata.