Hello Lovelies,
Welcome back! And welcome if You are new here ???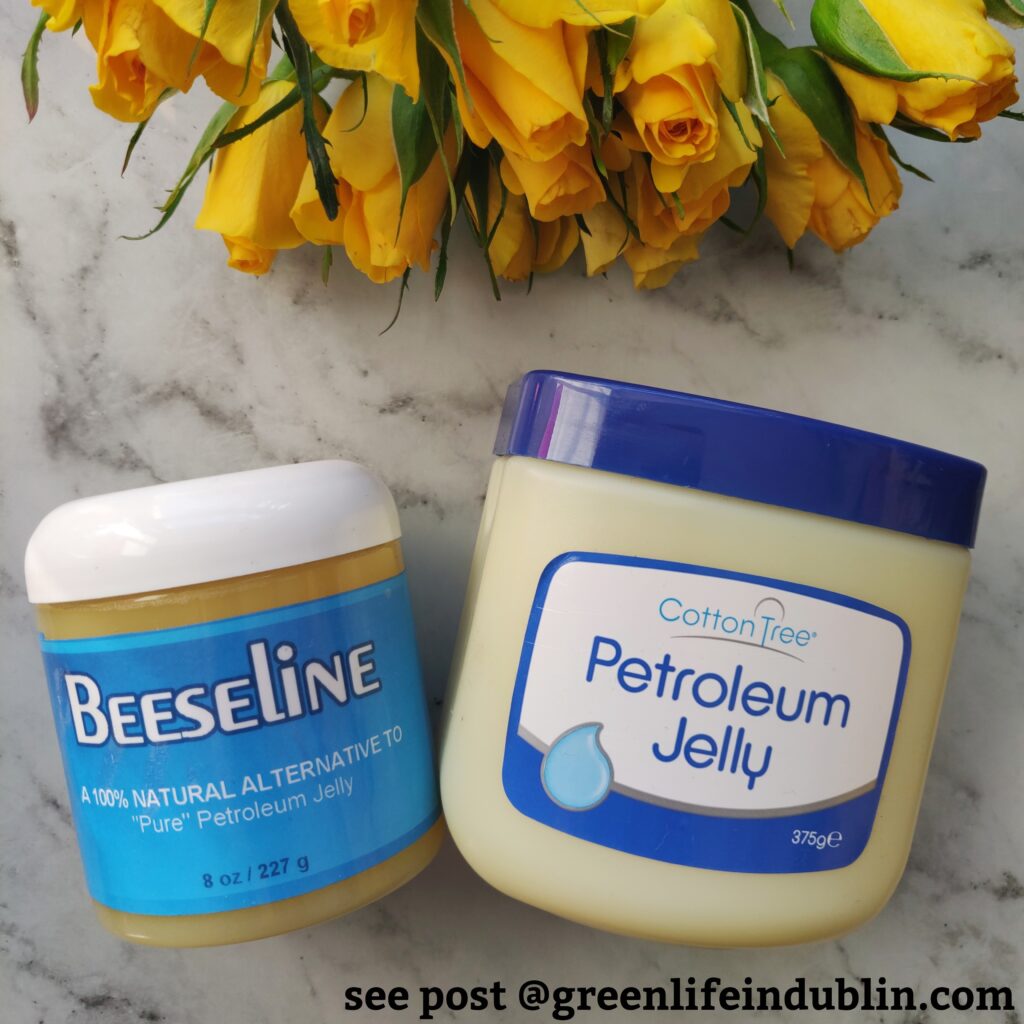 Looking for natural Vaseline alternative? You are in the right place! It is called Beeseline & it is available from Dutch Health Store, a shop I adore and highly recommend – customer service is next level and I can personally vouch for them. See this Facebook album for more Dutch Health Store posts.
If You are still using Vaseline, I hate to be the bad bearer of the news that You are using petroleum by-product on your skin and You need a natural alternative PRONTO! Vaseline hasn't set a foot in this house for more than a decade, ever since I have learned what it really is. But it weaseled it's way back into the house this winter when my husband, who works a physical job, found himself working in 5in of water in near to zero temperatures – to seal in his work shoes which were getting soaking wet (long story, he rejected my beeswax offer). Begrudgingly I accepted the jar, but when I caught my husband putting it on his FACE to treat a frost bite, I knew there and then I had to take the mater into my own hands. Luckily I knew exactly where to go get the natural alternative to it  – The Dutch Health Store! I have written about the shop here (27 follow up emails after postage went awry anyone?!) and many reviews of truly natural products they carry (find them here, I am talking about Living Libations, Delizioso Skincare, ISUN Skincare, AnnMarie Skincare, Revitin & more). But let's go back to the Beeseline, shall we? It is one of those truly natural products – only three ingredients, you people! And it truly does what it says on the tin, sorry, jar (recyclable, no less!) It is artisan crafted product by Delizioso Skincare, a Canadian company that does many other types of delicious smelling products that I am hoping to dive into this year.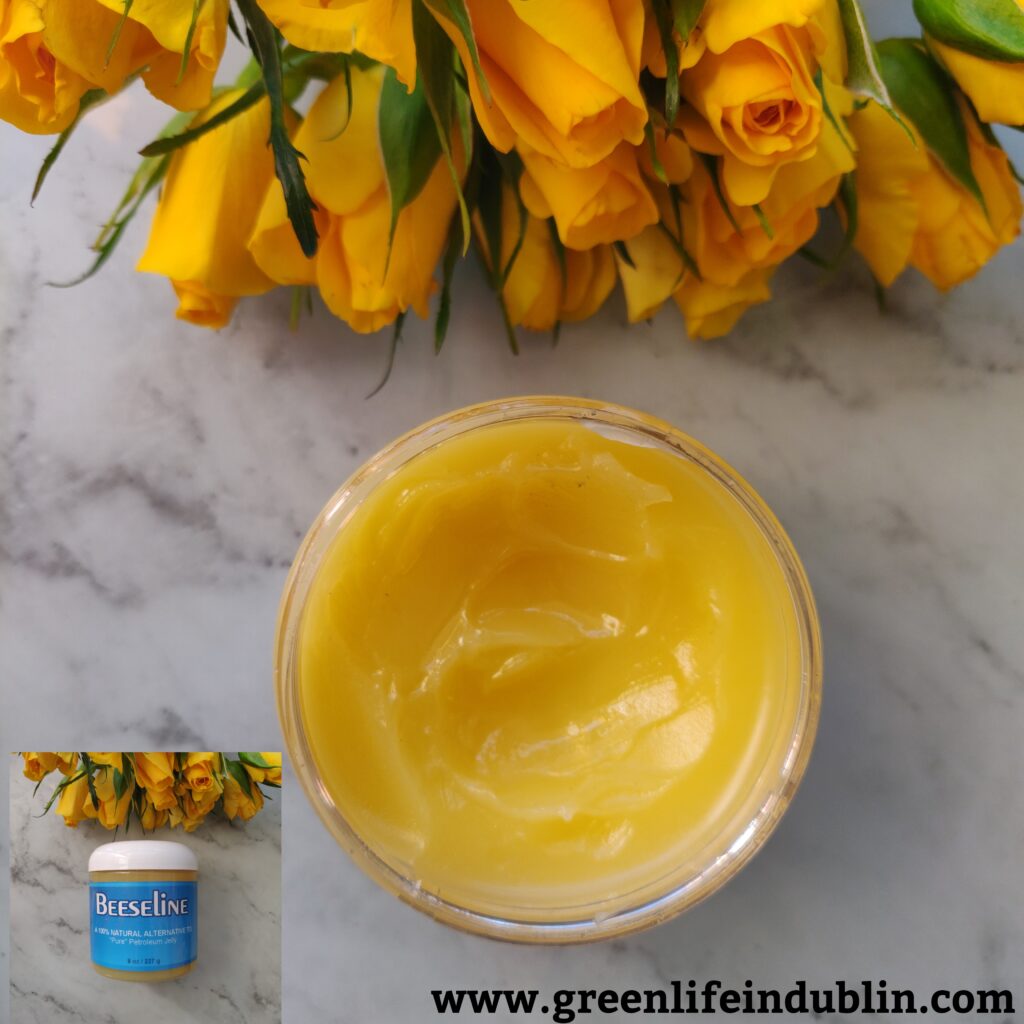 What is Beeseline?
Beeseline Original is a mixture of 3 simple, 100% natural and certified organic ingredients. It is a 100% natural alternative to petroleum jelly. With an amazing technology of the use of "raw" vegetable oils and ingredients, Beeseline brings you the world's best natural alternative to petroleum jelly that is credited for being hypo-allergenic and great on sensitive skin. Vegaline is the Vegan version of Beeseline, the same great moisturizer, without the beeswax or honey.
What can Beeline be used for?
Like "Pure" Petroleum Jelly, Beeseline/Vegaline is amazing for absolutely everything!
Great for: Moisturizing skin everywhere, makeup primer and remover, skin soother, baby balm, lip balm, foot balm, great on dry noses, dry skin, adds healthy glow, eczema, toes, lubricator, hair styling, eyebrows, pets and so much more!
This product is:
• 100% Natural
• Cruelty Free
• Gluten Free
• Crafted in Canada
• Made with 100% certified organic ingredients
Key ingredients and their benefits for the skin:
UNREFINED COCONUT OIL: Raw, unheated and undiluted coconut oil goes straight through the skin barrier and absorbs almost instantly, leaving skin soothed, soft and dewy. Coconut oil is frequently used for sunburns as well as irritations. For the face, coconut oil is great for nourishing dry skin as well as helping oily skin.
HONEY: Used in Beeseline Original, wildflower honey naturally preserves while adding nourishing and healing properties to the product. With super antimicrobial properties, wildflower honey is a great antiseptic for skin, known to eliminate pimples and acne when applied directly onto the problem area for a prolonged period. Wildflower honey helps repair previously damaged skin cells, as well as retaining moisturize in dry skin.
BEESWAX:Used cosmetically, Beeswax hydrates, conditions, soothes, and calms the skin. It exfoliates, repairs damage, promotes the skin's regeneration, diminishes the appearance of the signs of aging, soothes itchiness and irritation, and creates a hydrating, long-lasting protective barrier against environmental pollutants. Used in hair, Beeswax nourishes, conditions, and softens the strands while and promoting the hair's luster.
*THOUGHT as I type along – I wonder if it would work as a hair/scalp mask? Technically it should work, all the ingredients are supposed to be good the the hair – shall we find out? Oh yes, I love love finding new used for my products, see post here.
Comes in three different sizes, housed in recyclable jar, and four different types, the Original Beeseline, the one I am reviewing here, then there's Mintoline, made with Safflower Oil, Soy Wax, Candelilla Wax & *Peppermint Essential Oil; Vanilline, made with Safflower Oil, Soy Wax, Candelilla Wax & *Flavor Oil and Vegaline, made with *Safflower Oil, Soy Wax & Candelilla Wax.
As you can see, only the original Beeseline has beeswax in it, so if you are a vegan, You can safely go for the other three. Same with coconut oil, if it makes You break out, just choose any of these other options. I chose the biggest jar of three sizes available, so my family is set for many months to come, but I am eyeing Vanilline for my next purchase, because vanilla smell = instant happiness, duh. I will skip the Mintoline, because none of my family members enjoy minty products.
I would say this is pretty comparable to the Moroccan Magic Balm, just more soft and pliable in texture and more good value for money too. The user experience and the skin healing properties I find the same, and I don't know about You, but I like getting more product for less money!
Related - see more products I love, 2019 Best Products post here
If you are concerned about my husband, he was moved to a different location, so his feet are no longer wet, so the petroleum jelly was no longer needed, thanks for your concern.
That's it for today's post, thanks so much for taking the time to read it! Let me know if You know any other good natural alternatives, I am always open to learning new stuff and discovering new products. All natural of course – petroleum by products in any shape or form are not welcome in my house. And I hope same is true for You.
Please share this or any of my other posts on social media, let's spread the green beauty love – you will have my eternal gratitude! Thanks for reading and have the best day Lovelies ?
Lots of Love,
Renata.