Hi Lovelies,
Welcome back! And welcome if You are new here ???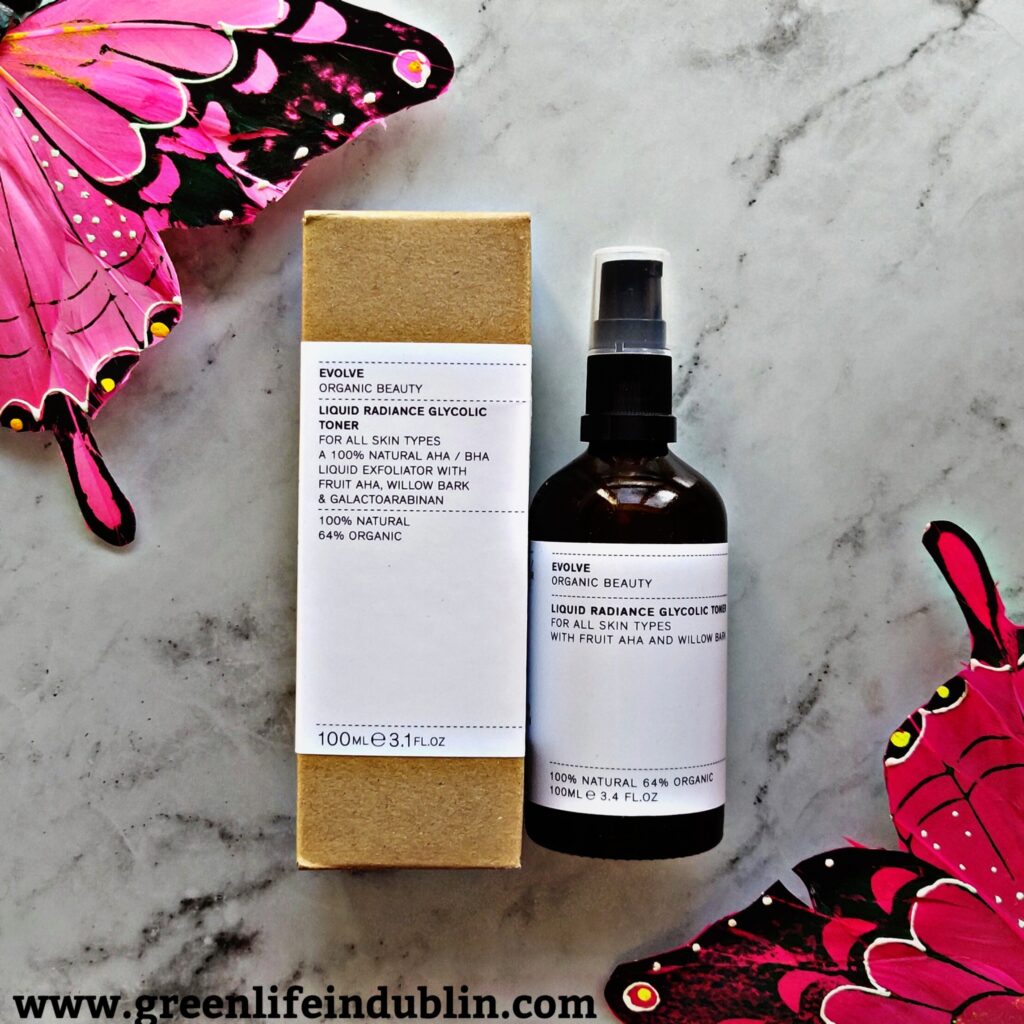 Hope life is treating You well? You might remember that Evolve Organic Beauty was one of the star brands I discovered in 2019? (see Tropical Blossom Body Butter review here & Climate Veil SPF20 review here if You missed those). Well, guess what? They came out with a new product, which is Liquid Radiance Glycolic Toner – and I am here to report my first impressions of it 🙂
Before we start, a bit about my skin for the reference – I am on the good side of 40s, so technically classed as "mature" (what? Mature? Who, me?) VERY sensitive and dermatitis prone. For those reasons I do not like to test any new skincare, especially with actives like AHA/BHA – as you can guess, it does not work out most often for me. Is this product an exception? Let's find out, shall we?
So what is this product and what does it claim to do?
It is a vegan, natural, handcrafted eco friendly product that's 100% natural (64% organic) AHA / BHA liquid exfoliator, designed to reveal instantly smoother and brighter skin. Blended with fruit AHAs including Glycolic Acid (Sugar Cane), Malic Acid (Apples) and Citric Acid (Citrus Fruits), as well as BHA Salicylic Acid from Willow Bark. Together with Galactoarabinan from Larch Trees, it helps to boost exfoliation, reduced irritation and dryness and improve skin texture. Delicately fragranced with Organic Orange Flower Water. Preserved with a 100% natural preservative derived from sugar cane.
Full list of ingredients: Aqua (Water), Citrus Aurantium Amara (Bitter Orange) Flower Water*, Salix Nigra Bark Extract, Glycerin*, Galactoarabinan, Pentylene Glycol (from sugar cane), Vaccinium Myrtillus Fruit Extract, Acer Saccharum (Sugar Maple) Extract, Saccharum Officinarum (Sugar Cane) Extract, Aloe Barbadensis Leaf Juice Powder*, Citrus Aurantium Dulcis (Orange) Fruit Extract, Citrus Limon (Lemon) Fruit Extract.
As you can see, the list is short and you can understand every single ingredient from it. That's one of the reasons I love Evolve brand – and I love what I have tried so far, I am yet to be disappointed.
So, does it work? I am glad to report it does, even for my uber sensitive skin! The first time I applied it onto my skin, I sprayed it onto (reusable) organic cotton round, wiped it all over my face and kind of forgotten about it for an hour, until I walked past the mirror and had to do a double take – my skin was visibly brighter and even toned! No reactions or irritations either. My daughter, who has combo/oily skin has reported the same results too. With my sensitive skin I am very careful not to overdo the exfoliation, so I used it once or twice weekly for a couple of weeks now, with the same great results so far.
My thoughts so far – I love this product! I can see it working for variety of skin types. As I already mentioned at the beginning of this post, I am very anxious of trying new products on my sensitive skin – well, I am glad to report this product is gentle enough for me, while still providing a visible difference. If your skin is highly reactive, try to score a sample first, everybody else, be my guest 🙂
GET IT FROM
ARNOTTS.IE
* Note from me after months & months of posting this. Here is a brand review post if You want to know more? Almost all Evolve  products ended up as my Yearly Favourites, so be sure to look for those posts & YouTube videos too!
Brand overview – Evolve Organic Beauty – Green Life In Dublin
That's all for now. Please like and share this or any of my other posts on social media, it really helps to get the green beauty word out – and you will forever have my gratitude!
Have You tried this or any other Evolve products? What are Your faves, I would love to know?
Related - see all the natural skincare reviews I have done to date here
*This product was sent for my consideration, so therefore marked as AD, but the review is all of my doing & I am not paid to talk about it. Some of the links are affiliate links at no additional costs to you. I thank You in advance if You will use them xo
Lots of Love ?
Renata.