Hello Lovelies,
Welcome back! And welcome if you are new here xoxo
Hope life is treating you well? Today I am coming at You with my picks for this month from one of my favourite online stores, Love Lula*. Check out this FB album for 79 Love Lula related posts & reviews – yes, really!
*Sadly Love Lula is no more. Sob!
There's no need to harm your health using harmful ingredients in "conventional" products. There are natural alternatives to every product out there & I am here to help You find them.
ALTEYA ORGANICS Certified Organic Bulgarian Centifolia Rose Water – Amber Glass Spray Bottle
I already reviewed the brand and their amazing floral waters, namely rose and camomile waters here & I wanted to try their new-ish Rose Centifolia water next. I chose 240ml glass bottle, as I am already familiar with the brand and thus I am pretty sure the product will suit me. I also want to point out that there are a few sizes & a few variants of ever floral water available – you do you boo, no judgement. If you travel a lot and need smaller size & portable product, choose 100ml in plastic packaging, if you want to be environmentally friendly & thus help save the planet, get bigger sizes in glass – they got you covered. Coming back to the Rose Centifolia water, I can tell you that the first impressions are good, the scent is nice and truly natural &  I am pretty sure I will be enjoying this product for months to come. I use this product everywhere – on my face, in my hair and even to refresh myself mid-day if  I find I have BO from testing various natural deodorants that just won't work. Sorry for a bit of too-much-information, but a lot of people don't think of this option to use rose water & I wanted to let them know that. Let's look at the official description of the product?
"The Centifolia rose boasts not only with its beautiful blooms, but also with rich and complex aroma. Its scent is sweet with rich honey and jamlike red berry nuances. Sensual and intensely floral, this aroma represents the elegance of eternal femininity. It is not a coincidence that Centifolia rose oil is a very cherished ingredient in many classy perfumes.
Our pure and organic Centifolia Rose Water is made from fresh Centifolia rose blossoms carefully picked by hand early in the morning, when they are still cool from the night and the first rays of sunlight unveil their fragrance.
This rose water gently helps tone, soften and soothe skin. Thanks to its tightening and toning effect, it assists in minimizing the appearance of pores and superficial capillaries.
By delivering a healthy boost of moisture and essential micronutrients, it promotes a dewy complexion and naturally fresh, youthful appearance.
Benefits:
Softening and soothing Even-looking skin tone Cooling and balancing Skin conditioning Invokes sensuality"
Now, if that does not sound good, I don't know what does!
INGREDIENTS: 100% pure steam distilled organic centifolia rose flower water
INIKA Bold Lash MASCARA
Talk about one of the best, if not THE BEST of natural mascaras in the industry! I love love Inika for various different reasons, clean ingredients, great formulas, Chanel-esque packaging that rivals any conventional brand, wide range of appealing colours of products, Nars Orgasm natural dupe blush – yes, really! Step forward Peachy Keen blush (post). You can also see full brand overview here. Let's come back to this mascara, shall we? I have heard criticism of high price point of it, but hear me out, let me explain why I deem it worth every penny. I am not sure if You know that my clean beauty journey started a decade ago & let me tell you, I have come across plenty of disappointing mascaras – most of them flake, sting the eyes like crazy & run at the first sight of rain or tear – this is none of those things. It gives lots of length & volume, it never flakes (unless it is more than 4m old, do not try this at home kids!) and despite having the most sensitive eyes, I never experienced any irritations. Every time I was tempted to try cheaper mascara, I ended up disappointed, so I kind of made the decision to end up my quest to try all the natural mascaras available. I mean, what's the point if I already know this is my Holy Grail? And did I mention it is natural, vegan and cruelty free?
INGREDIENTS:  Aqua (Water), Copernicia Cerifera (Carnauba) Wax*, Stearic Acid, Ricinus Communis (Castor) Seed Oil*, Propanediol, Pentylene Glycol (Sugar Cane), Glyceryl Stearate Se, C10-18 Triglycerides, Tocopherol (Vitamin E), Honokiol (Magnolia Bark Extract), Helianthus Annuus (Sunflower) Seed Oil, Xanthan Gum, Sodium Hydroxide, Galactoarabinan, Iron Oxide (CI 77499), *Certified Organic 100% Natural (COSMOS)
ELSA'S ORGANIC SKINFOODS Sweet Clementine Crème Deodorant + Spatula
Now, finding natural deo that works is one tough nut to crack. Finding one sans baking soda (which irritates a lot of people) is nearly impossible. So I am very glad to tell you I've found it – you are looking at it! How do I know that if I just only got this product this month, you ask? Well, I am not new to the brand, I have posted about the rest of deodorants here. I am only new to this product, but knowing it is the same formula in plastic-free-waste-free packaging, I can say this one product that works.
INGREDIENTS: Cocos Nucifera (Coconut) Oil*, Maranta Arundinacea (Arrowroot) Powder*, Ricinus Communis (Castor Bean) Oil, Butyrospermum Parkii (Shea) Butter, Magnesium Oxide, Euphorbia Cerifera (Candellila) Wax, Himalayan Pink Salt, Kaolin Clay, Tocopherol (Vitamin E),, Citrus Clementina (Clementine) Oil, Citrus Sinensis (Sweet Orange) Oil, Limonene, Linalool, Geraniol, Citral. *Certified Organic, naturally occurring in essential oils.
---
So that's my picks for this month, let's move to the review section of this post, where I post more in depth thoughts about my last month's picks.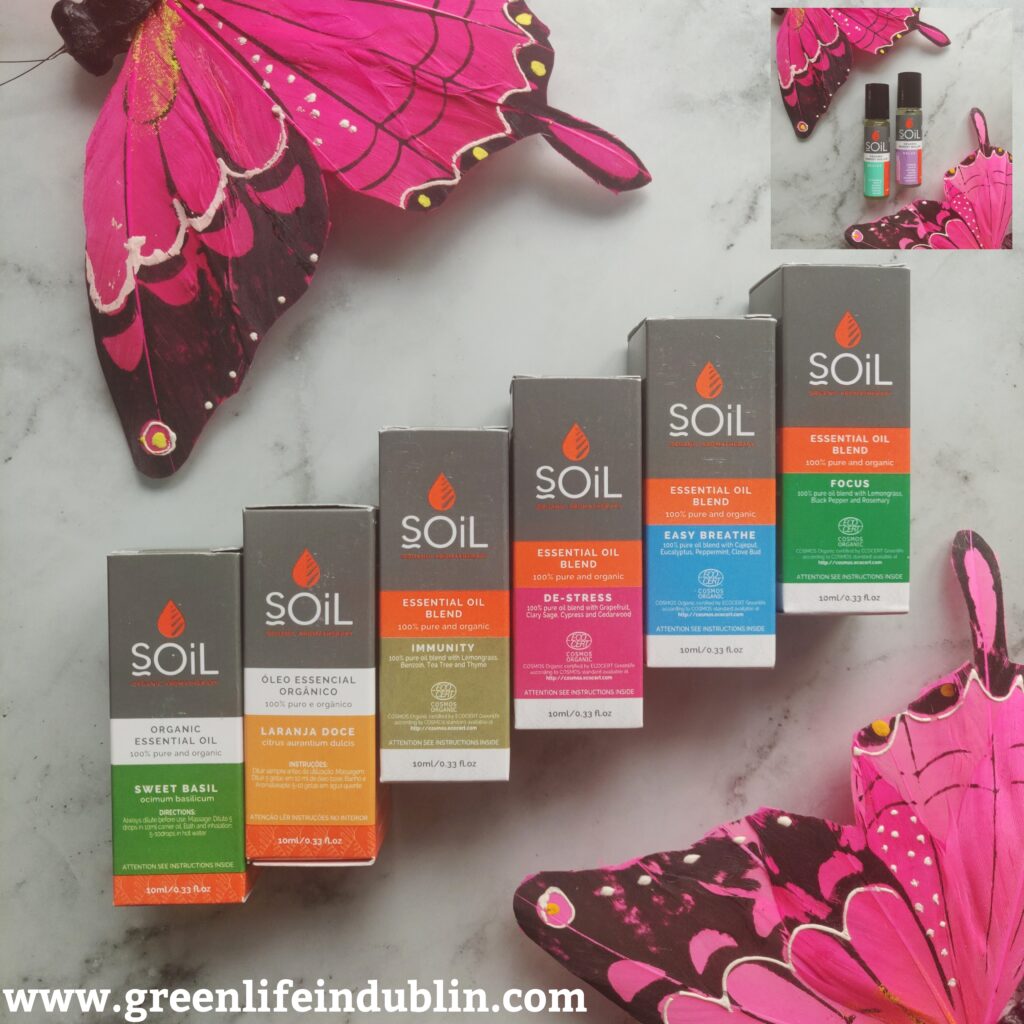 I chose the bunch of Soil essential oils last month (post) & I am still enjoying them a lot. I wrote a follow up post on how and which essential oils I am diffusing in my diffuser in a bid to stay healthy. I do not need to tell you what is happening in the world and media adding to the sheer panic of Corona virus. Now it is my turn to get scared, it is just a stone's throw away from me – the school in the next block is closed precisely because if it. I am trying very hard not to panic and knowing I have these natural and organic potent bottles of original plant medicine, is what's making me feel a whole lot better.
Related - my holistic medicine cabinet
That's all for today, see you here next Tuesday f not sooner. Thanks for reading and please let me know your experience if You have used any of these products?
Lots of Love,
Renata.