Hi Lovelies,
Welcome back! And welcome if You are new here xoxo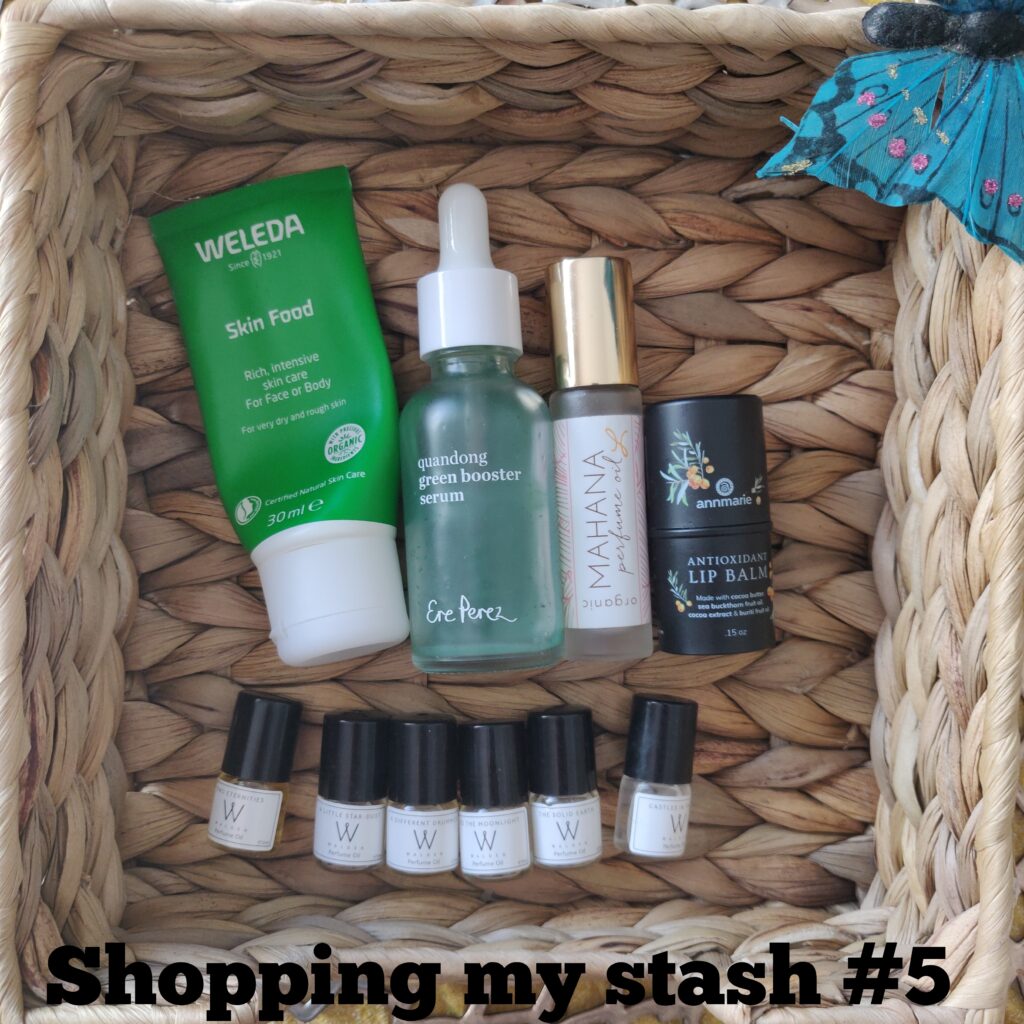 I wish You safe and well! Hope You are keeping well or at least ok in these grim days? I am not having a good week, hence the delay of the weekly post, sorry about that. For this week I have decided to revive a blog segment called Shop My Stash, as You guys seemed to like the previous ones I'd done. After finishing epic amount of stuff (here) I feel I can finally breathe a sight of relief – I got my stash where I want to to be – minimal, with every single product being used and loved, no strays taking up space and slowly expiring. Nothing like being stuck at home for weeks that blend into eternity for finishing up products, eh?
ERE PEREZ Quandong Green Booster serum
I have been wanting to try that for absolutely ages, ever since it came out. I finally got it last December (post). Quandong is very high in natural vitamin C, which is one of the primary reasons I chose this product versus so many others in the market. Other vitamin C serums with man made vitamin C did not work for me at all, leaving my skin irritated and red, so I wanted to find a natural form of vitamin C that would come from a fruit or something. At first  really enjoyed it, but in the longer run this fell by side and I haven't felt a difference when I used it vs when I stopped. To be fair it is a good product, it hydrates the skin and makes it soft, but my skin was a bight tight after application and that is why I am not sure I will be repurchasing it right now. Also, about five months on it expired on me, so please keep this in mind if You are planning on getting it – use it and don't save it! I want to try Kora Organics Noni serum or go back to Honua Youth Serum, which appears to have changed formula since I last had it?
Related - see Ere Perez make up review here.
Psst, their Bondi Beach blush is coming back sometime in 2020! I have heard it from the brand themselves & I featured it as one of my natural alternatives to Nars Orgasm here. Please keep your eyes peeled.
WALDEN PERFUMES roller SAMPLE SET
Love love love The Different Drummer perfume, which shot straight to my Top 3 Natural Perfumes list and hasn't left that spot ever since! This cutesy cute minis set came via Love Lula box sometime last year, but it was not used much while they were sitting in my stash, I think I reached big bottles over those out of habit or convenience, I don't know. Now that I pulled those out and am keeping them next to the computer, I can't get enough of them! Two Eternities is my next favourite, which is sweet, way different from A Different Drummer, which is more masculine, heavier, smokier scent. Oil based rollers (which are also available in 10ml) can be sent worldwide without any restrictions. Spray perfumes can also be sent worldwide, but only with DHL option. Good to know!
Related - Walden perfumes review
I love this perfume for two years and savored every drop of this wonderful tropical perfume. So much that I begged Dutch Health Store to add this to their offerings, because they recently started dealing with Leahlani Skincare. Purchased that and matching body oil infusion (and some other bits too) as soon as the email arrived, so I am at the edge of my seat waiting for my order to arrive!
See 20+ Dutch Health Store related posts here
WELEDA skin food
Acquired at the start of the winter and not used much, I can't get the hype of this product if I am honest. This is probably the third tube of the product I am getting, so it is fair to say I gave it a fair shot (or three) but for some weird reason this product and I can't get on. I got this fearing the harsh winter weather, which always wreaks havoc with my uber sensitive skin. I feel that it didn't give my skin any benefits at all, like Dr Hauschka Rose Day Cream  (review) does – these two products are very similar in texture, user experience & even ingredients to some degree – but when DrHauschka always left my face nourished, protected, redness and dry patches reduced, Weleda did none of those things. It felt like a greasy layer on my face, without any benefits for it, nor it helped soothe dermatitis outbreak on my body. I used it up as a hand cream, but I am thinking this is where we go separate ways, Skin Food and I. No grudges against the brand as a whole, some other products are amazing, it's just this one didn't work for me. I actually finished it already, see it in my Lockdown Empties here.
Another case of a product from a great natural brand I didn't like so much.. AnnMarie Gianni products are one of those rare breed ones where ingredients are beyond natural, beyond organic and it shows. I loved what I have tried so far, except this balm – I can't fault the ingredients, it is just the formula that needs a little bit of tweaking in my humble opinion – I find it so soft that it is mushy in warmer temperatures, and the staying power isn't quite what I like it to be. I actually got two of them, one I bought with my own moolah from Dutch Health Store, the other one brand sent me with some other samples to try. For some reason one is much softer and crumblier than the other, I wouldn't mind it if they had a good staying power, but they do not. It was fun to try, I am grateful for them, but I will move onto something else. If You know a good natural lip balm with great staying power, do us all a favour and speak up! For the ones that I deem the best from what I have tried so far, see this post.
Phew, after 203 tries to finish this post, I am done 🙂 I do not know why it was so hard to finish this post, it felt like giving birth or something – writers block, anyone? Usually I have more ideas than time to execute them, so let's hope will get into that creativity flow soon.
Now, Your turn – what products are You guys finishing up? Repurchasing? Not? Let me know 🙂
SEE FULL LIST OF MY FAVOURITES HERE:
Sending Love and Light,
Renata.