Hi Lovelies,
Welcome back! And welcome if You are new here xoxo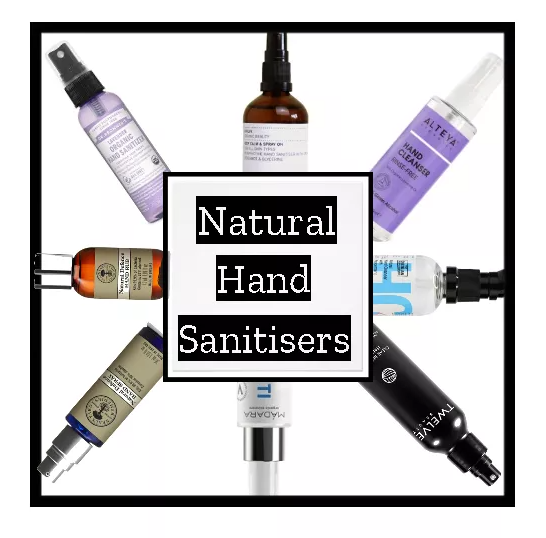 How are you, I hope You are all well? I might be three months late for this post, but I still think it would be helpful of me to round up natural hand sanitisers I know of? I do think hand sanitisers are here to stay long term and I will always prefer them natural to the 'conventional" ones. I hope You are with me on that one, and if not aren't (yet), then please save do yourself a favor. Save this post. Go on to research the ingredients in them one by one. If You are horrified, come back to this post! Send this to your friends too!
A few things before we start – a product to be called a hand sanitiser, it has to pass strict testing to get a certificate and by law it has to have at least 70% alcohol. You are likely to find moisturizing ingredients and essential oils in the natural ones too. Ingredients differ, as do price points. Some of these products are called hand rubs or hand gels, so I am not too sure about their certification status or the exact alcohol content. I will try to list the ingredients to the best of my ability, but please also bear in mind I haven't tested all of them. I was never a germophobe prior to this Covid nightmare, and while I happily used alcohol-free hand sanitisers before (they do exist too), I  made sure to stock up on my trusted Neal's Yard Remedies Organic Hand Defence Spray, now renamed (and presumably reformulated) to Natural Defence, now available in rub, spray and refills.
I will list prices and ingredients, true at the time of publishing, they might change in the future though, so please always double check if You will be seeing this post at a later date. Don't be shy at contacting the companies with any questions about the ingredients, formulations or certifications – that's the beauty of current times, everyone is within reach. I grouped the sanitisers by their place of availability, aka online shops, not by alcohol content or the price point,  hope that work for You?
---
LOVE LULA
Neal's Yard Remedies Natural Defence Hand Rub 40ml – 5.75£
Ingredients: Alcohol Denat.*, Hamamelis Virginiana (Witch Hazel) Water*, Aqua/Water Eau, Alcohol*, Glycerin*, Thymus Vulgaris (Thyme) Oil*, Cinnamomum Zeylanicum Leaf Oil*, Cymbopogon Schoenanthus Oil*, Melaleuca Viridiflora Leaf Oil*, Vetiveria Zizanoides Root Oil*, Lavandula Hybrida Oil*, Benzyl Benzoate, Cinnamal, Cinnamyl Alcohol, Citral, Coumarin, Eugenol, Farnesol, Geraniol, Limonene, Linalool.
The Castilian Soap Company Natural Hand Cleanser with Peppermint & Chamomile 50ml – £9.50
INGREDIENTS: Ethanol (Grain,), Anthemis Nobilis (Flower) Water, Glycerin (Plant), Mentha Piperita (Leaf) Oil, Limonene*, Citronellol*, Linalool*, Eugenol*. *Naturally occurring components in essential oils.
Alteya Organics Hand Cleanser Spray With Organic Lavender Oil 100ml – £7.95
INGREDIENTS: Alcohol Denat. (70% v/v), Aqua (Water), Glycerin*, Lavandula Angustifolia (Lavender) Oil*, Linalool**, Limonene**, Geraniol** *Certified Organic Ingredients **Naturally occurring in essential oils
Flaya – Hand Sanitiser 50ml – £7.22
INGREDIENTS: Alcohol Denat.* (80%), Glycerin*, Lavender Angustifolia Oil * (containing Linalyl Acetate, Linalool, Limonene, Geraniol) *from certified organic agriculture
---
Evolve organic beauty
Keep Calm & Spray On Hand Sanitiser
INGREDIENTS: Alcohol** Denat, Aqua (Water), Citrus Aurantium Bergamia (Bergamot) Peel Oil*, glycerin**, Linalool, Limonene. *Ingredients from Organic farming **Made using Organic Ingredients
---
Living Libations
INGREDIENTS:( Organic) Hyssop - Hyssopus officinalis decumbens, Thyme - Thymus vulgaris, Ravensara - Ravensara aromatica, Rosemary - Rosemarinus officinalis,  Eucalyptus - Eucalyptus globulus, Oregano - Origanum vulgare, Organic Biodynamic Alcohol
Same also available at Dutch Health Store in EU.
See here for 20+ Dutch Health Store reviews & posts.
---
Refreshing Hand Gels 30ml – 8$ CA
There are 4 scents available.
INGREDIENTS [Clarity]: Aqua, Alcohol, Lysolecithin, Sclerotium Gum, Xanthan Gum, Pullulan, Jojoba Simmondsia Chinensis (Jojoba) Seed Oil, Citrus Paradisi (Pink Grapefruit) Oil, Citrus Bergamia (Bergamot) Oil, Mentha Piperita (Peppermint) Oil, Illicium Verum Hook (Star Anise) Oil, Glycerin, Citrus Reticulata Fruit Extract, Citrus Aurantium Amara Fruit Extract, Citrus Aurantium Sinensis Peel Extract, Ascorbic Acid, Citric Acid, Lactic Acid
---
Being Content
Madara hand sanitiser anti 20 sec clean hands spray 50ml – £10.50
INGREDIENTS: Alcohol, Aqua, Glycerin, Betaine, Aroma, Chamomilla Recutita (Camomile) Flower Extract, Pyrus Cydonia (Quince) Fruit Extract, Vaccinium Macrocarpon (Cranberry) Fruit Extract, Centella Asiatica (Pennywort) Leaf Extract, Limonene, Linalool, Geraniol, Citral *Ingredients from Organic farming **Made using Organic Ingredients
TWELVE CLEAR BEGINNING HAND SANITISER SPRAY 75ml – 22£
Alcohol free.
INGREDIENTS: Aqua, Propanediol, Lactobacillus Ferment, Saccharide Isomerate, Sodium PCA, Squalane, Panthenol, Oryza Sativa (Rice) Starch, Citric Acid, Cetrimonium Chloride, Benzalkonium Chloride, Citrus Aurantium Dulcis Peel Oil
EVOLVE HAND SANITISER KEEP CALM AND SPRAY ON 100ml – 12£
Doubles up as a surface spray
INGREDIENTS: Alcohol** Denat, Aqua (Water), Citrus Aurantium Bergamia (Bergamot) Peel Oil*, Glycerin**, Linalool, Limonene. *Ingredients from Organic farming **Made using Organic Ingredients
DR BRONNER'S ORGANIC HAND SANITISER 59ML – 5.39£
INGREDIENTS: Organic Fair Trade Ethyl Alcohol (62%)*, Water, Organic Glycerin, Organic Lavender Oil *Certified Fair Trade ingredients
---
big green smile
A few options available here, including Green People, Bentley Organics, Sonett, Neal's Yard Remedies & more! All price points, be sure to check the ingredients, because they differ.
---
Amazon
As I was poking around Amazon searching organic hand sanitisers, I didn't find anything I liked, but I came across something that piqued my curiosity to no end – copper soap, copper hand roller or tools for opening doors/ touching keypads, etc. I need to do much more research on this, but they claim that germs do not survive on copper surface, so therefore these are the best things for us to use? Apparently you rub your hands on the "soap" or roll the stick between the palms of your hands for 1 minute, or stick it up your nose to kill germs there! It's so "ewww" but also "huh?!" at the same time, isn't it? What do you guys think? Anyone with any experience with it? There might be truth to it, I have recently heard reports of official recommendations to replace all the public door handles with copper ones?
That's it for today, thanks for reading! I appreciate you ?
Lots of Love,
Renata.