Hi Lovelies,
Welcome back! And welcome if you are new here xoxo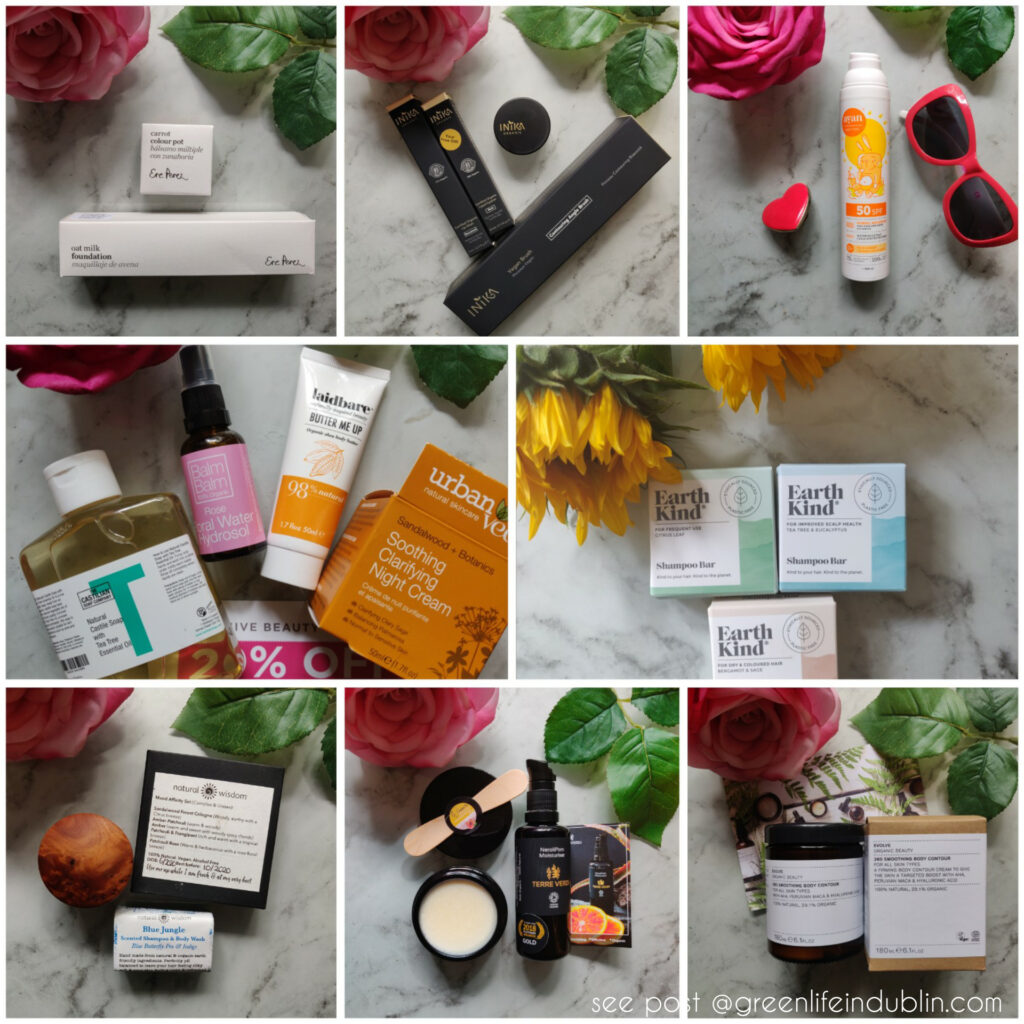 Hope life is treating You well? Today I will share with you what's new in my stash, what have I been sent & purchased myself this month, hope You fill find it interesting and/or helpful.  Think Ere Perez, Inika, Terra Verdi, Evolve Organic Beauty, Earth Kind, Natural Wisdom Spa & more. All of these products are new to me, to they will be going into "Test Kitchen" side of the shelfie, and if You want to know what products I have been loving recently, You can check my latest post or YouTube video here – why, yes, I am freshly baked Youtuber now 🙂
I am usually know for super long and elaborate posts, but for this time things will be different – I am rushed off my feet in real life and not the best place emotionally, so please excuse me to brief what I have acquired recently, with an aim to proper talk about it later on, whether it's on my blog, social media or Youtube.
I will start with Love Lula ? – sadly no more…
Blogger's Picks:
ERE PEREZ Oat Milk Foundation In Chai*
Picked as possible replacement for my beloved-but-running-out-fast W3ll People Biotint SPF30, which is marketed as a tinted moisturiser with SPF, but it's really more coverage than most of the green beauty foundations I have tried to date. As you might know, the brand has sold out (boo) and not being available in the EU, was hard to get. Well, this Oat Milk foundation seems to be universally loved by every green beauty blogger and enthusiast on the planet – but so far I am not liking it. The shade I have been recommended by the brand is far too yellow in undertone. This I would have overlooked, but it also does not cover the areas of redness I want to cover and does not last. If I do not powder, the coverage is gone in a few hours, and I can't even blame the heat of the summer – we are having 11*C – 18*C summer days on average. We will see.
ERE PEREZ Carrot Pot Multiple in Healthy*
I am forever mixed up between Harmony and Healthy, I cannot remember which one is which 🙂 I have had Harmony before, now got this to compare the colours and add them to my Green Beauty Swatch Gallery (here). I also included these multiples in Plastic Free Natural Make Up post, which You can see here in the case if you want to go plastic free route when it comes to your (natural) make up too.
BEAUTY BOX*
The only green beauty subscription box I am getting and am so impressed with! As per usual, it contained great mix of different products from floral water to castille soap with tea tree essential oil (we all need more of that!) to body butter to face cream. See my All Things Love Lula Facebook Album here, half of the posts are about beauty boxes – and there's nearly 100 posts in there. Have fun reading 🙂
My own purchases:
I am a big believer in voting with my money, and what's a better shop to support than my beloved Love Lula? I have decided to get Inika full coverage concealer and I got an awesome freebie to go with it. Love Lula ran a deal where You spent 25£ and got a Inika pouch with a make up brush and full sizes of certified organic liquid eyliner and a lip glaze. Want a little tip on how You can score something similar in the future? Follow my FB page Offers tab, or this Pinterest board, I am on those awesome deals like a hawk 🙂
Related - inika Make Up Review
Other*:
Love Lula has asked me to review Ayan Kids Sunscreen SPF30, which I am about to do in the near future & then the brand Earth Kind sent me a couple of their solid shampoos to try. I am suitably impressed by both.
I have tried quite a few products from this brand and I am yet to meet to one I wouldn't like, so needless to say, the expectations are high! I have quite a number of reviews, please hit that search box if You are interested?
*psst! a note from me after months & months of posting this. Here is a brand review post if You want to know more? Almost all Evolve  products ended up as my Yearly Favourites, so be sure to look for those posts & YouTube videos too!
Brand overview – Evolve Organic Beauty – Green Life In Dublin
Natural Wisdom Spa
I have followed this brand on social media for ages, always ooghing and ahhing over their products, everything seems to be uber natural, sustainable and all that good stuff. Not cheap though, so get samples first – I got 30ml of balm with blue tansy and a set of solid perfume minis & that alone set me back over 85€. Thankfully the beautiful owner threw in two more travel sized products for me to try. Definitely reviewing everything once I will form a solid opinion on everything. So far I am loving the blue shampoo bar, but I have had a reaction to the balm, which saddened me a bit.
TERRE VERDI Certified Organic Skincare*
I have accepted to try this brand's products & we are in talks of some exciting collaborations in the near future, so please keep your eyes peeled, that is all I am going to say.
Lots of Love,
Renata.