Hi Lovelies,
Welcome back! And welcome if you are new here ???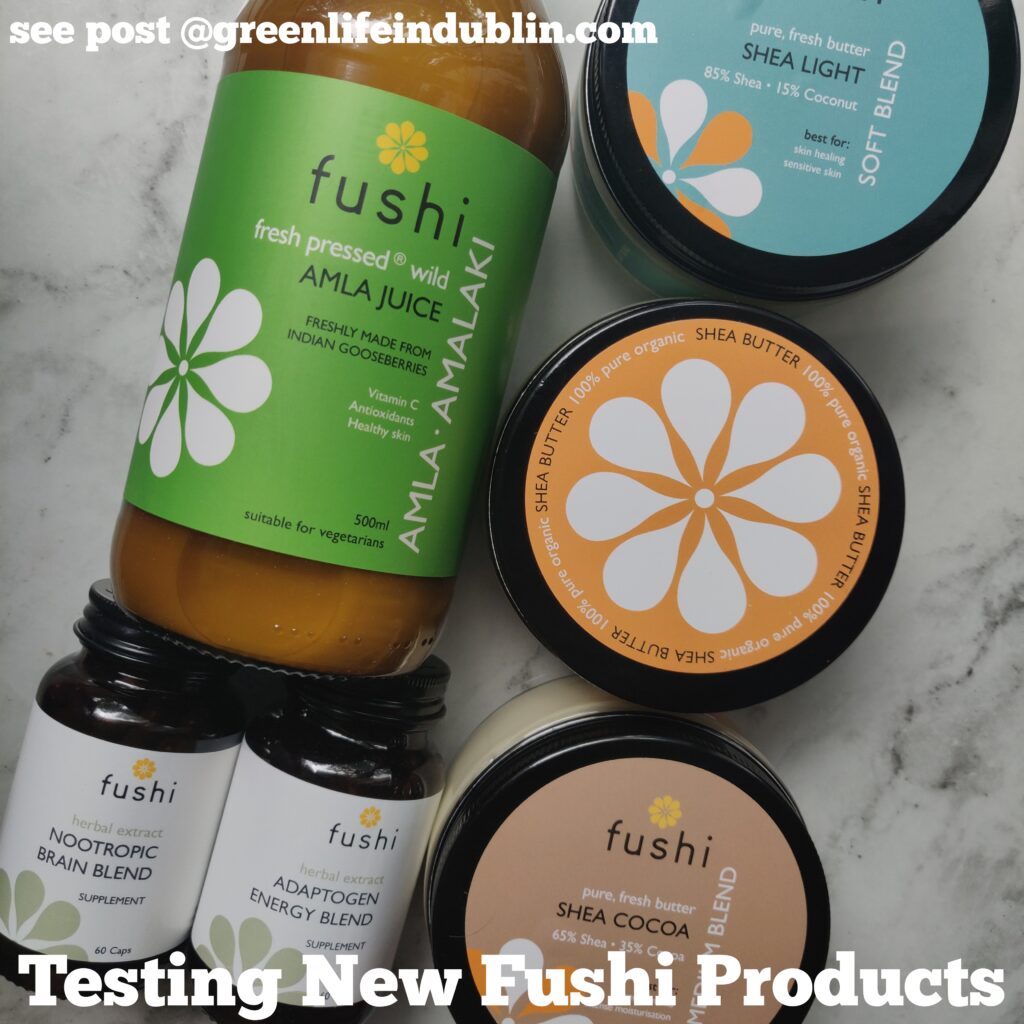 How are You, I hope You are all well?  Today I am coming at You with first impressions of Fushi new launches – please step forward Shea Cocoa Butter, Shea Light, Amla Juice, Nootropic Brain Blend & Adaptogen Energy Blend supplements. I have reviewed some other Fushi products here if you want to check it out?
It all started with the shea butter. That's basically it what my husband uses for the skincare, so when he ran out, I repurchased this awesome raw, organic and handmade Fushi shea butter. Then I learned Fushi came out with two more versions of it and I had to know more 🙂 I simply love the fact that many if not all products are certified organic (Soil Association, no less!), vegan, cruelty free, biodynamic, fair trade, ethically sourced and more. I reached out to the brand, and as we have worked together before, they gladly let me test their new releases for the review purposes. This post is going to be new impressions kind of post, but I will follow up with the more in depth posts (or videos) later. Let's look into the new products Fushi released?
SHEA COCOA BUTTER
Delicious blend of natural body butters
• 65% shea butter & 35% cocoa butter
• Rich in fatty acids, vitamins and antioxidants
• Protects and combats dry skin
• Promotes skin health and radiance
The official blurb:
"The decadent properties of organic cocoa butter along with the renowned benefits of shea inspired us to create a soft butter blend combining both of these wonderful skin nourishing butters. And the result is a luxurious and intensely hydrating, one of a kind, unique shea cocoa body butter.
Pure cocoa butter is extracted from the richly nutritious cocoa bean, and offers a softer texture, known for its rich fatty acid content and natural phytochemicals that help with skin elasticity and healing the appearance of stretched skin. Shea butter works similarly to cocoa butter and provides deep moisturisation to very dry skin. It is rich in Oleic and Linoleic acids that nourish the skin and keep it beautifully hydrated. It is also rich in vitamins A, E and F that help to protect and promote youthful looking skin.
Fushi's organic Shea butter enhanced with cocoa butter offers a double benefit of these luscious skin caring emollients that can be used for dry skin, cracked heels, stretch marks, face and body moisturisation, hand and feet care and promise to leave skin supple and youthful. Both are packed with antioxidants to help repair skin damage and so can be used as a healing skin butter too.
Our luxurious, pure and unrefined Shea butter as well as our fresh cocoa butter are both sourced from Ghana, from a Women's Association."
My first impressions – I love it! It arrived when I was midst perioral dermatitis outbreak, so I took to it like no ones business and it did not disappoint. Not only it nourished the skin, helped it heal, but it also soothed the insane itch too, a bonus I appreciate greatly.
INGREDIENTS: 65% Organic Unrefined RAW Butyrospermum parkii (Shea Butter), 35% Theobroma Caoao (Cocoa) Seed Butter.
---
Shea Coconut BUTTER
Light buttery blend
• 85% shea butter & 15% virgin coconut oil
• Rich in omega oils
• Protective and skin healing
• Promotes skin health and radiance
What happens when you blend creamy Shea butter with the gorgeous coconut oil? You get the fabulous combination of Coconut Shea Butter, a lighter version of Shea butter. It perfectly combines the powerful properties of both to create a blend of buttery exquisiteness that smells incredibly delectable.
Shea butter is rich in oleic and linoleic acids that nourish the skin and keep it beautifully hydrated. It is also rich in vitamins A, E and F which help to protect and promote youthful-looking skin. It pairs perfectly with the moisturising and healing qualities of fresh Sri Lankan organic raw coconut oil. Together it protects and restores skin health, and leaves it supremely soft. The lovely, smooth consistency easily melts into the layers of the skin and keeps it hydrated all day long.
Fushi's unrefined, pure Shea butter enhanced with organic, virgin coconut oil is ideal for those who prefer a lighter version and of Shea. It can be used for face and body moisturisation, hand and feet care, dry skin and is an overall multipurpose skin moisturiser.
Ingredients: 85% Organic Unrefined RAW Butyrospermum parkii (Shea Butter), 15% Organic Extra Virgin Coconut Oil (Cocos Nucifera).
Shea Butter is sourced from the Yumzaa Women Association cooperative in the Northern part of Ghana in a town called Tanpi in Tamale. They are a member of the NBSSI (National Board of Small Scale Industries) back by the government.
My first impressions – I love it! So much easier to use than regular she butter, in a way that it glides on the skin so smoothly, no need to warm it up between the palms of your hands or anything like that. The scent is lovely and I love the way it leaves the skin soft for days.
---
What it is?
Fushi Amla Juice, also known as Indian Gooseberry, is a sour fruit that grows in India. Well known in ayurveda for bringing equilibrium into the body, it is also considered the divine fruit for its wide range of benefits. It contains 20 times the amount of vitamin C found in an orange, as well as a whole host of nutrients such as iron, calcium, phosphorus, carotene and vitamin B complex. It's also known to be a powerful antioxidant which helps the body recover from oxidative stress by eliminating free radicals. From the pulp to the seed, Amla is packed with so much goodness that will leave your inner and outward health glowing.
Benefits
– Contains 20 times the amount of vitamin C than that of an orange
– Helps to promote healthy skin and hair
– Brings equilibrium and balance
– Loaded with nutrients and antioxidants
– Helps to eliminate free radicals
– Provides an array of health and beauty benefits
– Helps to protect against environmental toxins by enhancing immunity
– Supports collagen production leaving your skin feeling youthful and healthier
– Not made from concentrate and preservative free
– No artificial sweeteners, flavours or colours
– Recyclable, light, protected glass bottle
How to Use
Shake before use. Take 30ml of Fushi Amla Juice mixed with half a glass of water before food twice a day or drink as directed by your healthcare practioner. Once opened, keep refrigerated and use within 4 weeks of opening. Due to its rich content of vitamin C, Amla produces a naturally sour, tangy taste.
Do not take if pregnant, breast-feeding or taking any medication under medical supervision. Not recommended for children under 12 years.
Ingredients: 99.7% Pure Fresh-Pressed Amla Juice -Indian Gooseberry (Emblica officinalis), Potassium Sorbate (from berries of mountain ash), Sodium Benzoate (from apples).
Cold pressed & unpasteurised.
No added sugars, artificial colour or flavours
My impressions – I love it! Tangy taste indeed, but it is loaded with NATURAL vitamin C, which we all need right now. I am definitely repurchasing. Multiple bottles in fact 🙂
---
HERBAL EXTRACT NOOROTROPIC BRAIN BLEND SUPPLEMENT
What is the Noorotropic you say?
Nootropic is a compound that increases mental functions including memory, motivation, concentration, and attention (1). This innovative unique blend was designed to power the mind and support cognition throughout the day.
KSM-66 Ashwagandha, which is the herb at its highest concentration (5% concentration of Whitanolides), is an adaptogen most well-known for helping the body deal with stress and contributing to feeling calm, cool and awake.
Gotu Kola, has been used in Ayurvedic medicine as tonic remedy for memory, concentration and for promoting clarity, focus and a peaceful mind.
Matcha green tea powder, a great source of L-theanine that provides an energy boost without the crash and improve concentration.
Organic Seagreens, rich source of Iodine which is an essential mineral and plays a critical role in the support and balance of normal thyroid function which helps keep the metabolic rate healthy.
Korean Ginseng, also known as Red Ginseng helps promote vitality and maintain mental alertness. This blend provides a minimum of 4% 'Ginsenosides' to help keep you on top form.
Avena Sativa also known as oat straws, is the young shoots of the grain plants which produce oats. The straw is an excellent source of major minerals that nourish the brain and nervous system.
Bacopa is known for its brain-boosting properties. It enhances memory, relieves anxiety by improving your body's stress response and protects the brain from cognitive decline.
In our modern lives we are constantly on the go, and our brains continuously at work. This nootropic blend can be used as a natural cognitive enhancer for daily use, to switch on and power the mind without the crash.
Nootropic Blend Formula is important for:
• Supports productivity, concentration, focus and alertness.
• Keeps energy sustained throughout the day.
• Contributes to the normal synthesis and metabolism of neurotransmitters.
• Fushi Fresh Ground® Herbs, Herbal extracts and adapatogens supports concentration and focus.
• A natural and innovative cognitive enhancer for daily use.
Ingredients: Vegetable Capsule Shell (Hydroxypropyl methylcellulose), Iodine, Centella Asiatica (Gotu Kola) Extract, Matcha Green Tea Powder, Seagreens® (Ascophyllum Nodosum), Panax (Korean) Ginseng Extract, Avena Sativa (Oat Straw) Extract, KSM-66 Whitania Somnifera (Ashwagandha) Root Extract, Bacopa Monnieri (Brahmi).
---
Adaptogen Energy blend
• Synergistic blend of Fushi Fresh Ground® herbs, herbal extracts and medicinal mushrooms.
• Adaptogenic mushrooms – Chaga and Cordyceps to support immunity, energy and adrenals.
• Rhodiola Rosea and Ashwagandha to support stress, anxiety, adrenal fatigue and to improve sleep.
• Vitamin B12 and Korean ginseng for an energy boost.
This unique Adaptogenic mushroom blend of fresh ground herbs, herbal extracts and medicinal mushrooms is formulated to naturally support energy levels and to help the body deal a stressful modern lifestyle.
Medicinal mushrooms included in this blend consists of Cordyceps Sinesis and Chaga.
Cordyceps, has been used in traditional Chinese medicine to boost exercise performance and energy. It also helps improve brain function and the immune system. Chaga also known as "the mushroom of Immortality", has been used for centuries in Siberia and other parts of Asia. It has powerful antioxidant properties, support the immune system and is very alkalising. Chaga is highly regarded as an adaptogen – which can help the body adapt and cope to stress.
Ashwagandha and Rhodiola are both adaptogens that can help negate stress on the body.
They both significantly help the body with stress, anxiety and sleeplessness and bring back the body to balance.
Korean ginseng, is another adaptogen that works as a mild stimulant for the body and mind. It provides a minimum of 4% ginsenosides which are the active ingredients in ginseng and contributes to physical and mental well-being as well as supporting the immune system and the body's natural defences.
Maca, also known as Peruvian ginseng, a root vegetable from Peru is a complete protein containing essential nutrients. It is an adaptogen known to support the adrenal glands in time of stress, improves energy levels and strengthen the immune system. It is also renowned for its fertility enhancing properties and supporting hormone balancing.
Vitamin B12 contributes to normal energy-yielding metabolism and the reduction of tiredness and fatigue. It also supports the normal function of the nervous and immune system and contributes to normal red blood cell formation.
Fushi's adaptogenic mushroom blend is a 100% natural formulation with no added nasties.
Due to the calming properties in the blend, it is ideal to consume in the evening before bed, to support a restful night's sleep.
Ingredients: Vegetable Capsule Shell (Hydroxypropyl methylcellulose), Rhodiola Rosea Extract, Inonotus Obliquus (Chaga) Mushroom Powder, Lepidium meyenii (Maca) Extract, Panax (Korean) Ginseng Extract, Cordyceps Sinensis Extract, KSM-66 Whitania Somnifera (Ashwagandha) Root Extract, Vitamin B12.
My thoughts on the new products: I am very impressed with everything! I am not going to say much about the supplements just yet, because I want to take time to form my final thoughts on them, but I can definitely say I am impressed and recommend everything else mentioned here. I am yet to meet a Fushi product I would be disappointed with and I want to know more more more 🙂
GET IT FROM:
Ethical Superstore
Natural Collection
Fushi.co.uk
That's it for today's post, thanks for reading! Your turn now – have You tried any of these new Fushi products? How about anything else? Please share your favourites with me, I want to know 🙂
Love & Light,
Renata.