Hi Lovelies,
Welcome back! And if you are new here, welcome ???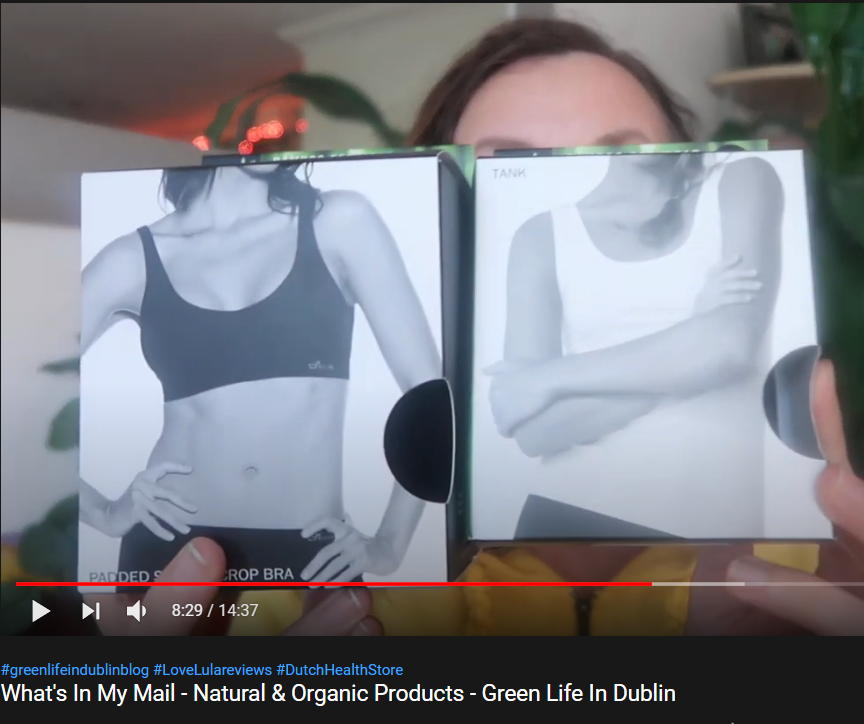 Hands up if You love organic bamboo clothing? I do! If You don't know about it it, You are in the right place. Boody is organic activewear brand that originated in Australia, and now it is available worldwide. Bamboo fabric offers ultimate breathability and it is naturally antibacterial, making it ideal for activewear, hello, no odor! Bamboo if the fastest growing, renewable and water conserving plant on earth. And Boody chooses organic kind, yay or what? Organic means sustainable, grown without pesticides and other nasty chemicals. Let's see more and my thoughts on them? I am a fan and customer for 4 years, so I can offer honest feedback that's more than first impressions 🙂
Let's look a bit more into bamboo fabric, shall we? It blocks UV rays, keeps you cool in summer and warm in winter, it is silky soft with antibacterial and antifungal properties to it.
The official blurb:
Many call it the miracle fabric
"We care about our planet and all its inhabitants. The Boody Bamboo eco wear concept was born when we discovered how much more sustainable organic bamboo yarn is than organic cotton.
Bamboo is the fastest growing plant on the planet and does not require any fertilizers or pesticides. Importantly, bamboo requires virtually no irrigation, while cotton requires more than 5,000 gallons of water to produce a bit more than 2 pounds.
Our love for bamboo grew and grew… we learned that bamboo is harvested like grass, renewing vigorously every season from it's offshoots. And bamboo yields up to 30 times more per acre than cotton. Our production process is just as eco-friendly. Our suppliers use only closed loop systems, meaning all water is filtered and re-used.
Superbly soft
Boody Bamboo Eco Wear – our game-changing Australian brand of fashion underwear and bodywear meets the needs of the woman or man who wants a fashionable garment that fits perfectly, looks and feels fabulous, is healthy to wear and doesn't cost the earth.
Boody fabric has been exclusively sourced and developed from organic bamboo yarn and our garments are therefore seam-free and silky soft on the skin.
Boody does not creep or show panty lines, and washes and wears beautifully, lasting much longer than your cotton undies.
Breathable and Hypoallergenic
One of the wonders of bamboo is that its fiber is hypoallergenic. Bamboo fiber naturally contains many micro-gaps, which provide substantial ventilation and moisture absorption. Bamboo fiber is hydroscopic – moisture is shunted away from the body and evaporated rapidly allowing your skin to breathe more easily.
Antibacterial and Antifungal
Bamboo thrives naturally without pesticides because it contains the super anti-fungal and anti-bacterial bioagent, Bamboo Kun. This substance is tightly bound to the cellulose molecules and therefore is maintained in  finished Boody bamboo products. Recent studies by the Japanese Textile Inspection Association found these properties were maintained even after 50 washings of Bamboo fabric. The most noticeable benefit is that Bamboo cloth is odor free – odor being an unpleasant by-product of bacteria proliferation. Boody will keep you fresh all day, every day.
Anti-static and thermo-regulating.
Bamboo fiber is much finer than cotton and therefore the fabric is lighter, softer and has a more luxurious drape. The millions of micro-gaps in the yarn make it highly breathable, helping you keep cooler in summer and warmer in winter.
The carbon in bamboo is known to have a balanced charge. This means that you won't get that horrible static feel when you wear Boody."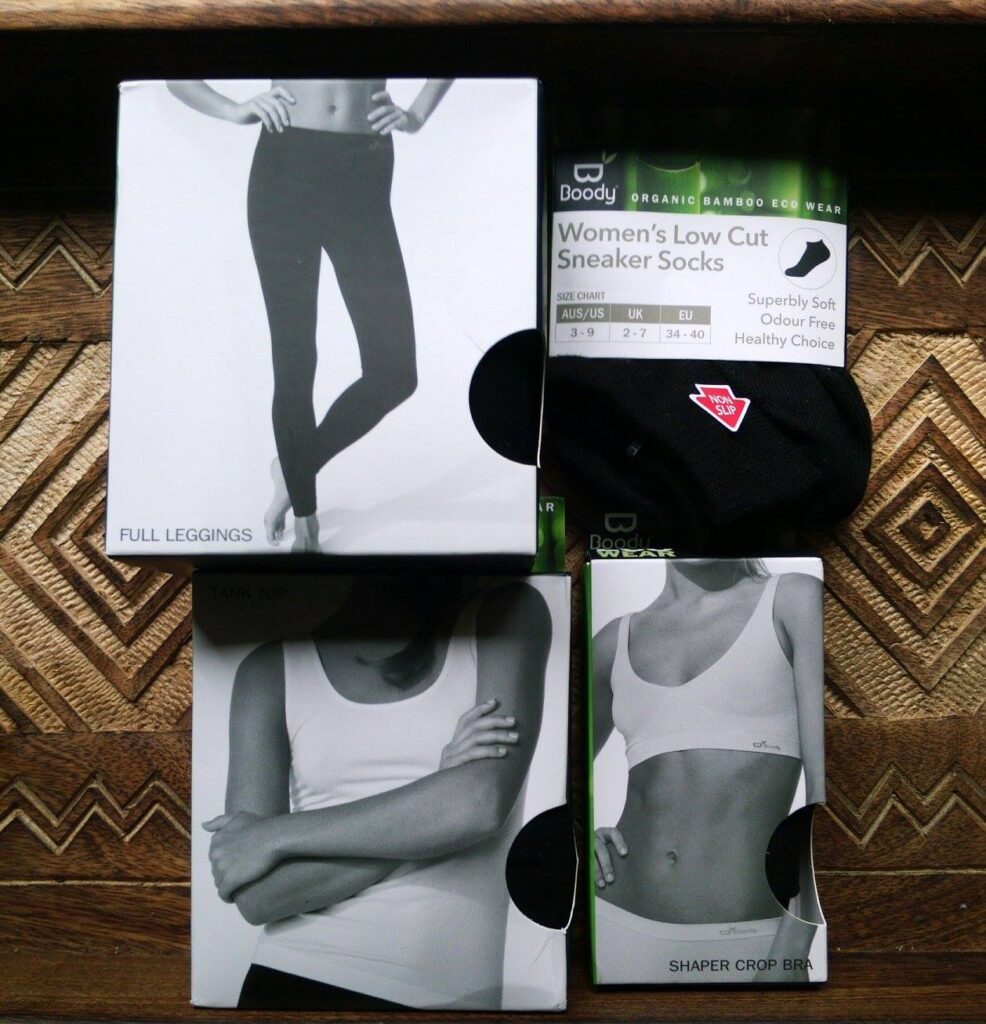 Static free, perfect temperature… what more could you want?
Wow, these figures are an eye opener, isn't it? I mean I knew about hemp and bamboo clothing for a good while now, but what I've seen to date was hippy ponchos that are real eye sores, and this is just a different league! So stylish and nice, I am just loving each and every one of the items! Four years a customer & I am back for more constantly. And now that I know how much more sustainable bamboo fabric is, I will be much more conscious when it comes to new clothing purchases. Boody sells womenswear, menswear and babywear (think tops, underwear, leggings, socks and various baby items too).
Boody won a lot of awards, just look them up. The brand carries the Ecocert Organics sertification, which as we all know is used in well over 80 countries. So you can trust this product. They say it is the perfect fit for you and the planet and I have to agree.
The clothes are super soft, seam free, super stretchy and super comfortable too, personally tested by willing human bunny, aka me 🙂
Now, a bit about the sizing- the clothes comes in four sizes, as in S to XL, so I was super nervous about not fitting into them, but size M is perfect size for me, everything fits like a dream, which made me so happy! So if you are like me and are 10-12 in the UK sizing (or 6-8 US), feel free to chose M and it should fit you right.
So all in all, this is a great company and great clothing too, and I am super happy to have it in my life. As I already mentioned, I am back for more time and time again! I only wish they would add kids clothing to the range too, because both of my kids are way past baby phase and I'd like to kit them out in organic clothing too. My little one is always complaining that I have the softest tops and that she wants to have them too. They last and last, ten times better than cotton ones I used to get. But let's be realistic, they won't look brand new four years on, expect some bobbling and signs of wear with time. Oh, and did I mention that their prices are super fair and affordable? Win win situation if you ask me 🙂


You can get Boody online from their website or in various brick and mortar shops too.


So that is all for now. Are you wearing bamboo clothes yet and how do you like it? Please share with me 🙂
Lots of Love,
Renata.

Disclaimer - review marked as AD because of PR products sent, but I am a customer for four years already. I am also their freshly baked affiliate, meaning I would get a small % of sales, without any additional cost to You as a consumer. This is how I fund my blog & I thank You for Your support. I worked for a decade for free on my blog prior to introducing monetization this way, my first and foremost aim is to be of help to people to witch to natural products in all areas of our lives. The review is not sponsored, entirely my own thoughts & experience. Thank You for reading!