Hi Lovelies,
Welcome back! And welcome if You are new here xoxo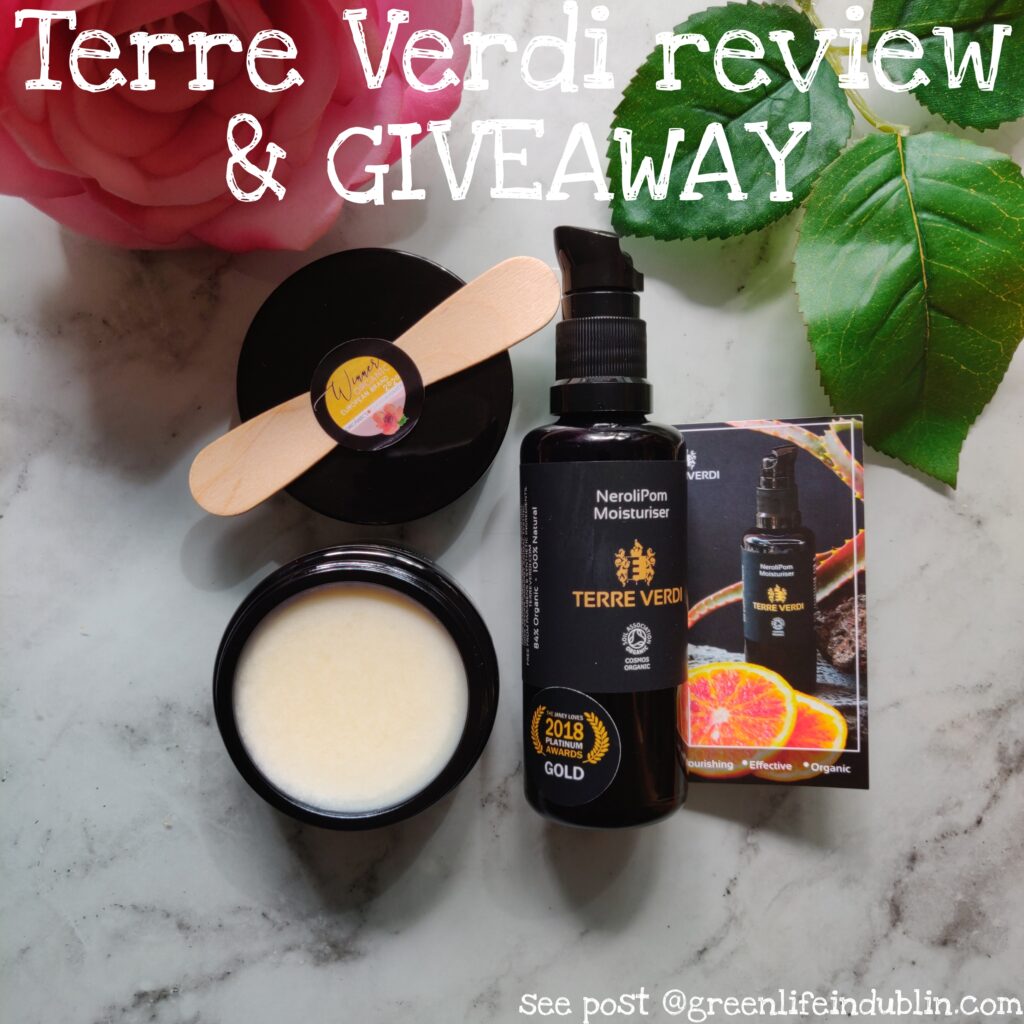 Today I have something special for You – Terre Verdi review and giveaway! It is my birthday and I want to celebrate it by sharing gifts with You.
*GIVEAWAY IS NOW CLOSED*
First, let's look at the brand and how it came to be, shall we?
The Terre Verdi brand was born as a result of  founder's personal search for clean skincare products that deliver great results. Terre Verdi is one of the first UK-based companies to gain COSMOS Organic certification by Soil Association, as well as being Cruelty-Free approved and Vegan. With passion and dedication, she have created an exceptional and 100% natural skincare range with the well-being of your family and our planet in mind. Organic range has been formulated with both the family and the environment in mind, using the very best organic ingredients to nourish and care for the skin.
Here's what the brand founder Alessandra De Gregorio has to say about it:
"Having grown up in Sicily, I find inspiration from Mediterranean flowers, plants and fruits, such as neroli, geranium, pomegranate and orange. The beauty and abundance found in these green landscapes (terre verdi), are reflected in our products' textures and scents. When you use the Terre Verdi products, I want to take you on a SPA journey!
Family is at the heart of what we do. My husband and children enjoy using skincare as much as I do, so I formulated these products for them as well! Therefore, the products in our range are unisex.
A Holistic Approach
There are no synthetic ingredients in the range, as I believe nature has gifted us all that we need already. Our formulations are made of 100% botanical composition and follow a holistic approach, where both the mind and the body are important. The aromatherapeutic benefits of our products go hand-in-hand with their skin benefits. For example, uplifting neroli is found in a few of our products, as it has the benefit to elevate your senses and mood.
Our formulations have been created to be effective and to deliver great results without unnecessary fillers. Our eco-luxury products are packed with actives to tackle issues such as premature ageing, skin imbalances, and even muscle aches.
You will find the highest organic concentration possible in our products with each concentration shown on the label. I believe there is no point in calling a product organic if only a very small percentage is organic.
You will benefit from receiving the freshest products when you place your orders, as we craft them by hand in small batches in an artisanal way.
Each product shows an expiration date, that confirms our commitment to excellence.
Sustainable Skincare
We are a sustainable skincare brand. Our organic certification validates our ethos of 'embracing the planet as much as we embrace ourselves'. Our packaging is fully recyclable with the special biophotonic glass protecting the products from damaging light exposure, and ensures that the contents stay fresher for longer.
Cruelty-free approved means that we are against animal testing. We are audited by Cruelty-Free International so you can be confident that we do not use any animal tested ingredients, nor test our finished products on animals.
Vegan skincare means that our products are free from any animal derived ingredients."
I got a chance to try Terre Verdi NeroliPom Moisturiser* & Terre Verdi ArganShea Multitasking Cream* for a good couple of months now and I have to say they are both beautiful products! Neroli moisturiser was perfect for the summer, it is light in consistency, very easy and pleasant to use. Smells of gorgeous neroli & I am happy to say that my uber sensitive skin had no problems with it. Now that the weather is cold, the Terre Verdi ArganShea Multitasking Cream comes into play. This is much more thicker and more balm like in consistency, combining healing powers of shea, argan and calendula – perfect for often icy breezy weather where I live. Whether I wear make up or not, this is what I always use as last layer of my skincare in the mornings. Again, no issues with my sensitive skin, but that's not to say it would suit everyone. You can be sensitive or even allergic to anything under the sun, whether natural or not. Fortunately they do a discovery box, so You can try before You buy. Let's look into the ingredients?
TERRE VERDI Neroli Pom Moisturiser
Ingredients: aqua, camellia oleifera (white tea) seed oil*, cetearyl olivate, glycerin, sorbitan olivate, stearic acid, cetearyl alcohol, punica granatum (pomegranate) seed oil*, sodium levulinate, tocopherol (Vitamin E), aloe barbadensis lear juice (aloe vera) powder*, glyceryl caprylate, sodium anisate, citrus aurantium (neroli) flower oil, citral**, geraniol**, farnesol**, limonene**, linalool** *denotes organic ingredient ** occurring naturally in essential oils
TERRE VERDI Argan Shea Multitasking Cream
Ingredients: butyrospermum parkii (shea butter)*, calendula ocinalis (calendula) oil*, argania spinosa (argan) oil*, tocopherol (vitamin E), citrus aurantium (neroli) essential oil, pelargonium graveolens (geranium) essential oil*, citrus sinensis (sweet orange) essential oil*, citral**, geraniol**, farnesol**, limonene**, linalool** * denotes organic ingredient ** occurring naturally in essential oils
My final thoughts:
I love both products and I want to know more 🙂 As You can see, the brand has good ethos, uses natural ingredients with very high percentages of certified organic ones, goes for organic certifications and it shows! It is beginning to collect multiple awards for it, You will see it on the brand's website. And they made it into Love Lula too! You guys know how much I love Love Lula.
See 100+ Love Lula reviews & posts here
GIVEAWAY:
Giveaway will be happening on my Instagram page, so hop on here to enter. The rules:
Follow me & the brand on IG
Like this post
Tag friends! (the more, the better Your chances, each in separate line please) 1 tag = one entry
5 bonus entries for reposting on Your stories (tag me in so I can see it)
10 bonus entries for reposting on Your page (tag me in the actual photo, not @ mention)
The giveaway is open worldwide, will run for one week till 9 December. Not affiliated with Instagram. The brand is responsible for shipping the prize. The best of luck!
*GIVEAWAYS IS CLOSED*
That's it for now, thanks for reading x
Sending Love & Good Luck!
Renata.