Hi Lovelies,
Welcome back! And welcome if You are new here ???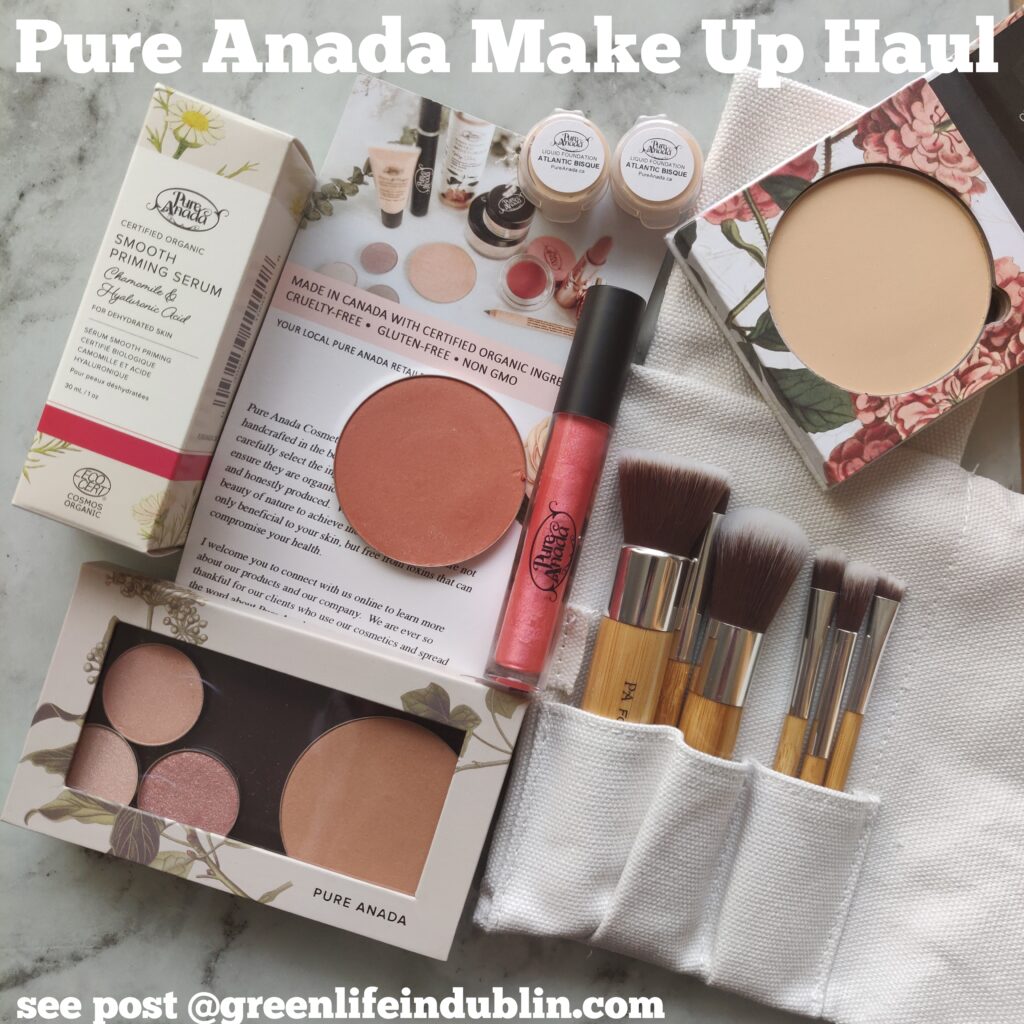 Happy & healthy 2021 Lovelies! If You follow me for any amount of time, You will know my love for Pure Anada, it runs deep, ever since I discovered it in 2015-16. The mineral make up is one of the cleanest, most pigmented and most affordable clean make up out there. I have blogged about it time and time again, then tried their body and hair care and fell in love some more! I will link some of the posts, as well as discounts as big as 25% in this post. Interested? Then You are in the right place, let's dive in 🙂
Pure Anada products are really pure with no fillers, minimal beautiful ingredients, and they do work beautifully, so if you want a nutshell of a review, here it is – I am in love with the products and I will be back and back and back time again.  Please see here for their story.  I also need to purchase multiple backups of their mineral foundation as I never want to be without it! They do samples for only about a dollar of nearly all the products, and they are really generous samples, they will give you about two weeks of use I would say? In that time you will definitely be able to make up your mind if the product is for you or not. My first order was full of samples, and I came back for full sizes for nearly everything, and I think you won't regret it too. They say if you are ordering only samples, you can use the code "samples" to bring your shipping cost to only 2$ – so see if it works for you. It didn't for me, but I am an international customer, plus the shipping is very affordable at round 7€ (that's 10 Canadian dollars for you), so I didn't mind too much.
I am not sure if all of their products are vegan, but they clearly state it in the description if they are. The company also does skincare and body care, as well as nail polish and adorable sets for little princesses, I have tried most of it and to the point of sounding like a broken record, I love and recommend it. My code GREENLIFE will save You whopping 25% off everything [once]. Now let's see what did I actually got and what do I think of the products?
Shadows in Illusion, Rosen Gold & Reverie
Lipgloss in Citrine
Blush in Lush Nectarine
Foundation (pressed) in Very Fair
Bronzed Clove Pressed Bronzer
Two samples of liquid foundation in Atlantic Bisque
My thoughts on the products I have tried previously:
Mineral foundation – love from the first swipe! Very pigmented, which is why I love it so much, you definitely need only one or maximum two layers of it for full coverage, not seven like with some other brands. Clean ingredients, no bismuth oxychloride in sight. This was one of the first products I have tried and exactly what made me fall in love with the line. My shade is a mix of Atlantic Bisque and Sunkissed Canadian. Full size (10g) is only 25$ CA & they sell it with a refill baggie for only 35$ CA – I have that and I feel I am sorted for life. Seriously it is going to last You ages, a little goes a looong way.
Liquid foundation – love too, although I haven't had full size yet. I get a couple of samples with each order and make them last, as I only wear make up a couple of times a week. The sample sizes are filled to the brim (for only a dollar!) – that will give You a couple of weeks wear, definitely enough time to see if You like it or not.
Eye shadows – one of the cheapest and most pigmented, love! The array of the beautiful bright colours! All the naysayers claiming that green beauty does not have exciting colours should have a look at this brand – the argument will be settled right there and then.
Lip Gloss & Lip Shine – both formulas are lovely. Gloss is very pigmented (sorry for sounding like a broken record at this point!). The lip shine has mintiness to it, but it wears away pretty soon.
Blush – my favourite thing ever. Blush is my happy place when it come to the natural make up. My favourite from this brand is definitely Forever Summer, it definitely makes me smile every time I wear it! You get a huge pan for only 12 bucks CA and you only need one dip of a brush for both cheeks application, I swear! Samples of every single one available.
Eyebrow Colours -these come in loose powder format, there are seven of them to choose from, plus two pressed eye shadows that could be used as eye brow powder too. I was overjoyed to see ash tones to choose from. You see, I need ashy product for my brows, almost grey, and yet so many of the companies offer warm tones only. I have mine in Cinder, which is medium ash, which should have worked well for me on paper, but due to the pigmentation of it I had to apply with a very light hand. Eventually I got Flint, which is one shade down, so that's how I got my shade right.
Mascara is lovely, it is their best seller, it gives more natural look. Personally for me, I am looking for more va-va-voom, because my lashes are not visible without mascara, so all the help I can get with it, I want it. Hence I am not repurchasing. If You are looking for a natural look mascara, this might be Your best product. Colour correctors I found a bit too dark for me, I find You need to go down a shade from what You think You are in this brand. I have the flesh toned ones, haven't tried the green and the lilac ones. Liquid concealer I have had too, but the one I got separated pretty soon & I could not get it to work. I have to say I got one from their first few batches, maybe the formula has improved since, I do not know. Very pigmented, I have to give them that – do You see a pattern here?
So, to round things up, I LOVE the brand! I included in a Natural Beauty Starter kit as one of three or four brands that I deem Holy Grails – if that isn't a testament of how much I love it, then I do not know what is.
Natural & Organic Make Up Starter Kit – Green Life In Dublin
For Pure Anada & more natural products swatches, You might want to see this post:
Their body care is very impressive too, highly recommend. Cheap yet so good, I keep coming back for more each time.
Live In The Light Haul – Herbamedicus, Pure Anada, Vermont Soap – June 2020
If that wasn't enough, their shampoo bar has made it into my Top 2 Fave Haircare! Certainly the best solid shampoo around. I have tried a ton, nothing worked apart this. Do Yourself a favour and check it out.
*A little note about their shipping – it costs 10$ CA, but if Your order is heavier than 0.5kg, they might ask for additional costs, although they contribute part of it themselves too. So to avoid that and possible extra custom charges, I recommend shopping small. For my green beauty sisters in the EU, I always recommended Live In The Light, which is UK Pure Anada stockist, but as we all know, Brexit has happened, so I don't know what is going to happen next. Time will tell. Live In The Light ship very fast, I usually get my orders in around 3 days – with tracked signed in shipping, no less. Hopefully things will work out in favour to consumers.
Thanks for reading, I appreciate it!
Please stay tuned for upcoming Pure Anada make up look post or Youtube video in the near future. Not giving any specific dates, as we are about to go into another strict lockdown with homeschooling kids for weeks on end – that did not go down that well last time, so I might get cabin fewer. We will see.
Sending Love & Light,
Renata.
If You wish, You can also start Your own affiliate journey here - what a better way to earn extra income, than promoting a brand You already use and love, right?