Hi Lovelies,
Welcome back! And welcome if You are new here xoxo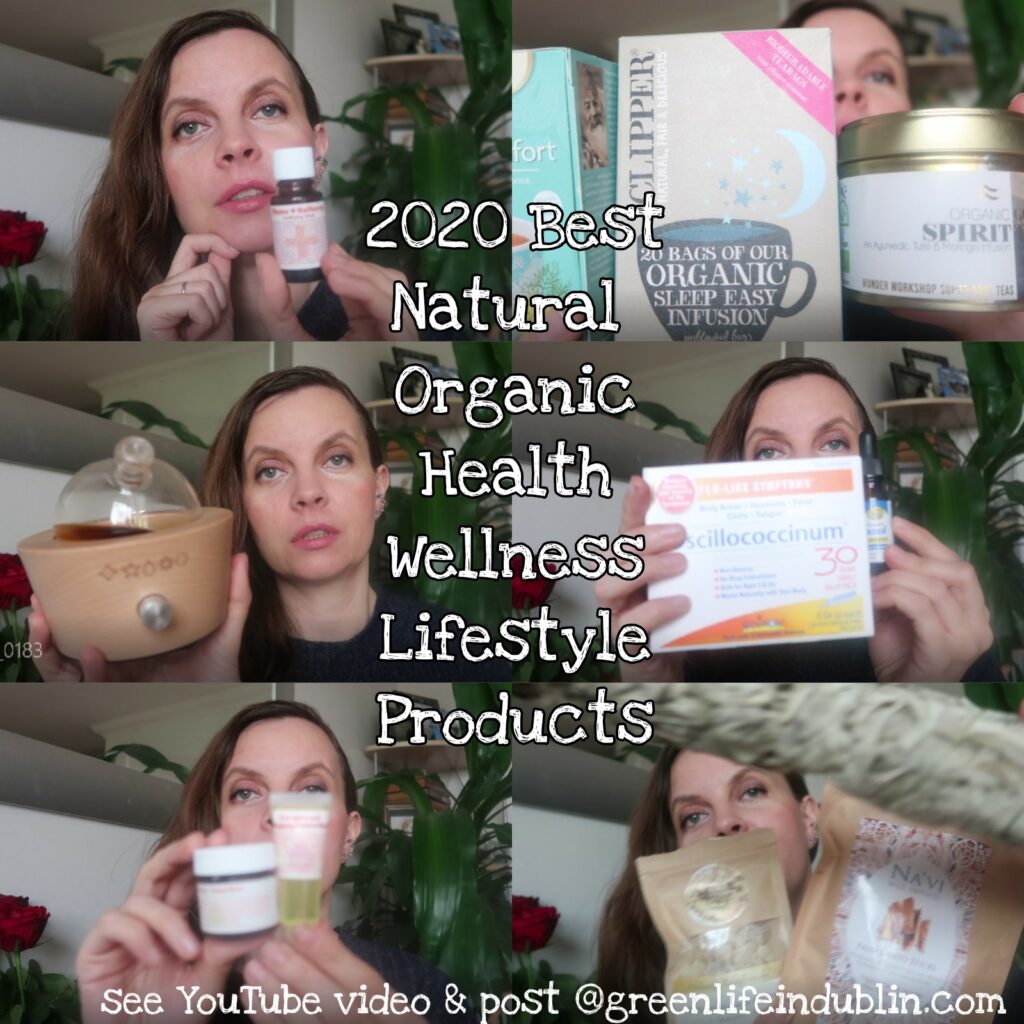 Hope You are well! Or well enough? This latest lockdown is taking out a lot out of me, I am finding it so much harder than the last times – anyone else feeling the same?
Today this squirrel in a wheel is finally finishing 2020 Best Series and it is time for health, wellness and lifestyle favourites. If You follow me for some time, You will know or be able to guess my choices, but if You are new here, think Living Libations, Boiron, OreganolP73, Medicine Flower, Na'vi Organics, Wunder Workshop, Jeomra and more. Intrigued? Never heard of them? Then let's get started 🙂
Products in order of mentioning in YouTube video, which You will find linked at the end of the post. If You are looking for the products links, they will also be at the end of this post, hope that's ok with You :)
Drum roll please, these are MY BEST PRODUCTS!
Yogi Throat Comfort Tea
There's something seriously delicious and comforting about this drink, I am addicted! So sweet on it's own, I am really enjoying it and I enjoy not adding any sugar or honey to it, which is good news for my teeth. Sorts out sore throat too, which is always a bonus. I recommend closing the cup for steeping, this is the key to get the flavour out of it.
Clipper Sleep Easy Tea
This definitely needs a half a teaspoon of honey, but hear me out – it is seriously relaxing to the body and it is something I always want to have with me at all time. I find myself reaching for it on stressful days and insomnia nights and I find it helps like nothing else. Organic too, always a bonus.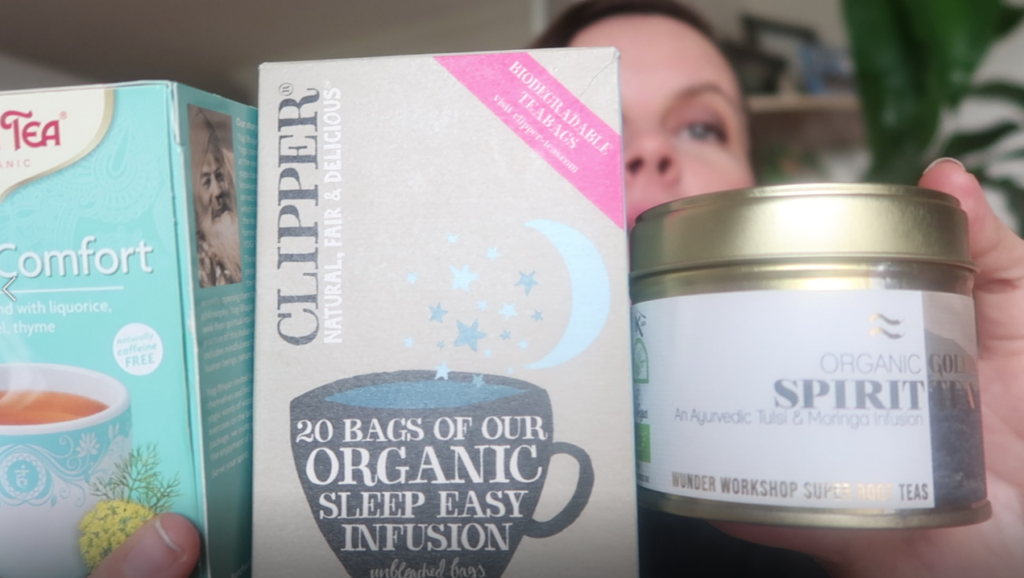 Spirit Tea by Wunder Workshop
I am seriously enamored with this brand, probably one of my best discoveries of the year! Their shrooms latte is also addiction of mine, see below.
Wunder Workshop Golden Shrooms Energy & Immune Magic Review [AD]
Golden Shrooms by Wunder Workshop
Seriously good shroomy turmeric latte, I can't get enough. Have repurchased multiple times since the review & I do not plan to stop. Brings me a calming and grounding moment in a day (or night) – with added health benefits, no less. Love company's ethos too, that's something I want to support.
Premium Quality Jiaogulan Gynostemma Loose Tea by Na'vi Organics
Imagine all the benefits from the green tea, but multiplied! I got mine from The Dutch Health Store, which is seriously amazing gem where to find all kinds of natural wellness goodies. I should blog about it. Oh wait, I already did! See below. The packet might seem a bit pricy at first, but it is seriously never ending – I got mine months and months ago and it looks like I barely used it, a little goes a long way. You can make multiple cups too.
Living Libations Nebulizing Diffuser
So nice I got it twice! I have chosen this waterless diffuser specifically because of the mold problem in our house & I was double overjoyed to find out I do not have to clean it after every single use, or barely at all (see review). I got the second one as soon as I was able to save up for it, as not to carry the same one all over the house.
Essential oils
The more I am finding out about these little gems of plant extracts, the more I am falling in love with them. They were the original perfume and original medicine if You will, before the Big Pharma came in with synthesized compounds found in plants  & tried everything they can to discredit & ridicule everything that was the original medicine. This is still going on, but that's another story for another post. Depending on what they are, different essential oils will help you relax or aid in healing some dis-ease or another. Check this book if You are new & you might want to see my own Healing Blend recipe? Linked a bit below. Choose pure food or therapeutic grade essential oils, never fragrance oils!
Saint Come essential oil sprays
Lovely essential oils sprays from Love Lula – but do not look for them right now, the company had to pause production due to the pandemic & all of the scents but one are gone for the time being. I hope they will be back, because they are amazing!
ViroGuard essential oil roll on by Medicine Flower
I got this to compare it to my own DIY, which was all I used prior, and guess what, they work the same. I am no aromatherapist or formulator or anything, but if You have essential oils in the house, it is not that hard to mix it. See my post below on how to. If You are one of the majority of the people who just don't want to diy anything, this is a good option that's not too pricy.
My own version of healing essential oils blend
If You are intrigued, see above. I promise You it is very easy to do and requires no equipment other than essential oils, roller bottle and a carrier oil. Joy perfume blend is even easier and requires only two essential oils. You will be glad You tried!
Boiron Oscillococcinum
This is what my family uses for over a decade and it works without a fail. I was overjoyed to find it it iHerb – as it is not available in Ireland or even UK, I was having such difficulties sourcing it via care packages from my home country. Homeopathic remedies are such a gentle and natural way to help Your body aid healing, without any nasty side effects. The worst it can happen, the remedy might not work for you, but guess what, there are plenty of more to choose from.
OreganolP73
Another one of my worst kept secrets – this beauty is my anti-everything, I haven't had antibiotics for 5+ years since discovering this little beauty. I feel it should be in every single household.
Living Libations Neem Enamelizer toothpaste
+Living Libations Ozonated Gum Gel
If you are looking for the truly natural oral care, look no further!
Living Libations Illume Hotberry review – Green Life In Dublin
Living Libations Illume Hotberry
I eyed this beauty for a long time before going for it, and I am so glad I did. It is a chrism of wonderful plant extracts that You can use orally or add it to Your lotions/ bath. Partay in my mouth, but with added health benefits!
Medicine Flower Sacred Sage® Smokeless Mist® Essential Oil Spray
Palo Santo
Jeomra Verlag frankincense resin
Sage smudge stick
All of them are natural ways to clean the indoor air & I am enjoying them a lot.
Ok, now for the links in the case You want to check something out:
Check out Living Libations website

[for uber natural oral care, essential oils, skincare & more]
Check out Dutch Health Store

for Living Libations, Na'vi Organics, Jeomra, Medicine Flower & more
Check out Live In The Light & save 15% with code GREENLIFEINDUBLIN15

for Living Libations, Wunder Workshop, sage, Fat & The Moon, Pure Anada + more
Check iHerb

for Boiron, OreganolP73, Yogi tea, Theraneem + more
Check Love Lula
for Saint Come, essential oils + natural skincare, make up, hair care & more
Here's the video for Your viewing pleasure 🙂 Hope You enjoy! Please let me know Your best Health & Wellness + lifestyle best products? I would love to know.
More yearly best:
2020 Best Series – Natural & Organic Hair & Body – Green Life In Dublin
2020 Best Series – Natural & Organic Make Up – Green Life In Dublin
2020 Best Series – Natural & Organic Skincare – Green Life In Dublin
Thanks for reading!
Sending love and light
Renata.