Hi Lovelies,
Welcome back! And welcome if you are new here xoxo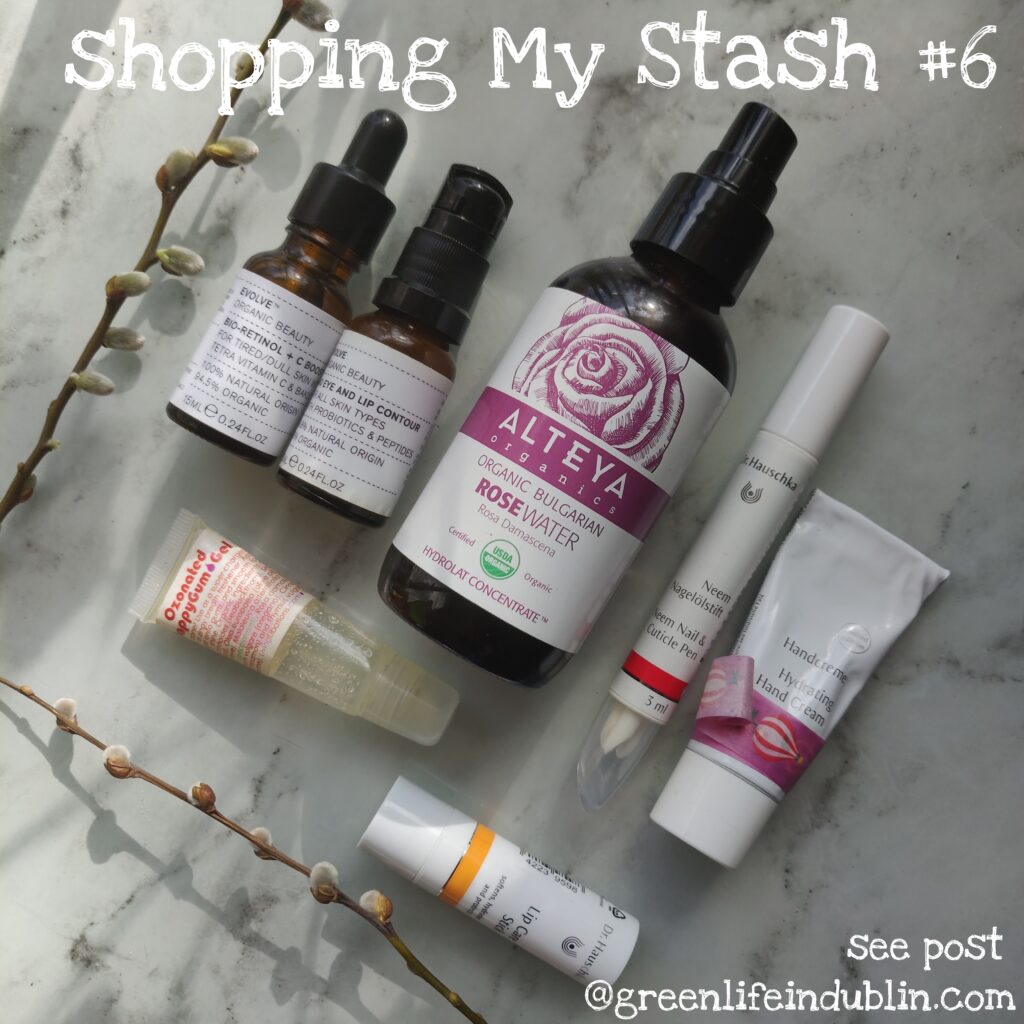 How are all of you, I hope You are OK? Spring is the perfect time to clean and refresh everything, including our skincare stashes, isn't it? I went through it and this is what I pulled out to use and use up in the next few weeks. With so many new goodies coming in, I sometimes get caught up in testing it and need to remind myself to go back to my tried and tested products, which is most if not all products You see in this photo. Welcome back to the front row seat Alteya Organics, Living Libations, DrHauschka and Evolve Organic Beauty!

All but one of these products are my ride-or-dies and will be repurchased. The nail pen is cute-but-unnecessary product in my opinion. Most of the products I have reviewed or talked about them in other posts, which I will link, so you can see more thoughts in detail.
ALTEYA ROSEWATER
Alteya Organics rosewater was love at first sight or should I say spritz? I've reviewed this a while ago and I have gone through countless bottles since. Certified organic one ingredient floral waters, look no further 🙂
DrHauscka hydrating hand cream
This came in a gift set for Christmas and I am so so glad I went for it. The cream is a dream to use, sinks in quickly and leaves my hands nourished for hours. This & a couple of other natural hand creams saved my hands this winter – not a crack in sight! Definitely repurchasing again. The iconic Rose Day Cream is my Holy Grail too, hit the search box for a review of it.
DrHauschka Neem Nail & Cuticle Pen
I'll admit, I probably wouldn't have gotten this to try if it weren't for a great offer Love Lula had last Autumn, this was a free gift with 35£ DrHauschka purchase. I was in dire need of Rose Day Cream, I added Lip Care Stick and I was in Green Beauty Heaven! This product has neem oil in it but it does not smell of marinated socks (signature neem scent!) or anything, it does not have any scent at all. I really enjoy using this a couple of times per week. Not too sure if I am repurchasing if I am honest with You – I deem it a nice luxury product rather than a necessity.
DrHauschka Lip Care Stick
Another of my DrHauschka must haves. This is one of the very few lip care products I deem my Holy Grail. As laid back as I am, I am kind of picky about my lip balms – one of my criteria for them is they have to have staying power!
My Favourite Natural & Organic Lip Balms [That Stay On The Lips]
I can't get enough of this! A solid part of my dental care routine, this ozonized oral care creation, made of three atoms of oxygen (O3), delivers ozone to your tooth-brushing regime and adds a fresh depth to clean. Nascent oxygen and essential oils are natural partners for a happy mouth. Can be use as toothpaste, on floss, and as a massage-gel for gums.
The only (bio) retinol & vitamin C product not to irritate my uber sensitive skin, nuff said.
Evolve Organic Beauty Bio Retinol + C Skin Booster Review [AD]
Love love love Evolve brand, the more I try, the more I fall for them. This eye cream (lips too!) has peptides and probiotics in them, love the ingredients, texture and how it feels on the skin. Somehow I ended up with two of these, so it will be a while till I use them up. Works for me, I like having one in my little skincare tray next to the computer and one in the bathroom for night time.
My Natural & Organic Fall Skincare Routine – Evolve Organic Beauty, Living Libations, Alteya Organics, Khadi & More
That's it for today, thank You for reading, I appreciate You taking Your time to come to my little corner of internet. What are Your current go-to products? Please share, I would love to know.
Sending Love & Light,
Renata.