Hi Lovelies,
Welcome back! And welcome of You are new here xoxo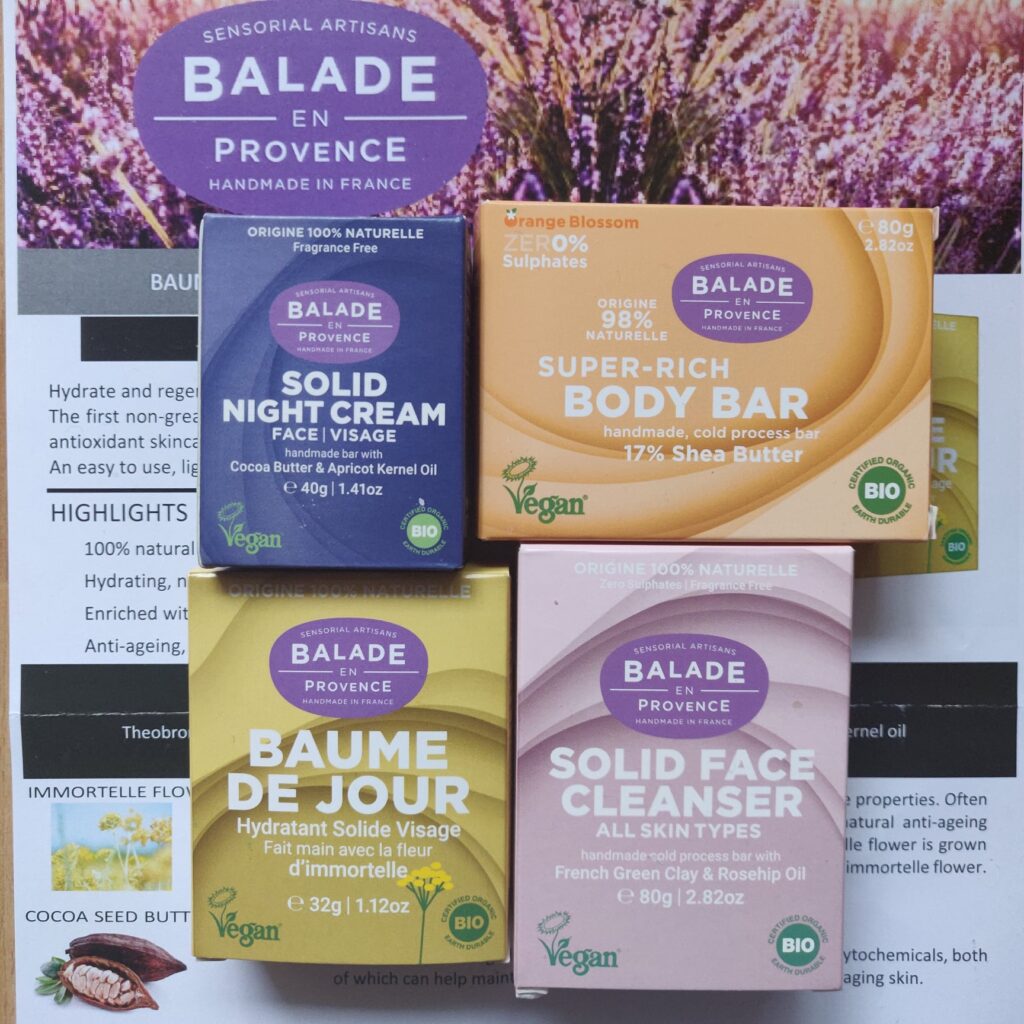 How are all of You, I hope You are well or well enough? Today I want to talk about the zero waste vegan beauty brand from France, called Balade En Provence. Shall we begin?
BALADE EN PROVENCE was founded in the village of Opio, the name means "a walk in Provence". The products are inspired by the art, perfumes and flora of the region .
When Balade launched their first skin care range four years ago, they were surprised to discover that most shampoos, shower gels and other liquid skin care products contain more than 80% water, chemical preservatives and plastic packaging.
The idea of energy-guzzling trucks, boats and planes to transport water-based products packaged in plastic with potentially harmful ingredients for customers was not right for them, so we decided to do something about it.
And that's how zero waste skincare, hair care and body care bars were born. Vegan too. I do not have to tell You how good it is for the environment and the planet.
Their company's philosophy is to promote "bienveillance".
"Bienveillance" is a French term that can be defined as "generosity or desire to do good".
At Balade en Provence they believe that all actions, big and small, have an impact. Therefore, they strive to do what is "right" when developing  products, interacting with customers, working in the community and managing environmental waste.
Now, how does that sound for You? Pretty awesome if You ask me. But do they work? And what are ingredients like? Let me walk You through it right now.
I was sent a couple of products to try at my discretion and after trying them for three months, I am ready to talk about them. At least three products out of four, see below 🙂
Super Rich Body Bar
I find this lathers well, is easy to use and does not dry the skin. Definitely repurchasing. Smells great too.
INGREDIENTS: Brassica campestris seed oil, cocos nucifera oil, aqua, butyrospermum parkii (shea) butter, sodium hydroxide, perfume, CI 77947, linalool, limonene
Solid Night Cream BALM
At first I was not a fan of how oily my skin looked and felt, but I was definitely a fan of how soothed it was, it worked like a charm when my skin had dermatitis outbreak. Now I use it daily.
INGREDIENTS: Only 4 healthy ingredients (Cocoa Butter, Apricot Kernel Oil, Coconut Oil, Carnauba Wax)
Solid DAY BALM
Definitely less oily feeling than night balm, this works so well that I started using it on my neck, derrière and hands too. I like it.
INGREDIENTS: Only 4 healthy ingredients: Cocoa Butter, Immortelle Essential Oil and Cocoa Butter.Safflower oil, Cetearyl alcohol (natural origin)
Solid Face Cleanser
To be updated, as I am still to open it. I might be odd for the blogger for wanting to be a minimalist, but I try not to have multiple open products in the same category.. Ingredients definitely sound good to me!
INGREDIENTS: Cocos nucifera oil, Vitis vinifera seed oil, Aqua, Brassica campestris seed oil, Sodium hydroxide, Butyrospermum parkii butter, Illite, Rosa rubiginosa seed oil, Aloe barbadensis leaf juice powder
So what are my final thoughts? I like them. The products are easy to use, have very minimal ingredients lists, have no water in them, eliminating the need for preservatives. High percentage of organic ingredients. Economic and affordable, starting at only ten euros for the soap. They last long time too. The only criticism I have is that I need some sort of storage/ organizing system for them – this is aimed at myself, not the brand, mind you. Storing them their original boxes does not work long term as they get grubby with time. I do not have enough space in the bathroom for multiple soap dish type of holders and there were many times when my hubby mixed up the products. So I need to work out some kind of solution for that. Once more, the criticism is not aimed at the brand, let me make it clear. All of You long term no-waste users, how do You store all of Your bar products? I would love to know, please share with us?
Thanks for reading, I appreciate that.
Sending Love & Light,
Renata.

…
[Message clipped] View entire message
Attachments area