Hi Lovelies,
Welcome back! And welcome if You are new here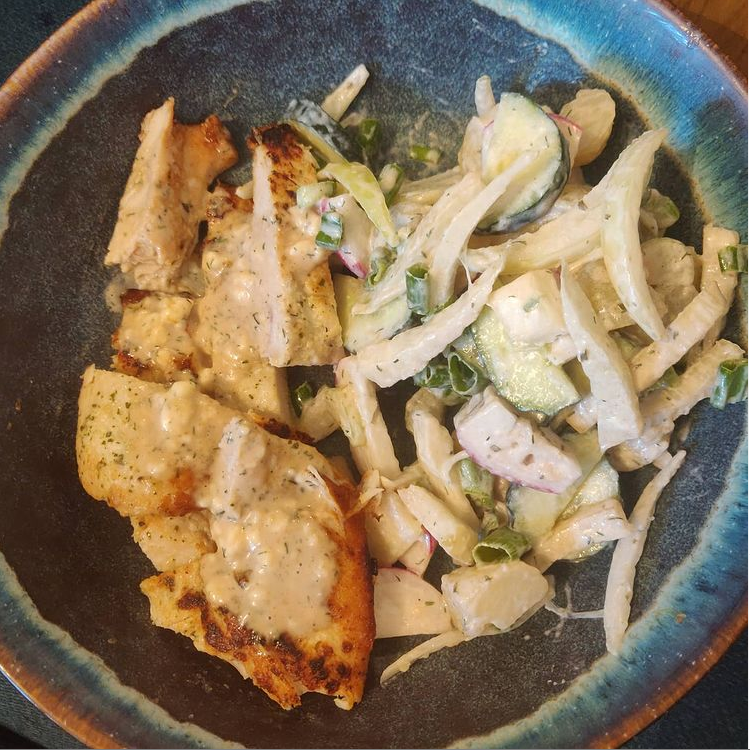 Hope You are well? I have decided to add new segment to my blog, foodie recipes. If You want to know more, read more and maybe follow my newly created Green Life In Dublin Eats IG page, if not, keep scrolling, no hard feelings, promise.
A few things before we start:
I freestyle in the kitchen a lot
I measure in cups and pinches, no scales
Gluten free & dairy free for health reasons
Primarily plant based recipes by choice
Having said that I am starting with
Italian seasoning chicken and garden salad
.
Recipe:
.
Chicken breast cut in half and flattened. Seasoned with himalayan salt and italian herbs mix. Chilled in the fridge for a few hours (overnight would be better and pan fried. Grilled would be even better!
.
Salad:
Cooked cubed potatoes 1 cup
Radishes 0.5 cup
Fennel 0.3 cup
Cucumber – 1 Persian
Spring onions – 0.2 cup
White onion – half
.
Salad dressing:
vegan mayo 0.2 cup
tamari (that's GF soy sauce) – a few splashes
apple cider vinegar – 2 tablespoons
onion powder – 0.25 teaspoon
tzadziki seasoning mix 0.5 teaspoon
(Told you I freestyle a lot)
Mix.
.
Mix dressing with the salad. Grill chicken and enjoy.
My hubs gave ten ? out of five ?
I buy my organic yet cheap seasonings and herbs from iHerb.
If You are interested in my non-food iHerb must haves, check this post out:
Please follow #greenlifeindublineats for more recipes, thanks in advance!