Hi Lovelies,
Welcome back! And welcome if You are new here xoxo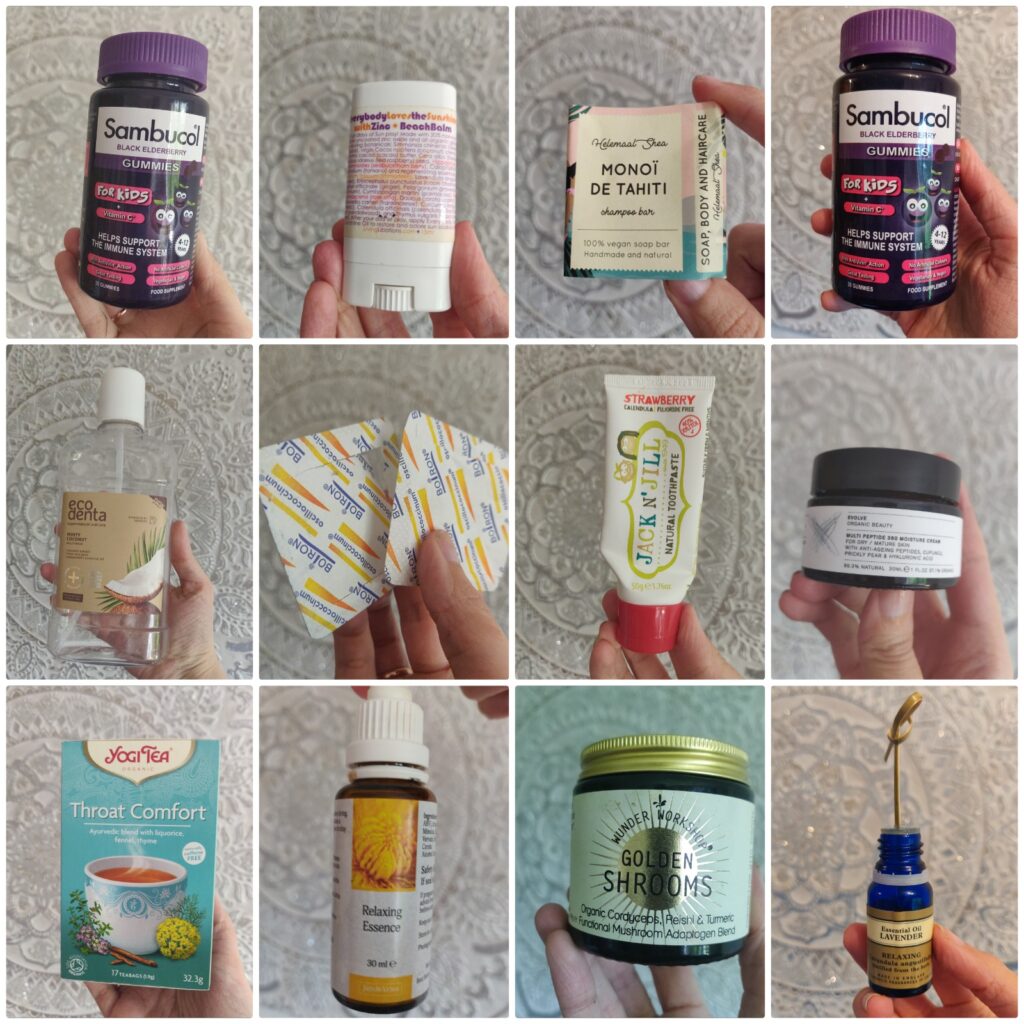 I hope You are well and enjoying the summer. Time to do my empties, huh? I skipped last month, so I will roll them over into this post. I will also have to add my totals, eek!
* disclaimer - PR products and some affiliate links featured, many thanks if You will decide to use them, at no additional cost to you xo
Pictures collaged in random order.
FABULOUS GREEN BEAUTY/WELLNESS PRODUCTS I WILL REPURCHASE
Many & many of these products have reviews, please hit the search box for more in depth posts on them
Yogi Throat Comfort Tea
My absolute fave tea in the whole wide world. Naturally sweet without any nasty additives, formulated to boost the immune system and soothe the throat (it does work!). Organic too. I find putting a lid on a cup is a key to not let those delicate plant oils to evaporate.
Boiron Coryzalia
Homeopathic remedy I take at the first sights of cold/flu. Works for most of the time, but if I feel it is evolving into full blown flu, I move onto Osccollococinum (I think I've misspelled that) also from Boiron as more heavy duty approach to heal quick and that works every time. I use both of these remedies for at least fifteen years and I cannot recommend highly enough You take a look into them too. See more in my holistic medicine cabinet post below.
Sambucol Gummies x2
Check iHerb for Boiron, Yogi, Sambucol & more
Code CDI1500 saves $£€ for Your first order
Evolve Organic Beauty Super Berry Oil
I cannot get enough of Evolve Organic Beauty products and this is no exception!
Living Libations Everyone Loves The Sunshine With Zinc Beach Balm
My Holy Grail stick sunscreen, good not only for sun protection, but for healing my dermatitis – say what? Look for the review of it and please rest assured I already invested in bigger size of this.
Check Dutch Health Store for Evolve, Living Libations & so much more
Inika Long Lash Mascara
One of the best in green beauty hands down! Love the brand in general, see the review if you are interested?
Sarya Lip Elixir Oil in Pearl
Another love, this lip oil is great. I reviewed this and their liquid lipsticks and soon after that I gave away two of the darker shades to my co-workers. I still regret that decision 🙂 This lip elixir oil is great, I like it so much better than Inika lip oil and a few others I have tried. Feels more like a lipgloss, but with added benefits.
Dr. Hauschka Lip Care Stick
Another hit and a constant repurchase in my house. Search for " lip balms" in the search box and You will see a post on the lips balms I really like. Because they are all very nourishing AND stay on the lips!
Ayumi Moringa & Neem Shampoo
This affordable brand is a hit in our house for years now. I like Sandalwood range, this neem one is Mr Green Life In Dublin fave. Helps with "scalpacne". I just posted about this product and all-in-one man bar by Balade En Provence.
NYR Lavender Oil
I dislike it, but both of my kids love lavender, so I am putting up with it. The things we do for our kids, eh? Will I repurchase? Yes I will.
Laboratoire Haut Du Segala Organic Castor Oil
I reviewed this brand a while ago, I like their products. I got this originally for scalp + hair but I recently got interested in skin applications, so I retired this semi old bottle and got a new one. Will keep You posted on it.
Rahua Classic Shampoo
My Holy Grail shampoo, see my review to why. I suffered years of bad hair days and was ready to give up and go back to "conventional" shampoos prior to discovering this. Never looked back!
Alteya Organics Organic Rosewater
Another Holy Grail and a product in heavy rotation in my house. I use it daily, multiple times a day. Unfortunately I cannot get this 500ml bottle anymore, so I resorted to getting smaller bottles, but two at a time.
Check Love Lula for Rahua, Inika, Sarya, NYR, Alteya Organics, DrHauschka & more
Pure Anada Foaming Hand Wash in Shield
This worked great and I will definitely get it again once I will plan an order from either Live In The Light or Pure Anada.
Wunder Workshop Golden Shrooms
Holy Grail me-time grouding-time product from this brand, although they have many other beautiful teas and coffees. I have Reishi coffee too. Will I repurchase? I already did 🙂 Did I review it? Yes I did 🙂
SAVE 15% WITH GREENLIFEINDUBLIN15 AT LIVE IN THE LIGHT (UK)
Jason De Vries Relaxing Essence
Use this for kiddo with anxiety. I find it increasingly hard to find, what about You?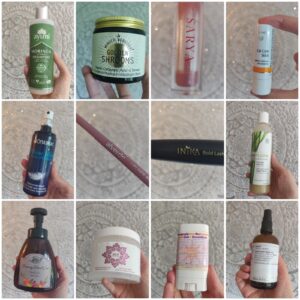 GREAT NATURAL ITEMS I WON'T GET FOR NOW DUE TO THE SIZE OF MY STASH/ OTHER
Alverde lip liner
This was cheap as chips (cheaper!) but now it smells like crayon, a sure sign it is past it's date. Will I get it again? Yes, I will add it to my orders in the future, but I won't go ordering just for this alone.
Ren Moroccan Rose Otto Sugar Body Polish
Great luxury scrub option. Same as with lip liner, I will get it some day, but not right now. Going through Marie Kondo-ing phase right now.
Helemaa Shea Monoi De Tahiti shampoo bar
Did not work out for me, like so many other shampoo bars. Could be hard water and not the actual product, idk?
Ecodenta Minty Coconut Mouthwash
I always get it on sale and H&B. I am not loyal to any mouthwash, open to trying any natural option.
Laboratoire Haut Du Segala Hemp Oil
This was a case of "out of sight, out of mind" – too many products, too little time. Hence Marie Kondoing phase. Great product, nothing against it.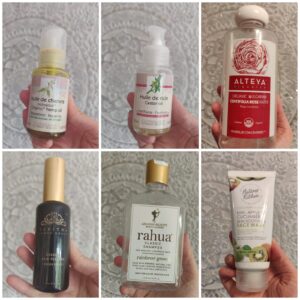 GREEN BEAUTY ITEMS I A NOT REPURCHASING 'COS THEY WEREN'T SUITABLE FOR MY NEEDS/ DIDN'T WORK FOR ME/ OTHER REASONS
Saint Come Pillow Mist
Essential oils sprays I looooved, but they stopped production at the start of pandemic and still haven't resumed. I am so sad about it, hope they didn't go under!
Seaflora Seaweed Body Gel
This delighted me and my dermatitis affected skin, until it didn't. Spoiled in a matter of weeks.
Evolve Organic Beauty Multi Peptide 360 Moisture Cream
Love this brand to death (well, not the actual death, you know what I mean) but this was one of the rare products from them that did not agree with my skin. Not to worry, their Daily Renew one does, so I will continue getting that one.
Tabitha Organic Hair Perfume
I will be honest here, this is way out of my budget.
Nature's Kitchen Face Wash
This came via Love Lula Beauty Box. It was OK, but didn't blew my socks off
---
TOTALS for the last two months:
Uhh, I might be regretting my decision to put this out in public already ?
Skincare – 8 products – €140
Eeek! I want to go back to head-in-the-sand method!
Bodycare – 4 products – €134
Make Up – 3 products – 50.7€
Haircare – 4 products – 87€
Health & Wellness – 8 products – €83
Other – 3 products – 40€
Totals for two months – 30 products – €535
---
TOTALS PER YEAR SO FAR
Skincare – 29 products – €807.5
Body care – 14 products – 248€
Make Up – 6 products – 103€
Hair – 6 product – 109€
Health & Wellness – 40 products – 495€
Other – 12 products – 110.5€
Totals this year to date: 107 products – 1874€
Thanks for reading, I appreciate that. I will take a little break from posting and social media too, time to recharge my batteries offline.
Now, Your turn – what have You guys finished lately? Have You ever budgeted what You are spending on skincare & stuff? Let me know, I want to hear from You.
Sending Love & Light,
Renata.