Hi Lovelies,
Welcome back! And welcome if You are new here xoxo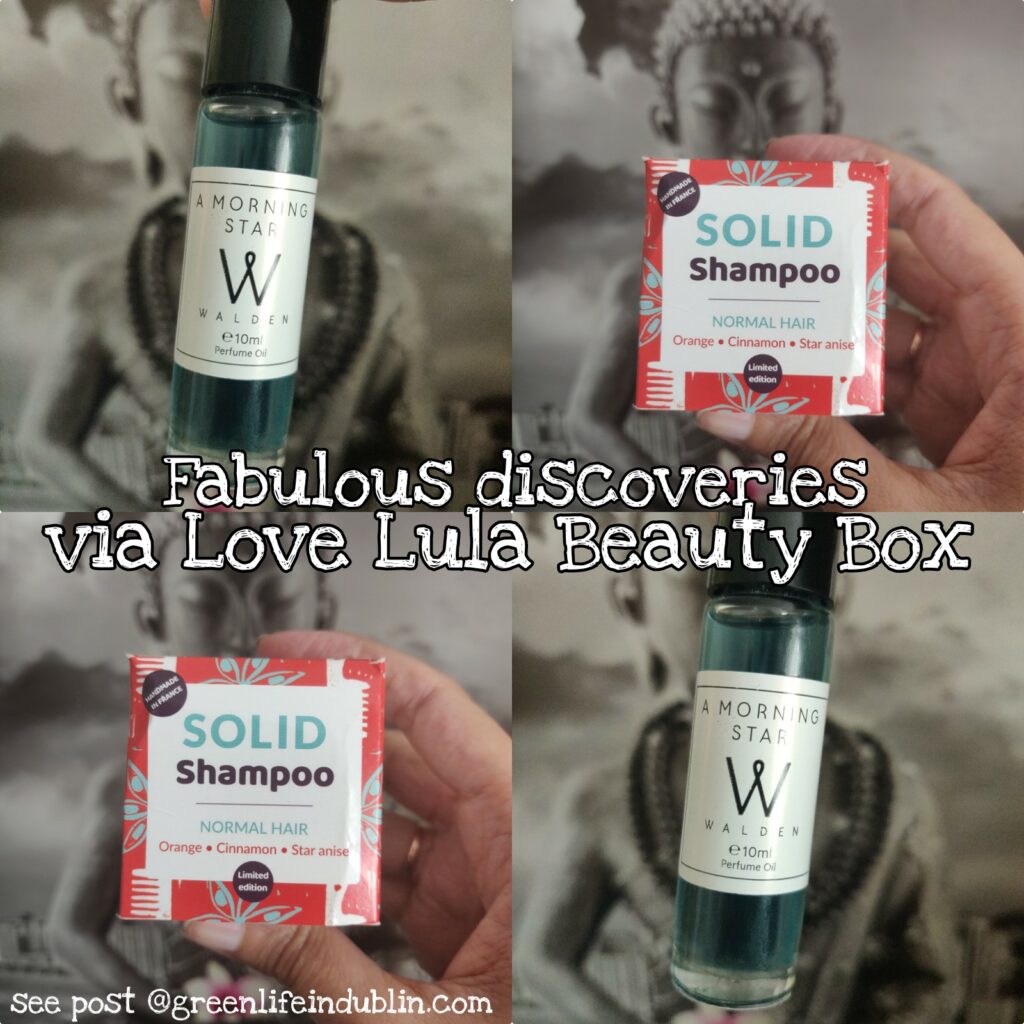 Hope You are well & enjoying summer? Today I am coming at You with two new fabulous discoveries that came from recent Love Lula Beauty Boxes* – please step forward Walden A Morning Star & Lamazuna Solid Shampoo!
I've been getting Love Lula boxes for a couple of years now, ever since joining their blogger family and my opinion on it is still the same – it is one of the best for many reasons! I will talk about it in the last portion of this post, but for now, let me tell You all about the new discoveries – I am bursting to share good stuff with You.
WALDEN A MORNING STAR
Newest release from Walden Natural Perfumes, I knew I wanted to try it ever since they launched it & Beauty Box came in to save a day. This is described as " plethora of different stages of scented pleasure starting with the clean, light and breezy scent of Lavender mixed with Bergamot and Grapefruit unto the magical combination of floral Rose de Mai and the deeper woody notes of Sandalwood, Orris Butter and Cabreuva wood oil." I knew I needed to try it as soon as I saw sandalwood in it, anything with sandalwood has my immediate attention. I was not sure what the orris butter or cabreuva wood oil or ambrette seed is and how the other scents will be incorporated, I for one, am one of this rare breed of females that dislike lavender, anyone like me out there? Tell You this, I did not need to worry, this is BEAUTIFUL! Love at the first sniff, actually. It is warm, floral, sweet and yet woody at the same time and just all around gorgeous. I never ever want to be without it from now on. This is joining another Walden fragrance – A Different Drummer in my Top 5 or even Top 3 natural perfumes Holy Grail Products list. As soon as I smelled this roller, I tried to buy a full size of perfume, but it was not meant to be – I didn't realized the courier option which allowed perfume to be shipped outside of UK before, was ceased due to Brexit. What a pity! I need to figure out ways on how I can get my paws on it. It is that good. If You are like me and like more of woody, hard-to-describe, oriental, sandalwood-y types of scents, You would love this. Everyone else, be my guest and try samples first to see if it for You. We are all different and perfume is deeply personal thing.
Top Notes: Lavender, Bergamot, Grapefruit
Heart Notes: Rose de Mai, Ambrette Seed, Chamomile
Base Notes: Sandalwood, Orris Butter, Cabreuva Wood oil, Orange Flower
WALDEN "A MORNING STAR" ROLLER INGREDIENTS: Caprylic/ capric triglyceride, Lavandula angustifolia oil, Citrus aurantium bergamia fruit oil, Cymbopogon martinii oil, Myrocarpus fastigiatus wood oil, Santalum album oil, Citrus grandis peel oil, Chamomilla recutita flower oil, Dipteryx odorata bean extract, Citrus reticulata leaf oil, Iris florentina root extract, Evernia prunastri extract, Isopropyl myristate, Myrocarpus fastigiatus oil, Hibiscus abelmoschus seed extract, Anthemis nobilis flower oil, Viola odorata leaf extract, Citrus aurantium dulcis flower oil, Rosa damascena flower extract, Parfum, Limonene*, Geraniol*, Linalol*, Citral*, Farnesol*, Oakmoss extract*. *Naturally occurring in essential oils.
As I already mentioned, A Different Drummer is also one of my absolute favourite perfumes. If You would like to see a review of it and a brand overview in more detail, check this post out.
____________________________________________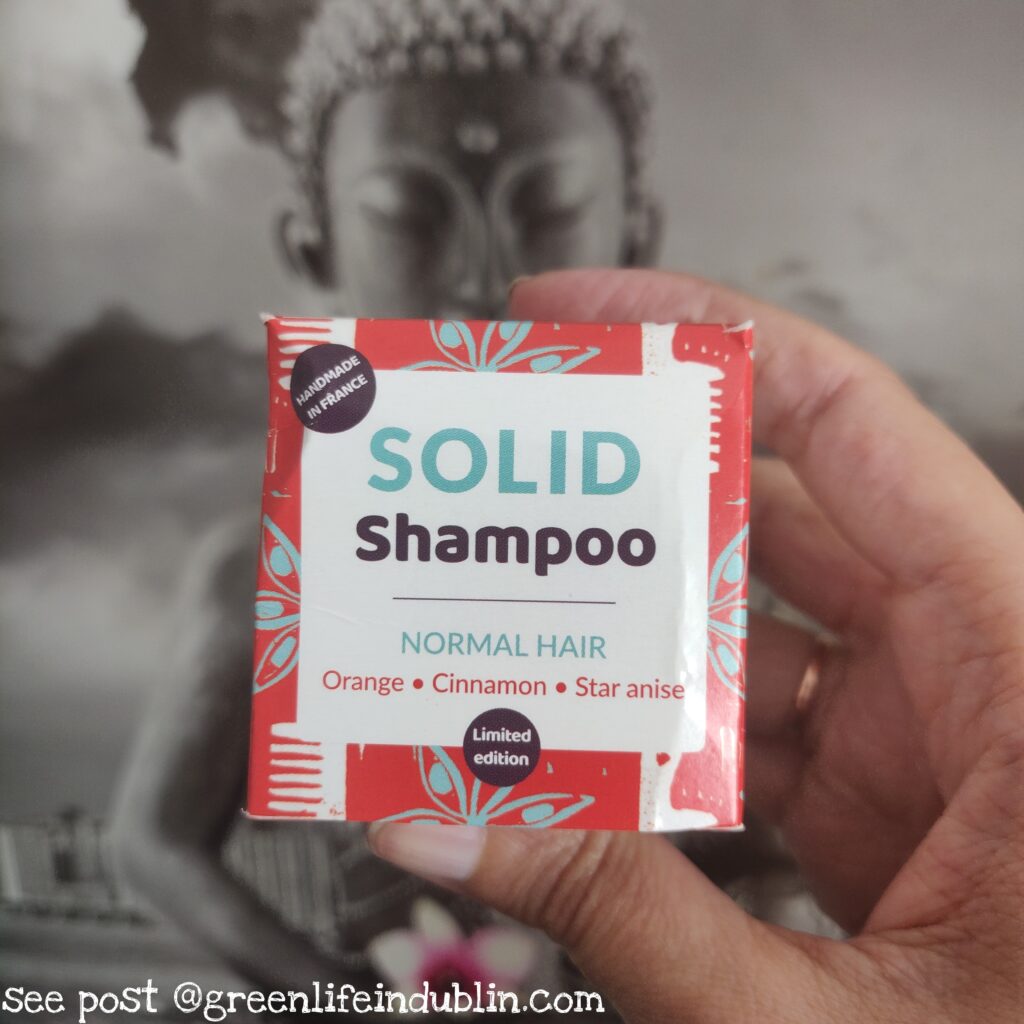 LAMAZUNA SOLID SHAMPOO FOR NORMAL HAIR 
Every time I get a solid shampoo I do not default to excited, because 90% of them do not work out for me, leaving my hair dry tangly mess, more bird's nest than actual hairstyle. This surprised me, my hair was left soft, bouncy and waves came out nicely. Not wanting to get over excited at good first impressions, I quietly tried it again and again and I have to say I am impressed. This beats so many of other solid shampoos in my opinion and it will be something I will repurchase time an time again. Actually, I am going to try their shampoo for dry hair next, as well as a couple of other products next month. I will keep You posted. If You want me to blog about my best natural shampoo bars, let me know and I will be happy to do that for You.
INGREDIENTS: Sodium Cocoyl Isethionate, Cocos Nucifera Oil*, Kaolin**, Stearic Acid**, Palmitic Acid**, Aqua, Decyl Glucoside**, Citrus Aurantium Dulcis Peel Oil Expressed*, Cinnamomum Zeylanicum Bark Powder*, Illicium Verum Fruit Powder*, Ci 77491, Ci 77019, Citral***, Limonene***, Linalool***. * ingredient from organic farming ** naturally derived *** naturally present in essential oils.
Let me just say that Love Lula is the only subscription box I am getting as a part of LLABP program and I am really happy with it! I've been getting it for around two years maybe, and I have to say they do a very good job at including a good variety of products, apart of a few tiny missteps of too many scrubs or face oils in a row, other products were a delight to discover, and I have to say I am looking forward to each new month in anticipation to what's to come – Christmas or Birthday present for yourself each month, anyone? They ship worldwide, the price is 14.95£ monthly recurring for UK customers, and for us international gals there are three options of three months (52.50£), six month (£100) or a year (200£) including post and packaging. As I said earlier, international boxes sometimes differ from the UK ones due to postal laws, but you are guaranteed to get the same or greater value product. Speaking of value, you are guaranteed to get at least triple the value of what you pay for, the lowest I've seen was 45£ with the highest being over 110£. You are almost always guaranteed to get at least 2-3 full sized products, up to 5 – no kidding. You know those flimsy one use sachet samples? I can count them on one hand in two years! See, good value – haven't I told you so? Come to think of it, isn't that the perfect gift to give your mom or any woman in your life, the gift that keeps on giving??
CHECK IT OUT HERE
In the case you missed it, find my Natural Beauty interview with a CEO Sonia White here and all the other posts in this Facebook album here.  See my top recommendations on "Bloggers Recommend" Love Lula page . Follow me there for all the updates – and let's be friends all over social media, shall we?
Please like and share my posts on social media, it really helps to get the green beauty word out – and you will forever have my gratitude!
Have You tried any of these products? What are Your thoughts on them?
Sending Love & Light,
Renata.

*ingredients and prices correct at the time of publishing.