Hello Lovelies,
Welcome back! And welcome if You are new here xoxo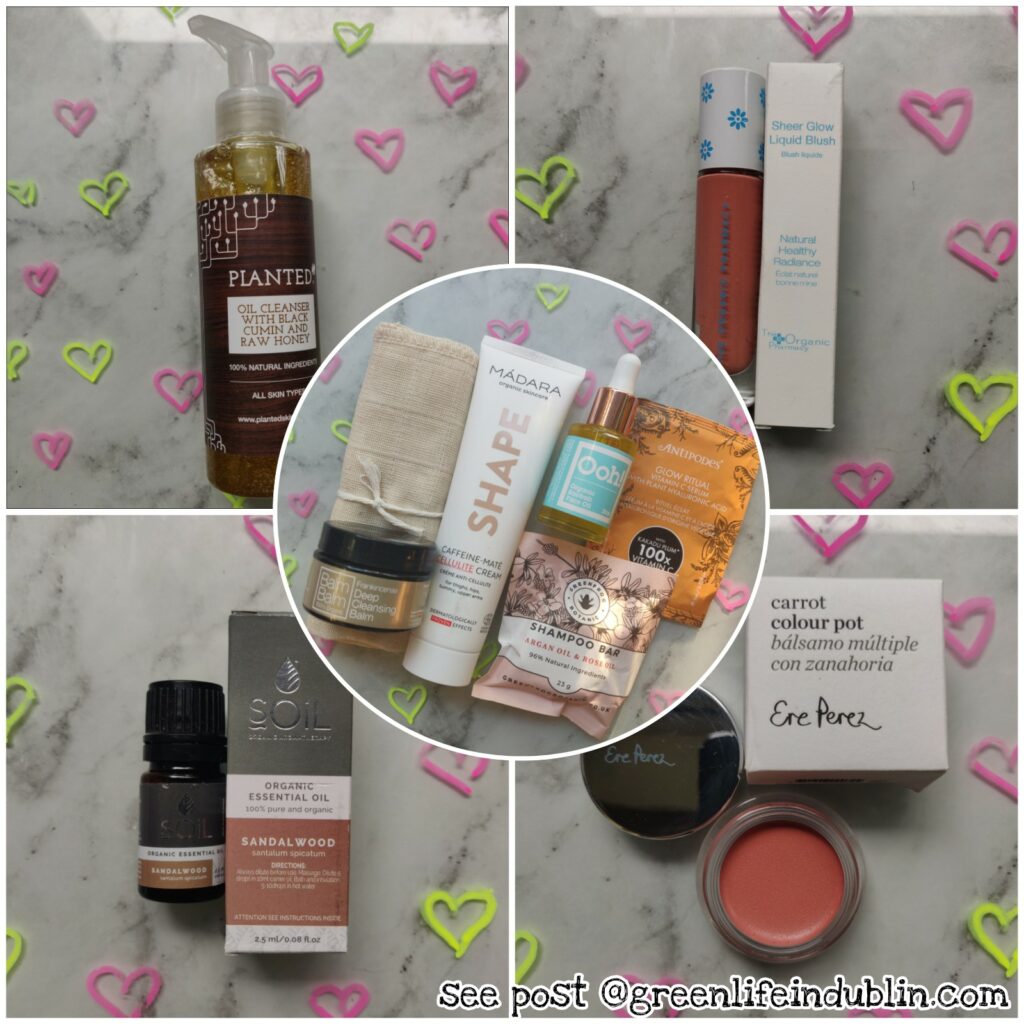 I hope everyone is doing well? Today I want to talk about my blogger picks from Love Lula for this month & the gift that keeps on giving – please step forward Love Lula's Beauty Box. To see 100+ Love Lula posts and review click here, but for now, let's dive in to see what I think of the products?
Box received as a part of LLABP program, affiliate links also used. This post is not sponsored, all my own doing. If You choose to purchase something via my links (at no extra expense for You), then You have my gratitude forever!
PLANTED 100% Natural Oil Cleanser with Black Cumin and Raw Honey with muslin cloth 150ml
I have had my eyes on this cleanser for months if not more, but for some reason have not allowed myself to get it because I constantly had other products open at the times. I am a bit unusual for a blogger, I want to be a minimalist as much as possible and have only one open product at a time in each category, bar make up. So when I found myself finishing cleansers and make up melts of all sorts, I smiled with glee, because it meant I can finally allow myself this Planted cleanser. Expecting good things from it, especially knowing my blogger buddies rate it highly! Having used it once, here are my first impressions. It was thick gel texture, definitely smells of black cumin seed oil, rinses clean (hello, no oily residue!) and it DID NOT irritate my super sensitive skin! So far, so good. Mine came sans muslin cloth promised in the description, but that's ok, because a) I am not short on them & b) one came in this month's beauty box.
INGREDIENTS: In order of quantity: Limnanthes alba (Meadowfoam) seed oil, Macadamia ternifolia (Macadamia) seed oil, Glycerin, Mel (Honey), Prunus armeniaca (Apricot) kernel oil, Prunus amygdalus dulcis (Sweet almond) oil, Nigella sativa (Black cumin) seed oil, Ricinus communis (Castor) seed oil, Cannabis sativa (Hemp) seed oil, Carapa guianensis (Andiroba) seed oil, Sucrose laurate (Sugar cane based emulsifier), Citrus urantium dulcis (Orange) Fruit Water, Commiphora myrrha (Myrrh) Resin Oil, Boswellia carterii (Frankincense) Oil, Helianthus annuus (Sunflower) Seed Oil, Citrus aurantium bergamia (Bergamot) Fruit Oil, Rosmarinus officinalis (Rosemary) leaf extract, Limonene*, Linalool* * Component of natural essential oils.
SOIL sandalwood Essential Oil
If You know me, You know that anything with sandalwood essential oil in it has my immediate attention, so why not go to the source I figured and got myself Soil essential oil. I love essential oils and have had for years, but I do not put my trust in just about any brand. Soil has my trust because it is Love Lula approved and it is soil-to-the-bottle essential oil brand, organic, no less. I have written about them here:
ERE PEREZ Carrot Colour Pot – Harmony
Ere Perez has been a favourite of mine for a few years now, seek review on my old blog here if You want to know why. If You want to know my thoughts in a nutshell, I love the natural ingredients and the pigmentation of products. Lasting power is a big thing for me too, which is why I am repurchasing this multiple. I have had this years ago & then went on to try Healthy, which looks similar on screen, but not quite in person. I found myself not really using Healthy because the undertone was not quite right for me & it did not make me smile when I was putting it on in the mornings. I have then tried RMS Beauty Lost Angel and new(ish) Inika multiple, but both were barely pigmented and thus disappointments in my eyes. Hiro seems to be vanishing from Love Lula, so I made a decision to go back to what I know I love, rather than keep searching for yet one more thing that might or might not work out. Harmony, here I come 🙂
INGREDIENTS: ricinus communis (castor) oil, euphorbia cerifera (candelilla) wax, simmondsia chinensis (jojoba) oil, caprylic/capric triglyceride, persea gratissima (avocado) oil, theobroma cacao (cocoa) butter, daucus carota sativa (carrot) oil, kaolin, magnesium stearate, tocopheryl acetate (vitamin e). May contain: +/- iron oxides, CI 77019, CI77891.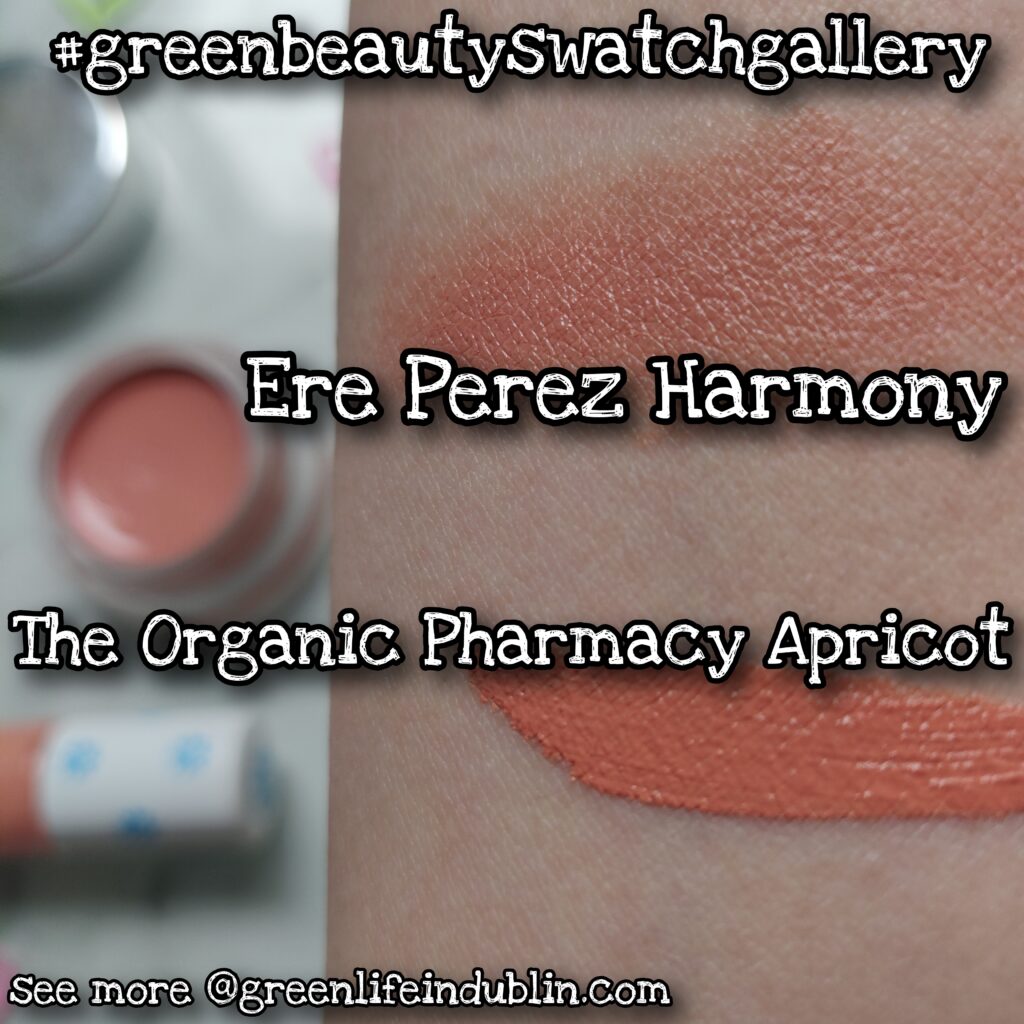 THE ORGANIC PHARMACY Sheer Glow Liquid Blush IN Apricot
This was an impulse buy, I think I was feeling blush deprived in the moment 🙂 I have only tried one make up product from The Organic Pharmacy range, which was the concealer. It did not work out for me because it was too sheer to cover my undereye circles (see a pattern here?) so I gave it away. This is take two from their make up, let's hope it will not disappoint. If it does, it won't be too much of a loss, it is currently on sale. I have worn this twice prior to writing this post & I have a bit of mixed feelings about it. As You can see from the swatch, it seems really pigmented and opaque. Kind of mauve too. On the skin, it is more apricot than mauve and it also sheers out a lot. I apply three dots on each cheek, blend and then repeat, because one layer is just not really visible on my skin tone. We will see.
INGREDIENTS: Caprylic/Capric Triglyceride , Silica, Dextrin Myristate, Helianthus Annuus (Sunflower) Seed Oil, Simmondsia Chinensis (Jojoba) Seed Oil, Anthocyanins, Calendula Officinalis Flower Oil, Tocoherol, Parfum (Fragrance), Citronellol, Geraniol, Linalool, Citral , D-Limonen, Eugenol, +/- Titanium Dioxide (CI77891).
---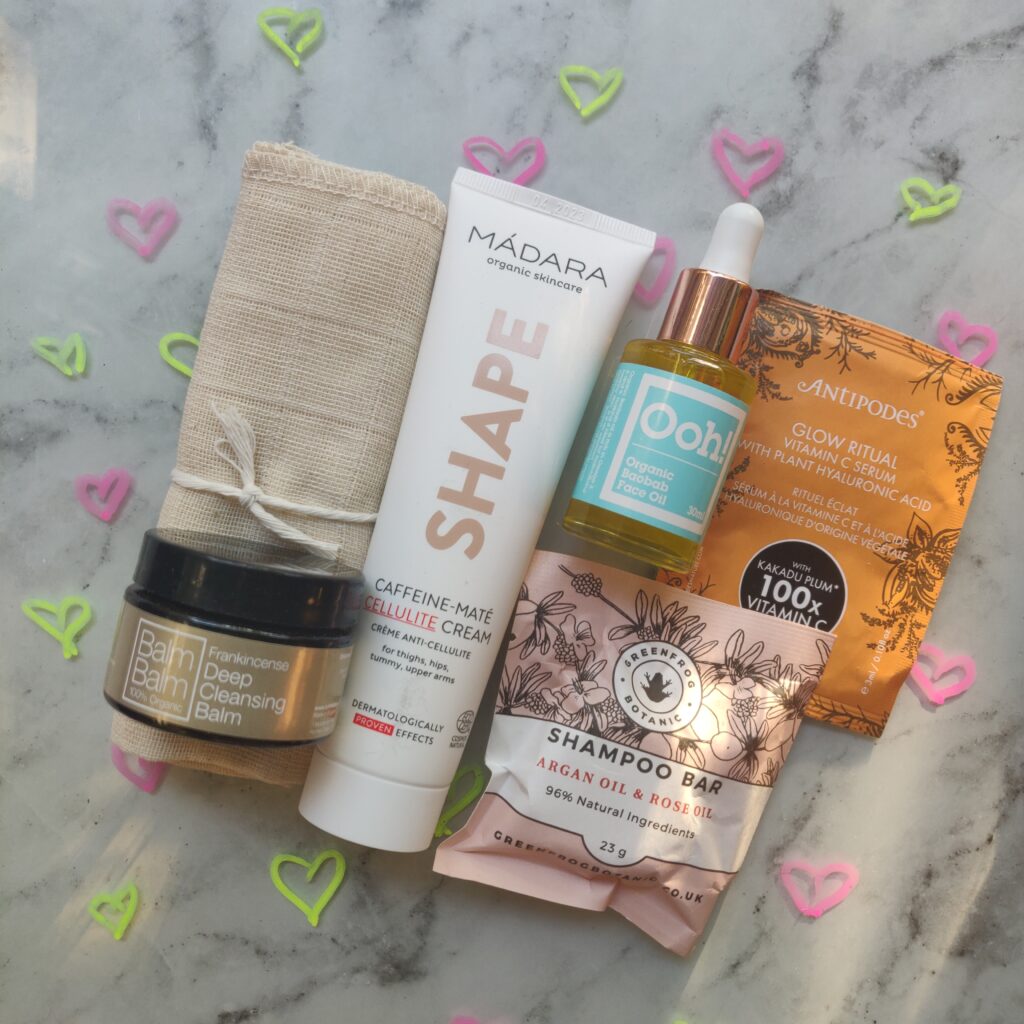 LOVE LULA BEAUTY BOX OCTOBER 2021
Let's talk about the value of the boxes first. I have to say they do a very good job at including a good variety of products, apart of a few tiny missteps of too many scrubs or face oils in a row, other products were a delight to discover. I have to say I am looking forward to each new month in anticipation of what's to come – Christmas or Birthday present for yourself each month, anyone? They ship worldwide, and the price is 14.95£ monthly recurring for UK customers, and for us international gals there are two options of three months (52.50£) or a year (200£) including post and packaging. There is also an option to try one box, both for UK and international customers. Green beauty boxes are a great way to discover new items you might have missed otherwise, and I love that anything coming from Love Lula is cruelty free and guaranteed not to have any toxic ingredients – they have very strict criteria for any product they accept, and that is taking the guesswork off your shoulders.
So what's in this month's box?
greenfrog botanic shampoo bar
This is formulated to nourish, hydrate, and deeply cleanse your hair. Using the power of Vegan, 98% natural ingredients.
Soft and gentle on your hair
Vegan certified
96% natural ingredients
Plastic free
100% decomposable waste
No nasty chemicals
0% Parabens, SLS, ALS
Palm Oil Free
My first impressions: I love it so far! At first I was not excited about it, as a beauty blogger I had my fair share of the solid shampoos that left my hair limp, tangly and just horrible looking, but this is none of those things. In fact, it left my hair soft, shiny and full of bounce, it also lasted good three days. Please bear in mind that this is my first impressions only, but I think it works great – so far. Time will tell if this will join my HOLY GRAILS LIST but at the moment it looks promising. In this box we got 25gr bar, which is half the size of normal bar we would get, the full size is 50gr and is priced at bargain five pounds.
INGREDIENTS: Sodium Coco Sulphate, Glycerin, Heilanthus Annus (sunflower) Seed Oil, Glycerin, Argania Spinosa Kernal Oil, Prunus Armeniaca (Apricot) Kernal Oil, Camelia Japonica Seed Oil, Citric Acid, Olea Europaea (Olive) Fruit Oil, Theobroma Cocoa(cocoa) Seed Butter, Aloe Yahjyu Matsu Ekisu, Tocopherol, CI 17200
ooh! oils organic baobab oil
Organic Baobab oil is rich in Omega 3,6 and 9, making it ideal for maintaining healthy skin. It is an excellent moisturiser. Baobab oil spreads easily and is absorbed quickly into skin without clogging pores.
My first impressions: I squealed with delight at the first sight of it! Let me tell You why. I had my eyes on this for a good while now, at the moment I am really into baobab as a natural supplement and also in skincare, so I had this in my Love Lula wishlist. Lo behold they read my mind and put it into the beauty box for us to enjoy. Full size valued at 39£, no less! This alone is almost three times the price of what You pay for the box. Where else You would get a box full of full sized products with value far exceeding the price? Practically nowhere, I am telling You.
INGREDIENTS: 100% Adansonia Digidata seed oil
balm balm frankincense deep cleansing balm
Shea butter, Beeswax, Sunflower and Jojoba to lift impurities from the skin; Calendula to sooth; Frankincense to rejuvenate and Grapefruit to refresh.
Ingredients look good, but let me update You in the next month's post or in my IG stories or somewhere else on the social media. At the moment of writing this I am yet to open it, enjoying Planted cleanser a lot. It's the minimalist in me again 🙂
INGREDIENTS: helianthus annuusí (sunflower oil), Butyrospermum parkii (shea butter), cera alba (beeswax), simmondsia chinensis (jojoba oil), calendula officinalis flower extract, boswelia neglecta oil, citrus grandis (grapefruit) peel oil
antipodes glow ritual vitamin c serum
I was really happy to receive a sample of it as I also had my eye on it and even talked about wanting to get it in my latest YouTube video. As I am over 40, I need to take good care of the skin or it shows, so I am always on the lookout for a good vitamin C product. This sample sachet is a good way to get a feel of texture and how Your skin reacts to it. My first impressions of this are this – it *might* be too active for my sensitive skin and a bit too tightening for my liking. My skin is dry (and sensitive and dermatitis prone) to begin with, so I am not looking for that tightening effect, but if Your skin is normal/ oily, I think You would love it. I am undecided if I will get a full size of it or not just yet, at the moment I am halfway of other serum I tried/ judged for the Clean Beauty Awards anyway, so I will see. I might get a sachet or two in the future to see how I feel about it then.
INGREDIENTS: Aqua, glycerin, Terminalia ferdinandiana (kakadu plum) fruit extract, sodium acrylates copolymer & lecithin, benzyl alcohol; dehydroacetic acid, mica, iron oxide, titanium dioxide, sodium hyaluronate, potassium sorbate, sodium phytate; alcohol, Vitis vinifera (grape) seed extract, (Vinanza® Grape), Actinidia deliciosa (kiwi) fruit extract, (Vinanza® kiwi), bakuchiol, Persea gratissima (avocado pear) oil, fragrance of vanilla pod and mandarin: coumarin†, d-Limonene†, linalool†. † Component of essential oil
madara shape caffeine mate cellulite cream
Madara is a brand featured heavily in Love Lula box, so if You love the brand, I suggest You look into signing up, it would be a good way to get lots of products for cheap. We have had all kinds of products from the brand over the years and this is the latest addition to it. Full sized product valued at 17£ for 100ml. My first impressions of it: I am *ahem* a good tester for it, but I cannot say I like it, purely because I hate the smell. I know caffeine is good for cellulite, plus there are additional great ingredients fit for purpose, like horse chestnut extract. But I have to be honest with You I am not sure I will continue to use it, the smell makes me gag and I do not want to feel it on myself. There are other ways to get rid of cellulite like dry brushing, sports & rebounding, essential oils and the like, plus life is too short to use products that make You gag, am I right? I think I might add it to a care package I am about to send to a friend who's in bad situation in life at the moment.
INGREDIENTS: Aqua Helianthus Annuus (Sunflower) Seed Oil Theobroma Cacao (Cocoa) Seed Butter Alcohol Dicaprylyl Carbonate Aesculus Hippocastanum (Horse-chestnut) Seed Extract Polyglyceryl-6 Stearate Glycerin Butyrospermum Parkii (Shea Butter) Fruit Butter Caffeine Ilex Paraguariensis (Mate) Leaf Extract Aroma Cellulose Polyglyceryl-6 Behenate Palmitic acid Stearic Acid Escin Xanthan Gum Ascorbyl Palmitate Sodium phytate Tocopherol Spirulina Platensis Extract Citric acid Benzyl Salicylate Sodium Benzoate Potassium Sorbate Limonene Citronellol Citral Geraniol Linalool *Please note that ingredient lists may change and slightly vary from time to time. You will always find the most up-to-date information on the actual product packaging.
So that's it for this post, I think we discussed everything in detail, haven't we? I am so so glad that Love Lula sorts me out for everything I need – I am sending them lots of virtual hugs and kisses! Featured in my gratitude list very high. The beauty box is more hit than miss this month, I am very glad to discover great products and share the Love Lula love with people around me.
CHECK IT OUT HERE
I should add one more thing that I forever forgetting to tell You guys – each box has a 20% off code for the brands featured that month! Sweet or what?
In the case you missed it, find my Natural Beauty interview with a CEO Sonia White here and all the other posts in this Facebook album here.  See my top recommendations on "Bloggers Recommend" Love Lula page here . Follow me there for all the updates – and let's be friends all over social media, shall we?
Please like and share my posts on social media, it really helps to get the green beauty word out – and you will forever have my gratitude!
Thanks for reading, I appreciate You coming to my little corner of internet.
Love & Light,
Renata.

*prices and the ingredients correct at the time of publishing.
**sadly Love Lula is no more. Sob!