Hello Lovelies,
Welcome back! And welcome if You are new here xoxo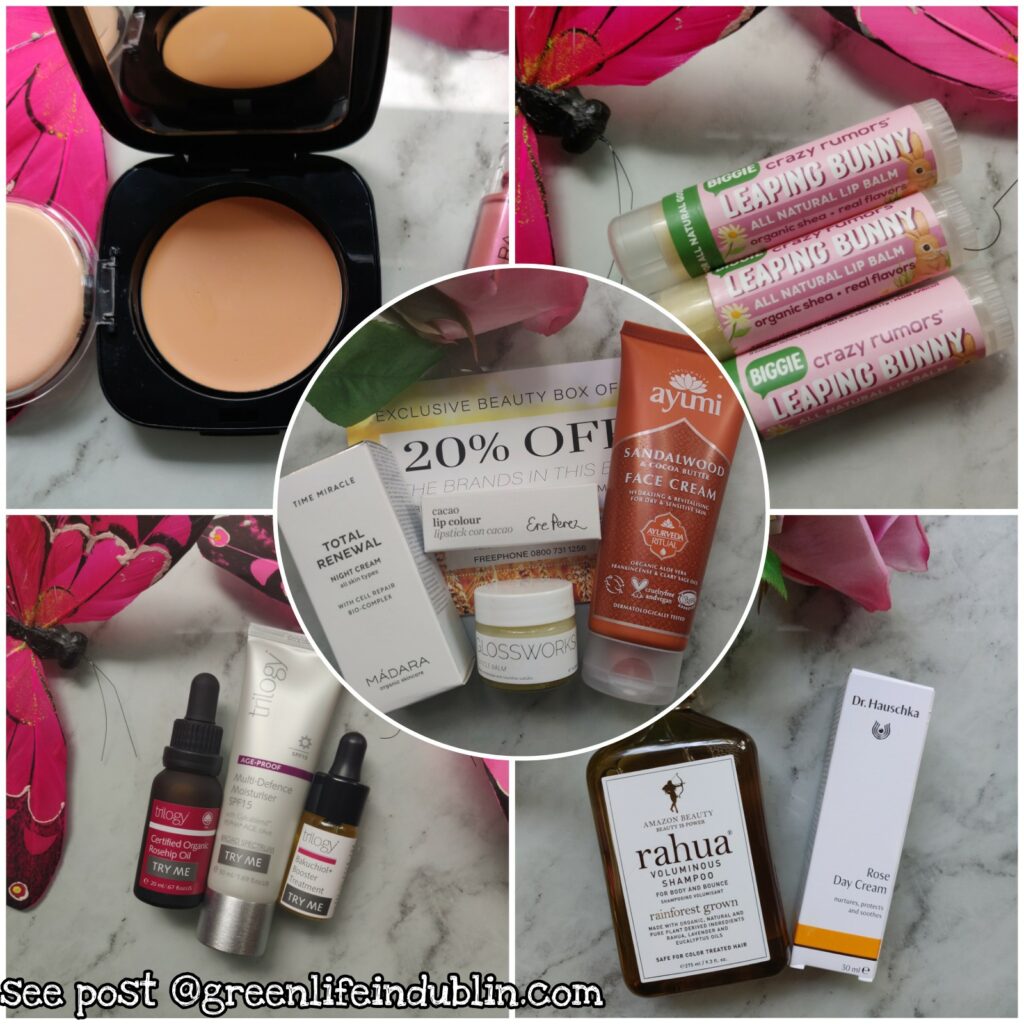 I hope You are all well! Another month, new exciting buys from Love Lula*. I shopped, got awesome Gifts With Purchase, got my blogger order and a beauty box, oh my! I am ready to tell You all about it.
Love Lula is no more - sob!!
This is a very good month when it came to Love Lula. I chose new things to try as a blogger, replenished some tried-and-tested staples and got rewarded for it. How? Let me tell You all about it.
 EMANI CREAM FOUNDATION IN LIGHT*
I was in the mood of trying something different, as I am at the end of my Inika foundation. I decided to go for Emani cream foundation as I liked the sound of what it promises. Let's have a look?
"Full coverage, comfort wear – even for sensitive skin. This luxurious creme foundation infused with peptides, gold and peat. Peat is one of the oldest ingredients in skincare, Ancient Romans and Egyptians use to aid sun burn and damaged skin. Its creamy texture melts into your skin giving your skin a smooth and visibly radiance appearance. New and Improved creme to powder finish. This Luxurious creme foundation contains peptides and gold minerals to even out skin tone and aid in the appearance of fine lines. Its creamy texture enhances skins natural radiance and visibly smoothens the complexion with a soft focus effect and a soft dewy finish. Emani makeup is 100% vegan, gluten-free and cruelty-free. Emani products are composed of minerals, natural/organic nutrients and formulated with the latest cutting edge technology to produce longer lasting wear while protecting your skin from environmental impurities. Emani Vegan products are Made in California and suitable for the Most Sensitive Skin (acne, rosacea, patchy, discoloration)."
Hello, that's me, so I will be Your perfect test bunny for it. I had a bit of trouble choosing the right shade for me, all the shades, even the fair one looked really dark online, so I peeked online for the reviews and lo behold, my blogger friend Lu from A Life Of Lovely has reviewed it already. She chose fair and it was super fair on her, so that helped to make my mind to go for the Light shade quickly. I only tried it once or twice, but the first impressions were not amazing. I found it too yellow in undertone, too dark and hard to blend. Maybe I need to find my perfect application for it, as I rarely have cream foundations, I am used to liquids and powders. It also smells slightly of crayons, hope it is due to the formula and not a sign of it going off soon. I will have to keep You posted on this.
*note a few months later. It ended up not working for me, it was too dark and hard to blend, so I ended up giving it to a friend.
INGREDIENTS: Ingredients Ricinus Communis (Castor) Seed Oil, Caprylic/Capric Triglyceride, Isopropyl Jojobate (Jojoba), Persea Gratissima (Avocado) Oil, Copernica Cerifera (Caranuba) Wax, Ozokeritie, Vitis Vinifera (Grape) Seed Extract, Caprylyl Glycol (Coconut), Squalane (plant), Spilanthes Acmella Flower Extract (Paracress), Kaolin, Aqua, Barium Sulfate (Mineral), Peat Extract, Palmitoyl Hexapeptide-14 (Goji berry extract), Colloidal Gold, Tetrahexyldecyl Ascorbate (Vitamin C), Cucumus Sativus (Cucumber) Fruit Extract, May Contain (+/-): Titanium Dioxide (CI 77891), Iron Oxides (CI 77491, CI 77492, CI 77499).
RAHUA shampoo
This is what I repurchased after missing it too much. I tried to do solid shampoos for a while and while I found some good ones, I noticed that if I blow dried my hair (instead of air dried) my hair would go matte, stiff and tangly. Now, living in the cold and humid country and having sinus issues, I can't do air drying much apart from summer and even then Ayurveda advises to keep your head wet and cold as little as possible. So I am changing the course a little bit for myself, but You do You boo. If You live in the hot climate and don't use hair dryers, do all the solid shampoos You like.  For me, back to my beloved Rahua with vengeance 🙂 See this review to see why I deem it worth the money and how I spend YEARS having bad hair days testing all the cheap(er) natural shampoos and thinking there's nothing in the clean beauty hair care realm for me.. Long story short, this is my Holy Grail and I recommend it to everyone! For me, this lasts around 8 months, as long as I hide it from my family. What?? This is mommying done right, I give them everything else, can I have just one thing for myself?
DR HAUSCHKA rose day cream
Another Holy Grail status product, my skin just loves it! For the reference, my skin is uber sensitive, dry and also dermatitis prone. This takes are of all those issues. I make sure to repurchase it prior every winter to protect my skin from harsh Irish winds.  A repurchase for years!
Find a review on my old blog here.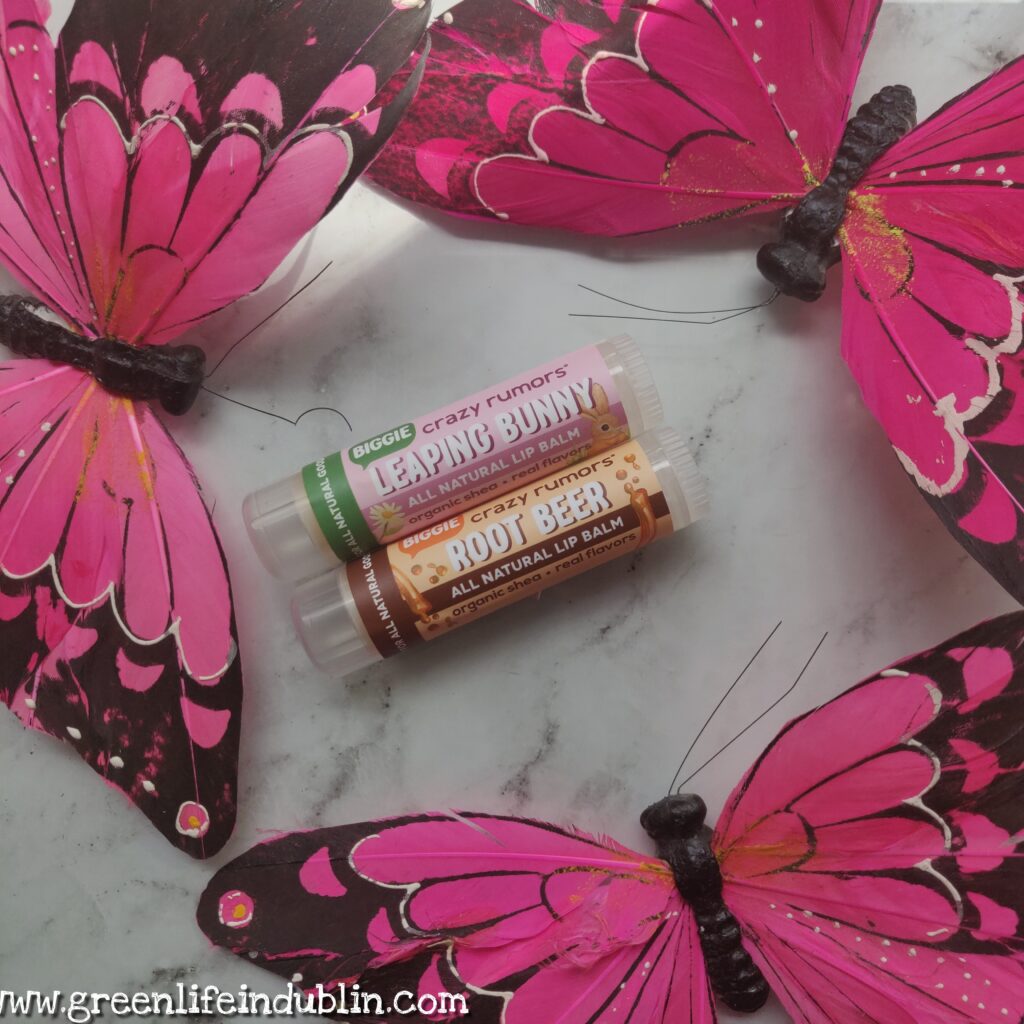 CRAZY RUMORS BIGGIES
These fun jumbo sized lip balms are new(ish) to Love Lula, I picked up a couple last month (see post) and I quickly got told off by my kids why I did not get it for them too – when both said "nah" when I asked if they want one. Long story short, these quickly became a favourite in Casa Green Life In Dublin and luckily now everyone is sorted. Did I mention that they are at four times the size the normal lip balm, smell amazing, are all natural and vegan? At this size they are harder to lose too.
I scored fab gift with purchases, well worth the value of the orders I paid, and You can do it too! Let me tell You how. Keep an eye on Love Lula at the beginning of each month, if they have some extra beauty boxes left over, they offer them as Gift With Purchases (sometimes reshuffled). There, that's my not-so-secret of how to score big at Love Lula and save yourself a ton of money too. I tend to stock up on my Holy Grail products, but if You are new to green beauty and natural products, fear not. I got You, boo.
 Check out my 100+ Love Lula reviews & posts here
Reason #32563247 to love Love Lula, really, where else did You see deals that good? Nowhere, I am telling You.
---
Now, let's talk about the Beauty Box!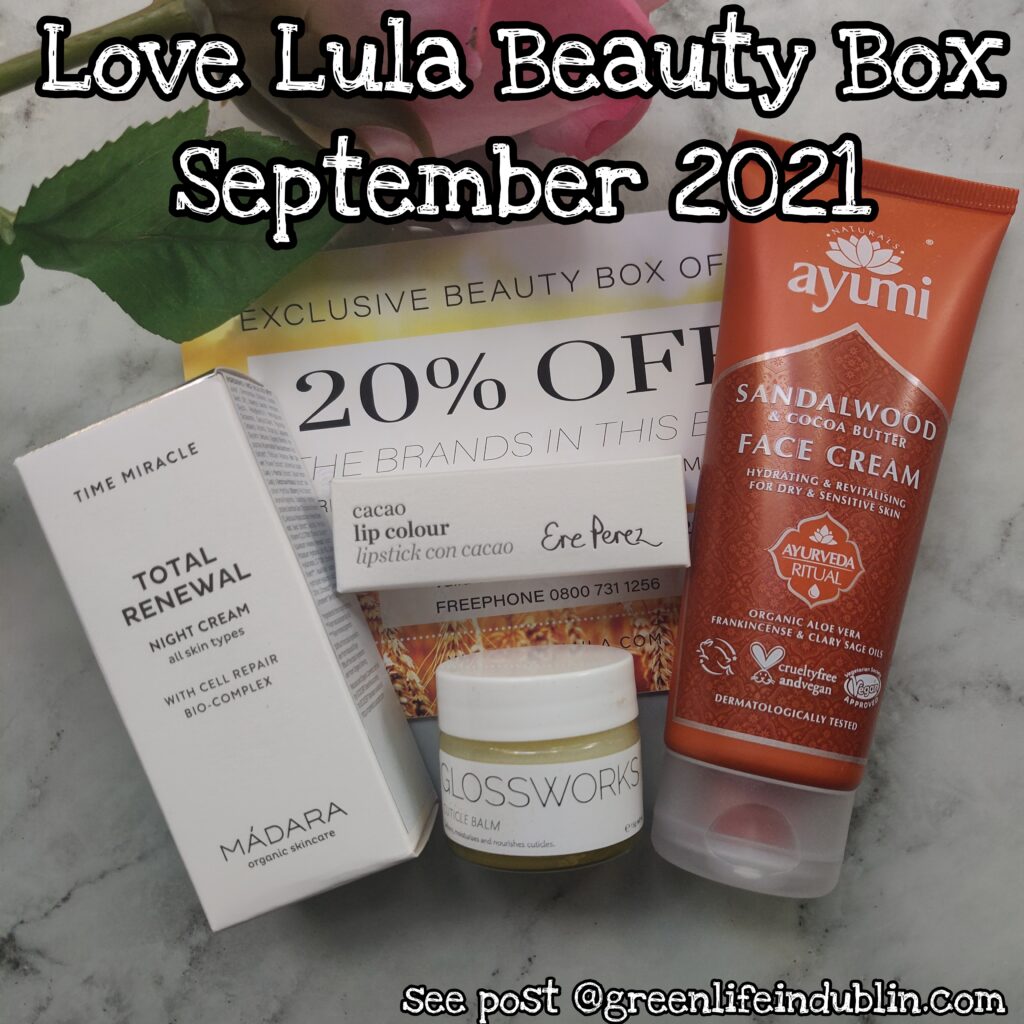 LOVE LULA BEAUTY BOX SEPTEMBER 2021
And now for the beauty box. Like Christmas coming early every month! This month was no different.
ere perez cacao lip colour in Circus
I am so happy we got a chance to try this, an unexpected favourite for this month! I'll insert a swatch picture right here and I think I have enough Ere Perez products to do a full make up look post. Let me know if that's something You would like to see? This lipstick is a full sized product valued at 21£, so this alone is way more value than what You pay for the box. There are six colours available, we were sent assorted ones.
glossworks cuticle balm
New release from Glossworks, a nail polish brand. This is another full sized product valued at 12£. This is a pleasure to use and smells incredible! Thank You Love Lula, my cuticles are well cared for.
MÁDARA Time Miracle Total Renewal Night Cream Travel Size 20ml
Madara is a frequent brand in the Beauty Box, so if You love this brand, definitely sign up to try this box. Not only You would get lots of products to try, but You get 20% discount on Madara and all the brands featured for that month. I myself should remember to use the discount myself, I keep forgetting about it 🙂
Ayumi Sandalwood & Cocoa Butter Face Cream 100ml
Another full sized product – this is why You gotta love this Beauty Box! You are guaranteed to get at least three full sized products, often more. I do not know about You, but I am not impressed with those flimsy one-use sachet samples, I do not even want to try them because more often than not You don't even get to experience the product to full extend even for one use. Guess what? In my three years of getting Love Lula boxes I can count them on one hand. If that does not impress You, I do not know what will. But let's go back to Ayumi cream, shall we? This affordable brand is a staple in Casa Green Life In Dublin, because the products work great, smell great and I already mentioned the great price point. Sandalwood range is a favourite of mine (try the scrub!), kids love Turmeric and Hibiscus line & Mr. Green Life In Dublin praises Neem range because it helps with his scalp acne. Thumbs up all round from us! This cream looks like it would be more suitable for spring/ summer for me, I have moved on to heavier moisturisers for the cold time of the Year (see my current skincare routine on my YouTube channel, a collaboration with our own lovely Lu from a Life Of Lovely!). So I am a bit undecided whether should I use it as a body cream or send it to my friend in a care package.
That's it for now, thanks for reading!
Sending Love & Light
Renata.