Hi Lovelies,
Welcome back! And welcome if You are new here ???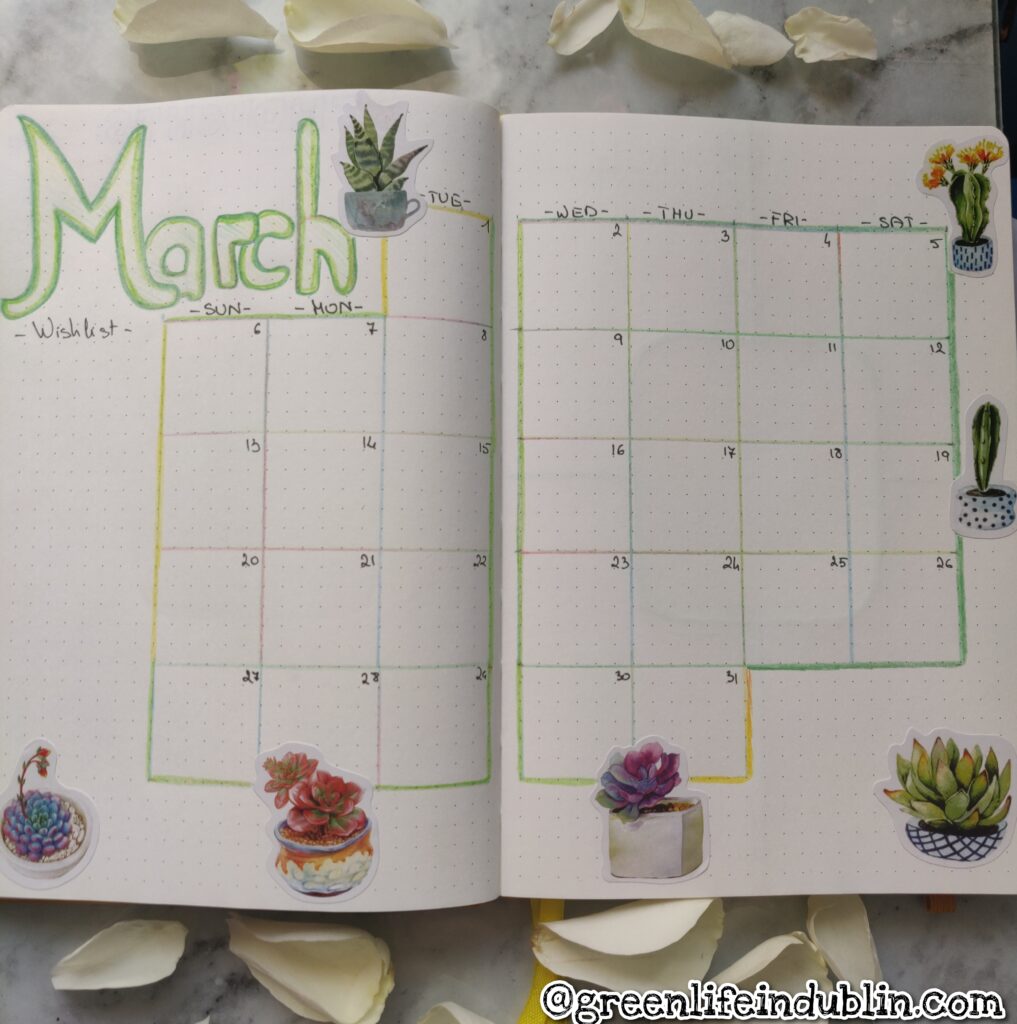 How are all of You, I hope You are well? In the case You have missed my last post, I have created a bunch of Green Life In Dublin Does Various Things pages (explanation and the links below) and this is one of them – my March Bullet Journal spread. What's a bullet journal You ask? Let me explain 🙂
Ok, so first thing's first. Not sure what's gotten into me, but I have created all these other IG pages, like Green Life In Dublin Eats, Wears, Journals and the like. The idea behind is that I wanted to sort my content a bit, I thought it would be neater to group the like posts with the like, instead of jumbling all sorts of content into one page. That way You could follow only what You are interested in, or at least that's was the train of my thoughts. You see, I wanted to broaden my content for a while now. While green and clean beauty will remain the sole focus of this blog, I am multi dimensional being, like the rest of us. Expect more content coming Your way soon – think DIYs, crafts, DF GF recipes, outfit of the day posts, bullet journal spreads.. Ah, bullet journal 🙂 In the case You did not know, bullet journal is a blank (dotted) journal, where You can create monthly/ weekly/ daily spreads according to Your liking. That's what appealed to me the most, the ability to suit the journal/ planner to my liking. I have never found a diary/ journal/ planner to suit my needs, so this is perfect. I have two separate ones, personal and the blogger one. I like to keep things highly organized, but not excel dry, it has to have a touch of personality and creativity too. So here we are. I am two or three years into bullet journaling, yet I only talked about it one on my media.
That post is three years old, I was all freshly excited discovering creative journaling, I followed some bujo artist pros (You will see a Youtube playlist linked in that post, which I am still updating). You will see me going into it ambitiously – creating all kinds of pages from mood trackers to shark week (yes, period tracker) to books list & so on and so forth. All decorated with (copied) drawings. I since discovered that I am not that creative myself, or lack time to sit there and painstakingly draw monthly cover pages for hours. Let's face, moms do not get that luxury anymore, haha. I tried my hardest to be a perfectionist at first, but I had to ease my standards since, especially when I heard one Youtuber bullet journal artist admit that her (fabulous) month cover page took five hours to create. Since then I minimized the content and the decor a lot and have decided that stickers and washi tape are good enough 🙂
So here it is, my March 2022 monthly spread. This is minimal, but bear in mind this is for my blog, so it is suited accordingly. You can add anything You like to Yours, birthday list, habit trackers, to do lists broken down into categories, dream diary, whatever You are into. This is Your diary and You are the boss of it.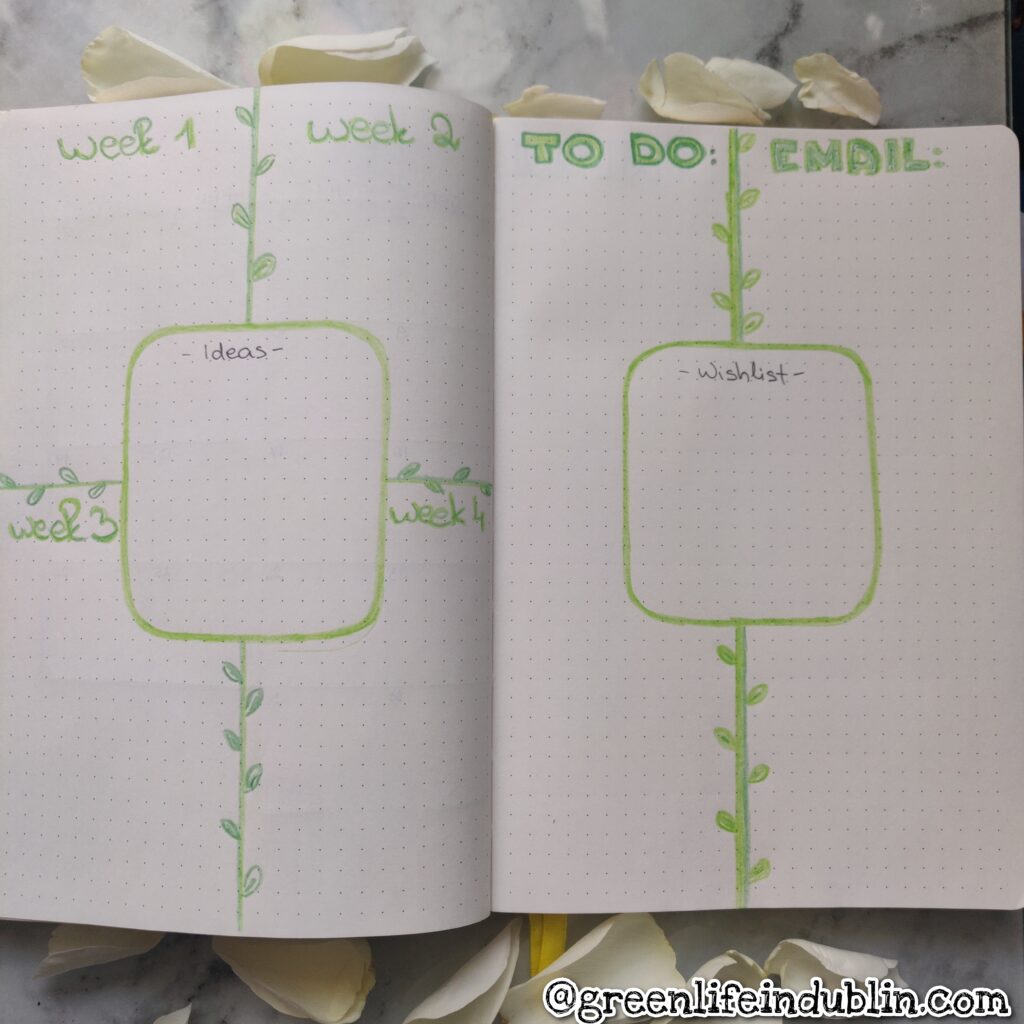 I chose plants theme for upcoming Spring, seems apt and I cannot wait to see the greenery in real life too.
So that's for today, please follow my Green Life In Dublin Journals page if this is Your cup of tea. I will follow it up next month.
RELATED PAGES:
GREEN LIFE IN DUBLIN EATS
GREEN LIFE IN DUBLIN READS
GREENLIFE IN DUBLIN JOURNALS
GREEN LIFE IN DUBLIN CRAFTS
GREEN LIFE IN DUBLIN DIYS
GREEN LIFE IN DUBLIN WEARS
All of these pages are semi – updated, please bear with me of it, I am working on them. Thanks so much in advance if You will decide to follow any of them!
That's it for today, thanks for reading. I appreciate You spending Your time with me here.
See You here next Tuesday, my posting day.
Sending LOVE & LIGHT,
Renata.