Hi Lovelies,
Welcome back! And welcome if You are new here 💕💕💕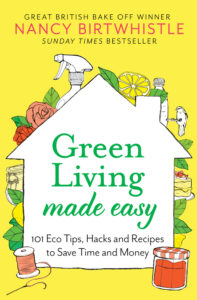 When a Great British Bake Off winner releases a book, You want go know. When a book is actually "Green Living Made Easy" then I want to know many times multiplied!
*marked as AD because of PR product. Review is not sponsored, entirely my own doing.
Green Living is basically synonymous with me, I am all a out that life too. While my blog focuses on natural and organic products, I am all about all the other aspects of green living too – from reusing, up cycling, to saving energy where possible to eating mindfully and locally. Oh, and making what I can instead of buying new things endlessly. So when I was asked whether I would like this book, I was like "does one legged duck swim in a circle?" Of course I needed to know! I am always keen to learn new tips and tricks myself. I also realized I need to share way more of it myself. You might know what brand of organic foundation I use, but do You know that I clean my kitchen with vinegar, water and lemons? I do not want to make this all about me, but I will invite You to follow my new IG pages, linked down below. At the start of the year I was thinking along these lines too, so I created a few more pages like Green Life In Dublin DIYs, Green Life In Dublin Crafts and the like, to differentiate the content a bit more.
Let's go back to Nancy Birtwhistle and her wonderful new book. It promises to help You reduce Your environmental impact, while saving You time and money. It has tips and hacks on everything from eco cleaning, upcycling, making the most of Your weekly shop to small space gardening to creative crafts. Does it deliver? Let's find out together.
The climate change is a dominant issue that many of us worry about (it can't be just me?) and many of us are keen to do everything to help save the planet. We do not have to overwhelm ourselves trying to chance everything at once, but we can always start by implementing small habits. Swap plastic or paper straws for metal or tampered glass, even using a lunch box helps. Our lives have changed dramatically over the last two years, I think we all can agree we can no longer take anything for granted. We can have a little look at what can we do to make our lives just a little more greener and sustainable. Nancy walks us through many helpful tips when it comes to kitchen, from cutting Your block of cheese in portions and freezing it for a few upcoming weeks, to tackling thorny issue of food waste, to using your freezer to your advantage and many more. Ever had your fresh finger, chilli or other spices dried up or moldy after a week? Freeze it as soon as you are done with that first recipe you got it for. Have milk but going away on holiday soon? It freezes very well too, did You know that? Then she walks us though a full week's well thought-out menu, every recipe done in one pot/ pan and ready in one hour. Perfection or what?
The chapter about recycling and upcycling follows, as well as a few DIY projects and a handy tip on how to save on batteries. The craft section had interest straight away and it did not disappoint, from recipes on how to dye Easter eggs to how to dry different flowers & make pressed flowers and pot pouri with them.
What follows is a section that everyone is waiting for, the baking chapter! it gives tips and tricks from figuring out how big your pan is, to recipes upon recipes of all kinds of loveliness. For me, I would have to figure out how to de-glutenify (is that even a word?) everything, but a few recipes piqued my interest. Humble potato gets it's own chapter and I am here for it, as it has been my staple my whole life.
Nancy Birtwhistle has a whole book about green cleaning products (I am adding that to my reading list) but she re -lists a good few DIY cleaning products recipes here too. I am partial to a good DIY myself, so I was interested in the recipes.
Then we get instructions on how to make gifts for friends and even the gift boxes, or gift wrap. Speaking of wraps, there's a recipe on how to make beeswax wraps too – really handy to know, because they can cost a pretty penny in the shops.
Nancy also gives lots of tip on gardening, even if we are short on space. She lets us know what we can grow from cuttings vs seeds and how to take care of the plants.
The book finishes off with a reflective chapter, so we don't forget to take a moment and to reflect a bit. It's ok to have a bad days, be gentle with yourself and take a break.
MY THOUGHTS ON THE BOOK:
I love this book! It will teach you to be resourceful and prudent. You will get tips on how to sew, knit, bake, cook, grow and cook food, clean your house the natural way AND you will get enjoyment of living your life sustainable way. PLUS you will save money and resources.
It's a win-win-win situation if You ask me?
Look for this book in all of the stores where good books are sold. Online. Or get it from the library. Whatever works for you 🙂
You can see my reading list for March in this post:
Please check out my new IG pages, thanking You in advance! Brownie points for following 🙂
GREEN LIFE IN DUBLIN READS
GREEN LIFE IN DUBLIN DIYS
GREEN LIFE IN DUBLIN PLANS
GREEN LIFE IN DUBLIN CRAFTS
GREEN LIFE IN DUBLIN WEARS
GREEN LIFE IN DUBLIN COOKS
GREEN LIFE IN DUBLIN
So that's it for today, thanks for spending Your time with me. I appreciate that. Please let me know what are You reading? Are You interested in book reviews, is this something I should keep doing?
Sending LOVE & LIGHT,
Renata.