Hi Lovelies,
Welcome back! And welcome of You are new here xoxo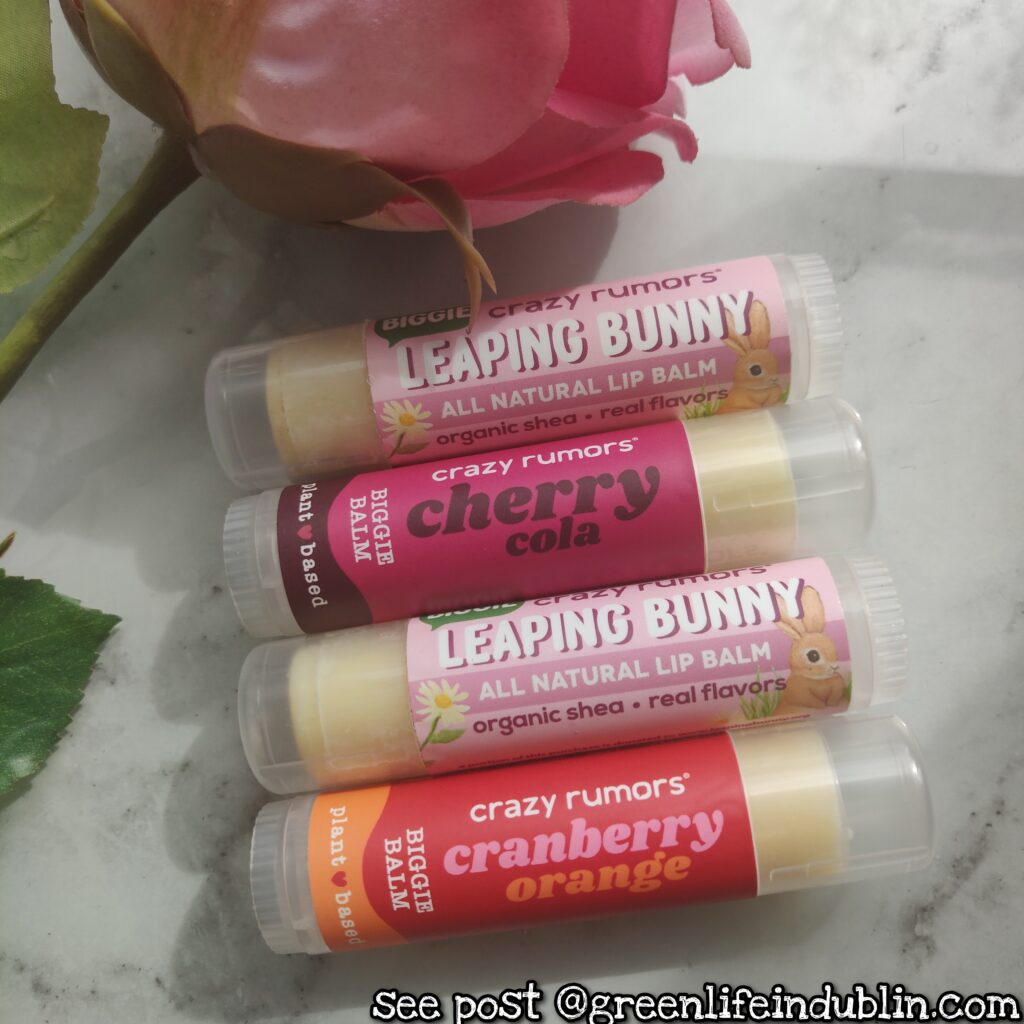 How are all of You, I hope You are well? Today I am coming at You with Green Life In Dublin Loves or Friday Faves post yet again. Please step forward Crazy Rumors vegan lip balms FOUR TIMES the size!
A little bit of a back story of how these vegan, gmo and gluten free lip balms came to be: Brooklynites Edie + Brian Himmel started experimenting with delish flavoured lip balms back in 2003 with one goal in mind: combining wholesome, high quality ingredients with creative, intriguing and super cool flavours. There were many 3am experiments to craft the perfect lip balm. This quickly soon turned into obsession! If it wasn't perfect, it wouldn't make the cut! They were beyond elated and couldn't wait to share the finished products with the world. Creamy butter like goodness with just the right amount of coat.
Fun flavours without the fake stuff, they make everything with super moisturizing delights like Certified Organic Shea Butter + Soothing Jojoba oil. Available in a wide array of tasty flavours, all sourced from plants, fruit and vegetables – no synthetic lab created flavours in here, ever! Always free from GMO's, parabens and gluten! Nature creates it all, and what's better than that?
I'll tell You what's better – they come in like 3000 different flavours (just kidding, but not really – Love Lula carries 52 of them!) and they went BIG!
My thoughts and experience with them
I have tried quite a few of them over the years, my kids are especially fond of them due to the fun flavours not found anywhere else in the clean beauty world. In all honesty they never made it to my final Holy Grails list due to not lasting very long on the lips (I am very picky when it comes to my lip balms I have to say) but when Love Lula announced Biggies, I was all ears. You see, I am a kid at heart just like the most of us, so the thought of oversized lip balm had me all giddy, especially when I read the flavour profiles, they are so fun. I got one, which was immediately confiscated by the kids (with complains why I only got one), then I got one more and one more, till all the family was kitted out. Mr. Green Life In Dublin always has his in the car, Ms. Green Life In Dublin Jr insists on carrying hers to school every day and the rest of us are enjoying ours a lot too. So, yes, I have to say I do really like them and would recommend them. With my pickiness aside, they are fun and a joy to use. And when You have four times the size of Your regular lip balm, You don't mind reapplying.
Harder to lose too!
And before You ask, no, they do not cost four times, don't You worry. Mark my word these will be featured in my upcoming Spring Favourites post and upcoming Youtube video all about natural and organic products my child uses.
Not a fan of supersized lip balms? No worries, You have around 50 to choose from when it comes to Crazy Rumors alone 🙂
CHECK THEM AT LOVE LULA HERE
See my Holy Grails Best Products here
Related post:
My Favourite Natural & Organic Lip Balms [That Stay On The Lips]
See 111+ Love Lula posts & reviews here
So that's it for today, thanks for spending Your time with me.
Your turn – have You tried these? What are Your best lip balms that You would recommend? Please share, I would love to know 🙂
Sending LOVE & LIGHT,
Renata.