Hi Lovelies,
Welcome back! And welcome if You are new here xoxo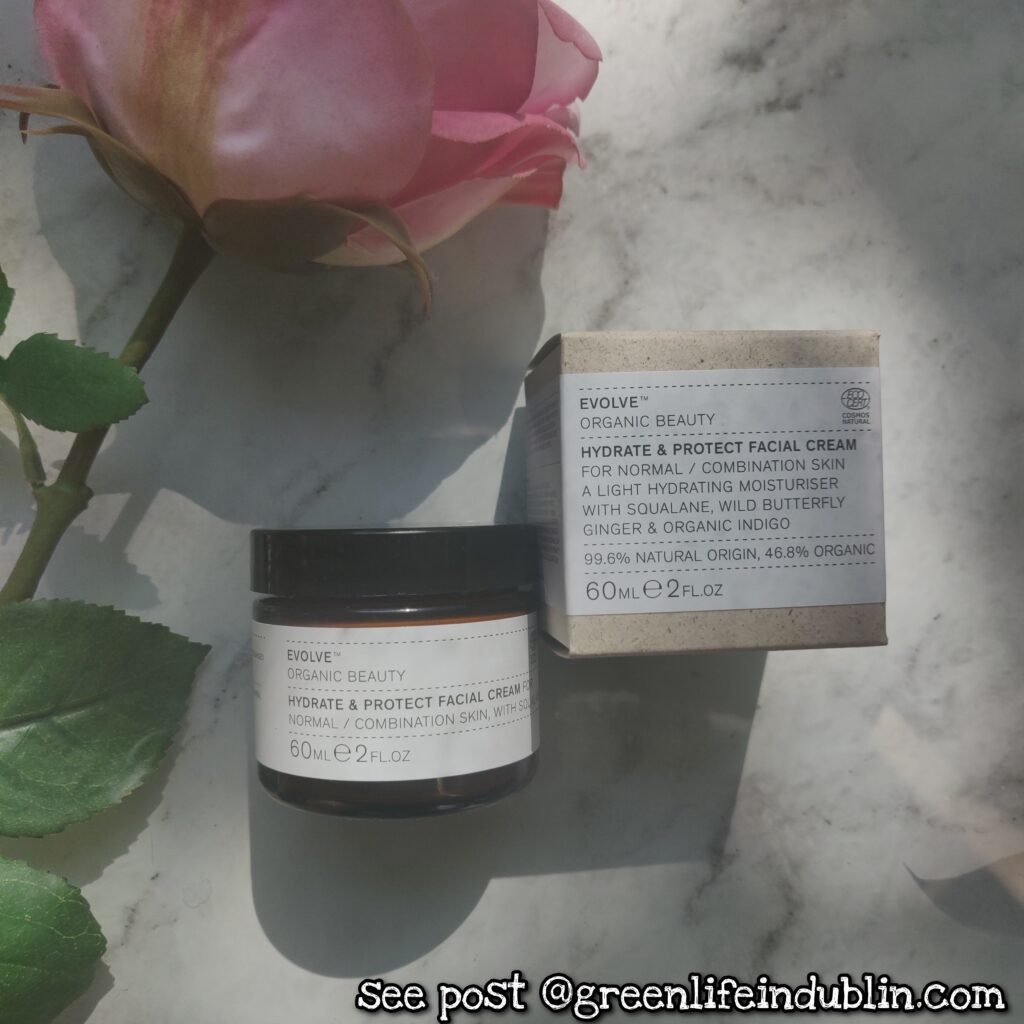 How are all of You, I hope You are well? Today I will be (first impressions) reviewing something that's just hot off the press – please step forward Evolve Organic Beauty newest product, Hydrate & Protect Facial Cream! Interested in my thoughts on it? You are in the right place.
*PR product kindly sent by the brand. The thoughts are my own and always honest. The links are affiliate, thanks so much for using them - at no extra cost to You. I only ever associate with brands and shops I tried and tested thoroughly  myself.
You guys might know my never ending love for this brand, ever since I discovered them. If You are new here, check this post for my thoughts on A LOT of their products:
Brand overview – Evolve Organic Beauty – Green Life In Dublin
If You follow me for any amount of time, even for a short while, You would know my love for the brand. Everything I have tried has been amazing, I have tried about half of what they are offering and everything bar one product ended up in my Yearly Favourites! I have repurchased products time and time again, everything from skin care to body care has been amazing and I cannot get enough. So when the brand asks You if You would love to try their latest release, You say "Yes" and "Yes Please", am I right?
I could not make it into their blogger event (I wish I could) so they were nice enough to send one my way. At this moment in time I have been using it for about a week, which is enough time to test it for a first impressions type of review.
Let's see what this new cream is and how is it different from existing ones?
They describe it as butterfly light, easily absorbed hydrating cream for normal to combination skin. The cream sits perfectly underneath make up and helps to protect the skin against pollution, UV and blue light while instantly improving skin brightness.
Fast absorbing and super hydrating while leaving no greasy residue, this matte finish moisturizer is perfect for those looking to combat the first signs of ageing. It contains supercharged Wild Butterfly Ginger which protects the skin from blue light, infrared ultraviolet (UV) light and pollution, which we all know can cause wrinkles and lines.
Key Ingredients:
Wild Butterfly Ginger
Sustainably harvested in the Blue Forest in Madagascar, Wild Butterfly Ginger uses botanical sugars concentrate to help protect and detoxify the skin, clinically proven to improve the skin's luminosity by 78%. It also softens and improves skin brightness and elasticity.
Squalane
100% plant based, it is derived from olive oil and it is an exceptional hydrator that is naturally found in the skin. It can prevent the ongoing loss of hydration whist aiding the restoration of the skin suppleness and glow.
Pink Indigo
This superstar ingredient is soothing the skin, it also leaves it looking smoother, healthier and more hydrated. Indigo is great for sensitive skin as it reduces inflammation and redness while protecting the skin barrier from UV and pollutants.
Full list of ingredients can be seen here: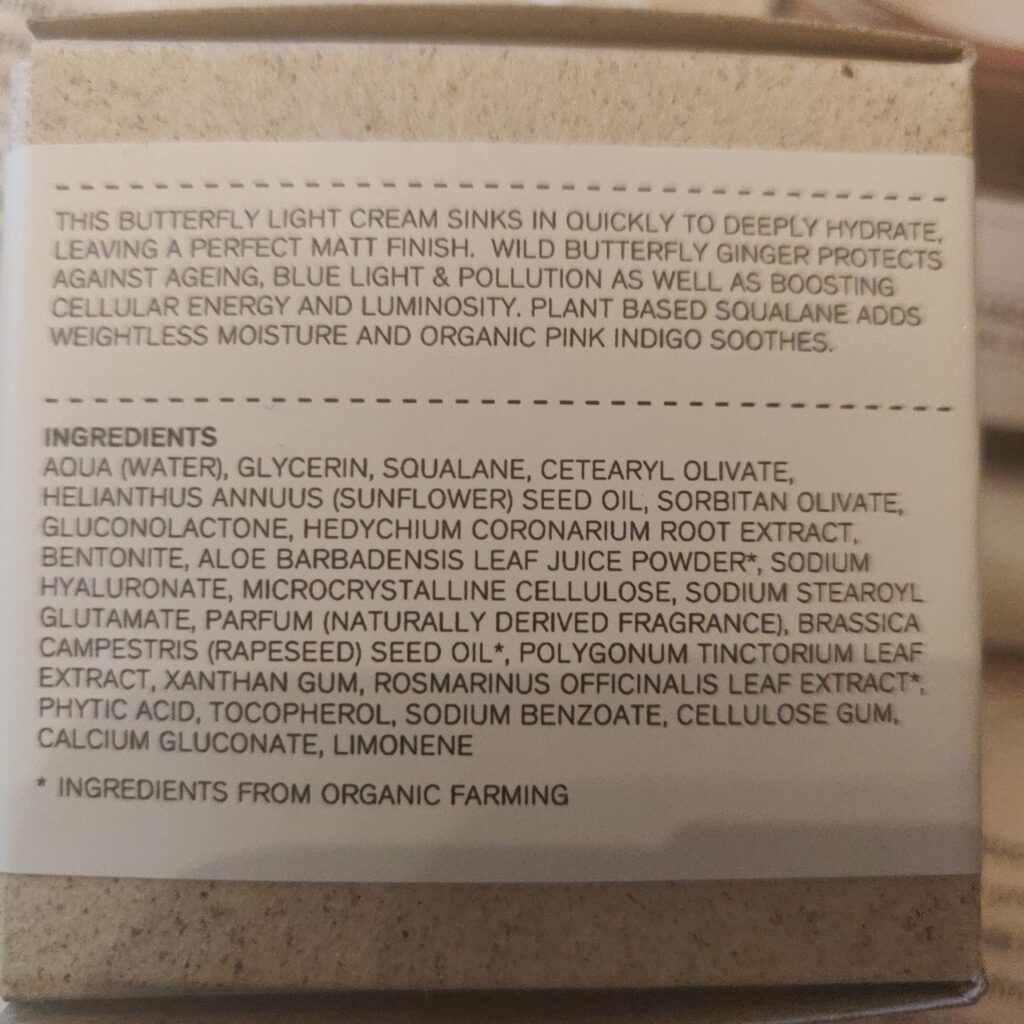 INGREDIENTS: Aqua (water), Glycerin, Squalane, Cetearyl olivate, Helianthus annuus (sunflower) seed oil, Sorbitan olivate, Gluconolactone, Hedychium coronarium root extract, Bentonite, Aloe barbadensis leaf juice powder*, Sodium hyaluronate, Microcrystalline cellulose, Sodium stearoyl glutamate, Parfum (naturally derived fragrance), Brassica campestris (rapeseed) seed oil*, Polygonum tinctorium leaf extract, Xanthan gum, Rosmarinus officinalis leaf extract*, Phytic acid, Tocopherol, Sodium benzoate, Cellulose gum, Calcium gluconate, Limonene.
Let's see what it looks like? This is for those of You who are into texture 🙂
My thoughts on it
I love what I see here! Active ingredients sound amazing and I really want this to work because I want the cream that would protect not only from pollution but also UV light. For the record, this isn't aimed at my skin type (dry and sensitive) but so far so good. It definitely sinks in fast and does not affect the make up. My skin is the most sensitive skin on the planet and yet I am happy to report no irritation or any adverse reaction. The only thing I can comment on is that it does give me a bit of tightening after I apply it. If You are looking for that, this might be Your perfect product. I can see it working so well for so many skin types. I will keep testing it for more and will report back. In the future I might end up adding a drop of oil to it as I oftentimes do, but for now I just wanted to test and experience the product more on its own, as it is.
Check out more Evolve posts & reviews here 
Check them out at:
That's it for today, thanks for reading! See You here soon xo
Sending LOVE & LIGHT,
Renata.