Hello Lovelies,
Welcome back! And welcome if You are new here xoxo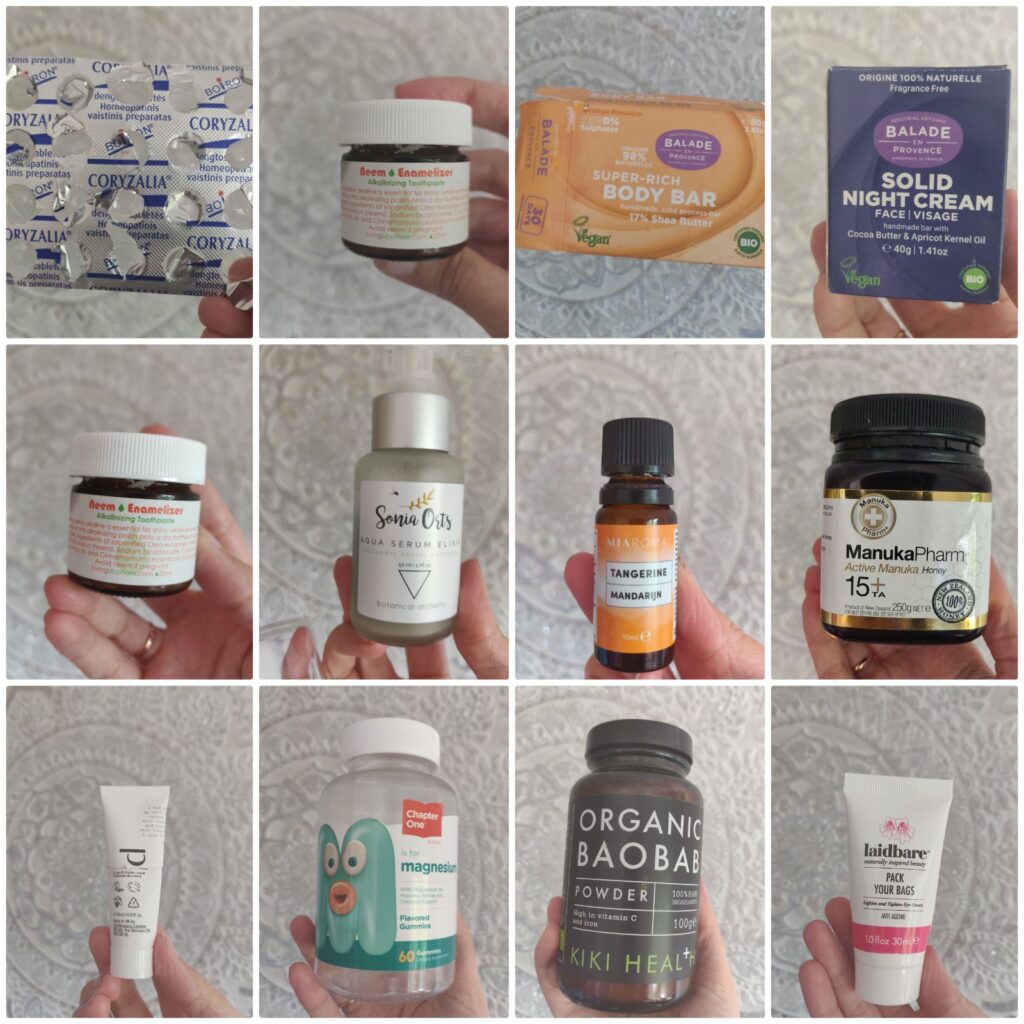 Empties. Nice to finish products, such a drag to post about them. But! You guys love them & have asked me to continue to post them –  this is for You. I love being of service to my readers & if You find value in these posts, I will keep them up. This year I am also adding totals, both in quantity of products & value – although I want to burry my head in the sand about it ?
This post is also a collaboration with lovely green beauty blogger Natural Beauty With Baby, who is always on point with her empties – with super gorgeous photos to boot ?
* disclaimer - PR products and some affiliate links featured, many thanks if You will decide to use them, at no additional cost to you xo
Pictures collaged in random order.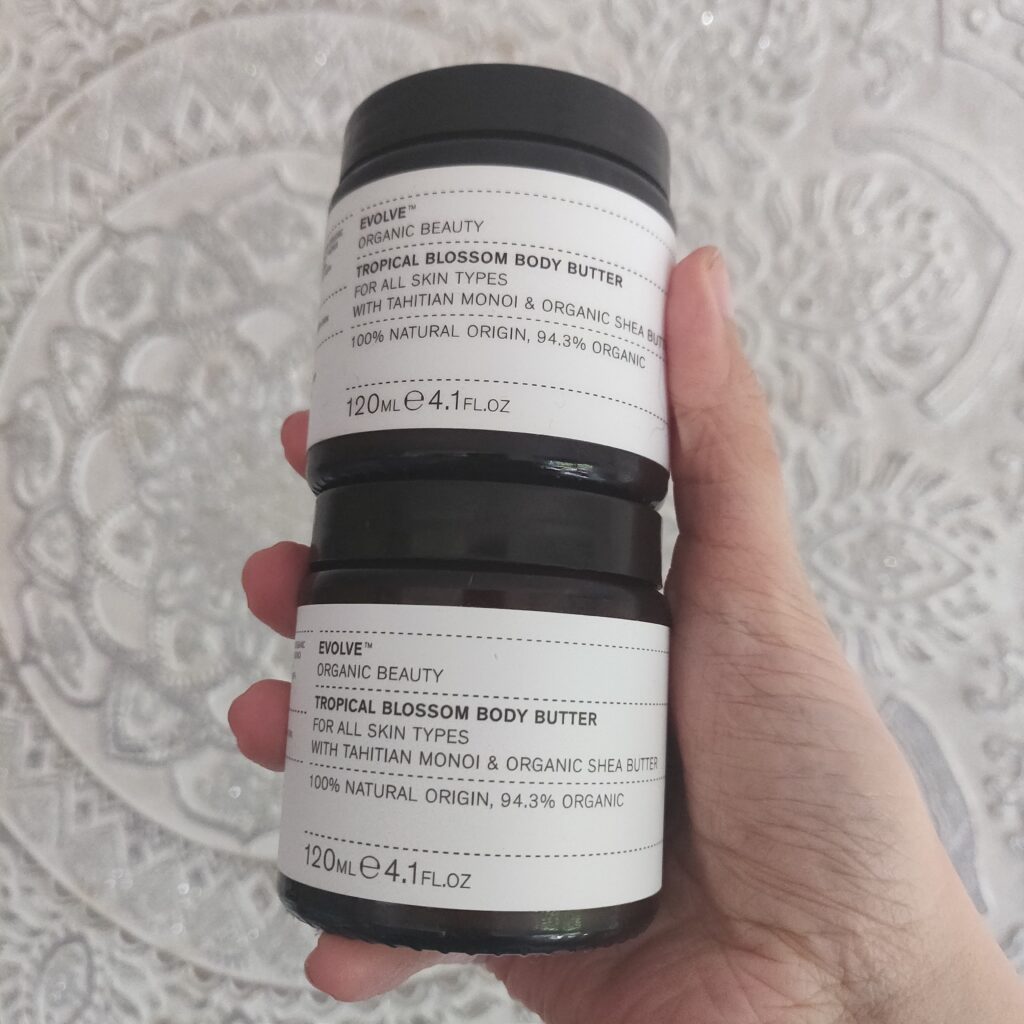 FABULOUS GREEN BEAUTY/WELLNESS PRODUCTS I WILL REPURCHASE
🙁 Essential Oils blend
This is my own DIY healing blend, see post on how to make it below. Not too sure what price tag to put on it, so I am going to price it at 5€ as the cover-the-material cost. This saved me multiple times when I had a cold, prior to discovering it colds always turned into flu. Not anymore, this is a game changer. I highly recommend every household have at least one essential oils roller. If You don't want to DIY anything, this is a good one.
Yogi Throat Comfort Tea
My absolute fave tea in the whole wide world. Naturally sweet without any nasty additives, formulated to boost the immune system and soothe the throat (it does work!). Organic too. I find putting a lid on a cup is a key to not let those delicate plant oils to evaporate.
Yogi Immunity Tea
Doesn't taste as amazing, but it also very good at keeping my immune system strong.
Manuka Pharm Active Manuka Honey 15+
One of the more affordable manuka honeys I've been using for years. I use them both for healing and masking purposes
Boiron Coryzalia
Homeopathic remedy I take at the first sights of cold/flu. Works for most of the time, but if I feel it is evolving into full blown flu, I move onto Osccollococinum (I think I've misspelled that) also from Boiron as more heavy duty approach to heal quick and that works every time. I use both of these remedies for at least fifteen years and I cannot recommend highly enough You take a look into them too. See more in my holistic medicine cabinet post below.
Chapter One Magnesium gummies
Magnesium is a calming mineral, I find it crucial for restful sleep. I tend to use body oil (it can be absorbed through the skin), but my 8yr old prefers the gummies. Of course. She says she finds they help her relax and that's all I need to hear. Repurchase for eternity from now on 🙂 We will do updated blog post and even a Youtube video on what other natural products she uses, so please keep Your eyes peeled for that.
Check iHerb for Boiron, Yogi, manuka, Chapter One & more
Code CDI1500 saves $£€ for Your first order
Living Libations Neem Enamelizer Alkaline Toothpaste
Wow, that's a mouthful 🙂 Get it? Joking aside, this is a staple in my dental care routine – Living Libations products are next level and I cannot get enough. Repurchased times and times again, please look for my "No cavities with these natural & holistic dental products!" post for more. Simply type "no cavities" into the search box and it will show You the post.
Evolve Organic Beauty Tropical Blossom Body Butter
My Holy Grail body butter that rivals any conventional body butter in terms of luxe user experience. All natural, of course. Smells amazing, like a tropical vacay in the jar. I wish social media and blogs would have scratch-n-sniff feature so I could could share this gorgeous scent with You! Look for the review on my blog.
Check Dutch Health Store for Evolve, Living Libations & so much more
Organii patches (organic cotton)
These organic cotton patches (or plasters) are great, because they use non toxic glue too – all of us have allergy to the "conventional" glue in the "conventional" patches. They also last all day, even my hubby commented on it, which is great feedback, he usually says nothing about any product. I have a review of this natural budget friendly brand if You want to see it. They also have kids plasters with fun prints too. I tend to buy adults multipack, they last longer and have less chance to be used on dolls in one single afternoon 🙂 Available at Love Lula.
Kiki Health Organic Baobab powder
Great natural superfood I use primarily for vitamin C content, but it has lots of other benefits too. I get Kiki Health from Love Lula, seek "supplements at Love Lula" post if You want to know more of what I take. This is raw and organic, which is very important for me. Bottle lasts for ages too.
Bamboo toothbrush
These are widely available, I get mine from Love Lula purely for the convenience.
Balade En Provence Solid Night Cream Balm & Soap
Lovely solid products from France, no preservative, vegan, affordable. Will go back for more. I just reviewed the brand yesterday, be sure to check it out if You are interested in them.
Check Love Lula for Kiki Health, Balade En Provence, Organii & more
Better You Vitamin D 3000IU Spray
Better You is one of supplement brands I love, have been using them for years now. But I realized I don't talk about them not nearly enough – so I am going to review them soon. If You want to supercharge vitamin D, You can get it paired with vitamin K (see here) – I usually get one or another, depending which one is on sale at the time. No shame in saving game me thinks 🙂
PAI The Anthemis face cream
Travel size of this was enough for me to put it in the Holy Grails category, and that's saying a lot. Definitely repurchasing some day, part of me wants to wait for some kind of deal to come along (this is not cheap) and partly because I am about to get a bunch of product to test/ judge for the Clean Beauty Awards any day now.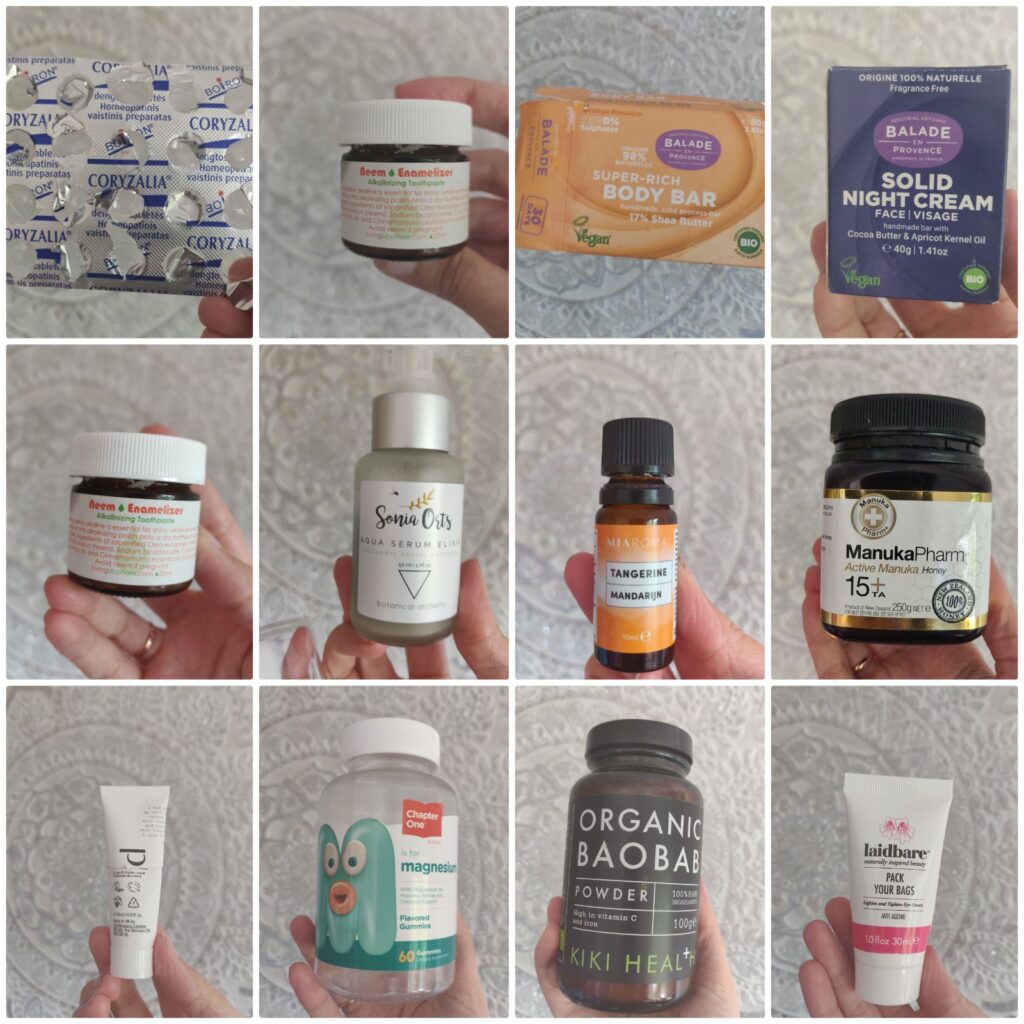 GREAT NATURAL ITEMS I WON'T GET FOR NOW DUE TO THE SIZE OF MY STASH/ OTHER
Vanessa Megan Gold & Lime Caviar Mask
Have 2 more still, therefore it is in this category. Has beautiful ingredients in it, plus compostable coconut cellulose sheet.
Hurraw Sandalwood Balm Too
Not repurchasing for now, as I got Neroli one in the Love Lula sale, but will go back to it eventually.
Pure Anada foaming hand wash in Vanilla
I struggled a little bit where to place this, it used to be my constant repurchase for more than a year, but this last one stopped foaming when bottle is still half full. Not giving up on the product yet, it might be a bad batch or products about to expire. I have repurchased Shield instead, simply because it is a new release.
DrHauschka Hydrating Hand Cream
Again, kind of struggled where to place this – the product itself is exceptionally good, but currently not repurchasing it due to having 1.5 Pure Anada hand creams, plus Kiss The Moon Love one, which has a lot of product in the jar, so I am well stocked up for months. Someday I am definitely getting it again. This joins my DrHauschka Holy Grails list along with their famous Rose Day Cream, their lips balms & newly acquired Soothing Lotion.
Fushi Argan & Amalaki shampoo mini
Nice product, but not for my hair. Love their shea butters and supplements a lot though!
Ayumi Hibiscus & Turmeric Shampoo
Great budget brand at Love Lula, love their shampoos, body washes and scrubs, as well as oils. Sandalwood is the range I like better, so I am going to get that instead of Hibiscus one. This is my Green Life In Dublin Senior favourite though.
Ecodenta Multifunction mouthwash
Ecodenta is a Lithuanian brand that I get from Holland & Barrett. They have three varieties of mouthwashes & I usually get whatever is on sale at a time. Again, no shame in the saving game.
Sonia Orts Aqua Serum Elixir
Great serum from Dutch Health Store, but again, not repurchasing this for now, as I have two or three liquid/ aloe/ water based serums to go through. I might be weird for a blogger wanting to be a minimalist, but I don't like to have multiple open products at once.
Miaroma Tangerine essential oil
This brand is not my Holy Grail, I find them not that good, but I couldn't pass 2€ offer for this 🙂
Laidbare Pack Your Bags eye cream
Again, not super impressed with this brand's products and having too many same like products, I used this on my hands. Sorry!
Skin Alchemist The Humble Warrior
Lovely cleansing oil that came from Love Lula Beauty Box. Same story, let me repeat myself for the 104724th time. Not getting it for now because I have something else open at the moment. Might go back to this in the future though, I found it working well and super gentle on my uber sensitive skin.
The Castilian Soap Company castille soap
Same thoughts as for the product above.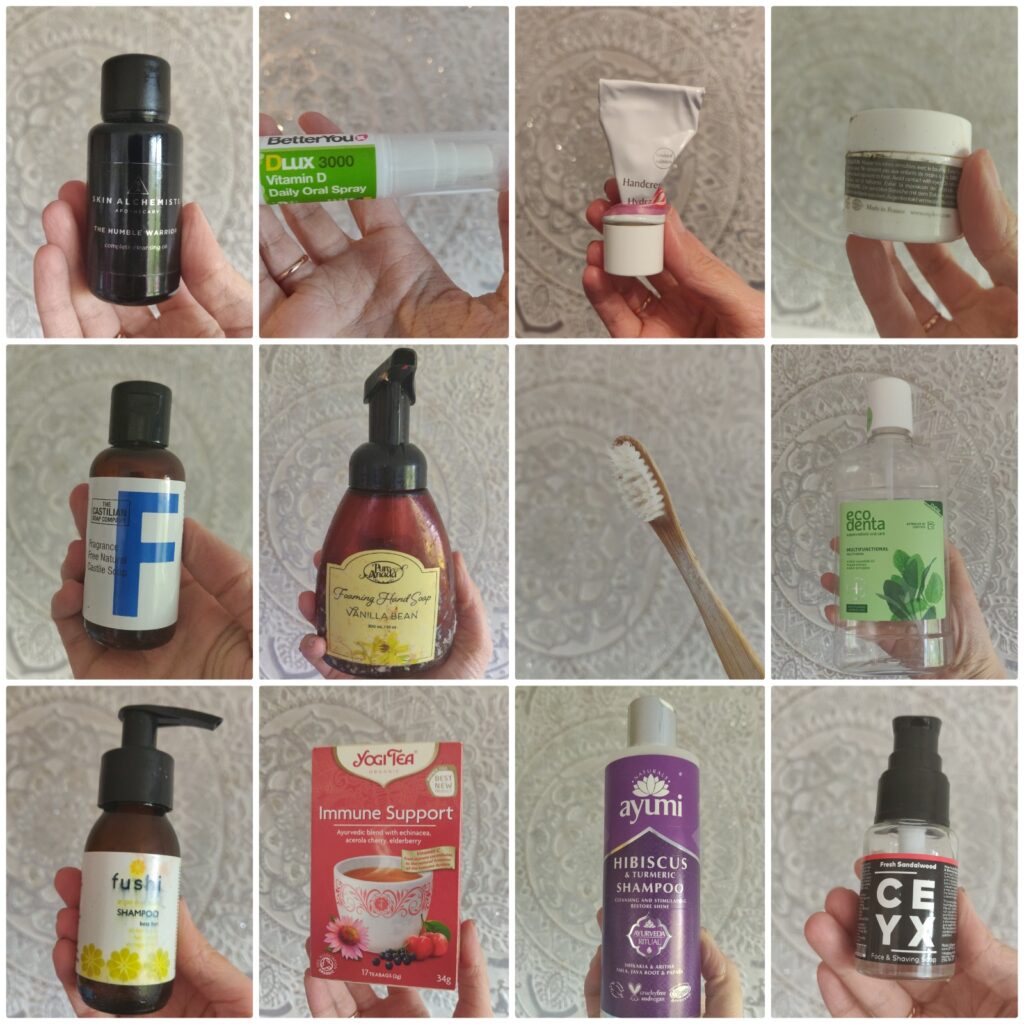 GREEN BEAUTY ITEMS I A NOT REPURCHASING 'COS THEY WEREN'T SUITABLE FOR MY NEEDS/ DIDN'T WORK FOR ME/ OTHER REASONS
Ceyx Sandalwood Wash travel size
Not getting it again for one simple reason, Love Lula no longer stock the brand. It was lovely, but I am not going to track it. Not short on washes & also not keen on spending on postage, living too La Vida Broka right now. Have to be very conscious of where I spend my money.
TOTALS
Uhh, I might be regretting my decision to put this out in public already ?
Skincare – 7  products – €174
Eeek! I want to go back to head-in-the-sand method!
Bodycare – 5 products – €63
Haircare  – 2 products – 12€
Health & Wellness –  7 products – €71
Other – 4 products – 40€
Totals for this month – 25 products – €360
TOTALS PER YEAR SO FAR
Skincare – 21 products – 667.5€
Body care – 14 products – 248€
Hair – 3 product – 22€
Make up – 1 product – 28€
Health & Wellness – 32 products – 412€
Other – 9 products – 85€
Totals this year to date: 80 products – 1462.5€
Thanks for reading, I appreciate that. Now, Your turn – what have You guys finished lately? Have You ever budgeted what You are spending on skincare & stuff? Let me know, I want to hear from You.
Sending Love & Light,
Renata.