Hello Lovelies,
Welcome back! And welcome if You are new here xoxo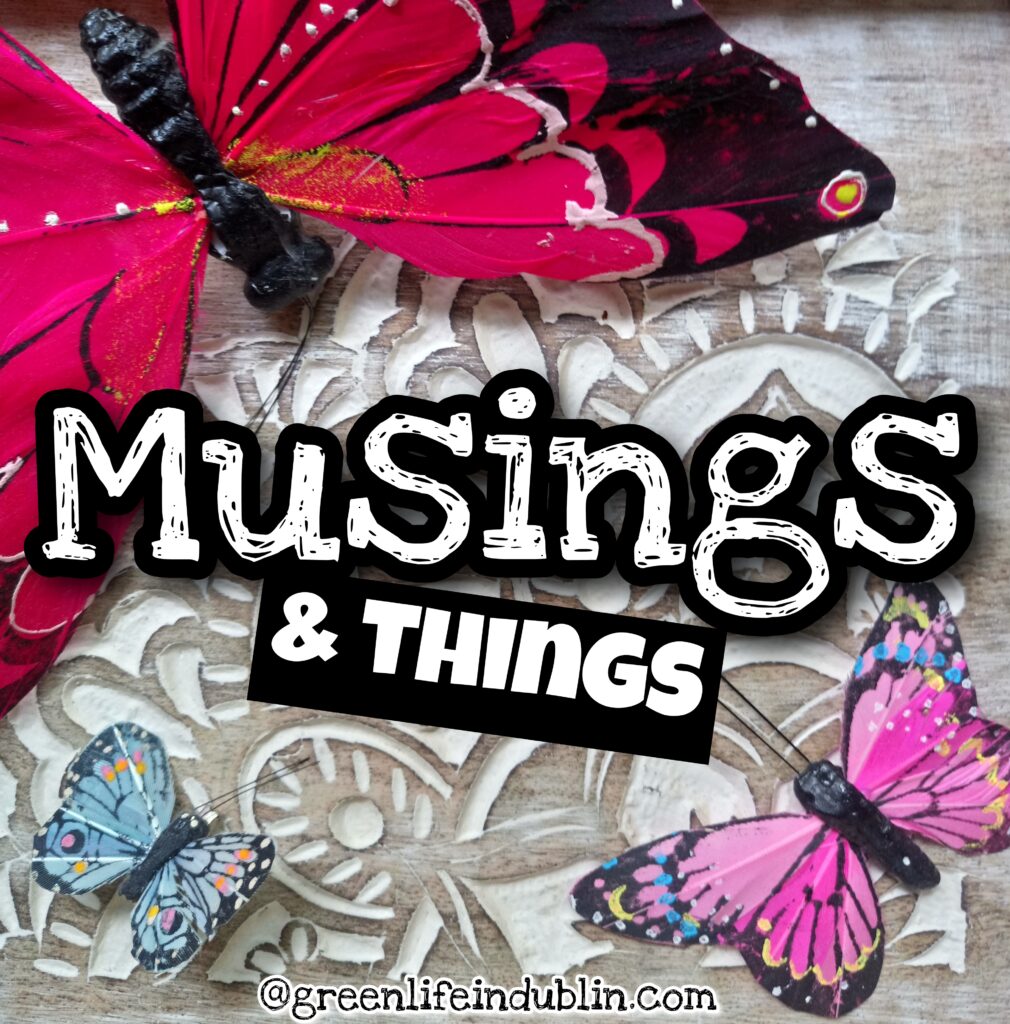 How are You all, I hope You are all right? How is April treating You this year? We have snow! I can't believe it.. Anyways, let me fill You in what's happening in Green Life In Dublin HQ behind the scenes – feature in Irish Independent and all.
Irish Independent feature
So this happened 🙂 I was asked about natural deodorants that work – find my recommendations and thoughts here.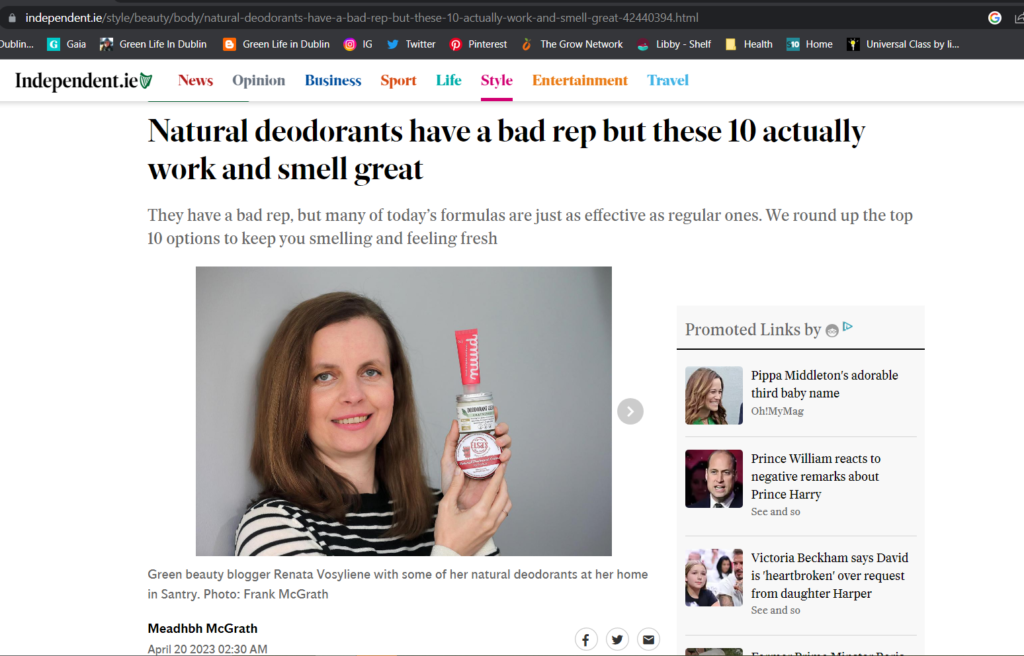 Mahalo 10 year anniversary package
I don't know what good karma brownie points I scored, but after having a horrendous March, God sent me an angel in a form of Maryna from Mahalo Care – she DMed me on Instagram asking if I'd like to receive exclusive 1o year anniversary package! Umm, excuse me, what? That was a dream come true, no less. I am a huge fan since 2016 and while my budget does not always stretch to me having them on the consistent basis, I try to have at least Rare Indigo with me at all times. In fact, it is the ONLY product I deem worth spending over 100eu for. Why? It helps so much with my dermatitis and other skin issues, I swear by it. In fact, it is so amazing that it only took me a sample sized pot to put me into my first ever Yearly Best post and it never left that spot since. Find Mahalo review on my old blog here, I am looking forward to seeing if the products are still as amazing as I remember them to be.
This is one of my favourite online magazines that I follow for many years. I like it the best, learned many things over the years. I was today's old when I discovered Kobido – Japanese massage technique – and from none other than an article on stars prep for the Oscars! I went down the rabbit hole researching it and there are some good Youtube videos on it. If You feel inclined, You might want to do that too.
Food prep to survive a week
If You are like me and lead a busy lifestyle, You might tend to shop for food once a week with tops ups for fresh things like bread and veg. I cook almost everything from scratch too, so I've been asked how do I do it. Meal planning never worked for me, I find do not desiring meals I'd planned to the day often, so I plan loosely for the week instead. Food prep is a key to my game. I also made a freezer my friend – see this playlist I'd created on Youtube. Brownie points if You will subscribe to my channel while You are there 🙂 I'd also recommend checking out Adaline Zook for her monthly freezer meal prep videos and Prom Home Cooks – this guy is all round awesome creative in the kitchen and he has quite a few videos on food prep.
I shared a thing or two on this blog and also Green Life In Dublin Cooks IG page here.
BOOK DEPOSITORY CLOSING DOWN
Welp, the Book Depository is closing down! It was the website I used to get books from for the last two decades, what I am going to do now? They had out of print books, rare books, books on natural healing modalities… I am so sad about it! I ordered seven books from it.
rose festival in Morocco or Bulgaria
A girl can dream… A bucket list thing for the future when I won't be in the grind of being needed in all of the places all of the time..
THINGS
So I published my current wishlist post at the end of March, let's see how many things I proceeded to get? Hint – not that many!
Two neem soaps & meswak sticks
These were purchased at the start of the month, I already forgot I have them 🙂 Neem soap was for the hubby, who suffers from scalp-acne. Meswak stick is used as a toothbrush in Asia, I am looking forward to rediscovering it once again. It is far removed from our western conscience as it can go, but You know me, I am always open to try alternative things. Look at perfectly white teeth of any Indian/Asian person and tell me You don't want the same?
Mahalo 10 Years Anniversary box
See my thoughts above.
Evolve Blue Velvet Beauty serum + Pro-ectoin day cream
When the brand You adore releases a new product, You want to know, right? The brand was kind enough to send me the serum but it never arrived, so I took matter into my own hands and shopped from them, buying Soothing Skin Bundle with said two new releases and Cleansing Melt. I also got Super Berry body oil. Or two. It was on super sale 🙂
Books
As I already mentioned, I ordered seven books from The Book Depository and much to my surprise The Pinch Of Nom showed up – it was a PR sent at the beginning of the year and I have lost all the hope of ever seeing it. Life and post works in mysterious ways, isn't it? Oh, and I scored new 1000 Home Remedies by Good Housekeeping for only 3eu.
Amazingy order
It was my first order from this Germain website. It was prompted by The Different Drummer by Walden, You might know it was/ still is one of my Top 3 Natural Perfumes. I knew it was a secondary brand of creators/ owners of Love Lula, what I didn't know that it closed down when Love Lula did.. Imagine my horror seeing mine running low and my delight at discovering Amazingy still had some old stock. I snapped two remaining 15ml bottles and had an opportunity to get a slightly discounted sample pack of my choosing. Of course I went for it and chose to receive samples of Kjaer Weiss liquid foundation, Hiro & Ilia multiples. The shipping to Ireland was very reasonable 5.5eu so I think I will order from them again. They have Balm Balm and Rahua, I now will know where to go for replenishments. *Unfortunately something went wrong and my order was not even packed for two weeks till I emailed them to ask about it. I could sense that something wasn't right, I wasn't getting any shipment emails either, but I still waited dutifully. Turns out they only had one 15ml bottle of perfume I was after, so we agreed to swap to three 5ml samples. They were kind to add 10ml Balm Balm Frankincense Light face oil and a couple of extra samples. But since the order went a bit lopsided, I am not sure how I feel about the whole experience.
The Dutch Health Store
It's been a while since I ordered from The Dutch Health Store. I think of the shop highly and I wish I had means to shop there much more frequently. This time round I got a few replacements of my tried and trusted favourites like Leahlani Mahana body oil (divine scent) to Madara mascara but also the pull to try new products like Evolve Organic Beauty Sunless Glow Body Lotion to new Magnesium drops to me finally getting my paws on Anima Mundi product – I've been dying to try the brand for years now. Of course I will keep You posted on what I think of the products later on. Actually, many of my Holy Grail products come from this store, so I am thinking of doing a post of what I deem The Best Dutch Health Store Products soon.
Many thanks for taking Your time to read this post, I appreciate that a lot!
See You here next Tuesday, my posting days.
Sending LOVE & LIGHT,
Renata.