I came, i tested & I weeded out greenwashing, so you don't have to!
Here are my best products: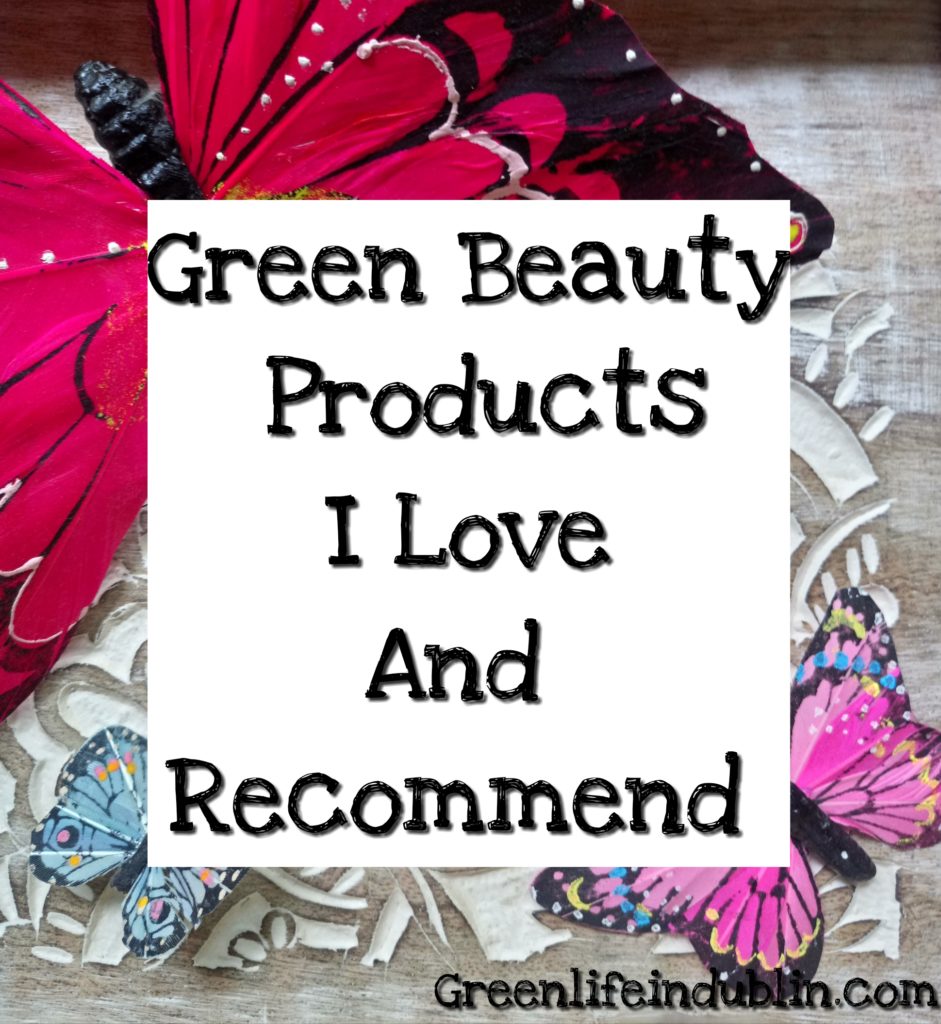 First and foremost I wanted to say HUGE THANK YOU FROM THE BOTTOM OF MY HEART to each and every one of you who read my blog! You guys rock!
If Green Life In Dublin Awards existed, these would be it!
Each and every single product is well and thoroughly tested by me – I would never dream of recommending a  product I haven't used and loved myself.
I always try to get discounts for you guys so you could save $£€
Be sure to follow my Offers section on my FB page  or this Pinterest board.
GREENLIFE15 will save You 15% at Live In The Light (UK)
GREENLIFEINDUBLIN will save You 20% at Fushi.co.uk
(some of the links will be affiliate links, but not all. I am not about that life, I love creating good content and sharing good natural products!)
PayPal Tip Jar – any donation will get You my eternal gratitude ? Your support allows me to bring more content Your way, I weed out all the greenwashing products so You won't have to 💕

FOUNDATION
A long time favourite, ever since I discovered it years ago. Seriously, just check my Yearly Favourites for the last four years! Full coverage, blendable, lasts all day, affordable – what else would you want? Minimal ingredients too. Review here. Don't forget the code to save 25%!
English Mineral Makeup Company Mineral Foundation
Another very full coverage foundation that is housed in adorable "English Rose" style packaging. You need so little of it compared to some of the other brands – and that's exactly why I love it.
Inika Certified Organic Liquid Foundation
One of the best natural foundations on the market for sure. Really nice semi dewy finish with light to medium coverage and good staying power. Great nontoxic ingredients like hyaluronic acid. natural vitamins, antioxidants & minerals. Review to come your way pretty soon, but please rest assured to know it hasn't left my #yearlyfavourites or #HolyGrails for at least four years – that says something, doesn't it? Full review here.
BB CREAM
Inika Organic BB Cream Foundation
This is very comparable to  Inika certified organic foundation, great ingredients, light coverage (less than foundation, but buildable). Great product all around, but I wish this had SPF in it. If you aren't looking for SPF in your BB cream (for photography flash or other reasons), this is the product for you. Did I mention 80% of ingredients are organic? Inika review here.
CREAM CONCEALER
My favourite concealer ever! I could talk about it for days, no kidding. I have stayed with it for the last five years through branding, production and packaging changes and it is still the item I reach for every single day. True workhorse or Holy Grail if I know one. Full coverage, moisturising, creamy and all natural. See my review here.
Ere Perez Cream Concealer
My second favourite concealer, very comparable to the Hynt Beauty, only this is kind of sticky and does not fully set. Still a great product, if you can't get your paws on Hynt Beauty, get this one. Full coverage indeed. See review here.
POWDER CONCEALER/ CORRECTOR
Pure Anada Loose Mineral Foundation used as a concealer
Pure Anada Colour Correctors
Get these brilliant colour correctors made from pure minerals – the most full coverage pigmentation I've ever seen, truly amazing! Full size for only 8$ CA – a steal, considering you will get years use out of them! See review here.
SETTING POWDER
As a dry skin gal, I do not use it, sorry.
BLUSH
Inika Peachy Keen (loose)
Oh my gosh, where do I begin? This is my most favourite green beauty item ever and I never want to be without it, ever! Want Nars Orgasm alternative without the nasty chemicals in it? This is it – and it looks good on every skintone! See me talk about it and other natural Nars Orgasm dupes here.
It is a  so pigmented that you only need a tiny dip with a brush for both cheeks application, promise. Meaning it will last you years! Such a fun vibrant color too, guaranteed to put a smile on your face. Did I mention it is an absolute bargain too? 12$ CA for a whopping 9gr of product when blushes are normally 3gr. Bargain worldwide shipping too. See review here. Video swatch on my FB page here.
BRONZER
Inika Bronzer In Sunkissed
It adds a beautiful sun-kissed glow to your skin that looks and feels natural. Perfect for use over your foundation, or simply apply on your fresh-faced skin for an added glow.
A beautiful sun-kissed glow to your skin all year round. Very clean ingredients and very pigmented too. Comes in different shades and pressed format too. Go get it and thank me later ? Inika review above.
MASCARA
This mascara has been my Holy Grail for years now and a repurchase over and over and over time and time again.. Great length and volume, no smudges or flakes, ever – I mean could you ask for more, really? A pure, mineral-enriched formula, Ideal for sensitive eyes Certified Vegan. Certified Halal. Certified Cruelty-Free. Any Inika mascara is amazing!
Just as their Duet Perfecting Concealer and their Aria Pure lipsticks, this reformulated mascara is joining my Holy Grails List! Amazing volume, length AND lash care in sustainable glass packaging? Say no more 🙂 This gets my seal of approval!
HIGHLIGHT
The only highlight I ever use, true story! The tube looks tiny, but you are guaranteed to get months if not years use out of it. Not too golden, not too pink, perfect balance in colour to suit all skin tones, and I am yet to see the person who wouldn't love it. Tiny shimmer particles do not translate to the face, you are only getting healthy and gorgeous glow. You can make it subtle if that's your thing, or really pile it on if you want to be seen from outer space – your face, your rules! Did I mention that it is certified Organic, Halal & Cruelty Free?
EYEBROW PRODUCT(S)
EYE PENCIL
Lavera black pencil
Not the best, but this is what I use. Looking for the perfect one.
LIQUID EYELINER
Couleur Caramel Liquid Eyeliner
SINGLE/ DUO EYE SHADOW
Inika Pressed Mineral Eye Shadow Duo in Golden Oyster
If I were told I could only keep one eye shadow product that's not a pallete, this would be it! Shimmery neutrals are my jam, as well as Inika, so you get the idea. Very pigmented and long lasting, you can't really go wrong with Inika! There's more shades and loose mineral shadows too.
EYE SHADOW PALETTE
Pure Anada Palettes
Couleur Caramel Eye Essential Palette Nr1 – Warm
LIPSTICK
My perfect nude lipstick period, nothing ever can come close to that – purely because of how well the colour suits me. If you have been searching all your life for your perfect nude, you will know what I mean. Creamy, moisturising, all natural, good staying power – I could go on! Comes with a flip top with a mirror and a lip balm too. Hynt review here.
LIP GLOSS
not a lip gloss person, but DrHauschka ones seem nice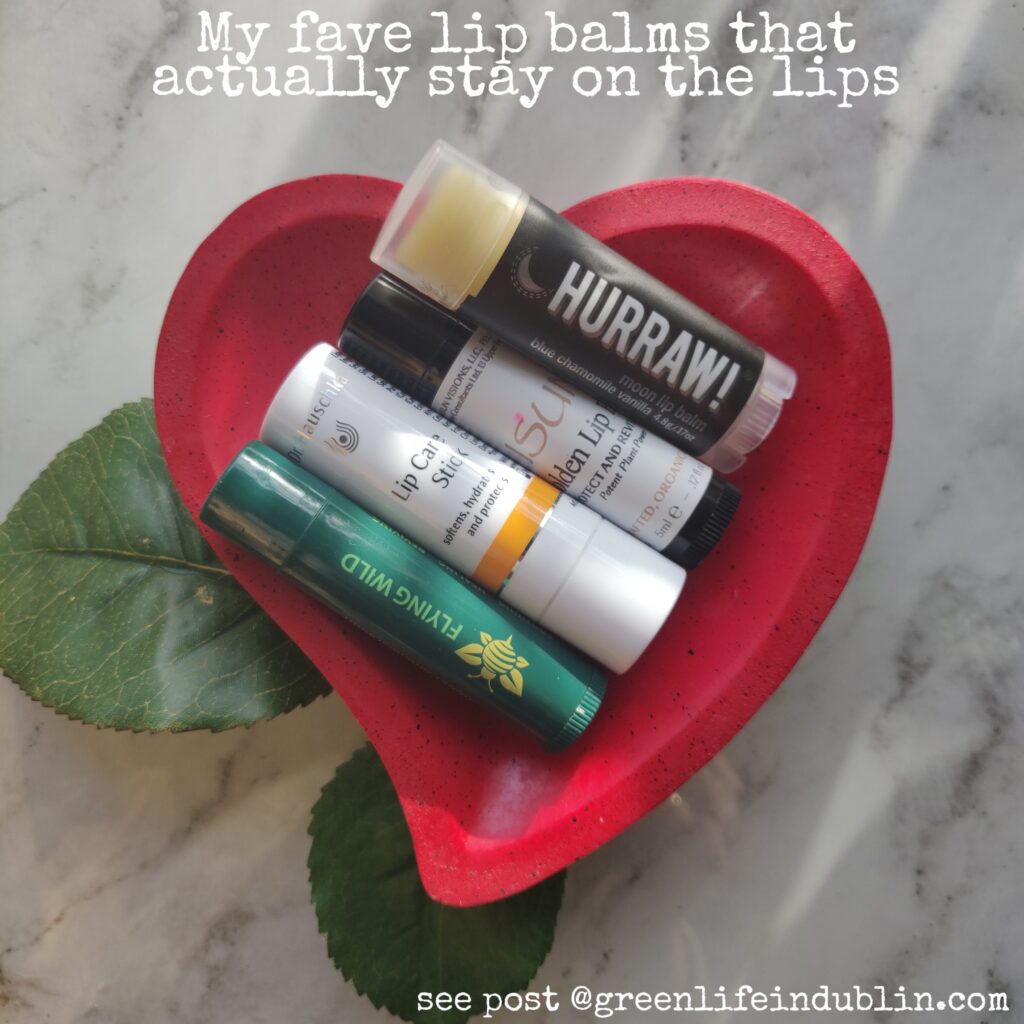 LIP BALMS
Have been a firm favourite for nearly a decade. Moon Balm has a different texture and feel – and is replaced way before I run out if it. A true workhorse.
DrHauschka Lip Care Stick
DrHauschka Lip Balm Pot
Both equally amazing. 2019 discovery for me, despite them being around for a few decades! Don't ask what rock I have been hiding under. I have no excuses.
Golden Lip Balm from ISUN Skincare
ISUN Skincare holds a very special place in my heart, peruse reviews on my blog, I have many. High vibrational products produced with only the best ingredients, wildcrafted plant extracts – and the quality reflects it.
Flying Wild Rosemary & Honey Lip Balm – welp, discontinued!

MOISTURISER
DrHauschka Rose Day Moisturiser
FACIAL OIL
Mahalo The Vitality Elixir
Pricy, but oh-so-beautiful! I really enjoyed using it, see review here. Let's put it this way, if you pressed me to get rid of all my facial oils and choose only ONE for the rest of my life, it would be this. Enough said!
Pai Rosehip Bioregenerate Oil
Much more wallet friendly face oil option – and this is the best rosehip oil I've tried to date. A cult favourite not only on the green beauty scene but also on the conventional one too – I think this is the most featured "editor's favourite" natural product to date. Want natural retinol alternative? This is it – you won't believe the changes in your skin in one month.
Living Libations is on another level when it comes to the true natural products and ingredients. You might balk at the price first, but soon you will be a convert, trust me. This oil is a true multitasker, you can wash with it and use as your only one product if you like – it is good for face, body or as a hair treatment. Ingredients are fantastic. Living Libations review here.
WATER/ ALOE BASED SERUM
Earthwise Beauty Nap In The Meadow
Great healing ingredients like turmeric supercritical CO2 extract and german blue camomile oil, if you only get one thing from the brand, I recommend this one. *Update in 2023 – the brand closed down….
Alteya Organics Rose Otto Regenerating Concentrate
Oil free serum packed full of anti-aging and regenerating ingredients. A true natural powerhouse.
Dr.Alkaitis Organic Soothing Gel
Very healing gel packed full of great ingredients! It was a key player in healing my dermatitis, so I recommend it highly. Can be used to treat itchy sensitive scalp too, so it's a true multitasker well worth the money.
OIL BASED SERUM
(HEALING) BALM
Get this, one sample pot of this was enough for me to put this into my Yearly Favourites! Amazing healing properties like no other, so so good for my #dermatitis that I consider it as my Holy Grail product ever since I discovered four or five years ago. Went through a few full sizes and I never want to be without it ever again. Pricy, but worth every penny to me.
May Lindstrom The Blue Cocoon
Holy Grail product for my dermatitis prone skin, it works like magic healing it in no time. Can't be without it. won't be without it. Expensive, yes, but worth every penny to me.
*PS – I don't have them both at the same time, only one, as not to waste a good product. I get whichever is on a good deal at the time (always watch deals like a hawk, haha!) – I find that in terms of efficiency they are both equally impressive.
ACNE TREATMENT
Pricy, yes, but once you try any of Living Libations product, you won't want to go back to whatever you had before. The quality is far superior to anything else on the market and this 15ml bottle of pure essential oils blend is guaranteed to last you over a year. Review.
DERMATITIS TREATMENT
Mahalo Rare Indigo
May Lindstrom The Blue Cocoon
See descriptions above, both are way better than any dermatitis products I've tried to date. Both worth every penny. Watch the deals if you are on a budget like me. One jar lasts a year and doubles up as an under eye "cream", so I deem them both worth the price.
FACE CLEANSER (GEL /CREAM/ LIQUID)
Alteya Certified Organic Rose Otto Cleansing Milk
My second favourite, a very gentle milky cleanser that does not irritate my uber sensitive skin. A rare find indeed, as 98% of them do that. Very good value for money as you get a huge 200ml bottle.
BALM CLEANSER
Neal's Yard Remedies Wild Rose Beauty Balm
If you are into a balm cleansers, this is a good one. Rosehip oil based, so excellent for the skin. See my review here – and please know it is a true multitasker too – can be used as a balm, on the face, body, lips, elbows, cracked heels, hands, etc.
OIL CLEANSER
Another great multitasking product with amazing healing ingredients! This oil can be used as a cleanser, moisturiser for the face or the body, hair treatment and so on.
FACIAL SPF
Evolve Organic Beauty Climate Veil Tinted SPF 20
Living Libations Everybody Loves the Sunshine with Zinc Beach Balm Review
BALM WITH SPF (BEACH BALM & LIP BALM)
FACE EXFOLIANT (GENTLE)
Evolve Organic Skincare Liquid Radiance Glycolic Toner.   Review.
MAKE UP REMOVER
rose water first, regular cleanser second
EYE MAKE UP REMOVER
UNDER EYE CREAM
Evolve Organic Beauty 360 Eye & Lip Contour
FACE MASK
TONER/ MIST
Isun Skincare Ormus Myst
Alteya Organics Certified Organic Chamomile Water
Alteya Organics Certified Organic Rose Water
Isun was a love at a first spritz- you have to try it at least once! (review) Alteya Organics stuff is really pure, you can tell it straight away. (review)
Dafna's Personal Skincare Active Mist
One of my favourite things of the moment, it is really beautiful! Definitely going into my Current Favourites very soon. Did you know it has an incorporated oil too?
FACE /NECK TOOLS
Kathleen Natural Facial Sonic Cleansing Device
Kathleen Natural Facial Ionic Treatment Device
Living Libations Rose Quartz Facial Roller

BODY SCRUB
Ayumi Sandalwood Body Scrub
Another budget option, the brand is a pleasant discovery of 2019, see here.
Bloomtown The Hedgerow Blackberry & Honeysuckle Sugar Scrub
Yet another budget option with a scent to die for! Review here.
BODY WASH
Ayumi Sandalwood Body Wash
Ayumi is a pleasant (and budget!) discovery of the 2019 and Sandalwood range is my favourite. See more here.
DEODORANT
Work amazingly well and no baking soda in sight! See more here.
A deodorant as you never knew it – pure essential oils blend. Not kidding, see Copal Musk one reviewed here.
BODY OIL
Bloomtown The Hedgerow Nourishing Dry Oil
Reviewed here, it is one of my favourite products from the line. Actually, the whole line is a favourite! Budget friendly too, but not purist level natural, so be sure to read review first.
See a review here.
Shimmery option with mica:
Evolve Organic Beauty Satin Gloss Body Oil (smells amaaazing!)
BODY BUTTER
Evolve Organic Beauty Tropical Body Butter
My new favourite because of the amazing scent, Tahitian monoi with hibiscus. I consider it a wellness product, because there is nothing better than applying it post shower. The scent lasts a few hours, the softness, a few days!
Pure Anada Shea Body Butter – Gardinia
BODY SPF PRODUCT
Green People Sun Lotion Scent Free
Both trusty faves in Casa Green Life In Dublin. Green People is a true workhorse used every summer for a decade. 100%Pure is much easier to use on kids, as it is in a spray format, but a bit harder to get (for me)
HAND CREAM
Kiss The Moon Love Night Cream for Hands (pm)
It is perfect for the night time. Or Winter time. Rich, buttery, sinks in quick leaving hands soft, supple and happy. I want an endless supply! See post here.
Pure Anada Shea Hand Cream Mango Peach
DERMATITIS/ IRRITATIONS TREATMENT

SHAMPOO
Reviewed here. Long story short, this is my best natural shampoo! Pricy, not going to lie, but totally worth it in my opinion. More thoughts in that blog post.
SOLID SHAMPOO
Pure Anada Balancing Solid Shampoo 
This changed my mind about the solid/ bar shampoos, none of them worked for me, until this beauty came along. Full review here.
CONDITIONER
Alaffia Kids Hair & Body Lotion Coconut Strawberry 16 fl oz (476 ml)
Used as a leave in conditioner – doubles and triples as a hand cream and body lotion!
HAIR AND SCALP OIL
Alchemy Oils Grapefruit Hair Oil
Great formula, the oil is not greasy, washes out well leaving hair silky soft, not greasy like most of the other hair oils do. Full size lasts for absolutely ages!
DRY SHAMPOO
Reviewed here. How about a truly natural dry shampoo with probiotics? Say what?
DERMATITIS/ SENSITIVE SCALP
Dr.Alkaitis Organic Soothing Gel

NATURAL PERFUME
NATURAL(ISH) NAIL POLISHES
DENTAL CARE
TOOTHPASTE
TOOTH OIL
GUM HEALTH
MOUTHWASH
TONGUE CLEANER
HEALTH & WELLNESS:
Saint Come Essential Oils Sprays
1001 Remedies Pur Air
Kiss The Moon Glow Bed Time Bath Salts
Bloomtown Meadow Pink Himalayan Bath Salts
Joik Warming Foot Bath Salts With Ginger & Mustard
Enjoy my content? I would appreciate any  tip into my PayPal Tip Jar – any donation will get You my eternal gratitude and more awesome green beauty reviews Your way. I weed out all the greenwashing products so You won't have to.
Thanks for reading it all the way to the end. You are a rockstar! Thanks for following my blog, I APPRECIATE YOU 💕
Sending Love & Light!
Renata.