Hi Lovelies,
Welcome back! And welcome if you are new here xoxo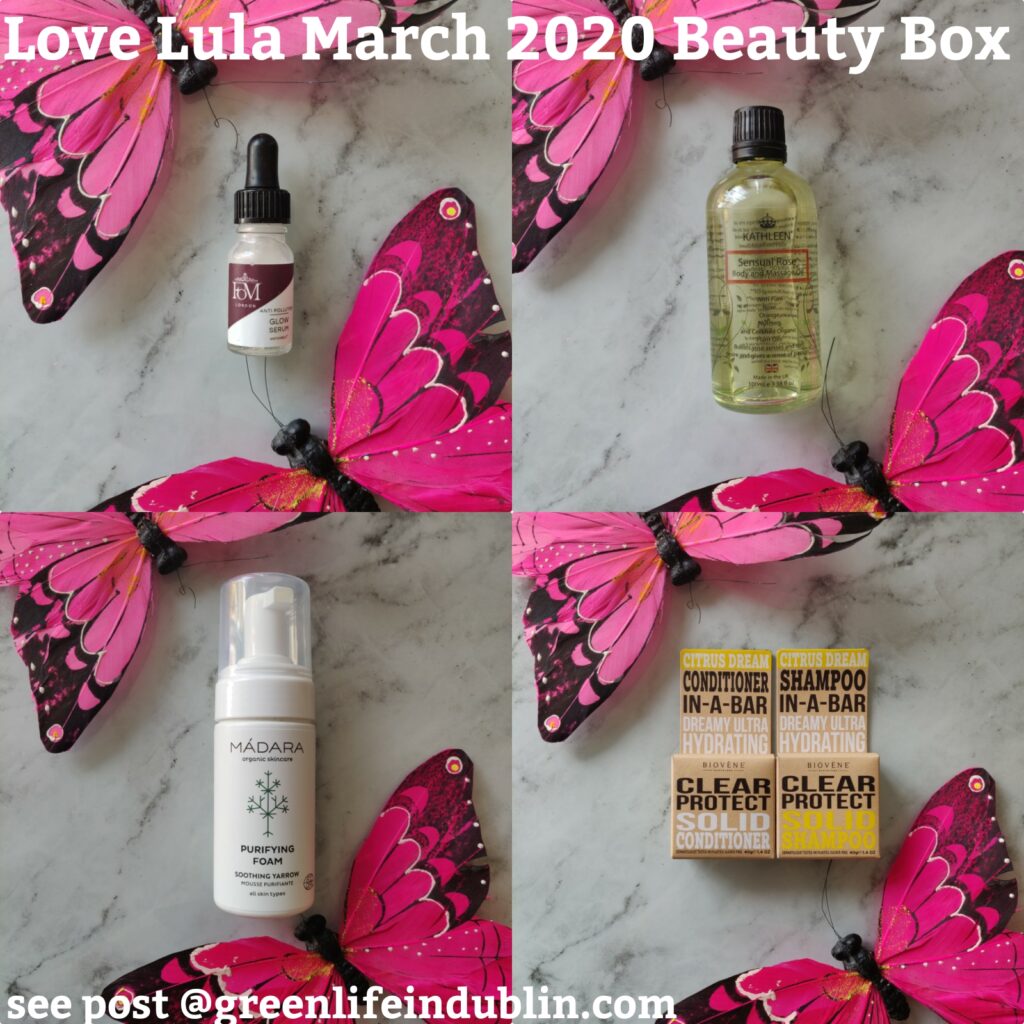 Do I love Love Lula Beauty Box*? You bet I do – just check this All Things Love Lula FB album here, half of the posts are about Love Lula Beauty Boxes. They are are a great way to discover new items you might have missed otherwise, and I love that anything coming from Love Lula is cruelty free and guaranteed not to have any toxic ingredients – they have strict criteria for any brands/product they accept, and that is taking the guesswork off your shoulders. International boxes sometimes differ from the UK ones due to Love Lula not being able to ship nail polishes or perfumes. Shall we see what's in the March 2020 box? And my thoughts on January 2020 one?
*sadly Love Lula is no more… Sob!!
Firstly, let me just say that Love Lula is the only subscription box I am getting as a part of LLABP program and I am really happy with it! I've been getting it for around two years maybe, and I have to say they do a very good job at including a good variety of products, apart of a few tiny missteps of too many scrubs or face oils in a row, other products were a delight to discover, and I have to say I am looking forward to each new month in anticipation to what's to come – Christmas or Birthday present for yourself each month, anyone? They ship worldwide, and the price is 14.95£ monthly recurring for UK customers, and for us international gals there are two options of three months (52.50£) or a year (210£) including post and packaging. As I said earlier, international boxes sometimes differ from the UK ones due to postal laws, but you are guaranteed to get the same or greater value product. Speaking of value, you are guaranteed to get at least triple the value of what you pay for, the lowest I've seen was 45£ with the highest being over 110£. You are almost always guaranteed to get at least 2-3 full sized products, up to 5 – no kidding. You know those flimsy one use sachet samples? I can count them on one hand in two years! See, good value – haven't I told you so? Come to think of it, isn't that the perfect gift to give your mom or any woman in your life, the gift that keeps on giving??
BIOVENE BARCELONA Assorted Shampoo & Conditioner bars
Bars are all the rage right now – and I want to get on with the program and test them to see if they are any good. So far I am yet to get shampoo bar that would get me good results and I haven't tried conditioner bars yet. Let's see if these goodies will prove themselves. I have had them in my wishlist anyway, kudos to Love Lula for coming through. They are affordable at £5.99 for 40gr. I happened to get Citrus Dream combo. One thing to point out though, the fragrance is strong – just letting you know in the case you are sensitive/ are avoiding fragrance in products. So far I've only used it once on my daughter's hair & was surprised to see it working very well! Let's see if it continues.
INGREDIENTS [SHAMPOO BAR]: SODIUM COCOYL ISETHIONATE, TRITICUM VULGARE (WHEAT) STARCH, BEESWAX, BUTYROSPERMUM PARKII (SHEA) BUTTER, SODIUM COCOYL GLUTAMATE, GLYCERYL LAURATE, GLYCERIN, BEHENTRIMONIUM CHLORIDE, KAOLIN, CITRUS AURANTIFOLIA (LIME) OIL, CITRUS LIMON (LEMON) PEEL OIL, ETIDRONIC ACID, DIPOTASSIUM GLYCYRRHIZATE, TOCOPHEROL, OCTADECYL DI-t-BUTYL-4-HYDROXYHYDROCINNAMATE, CI 77891, CI 11680, BENZYL BENZOATE, BUTYLPHENYL METHYLPROPIONAL, CITRAL, GERANIOL, LIMONENE, LINALOOL.
INGREDIENTS [CONDITIONER BAR]: CETEARYL ALCOHOL, BEESWAX, BUTYROSPERMUM PARKII (SHEA) BUTTER, GLYCERYL LAURATE, BEHENTRIMONIUM CHLORIDE, MACADAMIA INTEGRIFOLIA SEED OIL, GLYCERIN, CITRUS AURANTIFOLIA (LIME) OIL, CITRUS LIMON (LEMON) PEEL OIL, TOCOPHEROL, PARFUM(FRAGRANCE).
MADARA PURIFYING FOAM CLEANSER
Madara is a frequent brand in the Love Lula boxes, so if you love the brand, it is worth it signing up for that alone. This cleanser is worth £18.50, so this alone outweighs the cost of the box. The word "foam" in the title scares me a little bit, I am yet to come across foamy cleanser that wouldn't irritate my super sensitive skin. This, however, promises to be for all skin types and the description reads "This enriching cleansing foam contains Northern Yarrow extract which is rich and will leave the skin feeling soft and refreshed. The cleansing foam removes make-up and also helps to regulate oily areas of the skin and soothes dry areas of the skin." I guess we will see? I will keep you posted in my next Beauty Box post. What I forgot to mention until now is that I always give my feedback on last month's products. I also forgot to mention that I asked Love Lula to send me only every other box this year – I must have been midst Marie Kondoing my life.
INGREDIENTS: Aqua, Sodium Cocamphoacetate, Rosa Damascena (Rosa) Flower Water, Alcohol, LacticAcid, Glycerin, Surcose Cocoate, Benzyl Alcohol, Achillea Millefolium (Yarrow) Extract, Calendula Officinalis (Calendula) Flower Extract, Chamomilla Recutita (Camomile)Flower Extract, Potassium Sorbate, Aroma
Well, the ingredients sound minimal and good, apart from alcohol & aroma, not too sure if aroma is of natural origin or not, no mention of that on Love Lula or Madara website. But unlike Biovene, the fragrance of this is barely there. Those two ingredients tent to irritate my skin a lot, so that's exactly why I am nervous. Maybe it will agree with me, who knows?
KATHLEEN NATURAL Sensual Rose Body and Massage Oil
Katheen Natural is another frequent guest in the box – and I don't mind, because the products are really lovely. We have had shower gel/ bubble bath of the same scent before, now it is massage oil's turn. Worth whopping 34£ alone, at the moment is is reduced to £27.20 if you want to get it separately?
INGREDIENTS: Prunus Amygdalus Dulcis (Sweet Almond) Oil*, Helianthus Annuus (Sunflower) Seed Oil*, Argania Spinosa (Argan) Kernel Oil*, Rosa Canina (Rosehip) Fruit Oil*, Tocopherol (Vitamin E)***, Rose Damascena Flower Oil**, Citrus Sinensis Peel (Orange Sweet ) Oil**, Myristica Fragrans Kernel (Nutmeg) oil**, Linalool**, Limonene**, Citral**, Eugenol**, Geraniol**, Citronellol**. *certified organic by Soil Association **from essential oils ***natural plant origin
FOM LONDON SKINCARE Anti – Pollution Glow Serum
You had me at "anti-pollution" and "glow"! Isn't that what all of our faces need right now?? Definitely happy to be testing this!
INGREDIENTS: AQUA (DISTILLED) WATER). BETA-GLUCAN AND ALGIN. SODIUM HYALURONATE (HYALURONIC ACID). GLYCERIN (HUMECTANT). CAPRYLIC/CAPRIC TRYGLECERIDE. SUCROSE LAURATE. VACCINIUM MYRTILLUS (BLUEBERRY FRUIT) EXTRACT. SORBITOL (SKIN CONDITIONER). HYDROLYZED SILK PROTEIN. PANTHENOL (VITAMIN B5). ROSMARINUS OFFICINALIS (ROSEMARY) WATER. CAMELLIA SINENSIS LEAF (GREEN TEA) EXTRACT. GINKGO BILOBA LEAF EXTRACT. SACCHARIDE ISOMERATE (MOISTURE MAGENT). PANAX GINSENG ROOT EXTRACT. RHODIOLA ROSEA ROOT EXTRACT. PHENOXYETHANOL AND CAPRYLYL GLYCOL. *PELARGONIUM GRAVEOLENS (GERANIUM) FLOWER OIL. XANTHAN GUM. *SIGNATURE ESSENTIAL OIL COMPLEX. *LINALOOL. *CITRAL. *GERANIOL. *LIMONENE. *CITRONELLOL. MICA (77019) TITANIUM DIOXIDE (77891). *NATURALLY OCCURRING IN ESSENTIAL OILS
---
Now for the more in depth thoughts on my last box, which was Love Lula January 2020 Box (post).
KIKI HEALTH MAGNESIUM OIL
I use magnesium for quite a number of years already & coupled with the vitamin D it's crucial in keeping my anxiety & seasonal depression in check. Big claims, I know, but don't knock it until You have tried it. I spray around 10 sprays on my legs before the bed, making sure to rub it in really well & go to sleep. Take my work for it, wash your hands afterwards, it will sting if you will rub eyes accidentally. Magnesium oil is something I always always have in the house and I highly recommend it to anyone – magnesium is known as relaxing mineral and those who have tried it, know how good it is. Read this book if You are not a believer (yet).
HESH BLACK SEED OIL
This is also something amazing – do a little research on black seed oil and you will see things like "it cures everything apart death" – so I am really curious! Of course it can be applied externally too. I am enjoying this oil internally, as it comes from a supplement brand, I figured it should do me no harm. Don't try this at home though 🙂
KATHLEEN BRIGHT MASK
Kathleen Natural  is a British natural brand I really enjoy, they make luxe natural products, quite a few were featured in the Love Lula Beauty Box in the last two years – so I have had high hopes for this mask. It was brightening, I have to give it that, but my face does not get on with clay masks, plus this had some mintiness to it. It also curdled in a few short weeks, so I passed it on to someone less sensitive. Too many painful face burning memories left me with wanting to stick to only what my face already knows and loves.
NATURA SIBERICA TAIGA HAND CREAM
Natura Siberica is a natural brand from Siberia, they are using lots of wildcrafted plant extract – of the plants that withstand extreme cold temperatures, and that's exactly why I was drawn to try the products. Unfortunately for me, the scents in the products are way overpowering, and that's something I wanted to let you know, in case You are as sensititve as me. Fortunately this cream isn't heavily scented. Gave it to my husband who works physical job, haven't seen it since.
MADARA HAIRCARE SAMPLES
Let me be honest, I haven't used those yet.
CHECK OUT BEAUTY BOX HERE
This box is worth £75 and as usual, there's 25% discount codes for the brands featured that month. In the case you missed it, find my Natural Beauty interview with a CEO Sonia White here and all the other posts in this Facebook album here.  Follow me there for all the updates – and let's be friends all over social media, shall we?
Please like and share my posts on social media, it really helps to get the green beauty word out – and you will forever have my gratitude!
FOLLOW ME ON
Lots of Love! I wish You healthy & well at this difficult time
?
Renata.