Hello Lovelies,
Welcome back! And welcome if you are new here xoxo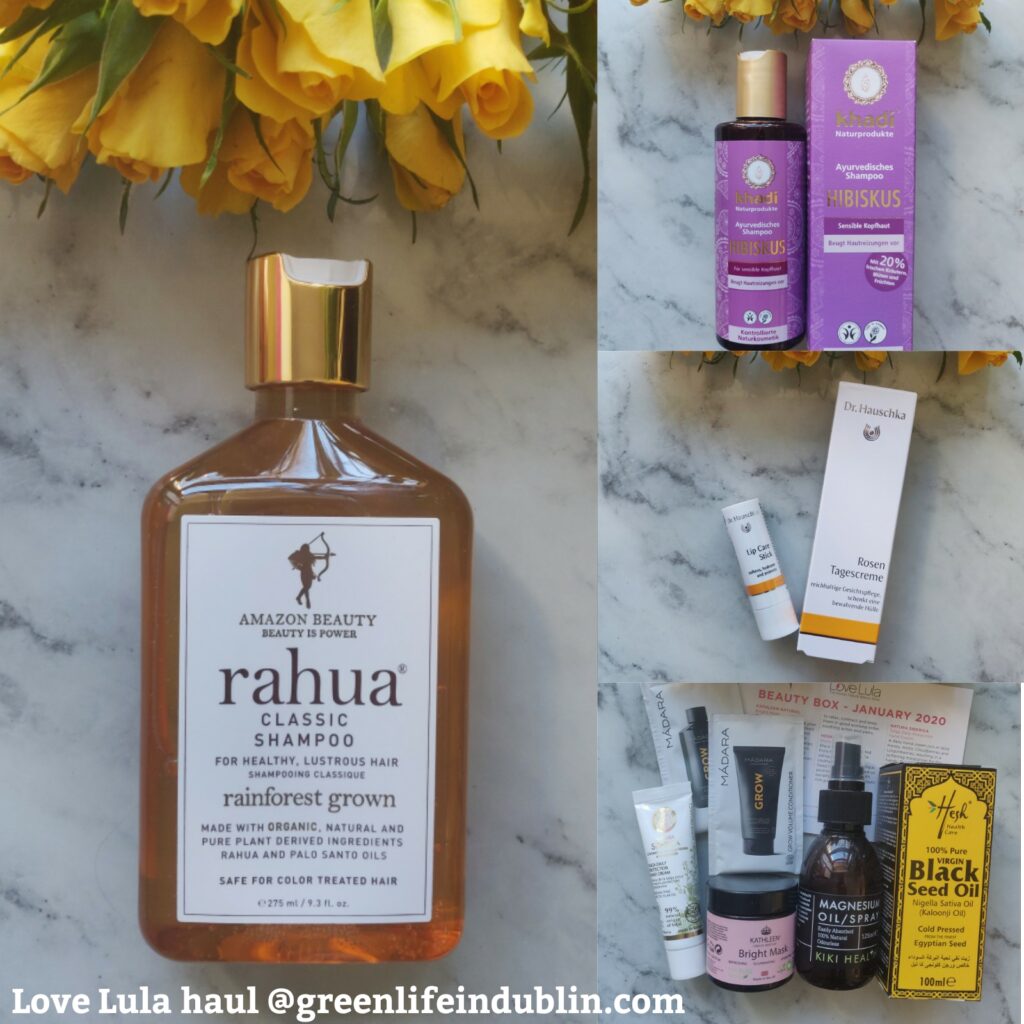 You guys know my LOVE for Love Lula*, right? If you are new here, you might want to check out my 75+ posts all about Love Lula here. In this post I will share my first 2020 haul from them – it all came in one time, so it made me squeal with delight, that's for sure!
*sadly Love Lula is no more…


In this post I will share not only my Love Lula accredited blogger's haul, but also Beauty Box and my personal order I added at the last minute, because guess what? Love Lula not only carries the best natural products, but also constantly has offers too good to miss (see this post). So let's get rolling, shall we?
RAHUA Classic Shampoo
You guys might remember from this post that I deem Rahua Voluminous Shampoo the best of the best. If You hadn't read my review, here's a little pre- story. Despite knowing about Rahua shampoo from the very start of my green beauty journey about ten years ago, I spent many many years trying anything but Rahua and having fail after fail after fail. Constant bad hair days, anyone? My reasoning seems laughable now – I deemed it too pricy. Little did I know that shampoo not only would give me the best hair days CONTINUOUSLY, last four days between the washes AND never ever give me any scalp or dandruff issues I used to have. So I am hoping this Classic shampoo will fit the bill too. I will admit I spent the last couple of months trying other shampoos, telling myself it is for research purposes and one day I am going to find cheap shampoo that is just as good as Rahua, but, you know, cheap. Nope, never happened. They either last a  day  in between the washes or give me instant dandruff or scalp problems and/or hair like a straw. I will keep You guys posted – this shampoo has big shoes to fill, but knowing it is from the same brand, I am confident it will work wonders too. And I think this might be it for my forever quest to find MY natural shampoo. Oh, just one little thing – I will have to hide it from my family. What? That's good wifey-ing and mommy-ing as far as I am concerned! I share everything with them, can I have just one thing that is for me only?
KHADI Hibiscus Shampoo
This is a little present for my elder Ms Green Life In Dublin, she fell in love with Hibiscus scent from Ayumi line (post)  so hard that she would not use anything else for the last half a year or so. So when I offered to get her hibiscus shampoo, but from another brand to try out, she said she would love to. I *might* try it once or twice myself, you know, just for research purposes 🙂 Apparently one never learns. I also have idea of blogging about her natural products, would You like to see post like that? I've already blogged about Mr Green Life In Dublin products here and her sister's too, she is the only family member left.
HURRAW Moon BALM
Absolute favourite in the family, we all play hide and seek looking for it, all the other (plainer) lip balms go unnoticed pretty much. This is a bit different from all the other Hurraw lip balms in texture, and also staying power. Very important in winter – I used to have horrible chapped lips all the time prior to finding this beauty. Now, no more of it – as long as I know I have it on me, I know I am good. It might be called Night Balm, but I use it in the day all the time – feels good to be a rebel 🙂 When I tell my family to use all these other lip balms we always seem to have around, they claim everything else feels "meh" in comparison. That's pretty much as it gets coming from them when I ask for the feedback, but seriously, this lip balm hasn't left my Yearly Favourites ever since I found it around five years ago. And it is always always replaced before it runs out!
JANUARY 2020 LOVE LULA BEAUTY BOX
KIKI HEALTH Magnesium Oil
I am starting with this as it is the item I am most excited about! I use magnesium for quite a number of years already & coupled with the vitamin D it's crucial in keeping my anxiety & seasonal depression in check. Big claims, I know, but don't knock it until You have tried it. I spray around 10 sprays on my legs before the bed, making sure to rub it in really well & go to sleep. Take my work for it, wash your hands afterwards, it will sting if you will rub eyes accidentally. Magnesium oil is something I always always have in the house and I highly recommend it to anyone – magnesium is known as relaxing mineral and those who have tried it, know how good it is. Read this book if You are not a believer (yet)
HESH Black Seed Oil
This is also something amazing – do a little research on black seed oil and you will see things like "it cures everything apart death" – so I am really curious! Of course it can be applied externally too.
KATHLEEN Bright mask
Kathleen Natural  is a British natural brand I really enjoy, they make luxe natural products, quite a few were featured in the Love Lula Beauty Box in the last two years – so I have high hopes for this mask!
NATURA SIBERICA TAIGA HAND CREAM
Perfect handbag size of hand cream, and just in time when I need one too! Natura Siberica is a natural brand from Siberia, they are using lots of wildcrafted plant extract – of the plants that withstand extreme cold temperatures, and that's exactly why I was drawn to try the products. Unfortunately for me, the scents in the products are way overpowering, and that's something I wanted to let you know, in case You are as sensititve as me. Fortunately this cream isn't heavily scented, meaning I am able to use it.
MADARA haircare samples
The sachet samples You see here are very rare in the Love Lula Beauty Box, I just wanted to let you know that – in the two years I've been getting the box, I've seen them maybe five or less times. So if it is your first box, fear not – Love Lula is exceptional on delivering value and full sizes of products consistently. Oh, the Madara samples? I am excited to be trying them.
---
DR.HAUSCHKA rose day cream + Lip care stick
And last, but not least, my own personal order. You guys probably know my love for DrHauschka Rose Day Cream (review), so when I spotted the offer for a free lip care stick with purchase of £30+ I was like "done and thank You very much Love Lula". Lip care stick is amazeballs too – take my word for it and just get if for yourself! I got both their lip care stick and pot recently and I went through the stick in a month and a bit, that's how much love it got from me – I couldn't put it down.