Hello Lovelies,
Welcome back! And welcome if you are new here xoxo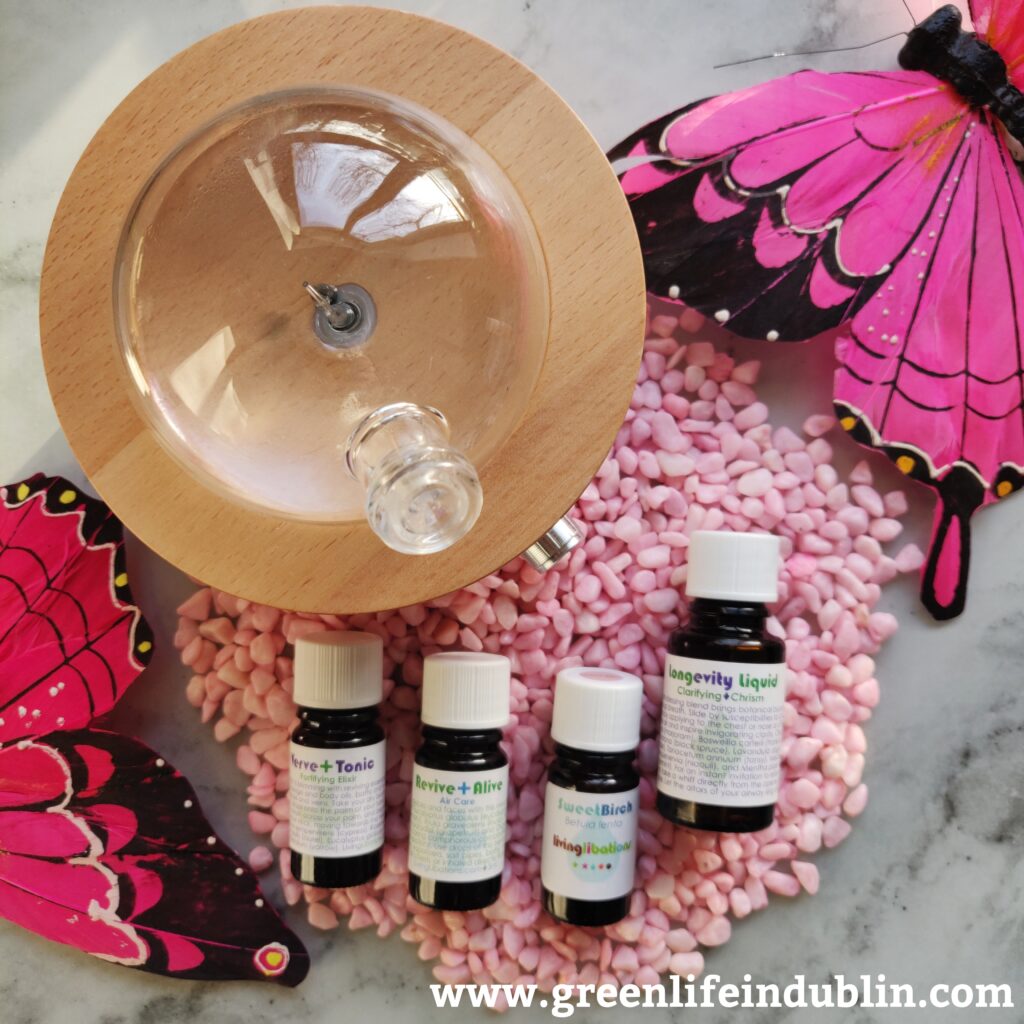 Hope everyone is holding up ok in these horrible times? Virus news is all You and I see and hear right now, but let's leave it aside for right now? After experiencing every single emotion under the sun, breaking down a couple of times and a lot of thinking, I am back to work here, and this time I will review something that You might want to have and use right now? I feel like right now it is time more than ever to support our favourite indie brands and shops, if we stop buying from them right now, they will find it super hard to survive – and when we will come out of our panic fog eventually, they might not be there anymore. Please step forward Living Libations Nebulizing Diffuser, which I will be reviewing this today.
You know my love for Living Libations runs deep! One of the best natural brands with the highest integrity and the quality of the ingredients that are next level. One of the main draws to the brand for me were their legendary essential oils & blends. So naturally after acquiring a few, I wanted a diffuser too. Due to the mold issues in the apartment, I chose nebulizing, aka waterless one. Diffusing essential oils is nothing new to me, I really enjoy using them this way. Choose your oils according to the results you want to get, citrus oils tend to make you more alert and more happy, but due to what's happening in the world right now, I am diffusing anything that is cleaning the air & helping with breathing issues, my top favourites for right now are Revive + Alive & Longevity Liquid – I thank heavens every day that I have them! When used in a diffuser, essential oils are transformed into microparticles that can be inhaled through the nose. Once inhaled, the oils begin to take effect in a matter of minutes. Just by breathing in diffused oils you can improve your concentration and creativity, de-stress and unwind your mind, and relax into deep sleep, depends on the oils used. I wish I had the means of giving each and every one of you the same thing I have, because I feel the essential oils help me so much. If you don't have this or any fancy diffuser, it is ok too, just use your regular oil burner or even splash essential oils around the house and/or sniff it straight from the bottle. If You are new to the essential oils, here is the good article for you to check out. This article explains a lot about the quality & sourcing of Living Libations essential oils. I found it fascinating.
I have and use this diffuser daily since I got it in the early January this year – so far so good! What I like the most about it is that you don't have to clean it, not worry about the calcification from the hard water eventually ruining it (my problem with other diffusers I have had in the past). What about the change of the essential oils, you ask? Nope, not necessary if the oils are in the same smell family. If you are switching the oil to a very different scented one, you can run the diffuser with an alcohol for one cycle, that should clean it, but I have never done it. You can pour twenty essential oil drops for a single use session or pour the contents of 5ml or up to 15ml bottle for multiple uses.
Directions for use (taken from Living Libations site):
Make sure that the diffuser is turned off and unplugged before removing the glass column and add 20 drops of essential oil or for long lasting enjoyment, add the contents of a 5ml to 15ml bottle of your favorite Living Libations essential oils into the reservoir. We find adding this nice juicy amount lasts and lasts for weeks and you can occasionally top it off with accent aromas like a drop of Neroli, Chamomile or Silver Fir.
Return the reservoir to the wooden base and replace the glass column. *little note, I do not remove the glass dome, only a little lid at the spout.
Plug in the diffuser, turn on the control knob and adjust it to your preferred speed.
The diffuser has a cycle of two hours. Avoid letting the reservoir go dry while on.
Pro-Tips:
Essential oils with a thinner consistency diffuse really well and will generally not have to ever be cleaned – simply keep adding oils as the reservoir gets low. Our diffuser blends are designed for diffusion and single essences in this category, includes all of the Citruses, Firs, Spruces, Sages, Chamomiles', Frankincenses and Pines, along with many others like Lavender, Ylang, Geranium, Marjoram, Eucalyptus, Ravensara, Myrtle, Hyssop, Immortelle, Lemongrass, Rose Otto, Neroli, Bergamot, Cardamom, Cypress, Juniper, Basil, Rosemary, Thyme, Oregano, Tea Tree and many more.
Thicker absolutes and essential oils like Eaglewood, Agarwood, Cypress Wood, Sandalwood, Vetiver, Cedar, Myrrh, Benzoin and Patchouli are ideally used in smaller amounts and diluted in one of the above oils before adding to the diffuser.
On the rare occasion, if a deep clean is needed, allow the diffuser to run for a few minutes with 5mls of organic alcohol in the reservoir. Then drain any remaining alcohol from the reservoir, rinse, and let dry before using.
Specifications:
Diffuser has a two-hour cycle where the diffuser nebulizes oils for three minutes and idles for five minutes. This on-off cycling produces a steady state of aroma in the room. After 2 hours, the diffuser shuts off automatically. It will also shut off if it runs out of oil.
The diffuser has a colored light sequence, and there is a nob to adjust the amount of aroma produced.
The cord is AC100-240V and USB – meaning it has a different plug in to those in EU, but no worries still – you can use it plugged into the laptop, or purchase the plug in thingy to connect the other thingy 🙂 Ask your husband or the electrical store clerk for the correct thingy to get. Did I explain it good? 🙂 Let me know in the comments!
So yes,  am suuuuper happy  I have this thing, even though it was a bit of investment initially, I feel it is worth every penny. If I counted price per use, the thing practically paid for itself. And guess what, if you are reading it until 10 April 2020, it is reduced by 22% – yay or what? (*some shipping exclusions apply due to the Covid-19, sob). It looks super stylish & every house guest has commented on it, although my husband has dampened my enthusiasm nicknaming it "cannon".
Related - see my 10+ Living Libations reviews in this FB album here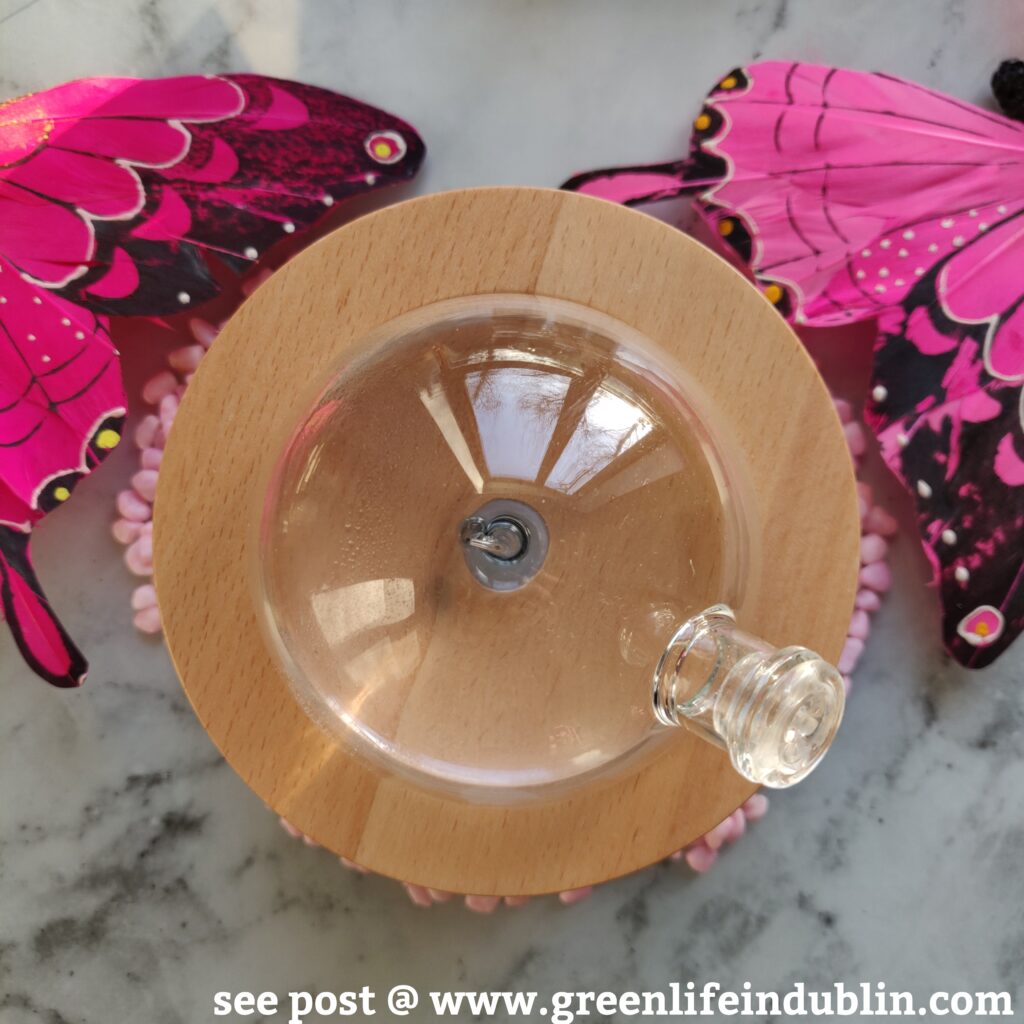 Related - follow my FB page "offers" tab for more green beauty deals. Or look for monthly discounts posts here on my blog.
Now, your turn! Will You be getting your own essential oils "cannon"? What about other Living Libations products, are You a fan? What are your favourites? Please share with me, I would love to know!
*Disclaimer - product bought with my own moolah, the review is not sponsored, entirely my own doing. Aff links are used, many many thanks if you will use them, they are at no additional cost to you, while supporting my mission to help everyone to switch to the natural side.
That's all for today, see You here next Tuesday!
Lots of Love,
Renata.

see everything I own