Hello Lovelies,
Welcome back! And welcome if You are new here xoxo
From empties to new products, time for Spring Favourites 🙂 I am collaborating with the same fabulous green beauty sisters Lu from A Life Of Lovely, Bryanna from The Ecological, but I also invited one more special guest this time – Lola from 2 Mums Views Discover Green Beauty. All happen to be Love Lula bloggers, so this should be fun! Let's get started?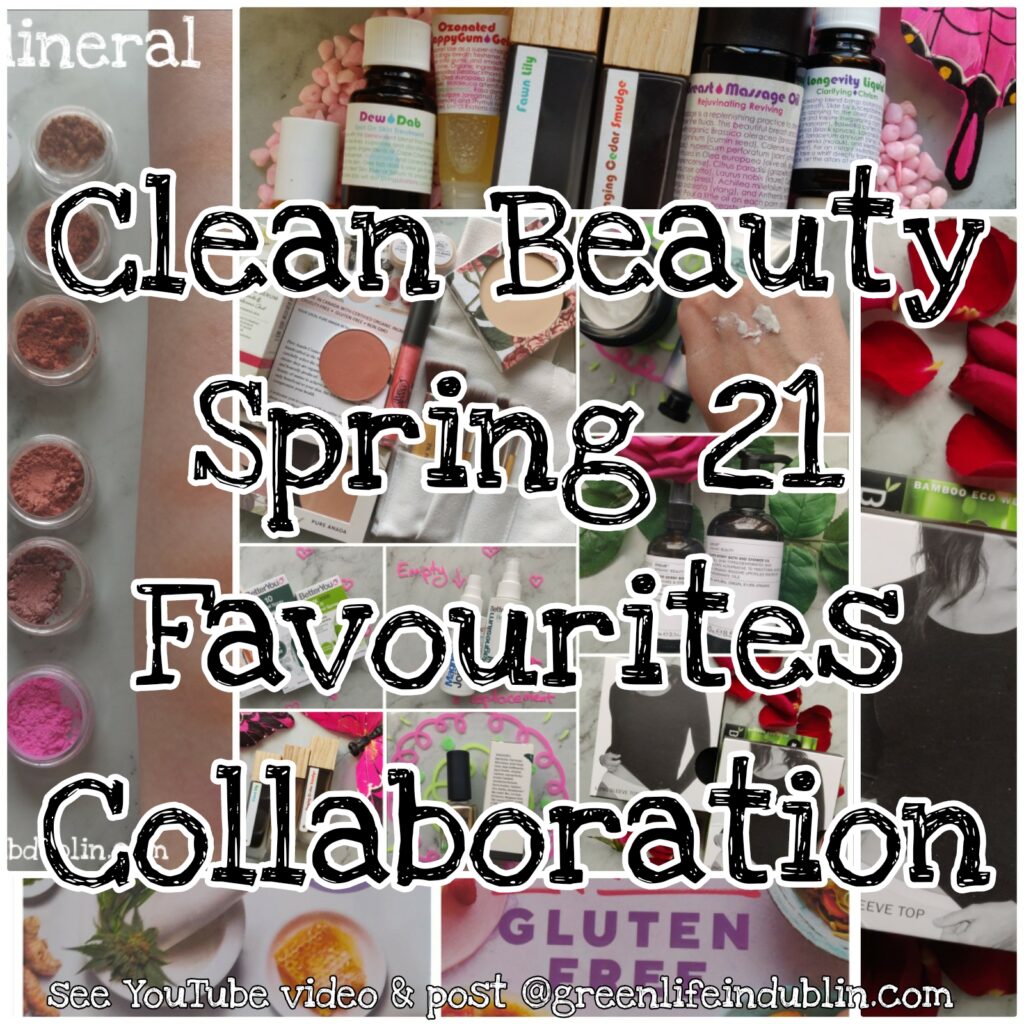 SKINCARE
All Evolve Organic Beauty of course 🙂
This brand has swept me off my feet last year and I still can't get enough. I posted about them at least ten times last year (reviewing many products separately) – so that's saying something! I even convinced one of my favourite online shops The Dutch Health Store to carry the brand and it is going very well 🙂 Nice to see tangible butterfly effect of my actions in the world.
*see links to brands/ products at the end of the post*
Brand overview – Evolve Organic Beauty – Green Life In Dublin
Plus a touch of
Living Libations Everyone Loves The Sunshine With Zinc Beach Balm
Now that the sun is well and truly out, I am employing the secret weapon of Living Libations SPF. I have both the liquid and the stick formulas and I find them both great. See the stick reviewed below 🙂
Living Libations Everybody Loves the Sunshine with Zinc Beach Balm Review
MAke up
Pure Anada Everything!
I am wearing all Pure Anada make up in my video, with the exception of concealer and mascara. Love them for at least half of a decade, their make up is featured in every Yearly Favourites ever since I started doing them. The brand delighted me featuring me on their "Blogger Reviews" page here. (sadly no longer featured since website overhaul).
English Mineral Make Up
Another great full coverage option from British brand. Mother and daughter duo, love the fact. The foundation covered my skin beautifully when my dermatitis was at the worst, while allowing my skin to breathe. Since then they expanded their beautiful vegan range.
*update a year later – they have given me the code for my readers – If You want to try, code GREENLIFE10 will save You 10% (not affiliated).
English Mineral Make Up Review & Swatches – Ad – Green Life In Dublin
body care
Evolve Organic Beauty 
Of course! If You are new to the brand, I suggest You try their Tropical Blossom Body Butter – this got me head over heels in love and I am sure it would be the same for You. The smell is just all around gorgeous, monoi smells like a holiday in the jar. The ingredients are beautiful and the user experience is gorgeous, giving you that spa-at-home feeling. Then You can try their matching scrub,  goji and pomegranate wash and their Super Berry Bath & Shower Oil also deserves a special mention.
Pure Anada Body Butters
They have two different kinds, the one in the jar and the squeezy tube and I like both of them. Lots of different scents for You to choose from, and you can get bronzing one too.
HAIR CARE
Pure Anada Balancing Shampoo Bar
The ONLY shampoo bar I like, so that's saying something! I would actually compare it to Rahua shampoo in the way that it makes my hair look and feel amazing. I am kind of amazed that one brand does make up AND body care AND hair care so well. See it reviewed here:
Evolve Organic Beauty Hair Oil
This is a recent fave, so no review just yet, but one thing is clear – this smells amaaaazing!
                                                                       xoxo
xoxo
xoxo
                                                                      xoxo
CHECK OUT LOVE LULA HERE
Thanks for watching and reading, you are a rock star!
Sending LOVE & LIGHT!
Renata.