Hi Lovelies,
Welcome back! And welcome if You are new here xoxo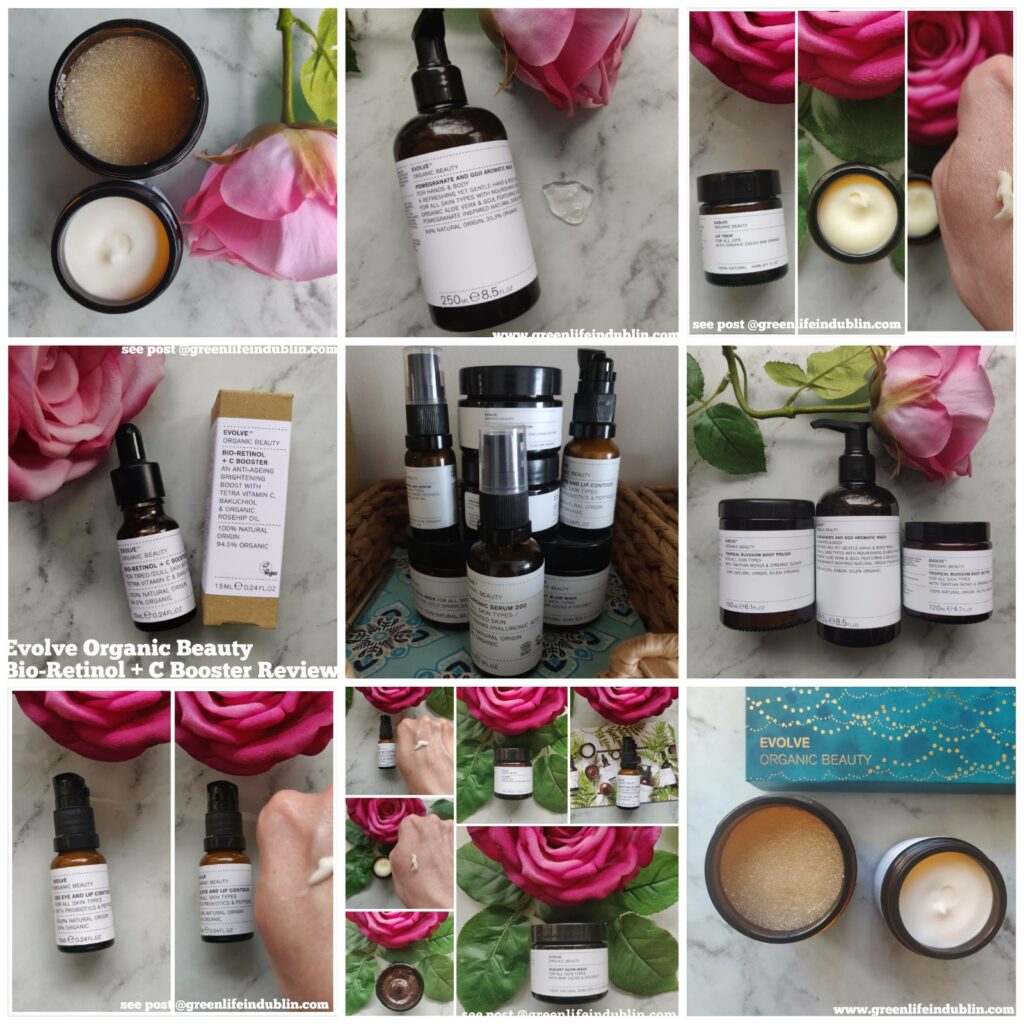 I saved my best discovery for last! Evolve Organic Beauty is not new brand on the green beauty scene, but it was new to me. Long story short, I fell head over heels in love. Evolve is natural skin care line, using all natural ingredients that work as well as their synthetic counterparts. Created by skincare expert Laura Rudoe, this British brand has been gaining fans all over the world since 2009 thanks to gentle formulas, affordable prices and effective ingredients – and has been collecting Clean Beauty Awards ever since. The products are made in small batches using finest natural ingredients, and you will be pleased to know they are all natural, vegan and cruelty free. Eco friendly too. The line is widely available online from Dutch Health Store, Evolve Beauty & other places.
If You follow me for any amount of time, even for a short while, You would know my love for the brand. Everything I have tried has been amazing, I have tried about half of what they are offering and everything bar one product will end up in my Yearly Favourites, mark my word 🙂  I will link a couple of reviews, but hit that search button for more, because the products have been featured in every Favourites posts & Youtube videos I'd done this year. Stay tuned for more coming next January, I am testing something behind the scenes, but I am running out of time to review them this year.
Evolve Organic Beauty Tropical Body Butter – I feature this first because it is my favourite thing they offer & it is something I will be repurchasing until I cease to exist. Get this – this is the only body butter that I am willingly spending over 20€ for. The scent is like magic! I so wish blogs and social media would have a scratch-and-sniff feature so I could share it with all of you! Scented with Tahitian monoi, this soft organic body butter contains nourishing organic shea butter and it leaves skin smooth, soft and smelling oh-so-delicious! A lot of natural butters are either hard to rub in or leave Your skin greasy, this is none of those things. The texture is dreamy, the way it melts into the skin is magic and I would go on as far as to say that this rivals any "conventional" product out there. The package is fit for a Queen too, just saying.
I have repurchased it multiple times, have many back ups & all of my girlfriends are getting it in gift boxes together with their scrub (polish) too.  If that isn't a testament of how much I love it, then I don't know what is.
Evolve Climate Veil Tinted SPF20 is something I adore too and will definitely repurchase come next summer. It didn't quite work on my face, because the tint was too dark for my pale skin, but it made the most fabulous shoulder/ décolletage/ legs bronzer for holidays – with added SPF, no less. Oh, the carefree days of holidays abroad, how I miss ya..
Evolve Organic Beauty Evolve Liquid Radiance Glycolic Toner Review [AD]
Then came the Evolve Liquid Radiance Glycolic Toner* & I liked it too. To this day, it is the one and only exfoliating product I use, No plans to chance to anything else either. Definitely repurchasing once I run out.
Testing Evolve Organic Beauty 360 Eye and Lip Contour & More [AD]
Then I tested some masks (more on them later) and 360 Eye and Lip Contour*, which is one of the two eye products I use (the other being their Hyaluronic roll on). It has really nice ingredients like Green Tea, Pomegranate, Caffeine, Probiotic Blend  and Sacha Inchi Peptides. Does that sound dreamy or what?
Evolve Organic Beauty Bio Retinol + C Skin Booster Review [AD]
Evolve Organic Beauty Bio Retinol + C Skin Booster* deserves a special shoutout too, because it managed to achieve the impossible – combine natural retinol and vitamin C in one product THAT DOES NOT IRRITATE my uber senstive skin. All the vitamin C products I have tried to date left my skin dry, red and irritated. Not this, so huge congratulations to Evolve team for making the impossible happen! 100% naturally with 94.5% organic ingredients, no less. I bow to this.
My Natural & Organic Fall Skincare Routine – Evolve Organic Beauty, Living Libations, Alteya Organics, Khadi & More
This post is a round up and testament of how many of Evolve products I am actually using in my daily skincare routine – and that is just skincare ya'll! So yes, to round it up, I am a very happy customer and a superfan rolled into one 🙂
Check them out at:
and other places 🙂
Ps. I don't think I have mentioned it anywhere yet, but their hair oil is also amazing and smells amazing too – the same monoi scent I cannot get enough. Stay tuned for the post on it too. Next Year though.
That's it for today, thanks for reading!
What about You, what Evolve products do You use and love? Please share with me, I would love to know.
Sending Love & Light!
Love & Light.
Renata.

*some PR products, as well as my own purchases. Some aff links too, thank You for using them – at no extra cost to You x