Hi Lovelies,
Welcome back! And welcome if You are new here xoxo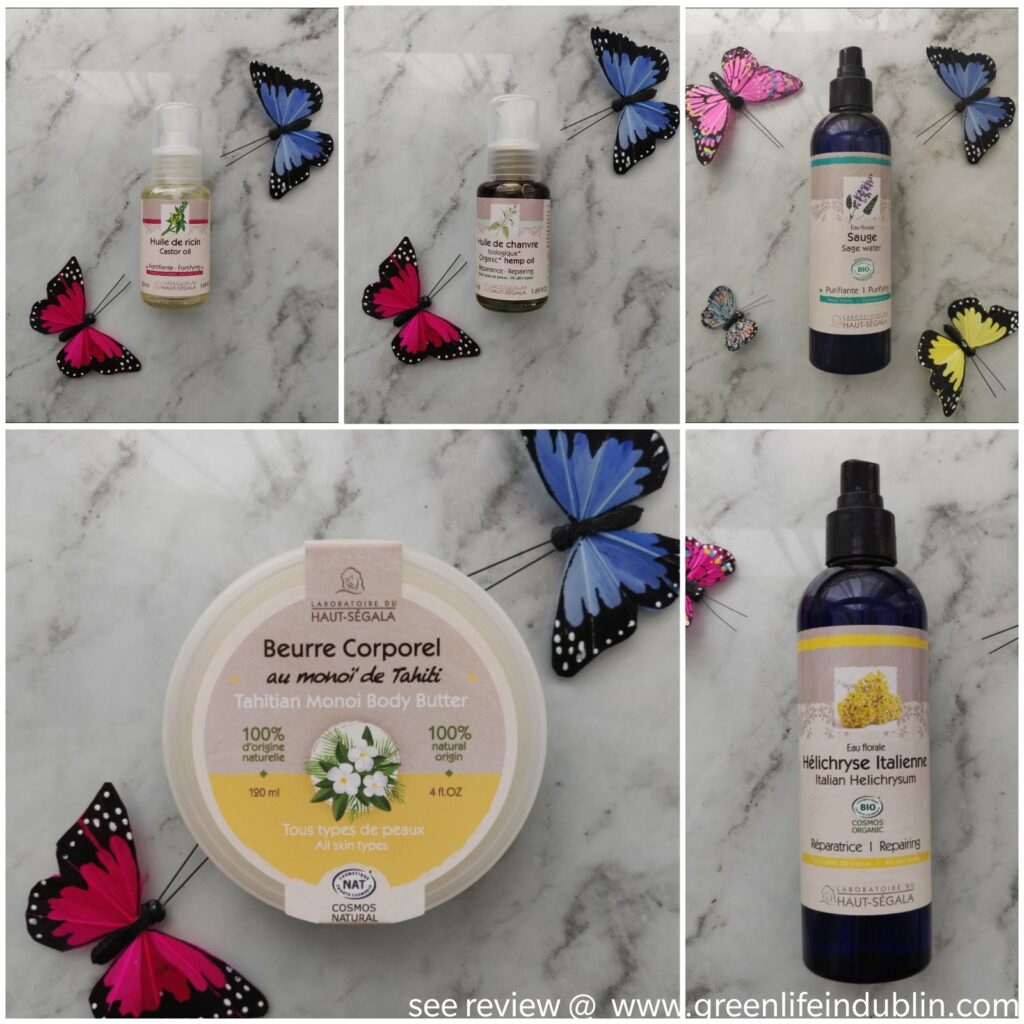 Hope You are all well! Today I am coming at You with a French brand overview – please step forward Laboratoire Du Haut-Segala. All natural and Cosmos certified of course 🙂
Laboratoire Du Haut-Segala is a French brand that was started in 1996 and is located in Aveyron,  Rieupeyroux. With a deep commitment for the planet and the respect for the plants, the products are made in France and are certified by Ecocert and labeled Cosmebio and Cosmos .The laboratory is audited every year, which ensures independent control of the traceability of our raw materials and our finished products. They produce a range of high quality oils, butters, floral waters and aloe vera face and body range. No added artificial fillers, fragrances or anything like that. I am pleased to report I found all the products to be high quality and pleasure to use. 
*Tahitian Monoi Body Butter & Helichrysum floral water and a couple of sachets of Aloe Vera Anti Pollution Serum were sent to me by Eco Beauty Shop, all the others I picked up from Love Lula and/or Love Lula Beauty Box. (sadly no more)
Let's see what products I have tried and what do I think of them?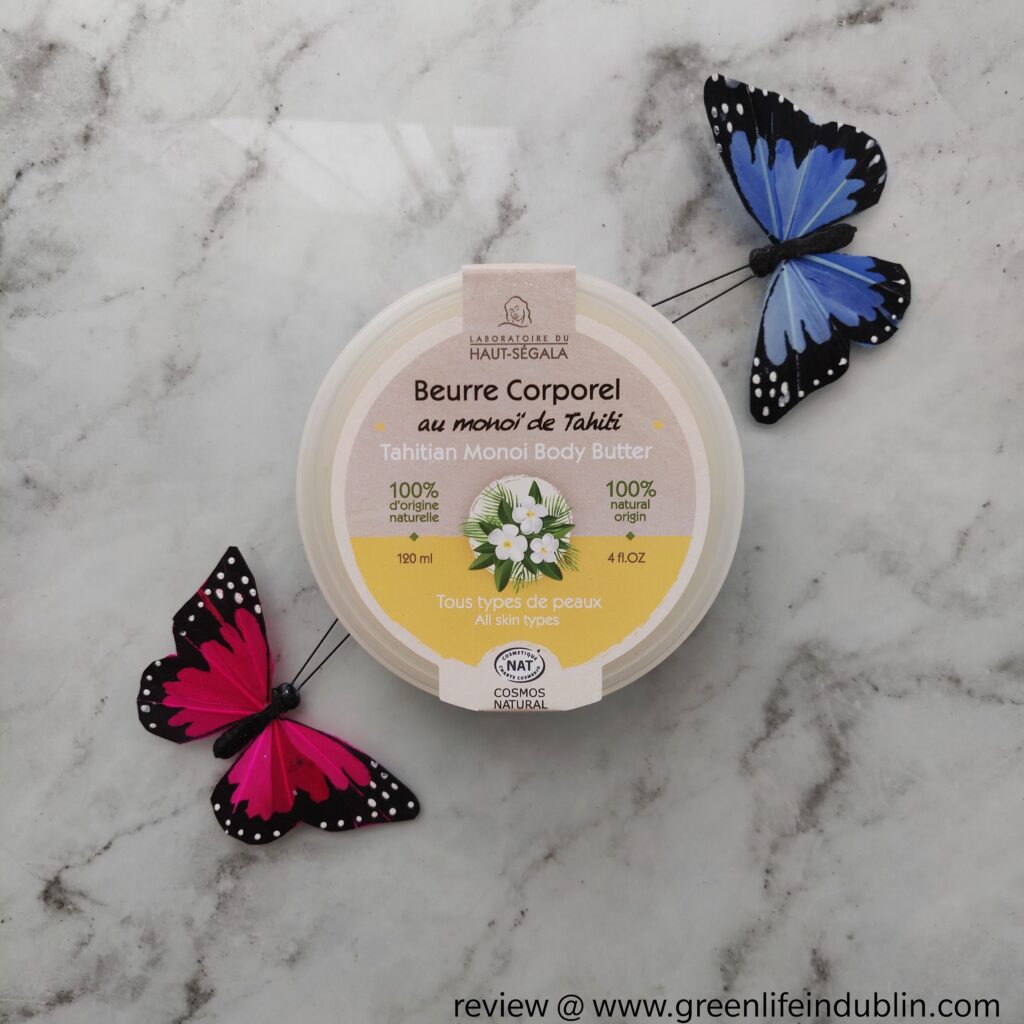 Tahitian Monoi Body Butter
I specifically requested this as I was really curious to compare it to Evolve Organic Beauty Tropical Blossom Body Butter with Monoi (review). I am currently obsessed with all the things Monoi scented – oh, how I wish the blogs and social media would have a scratch-n-sniff feature! Well, I found these two products totally different in terms of scent, texture and ingredients. It does not necessarily mean one is better than the other, they are just different. I enjoy this body butter daily & You will see it in my upcoming Empties post very soon. The beautiful thing about it is that it can be used both as after sun soothing product and to protect the skin in cold harsh weather too. I am yet to try the first variation (summer, where are you?) but I can attest to the product being very effective in cold weather. Not only my sensitive skin is soothed and calmed, but it helps heal the dermatitis outbreak I am currently experiencing.
INGREDIENTS:  Ingredients: Organic shea butter*, Tahitian monoi oil (designation of origin), organic cocoa butter*.
INCI: Butyrospermum parkii butter*, Cocos nucifera oil, Theobroma Cacao (Cocoa) Seed Butter*,Gardenia taitensis flower, Tocopherol, Fragance, Limonene, Linalool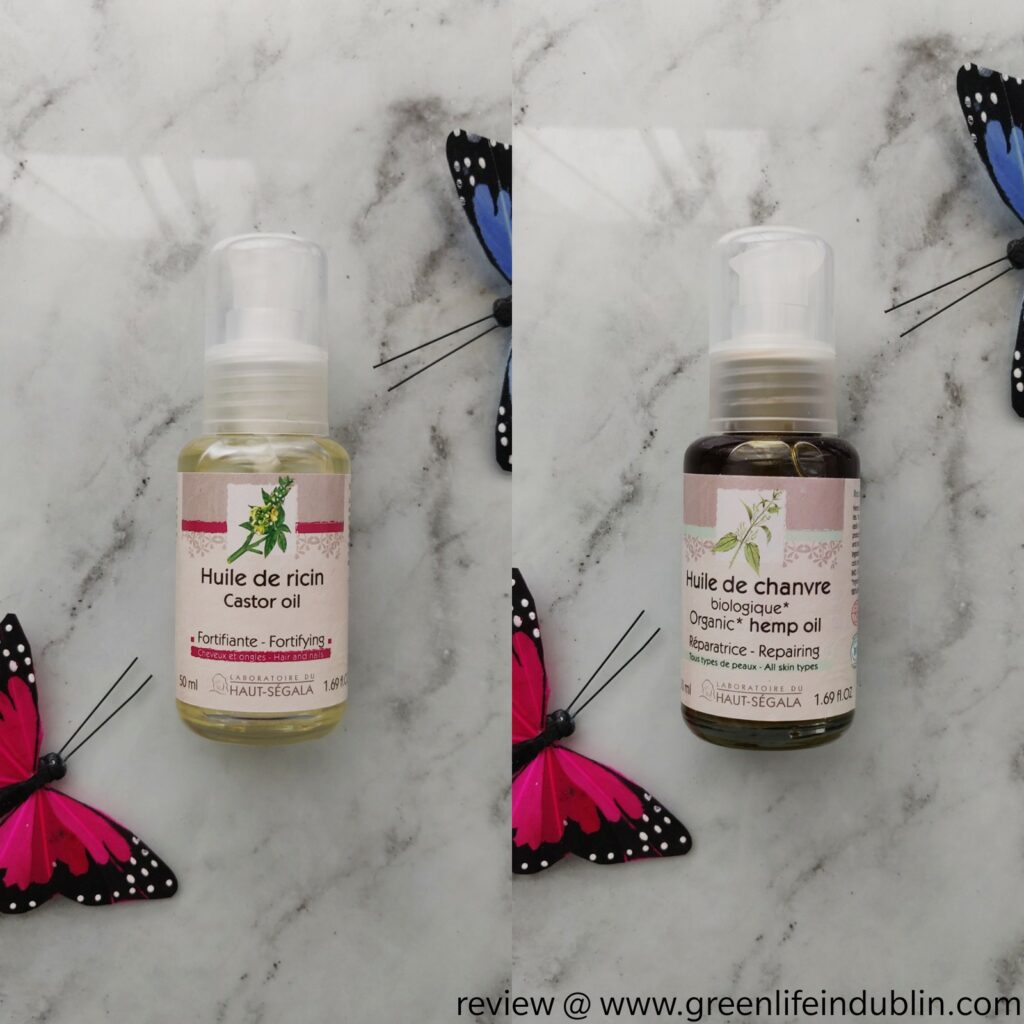 organic oils – virgin hemp seed oil & castor seed oil
Both oils I enjoy for different reasons, castor oil I add to my face and scalp masks or on it's own, you can also use it for lash conditioning – just do your research on those expensive lash conditioners and you will see the base of them is almost always castor oil. So why not cut the costs and get castor oil instead? Very thick and kind of gloopy, so I reserve those treatments for the second half of the day or for my days off, but I am very much enjoying them. Hemp seed oil I use on the face from time to time, but not always – dermatitis and face oils do not mix well and I have had to cut them out of my skincare routine. But as we all know, oils are brilliant multitaskers, so I always find ways to use them up – I mix it into cheaper oils to make my own body oils, I use them on my hair and scalp and even as my hand cream if I happen to be out if it. Just recently I witnessed my 7yr old come up to my green beauty stash next to my computer, pump some hemp oil on the backs of her hands, rub it in and continue playing like nothing ever happened. That made me smile to myself, good habits must have rubbed off on her 🙂
INGREDIENTS: vary from oil to oil, but always 100% organic with no fragrance or fillers.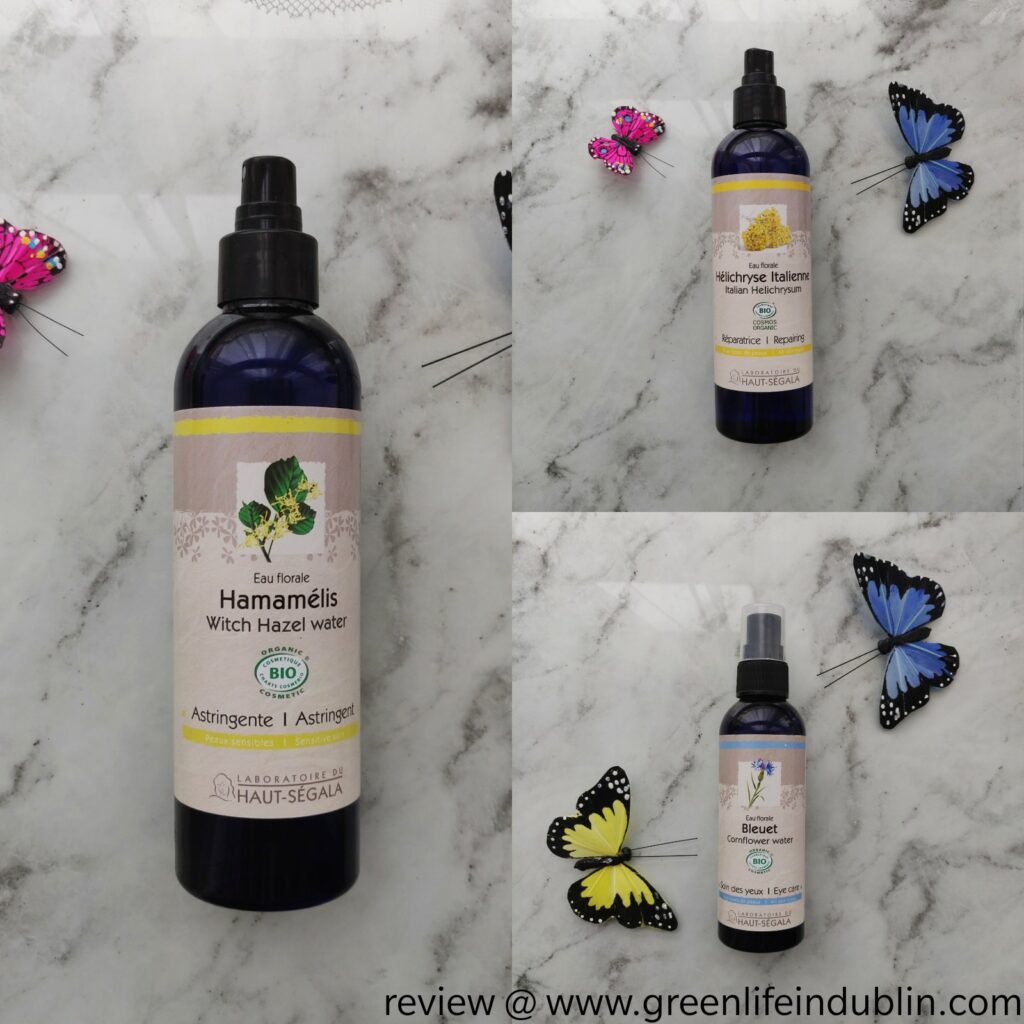 Laboratoire Du haut segala floral waters
Again, beautiful natural products, with only natural ingredients in them – always always check ingredients in your floral waters, some have long list of questionable ingredients with floral water you are after at the end of it, and that's what you don't want. Fortunately this is not the case with Laboratoire Du Haut Segala. Choose floral waters according to your skin type and needs and enjoy!
Organic Aloe Vera Anti-Pollution Serum
Although I only had a couple of sample sachets worth of it, I am adding it to the review, because I know I will get questions on it. I will be honest it is hard to judge a product from such a small amount, so I will only give You my first impressions of it – I found this serum gives a bit of tightening effect but also makes my face sticky at the same time, so I have to leave it on for quite some time to let it sink it before I proceed with my make up.
INGREDIENTS: Aqua, Glycerin, Behenyl Alcohol, Sesamum Indicum Seed oil*, Borago Officinalis Seed Oil*, Polyglyceryl-2Dipolyhydroxystearate, Lauryl Glucoside, Parfum, Microcrystalline Cellulose, Butyrospermum Parkii Butter*, Persea Gratissima Oil*, Aloe Barbadensis Extract*, Bambusa Arundinacea Stem Extract*, Helichrysum Italicum Flower Water*, Xanthan Gum, Benzyl Alcohol, Tocopherol, Sodium Benzoate, Cellulose Gum, Sodium Hyaluronate, Hydrolyzed Algin, Dehydroacetic Acid, Citric Acid, Potassium Sorbate *99.1% of the total ingredients are from natural origin. 28.1% of the total ingredients are from organic farming. Natural and Organic Cosmetic certified by Ecocert Greenlife
Conclusions – I am very happy to have discovered this natural brand that aligns with my own values. I found the products clean and well performing, with a very fair price point, so I will make sure to keep trying new products from this brand. There is something for everyone. Have You tried this brand and what are your thoughts on it?
That's all for now. Please like and share this or any of my other posts on social media, it really helps to get the green beauty word out – and you will forever have my gratitude!
FOLLOW ME ON:
Lots of Love,
Renata.
Enjoy my content? I would appreciate any  tip into my PayPal Tip Jar - any donation will get You my eternal gratitude and more awesome green beauty reviews Your way. I weed out all the greenwashing products so You won't have to.