Hello Lovelies,
Welcome back! And welcome if you are new here ???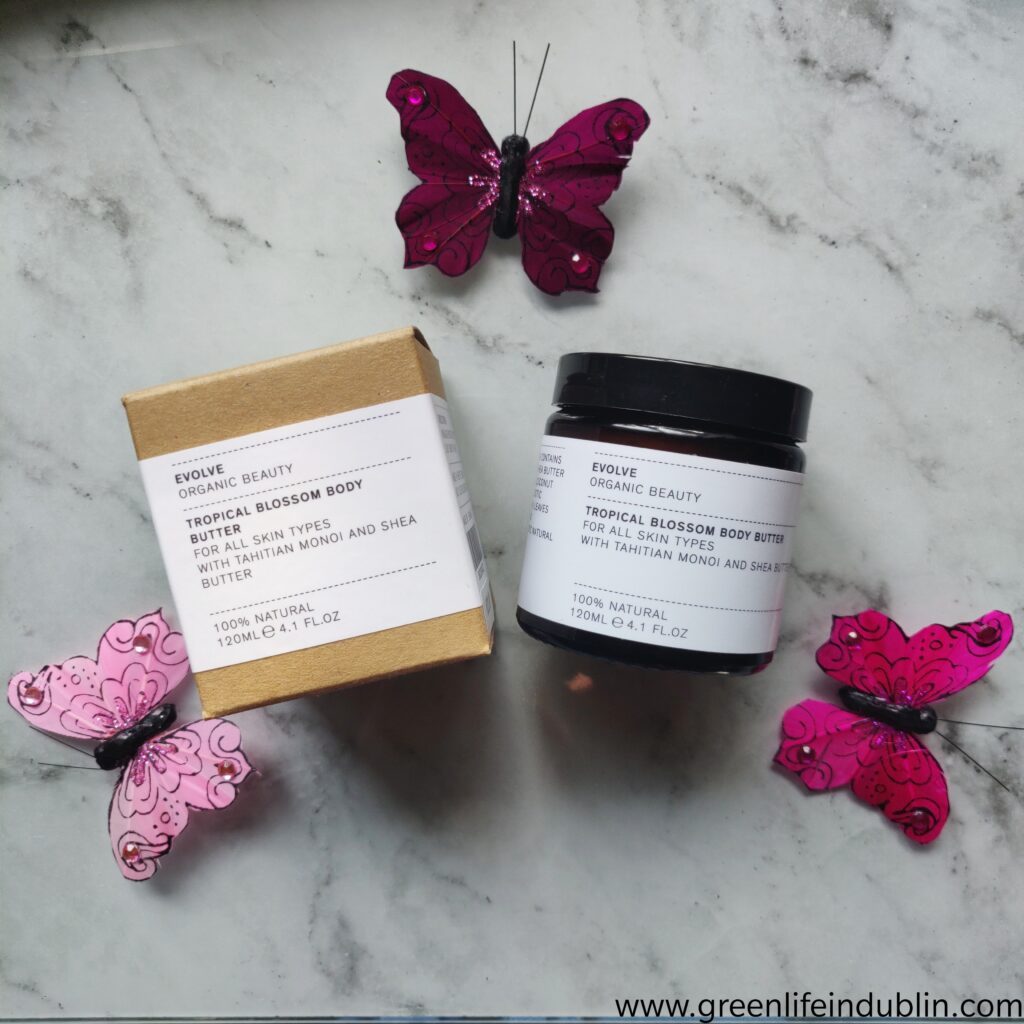 Two things about Evolve Organic Beauty Tropical Blossom Body Butter– or rather questions. One, can a body butter be classed a a wellness thing? And second, why I am only discovering it now??
Welcome to the review of my new favourite body butter!
Evolve Organic Beauty isn't a new brand on the green beauty scene, but it is new to me – my first discovery was the Climate Veil Tinted SPF20*, reviewed here. I loved everything about it except the fact that it is too dark for me on it's own. The brand told me they are working on more shades (can't wait) and the product shone once again when I took it on my vacay – I used it on my shoulders, neck & decollete and it gave an amazing bronzy glow, I truly and thoroughly enjoyed it. (see post here) Now my curiosity was well piqued, I decided to buy Tropical Blossom Body Butter next, purely based on the scent alone – it is like magic! I so wish blogs and social media would have a scratch-and-sniff feature so I could share it with all of you! Scented with Tahitian monoi, this  soft organic body butter contains nourishing organic shea butter and it leaves skin smooth, soft and smelling oh-so-delicious!
Tahitian Monoi, considered the sacred Oil of the Polynesians, is made by maceration of thousands of Tahitian Gardenia blossoms into Coconut Oil. It has restorative and anti-oxidant properties. It leaves the skin moisturised, soft and supple.
Shea Butter, the skin superfood extracted from the nuts of the shea tree, is an instant help with dry skin. It is a strong moisturiser and has skin healing properties due to its richness in unsaturated fat, essential fatty acids, Vitamin E and D and provitamin A.
The smell stays a few hours, the softness. a couple of days.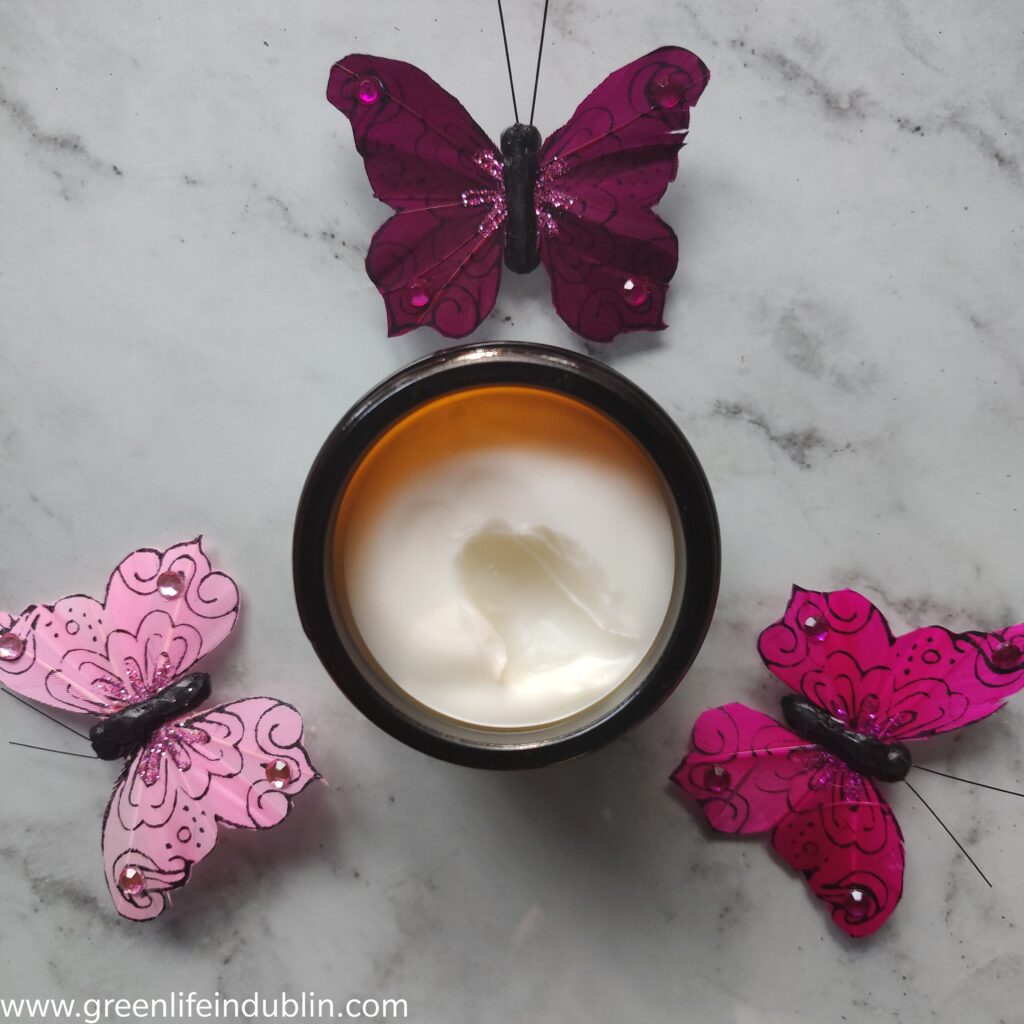 The texture is perfect, it is soft, creamy and melts into the skin upon contact leaving you with no oily residue – I will go on as far as to say that I think this is the best texture and formula of body butters I have tried so far.
Shall we look into the ingredients?
INGREDIENTS: Butyrospermum Parkii (Shea) Butter*, Helianthus Annuus (Sunflower) Seed Oil*, Glycerin*, Cocos Nucifera (Coconut) Oil, Prunus Amygdalus Dulcis (Sweet Almond) Oil*, Gardenia Tahitensis Flower Extract, Sucrose Laurate, Citrus Aurantium Dulcis (Orange) Fruit Water*, Parfum (Natural Fragrance), Tocopherol, Amyl Cinnamal, Benzyl Benzoate, Eugenol, d-Limonene, Linalol. *ingredients from organic farming.
In the case I haven't told you already, you get 120ml for 18£ which I think it is really fair price for the handcrafted product that is 100% natural and 92.82% organic. The product is also vegan and cruelty free, the packaging environmentally friendly glass jar (the lid is plastic though) with a cardboard box. The aesthetics of the brand are really pleasing to the eye, I have to give them that. Any Evolve product wouldn't look out of place in Queens bathroom, don't you think?
I truly wish I could share this body butter with you all! I have this new found love of monoi scent and I want to try all of the things with this scent – all or nothing with me, haha! From what I know, Evolve have two more products scented with the same scent, Satin Body Gloss, which is a body oil with a bit of mica shimmer (oh how I wish I had discovered that at the start of the summer or my vacay) and hair oil, which I plan to repurchase as soon as I will finish my current hair oil, which they describe as a serum & it is called Nourishing Hair Elixir – Dry Hair Serum. Smelling like tropical holiday all over? Yes please!
If asked to sum up my experience of this product in one sentence, I would say it is silky and amazingly scented heaven in a jar! This will certainly brighten my Autumn days that are already gloomy and rainy, never mind that we are only a few days into September. Not looking forward to a long stretch of cold weather ahead, but I am surely looking for using this post bath/shower – it turns some mundane task into spa-at-home experience. A little goes a long way too, I have used it plenty of times already and it looks like I have barely touched it, so I reckon it will give me at last a few months usage out if it. If it will, it will be money very well spent. Wellness is the new gold, isn't?
Related - Evolve Organic Beauty Brand overview
So, how about you? Have you tried this pot of wellness gold already? What are your thoughts about it? What are your favourites from the brand? Please share, I would love to know (and add them to my wishlist) 🙂
get it from
*A note after months and months of posting this. Here is a brand review post if You want to know more? Almost all Evolve  products ended up as my Yearly Favourites, so be sure to look for those posts & YouTube videos too!
Brand overview – Evolve Organic Beauty – Green Life In Dublin
That's all for now. Please like and share this or any of my other posts on social media, it really helps to get the green beauty word out – and you will forever have my gratitude!
FOLLOW ME ON:
Lots Of Love,
Renata.
Enjoy my content? I would appreciate any  tip into my PayPal Tip Jar - any donation will get You my eternal gratitude and more awesome green beauty reviews Your way. I weed out all the greenwashing products so You won't have to.