Hello Lovelies,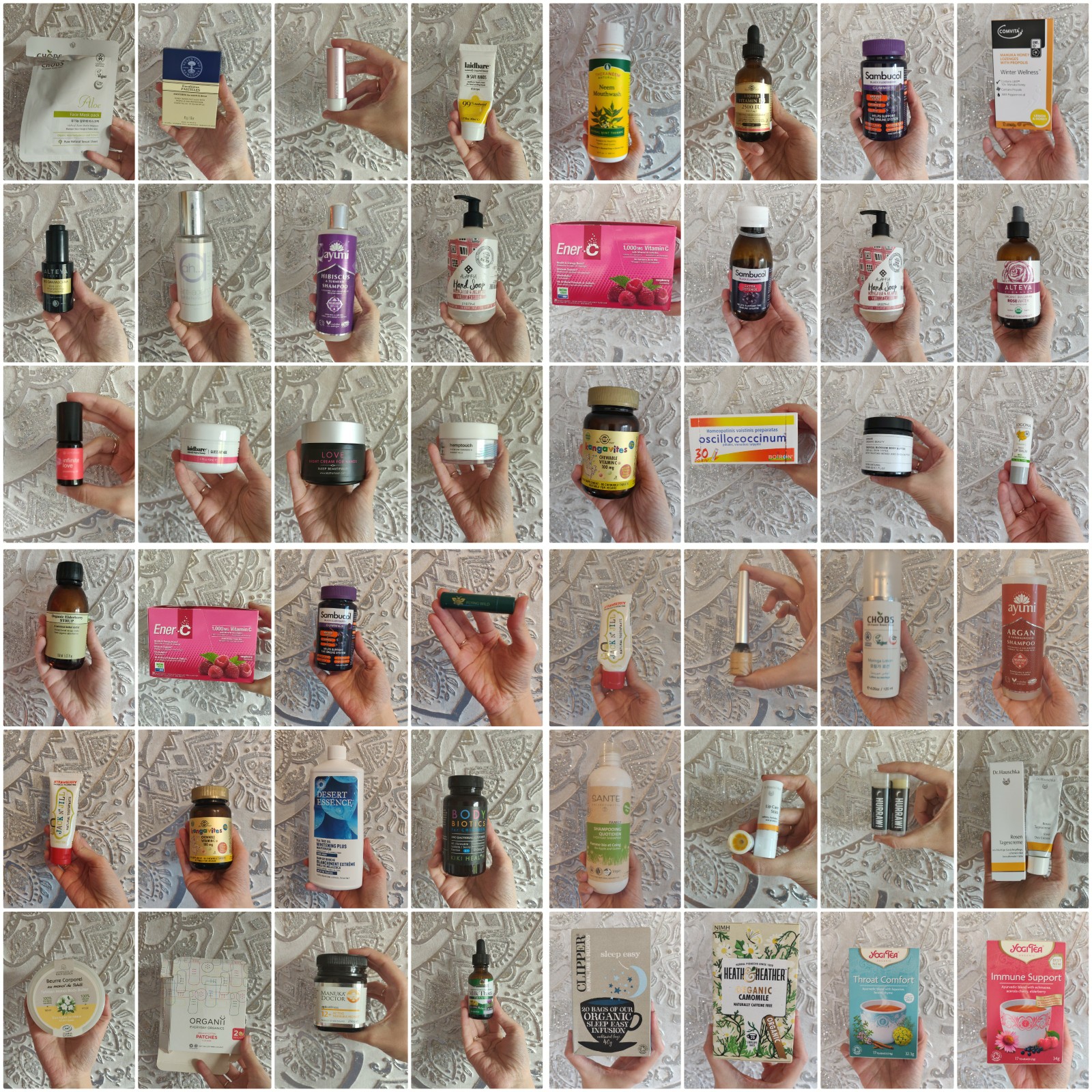 Ufff, just thinking of this makes me tired! Empties are such a chore to post, so I do the best I can to avoid it – in fact I successfully avoided it for the whole winter 🙂 But You guys seem to love it, so here it is. Let's get started, shall we? Some of these products have reviews/ mentions, so hit up that search button on the right hand corner ?
(No links in these posts, hope that's ok with you? )
FABULOUS GREEN BEAUTY/WELLNESS PRODUCTS I WILL REPURCHASE
Theraneem Neem Mouthwash
Solgar Liquid Vitamin D 2500IU
Jack & Jill Strawberry Toothpaste x3
Couleur Caramel Liquid Liner
Ayumi Argan & Sandalwood Shampoo
Ayumi Hibiscus Shampoo
DrHauschka Lip Care Stick
Hurraw Moon Balm
DrHauschka Rose Day Cream
Clipper Sleep Easy Tea x5
Heath & Heather Organic Chamomile x5
Yogi Throat Comfort x6
Yogi Immune Support
Sambucol Gummies x5
Comvita Manuka Lozenges x3
Ener C x3
Nature's Answer Milk Thistle
Related - my Natural Medicine Cabinet 
Sambucol liquid x6
Neal's Yard Remedies Eucalyptus Pastiles
Neal's Yard Remedies Organic Honey & Thyme Syrup
Neal's Yard Remedies Organic Elderberry Syrup x3
Solgar Kangavites Chewable vit C
Oscillococcinum x3
Kiki Health Body Biotics Kids Chewables
Manuka Honey
Better You Vitamin D+K2 Oral Spray
Inika Long Lash Mascara
Neal's Yard Remedies Organic Defence EO
Bamboo toothbrush
Ozonated Gum Gel by Living Libations
Oreganol P73
Coryzalia x3
Living Libations Neem Enamelizer Toothpaste
Ayumi Sandalwood Soap
Allafia Hand Soap x2
Alteya Rose Water
Evolve Organic Beauty Tropical Blossom Body Butter
Flying Wild Rosemary & Honey lip balm x3
Organii Organic Cotton Patches
Chobs Aloe Sheet Mask
Lotus Wei Infinite Love Anointing Oil
Kiss My Face Love Night Cream For Hands
Hemptouch Soothing CBD Skin Balm

GREAT NATURAL ITEMS I WON'T GET FOR NOW DUE TO THE SIZE OF MY STASH
Just FIY up front, nothing wrong with these products or formulas, it's just I've been Marie Kondo-ing my stash with an aim to have only one open product in any given category, bar make up. Hit that search box up in the right corner to see if the products have posts/ reviews on them.
Chobs Moringa Lotion
Sante Family Shampoo
Logona Rich Lip Balm
L. Haut Segala Tahitian Monoi Body Butter
Coola Nude Beach Lip Balm SPF
Laid Bare In Safe Hands
Laid Bare Guess My Age
Alteya Organics Bio Damascena Rose Otto Regenerating Concentrate
Dafna's Purifying Cleanser
Lyonsleaf Calendula & Marshmallow Balm
GREEN BEAUTY ITEMS I A NOT REPURCHASING 'COS THEY WEREN'T SUITABLE FOR MY NEEDS/ DIDN'T WORK FOR ME/ other reasons
Desert Essence Whitening Mouth Wash – simple reason, I found it in TKMaxx & don't know where to repurchase once I ran out.
Aah Skincare Honey Toner – nothing wrong with the product, I simply didn't like the smell
Lauota candle
W3LL People Biotint Multiaction SPF30 Moisturizer – I had to move it from the first category for two reasons. First & foremost, the brand just sold to ELF, so it is only a matter of time when the product will be reformulated for the worse. Haven't we seen this 100s times before? Sad fact of life, but the natural products formulations never stay the same after being swallowed by big conglomerates.. Secondly it wasn't even available in EU anyway. I had to go to great lengths to get it. Sob.
Random but not really:
CHECK OUT MY YOUTUBE
& MY LAST BLOG WITH 400+ POSTS
That's it for today, thanks for reading! Have a great day & I will see you here next Tuesday, my posting day 🙂
Lots of Love,
Renata.