Hi Lovelies!
Welcome back! And welcome if you are new here xoxo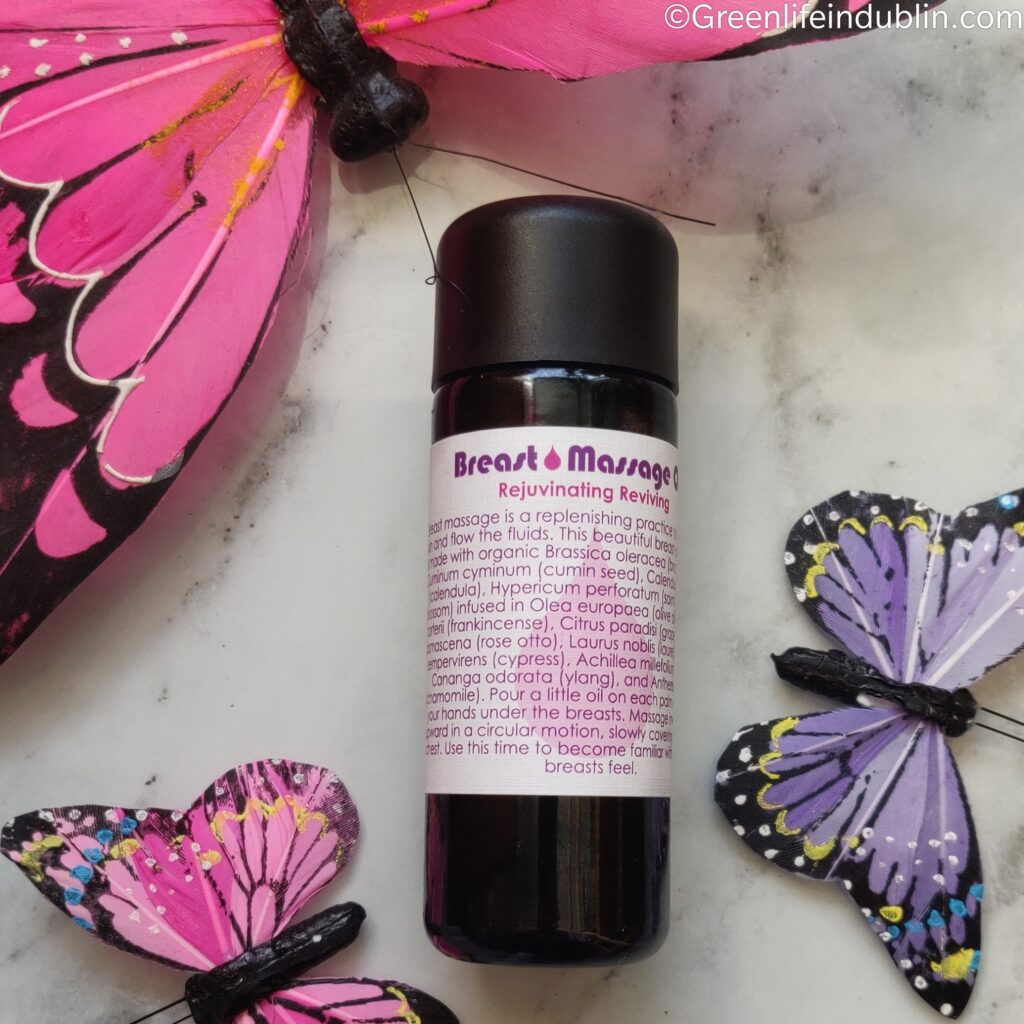 I hope all is well with you? You guys know my love for Living Libations runs deep, there are few companies with ingredients this pure (see here for quite a few reviews) – and that's precisely why I love them so much ?
*product purchased with my own moolah, the review is not sponsored. Some affiliate links used at no additional cost to you as a consumer. If you decide to use them, then you have my eternal gratitude for supporting my mission to help every woman, man and child to switch to natural products.
I admit Breast Massage Oil might be a bit of an odd choice, but hear me out, there's a couple of reasons why I bought this product. First of all, You might know my Mom battled & won breast cancer a few years ago, and long and heartbreaking journey aside, you are quite never the same person after, nor you are looking at breasts the same way either. My mom's cancer cause was estrogen dominance and I am in a weird spot in my life where hormones start going funny, but I don't want to admit to myself or anyone else out loud I might be in perimenopause already. I also have this pain behind my right breast too, l am on the journey of finding out what exactly it is. So when I found out it is possible to massage away excess oestrogen from the breasts (in Nadine Artemis Renegade Beauty book, no less!), my mind was blown and I immediately ordered the oil.
*Side note, the Renegade Beauty book is amazing & beyond, if You get only one book this year, make sure it is this one - I can't recommend it enough!
Do I need specific oil you might ask? Probably not, but this has all the essential oils and other extracts good for the breasts already balanced for you. Knowing how talented Nadine is, I trust her and this product completely. Let's look at the ingredients list, shall we? As with all Living Libations products, the ingredient list is nothing short of the best and almost poetic!
ORGANIC INGREDIENTS: 
Broccoli Seed Oil -Brassica oleracea
Cumin Seed Oil - Cuminum cyminum
Calendula Oil - Calendula officinalis
Saint John's Wort Oil - Hypericum perforatum Blossom Oil infused in Jojoba - Simmondsia chinensis
Frankincense Oil - Boswellia carterii
Grapefruit Oil - Citrus paradisi
Rose Otto Oil - Rosa damascene
Laurel Oil - Laurus nobilis
Cypress Oil - Cupressus sempervirens
Yarrow Oil - Achillea millefolium
Ylang Oil - Cananga odorata
Advice on breast massage *excerpt from Living Libations website*:
Breast massage may be performed at any point in the menstrual cycle depending on your comfort. Our breast tissue extends from the breastbone in the center of the chest to the underarms, and from below the collarbone down to the sixth or seventh rib.
Put 1-2 drops of Breast Massage Oil on each hand and place your hands under the breasts. Massage inward and upward in a circular motion, slowly covering the entire chest. Use this time to become familiar with how your breasts feel.
Additional best breast practices include: dry brushing, ensuring excellent nutrition including dietary iodine and magnesium, balanced intestinal flora with fermented foods and probiotics, avoiding aluminum, eating organic, real food, and only caring for your body with authentic, organic botanicals.
You might also want to see this article about breast health on Dutch Health Store website, which is Authorized Living Libations EU distributor with the largest selection in the EU.
I also came across this YT video where Nadine drops truth bomb after the truth bomb about the effects of conventional products, plastics and so much more & how our bodies (and breasts) react to the environment around us.
I have been using this oil for a couple of weeks already, and while I won't be able to tell you cold hard facts on how this changed my hormonal levels, I can confirm this – it is damn nice to know I am doing the best I can with the best tools available to me at this time – and also know the best products are accessible to me too. The price might seem high at first glance, but rest assured price per use is not expensive at all, because you get months use out of it – and the purest possible ingredients! Do I think everyone needs this product? No, if You are young and fresh as a daisy, you might not need it at all. But if you are of certain age – let's call it young at heart plus life experience, and starting to pay attention to things like hormones and breast health, you might want to go for it. Or at least keep it at the back of your mind until You do.
Check Living Libations at:
[products might vary]
Now, your turn! Have You tried this product or any other product aimed at breast health? What are your thoughts on it?
Thanks for reading! See You here next Tuesday 🙂
Lots Of Love,
Renata.

Pst! Like saving money? Then follow my FB page "Offers" tab or check back to my blog for monthly posts.