Hi Lovelies,
Welcome back! And welcome if you are new here xoxo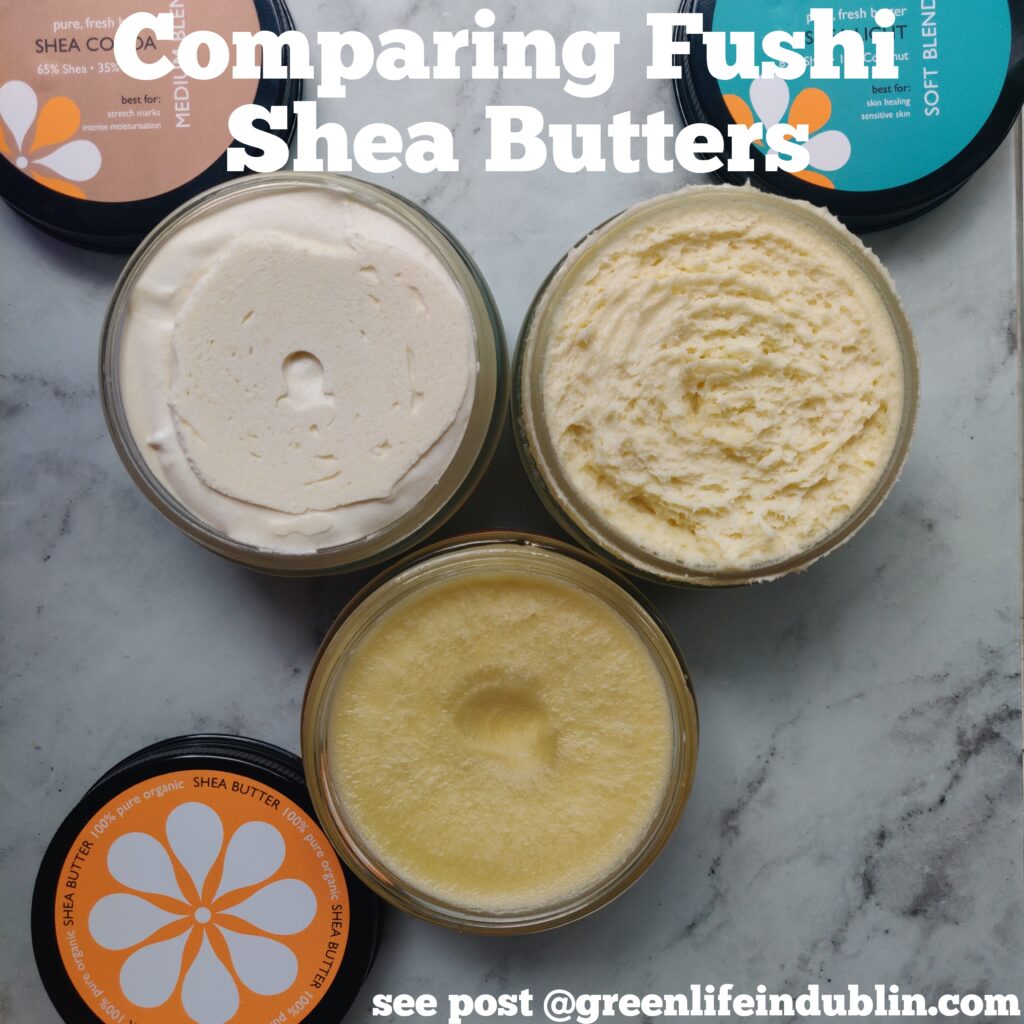 How are all of You, I hope You are well? Or well enough? I can't believe these crazy times are lasting this long, with many countries (including Ireland) in the lockdowns again!
Today I am going to talk to You about Fushi shea butters and the comparison of them. I will talk about the differences, the similarities and what I recommend. You can find my initial thoughts on them here.
As I already said in that post, the original Fushi shea butter has been a staple in Casa Green Life In Dublin for quite some time. This was (still is) the only product Mr of the house will put on his face. I like it for other purposes, but we happily shared (split) the jar for quite a number of years now. Shea butter is rich in oleic and linoleic acids that nourish the skin and keep it beautifully hydrated. It is also rich in vitamins A, E and F which help to protect and promote youthful-looking and healthy skin. So, imagine my delight and curiosity when I heard the brand came out with two more versions of it? Yep, I immediately needed to know!
SHEA COCONUT BUTTER
Light buttery blend
• 85% shea butter & 15% virgin coconut oil
• Rich in omega oils
• Protective and skin healing
• Promotes skin health and radiance
What happens when you blend creamy Shea butter with the gorgeous coconut oil? You get the fabulous combination of Coconut Shea Butter, a lighter version of Shea butter. It perfectly combines the powerful properties of both to create a blend of buttery exquisiteness that smells incredibly delectable.
Fushi's unrefined, pure Shea butter enhanced with organic, virgin coconut oil is ideal for those who prefer a lighter version and of Shea. It can be used for face and body moisturisation, hand and feet care, dry skin and is an overall multipurpose skin moisturiser.
Ingredients: 85% Organic Unrefined RAW Butyrospermum parkii (Shea Butter), 15% Organic Extra Virgin Coconut Oil (Cocos Nucifera).
Shea Butter is sourced from the Yumzaa Women Association cooperative in the Northern part of Ghana in a town called Tanpi in Tamale. They are a member of the NBSSI (National Board of Small Scale Industries) back by the government.
My first impressions were of love and I still feel that way today! So much easier to use than regular she butter, in a way that it glides on the skin so smoothly, no need to warm it up between the palms of your hands or anything like that. The scent is lovely and I love the way it leaves the skin soft for days.
---
SHEA COCOA BUTTER
Delicious blend of natural body butters
• 65% shea butter & 35% cocoa butter
• Rich in fatty acids, vitamins and antioxidants
• Protects and combats dry skin
• Promotes skin health and radianceevi
The official blurb:
"The decadent properties of organic cocoa butter along with the renowned benefits of shea inspired us to create a soft butter blend combining both of these wonderful skin nourishing butters. And the result is a luxurious and intensely hydrating, one of a kind, unique shea cocoa body butter.
Pure cocoa butter is extracted from the richly nutritious cocoa bean, and offers a softer texture, known for its rich fatty acid content and natural phytochemicals that help with skin elasticity and healing the appearance of stretched skin. Shea butter works similarly to cocoa butter and provides deep moisturisation to very dry skin. It is rich in Oleic and Linoleic acids that nourish the skin and keep it beautifully hydrated. It is also rich in vitamins A, E and F that help to protect and promote youthful looking skin.
Fushi's organic Shea butter enhanced with cocoa butter offers a double benefit of these luscious skin caring emollients that can be used for dry skin, cracked heels, stretch marks, face and body moisturisation, hand and feet care and promise to leave skin supple and youthful. Both are packed with antioxidants to help repair skin damage and so can be used as a healing skin butter too.
My first and second impressions – I love it! It arrived when I was midst perioral dermatitis outbreak, so I took to it like no ones business and it did not disappoint. Not only it nourished the skin, helped it heal, but it also soothed the insane itch too, a bonus I appreciate greatly. If Your hands are dry cracked mess in winters, you need this, trust me! Actually, use it on the whole body. And be sure to come back to thank me later 🙂 I am often asked what kind of body lotions I recommend for winters, as lots of you find your usual ones don't cut it at this time of the year. I always say the same thing, it is not the lotions You need in winters, it is butters – and these are great.
INGREDIENTS: 65% Organic Unrefined RAW Butyrospermum parkii (Shea Butter), 35% Theobroma Caoao (Cocoa) Seed Butter.
---
My final thoughts
So, which one do I recommend? All of them. I already know I will be repurchasing all of them once I will run out for as long as Fushi will be making them – Fushi, if You are reading this, please don't ever discontinue them, ever! Well, I guess, the one You need to get depends of the preference of texture You want to use. Shea with coconut oil is the lightest and creamiest of them all, easiest to use too. Normal shea butter behaves like a normal shea would & the cacao shea is the hardest of them all. It definitely needs warming up between the hands before application – but don't let that put you off, because the benefits and the healing it brings is definitely worth a few seconds of inconvenience.
GET IT FRom:
Fushi.co.uk
code "greenlifeindublin" will save you 20% of your order
That's it for today's post, thanks for reading! Your turn now – have You tried any of these Fushi butters? How about anything else? Please share your favourites with me, I want to know ?
Love & Light,
Renata.