Hi Lovelies,
Welcome back! And welcome if You are new here xoxo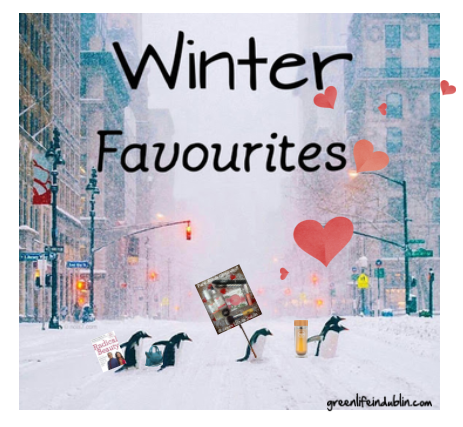 How are all of You, I hope You are well? Time for Winter Faves post, before the winter ended, no? 🙂
So in no particular order, here are the things I enjoyed a lot recently.
DR HAUSCHKA ROSE DAY CREAM
My Holy Grail skincare for winter – this is one of the very few products that save my face from the harsh winter weather. My dry and sensitive skin just drinks it up and it keeps it in tip top condition. I never want to be without it, especially in winters. Find review on my old blog here.
FUSHI SHEA & COCOA BUTTERS
Just like the DrHauschka cream is a saviour for my face, these are savior to my body. I also never ever want to be without them, ever. I use them even in summers. There are three variants for You to choose from, please see the differences and my thoughts on them in the review above. Spoiler alert, I recommend them all. Fushi, if You are reading this, I am sending love and huge thanks to You!
Brand overview – Evolve Organic Beauty – Green Life In Dublin
I fell in love with Evolve so hard a couple of years ago and it is still going strong! I banged on about how good the products are over and over and over (check search box and You will see more than 15 reviews, I am not kidding) and I even convinced one of my favourite online stores Dutch Health Store to carry the brand. True story, bro. On a day to day basis that's all I use for skincare and body care, but to give other brands & products a chance to shine, I will only talk about one of them today, which is shower oil. It is one of those fun natural products that gives You that lovely feeling of a spa at home. If You are using DrBronner's or something similar to wash Your body with, You might know how drying that is. Switch to this beauty and come thank me later 🙂 It smells amazing, it feels amazing on the skin, it transforms into milky substance once it hits the water and it is a pure joy to use. I should add that I only use it in the shower. It is also a bath oil, but I do not want to waste it like that 🙂
KISS THE MOON LOVE NIGHT CREAM FOR HANDS
I am not too sure if I blogged about my Holy Grail hand creams or is it still swirling in my head, but this hand cream is stuff of dreams. A firm favourite for more than four years now. If Your skin is dry, red, cracking and peeling in winters, You need to try this cream. Trust me, it is worth the money. Get sample first to see if Your skin likes it, as it is not the cheapest product. I'll repeat myself, it is worth every penny to me.
HURRAW SANDALWOOD BALM TOO
This was a love at second sight. I got it to try as soon as they launched it, but I was rather disappointed in it as a skincare. I tried and tried again, but I thought it just sat on the skin without absorbing or doing anything, so I shelved it for a bit and kind of forgot about it. I took it back out a few months later when perusing my stash for products to use up and decided to try it on the lips instead. After all, Hurraw is best known for their lip balms. It works like magic as a lip mask! Used this way, I find it way better than Ilia lip mask. I am on my third tube of it and that should tell You something 🙂 Unfortunately I see a lot of shops phasing this out, it probably isn't selling. While I get that, I wish people knew how great it is used as a lip mask.
Wunder Workshop Golden Shrooms Energy & Immune Magic Review [AD]
Grounding and healing in a cup of Golden Milk? Yes please! If You follow me for any amount of time, You might know that I have both SAD and anxiety (I know I am a lucky gal), so in winters I have more bad days than good, but I am glad to report I have found a product that helps with both things and also helps the body in so many other ways too – from extinguishing inflammation to training the immune system with polysaccharides found in medicinal mushrooms. On hard days (or any other day) I know I can count on this cup of magic to calm, ground and soothe my senses. Please see my review if You want to know more. Just one word before You purchase it, this tastes more mushroomy and is not sweet, so You need to like that sort of taste. I make mine as a latte with organic rice milk, so it sweetens it quite a bit, add honey of You use any other milk or use it as a tea.
YOGI THROAT COMFORT TEA
I made no secret of the fact that winter and I don't get along very well, so given half a chance, I would go on to Winter Sleep and only wake up in Spring – if only I could! Since I have some inconveniences in a way – like you know, kids and life responsibilities, the next best thing is blanket, hot tea and a book. Those moments are far in between as well, but thinking of things I enjoyed for the last three – four months, this was came to mind first, so I can't just leave it out, can I?  As I am so sensitive to caffeine, most of my teas tend to be caffeine free. I can only drink green tea in the morning until around 2pm.
After learning I can request books at my local library, I am forever there to drop off and collect more books. I am also on Borrow Box whenever I can, listening to books. I love love love reading, OK? If You want to know what I am reading, it is not fiction, it is more like health and wellness and personal development type of books. Also cookbooks, because I love to eat 🙂 To make myself more accountable to review what I have just read, I am planning to include book reviews in my blog content. I also created Green Life In Dublin Reads IG page – I plan to fill it up with reviews, slowly but surely.
VITAMIN C
I do not need to tell you that it is a must in winter, we all know that. I do not need to tell you that our bodies do not make it, but animals bodies do. I do not need to tell you that we need more of it if we are stressed or getting sick. What You might not know, is that the optimum levels of it is worlds away from RDA or recommended daily allowance. You might also not know that there are four forms of vitamin C – yes really. It is best to get it from food as (organic) citrus fruits or acerola, peppers and other whole foods, there's no denying that. But I also think it is wise to have a stash of supplements too, especially for winter. What if You suddenly get ill and can't leave the house for a couple of days? You might want to try a few different brands to see what You like, some of my favourites are EnerC (handy for travel) and buffered form of vitamin C from California Gold Nutrition – I get both from iHerb. Let me know Your favourites?
Please also find me at:
GREEN LIFE IN DUBLIN EATS
GREEN LIFE IN DUBLIN READS
GREENLIFE IN DUBLIN JOURNALS
GREEN LIFE IN DUBLIN CRAFTS
GREEN LIFE IN DUBLIN DIYS
GREEN LIFE IN DUBLIN WEARS
That's all for today, thanks for spending time with me.
Sending Love & Light,
Renata.