Hello Lovelies,
Welcome back! And welcome if you are new here xoxo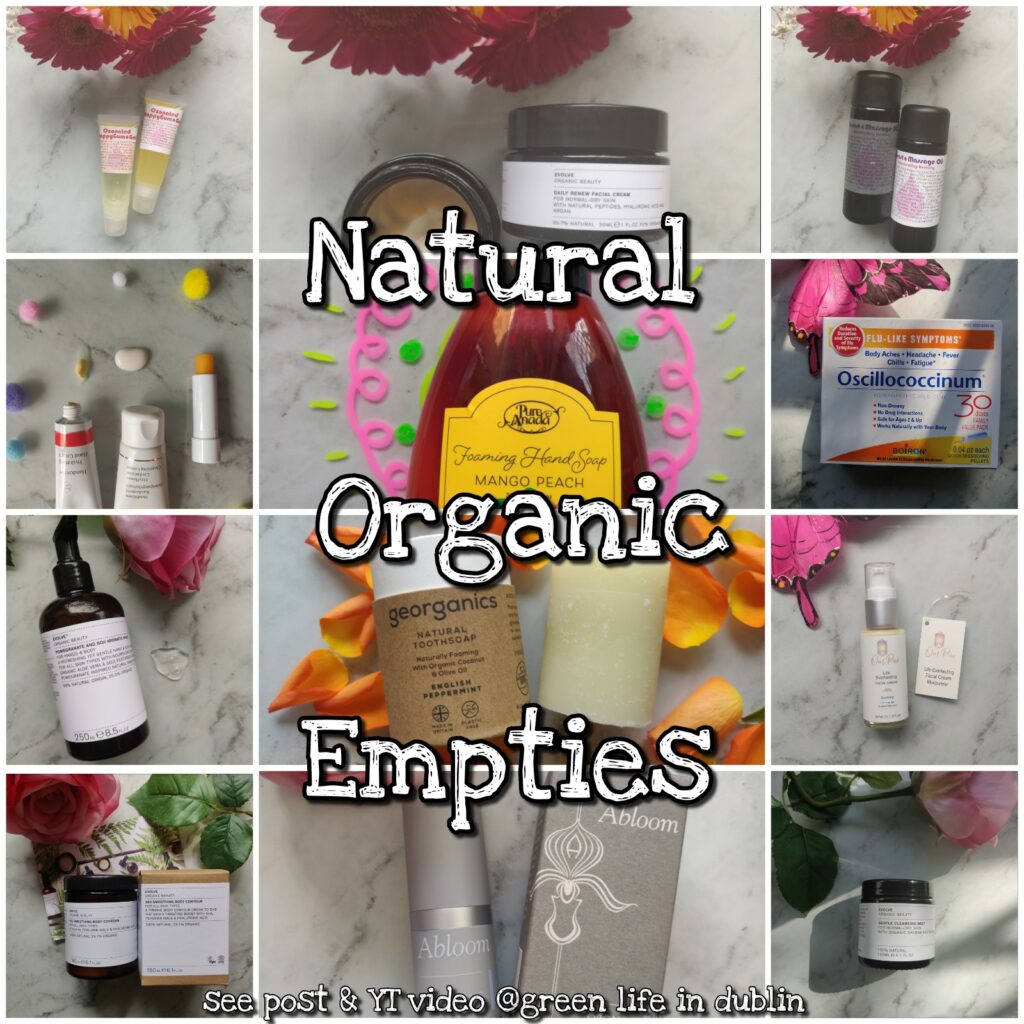 Empties. Love finishing products down to the last drop, but not posting about them for some reason. But! You guys love them & have asked me to continue to post them –  this is for You. I love being of service to my readers & if You find value in these posts, I will keep them up. This year I am also adding totals, both in quantity of products & value – although I am not to sure I want to face them 🙂
* disclaimer - PR products and some affiliate links featured, many thanks if You will decide to use them, at no additional cost to you xo
FABULOUS GREEN BEAUTY/WELLNESS PRODUCTS I WILL REPURCHASE
Now Foods Beef Gelatin
I use it instead of collagen, which is just more processed gelatin, so I prefer to go straight to the source and save €$£ while doing so. I got it via iHerb, because I find it increasingly hard to get it here in Dublin. If You are from here and know where to get it in bulk, give me a shout?
Yogi Throat Comfort Tea
My absolute fave tea in the whole wide world. Naturally sweet without any nasty additives, formulated to boost the immune system and soothe the throat (it does work!). Organic too. I find putting a lid on a cup is a key to not let those delicate plant oils to evaporate.
Boiron Oscillococcinum x30
A must in my natural medicine cabinet for more than a decade, nuff said. Hit the search box if You want more.
Bloomtown The Hedgerow Sugar Scrub
Oh how I wish blogs and social media would have a scratch and sniff feature so I could share this amazing scent with all of You! Definitely repurchasing, love the brand.
Evolve Organic Beauty Pomegranate & Goji Body Wash
Another product that goes straight into my "to repurchase ASAP" list. Love the brand in overall, please find the review on my blog – so many of their products have ended up on my Holy Grails list.
Living Libations Breast Massage Oil
Purchased for breast health, not for vanity reasons, let's just make that very clear. My mom battled and won breast cancer caused by estrogen dominance and this is one of the keys I am trying not to end up in that boat too. Look for review of it on my blog too.
Jack N Jill Strawberry toothpaste
An empty from Ms. Green Life In Dublin Jn.
Now Extra Strength Liquid VitaminD (1000IU or 250mcg in ONE DROP!)
Vitamin D is crucial for all of us, it is needed for 300 body functions daily, did You know that? I am taking it religiously for about 6yrs now, since finding out my perioral dermatitis was partially caused by vitD deficiency.
Living Libations Ozonated Gum Gel
Another Living Libations must have for me, this ozonated oil infused with the best essential oils, is something I never ever want to be without. Expensive, but well worth it and lasts for months. Look for my "No Cavities" post to find out more.
Evolve Organic Beauty Daily Renew Facial Cream
Repurchased already, enough said 🙂
Alteya Organic Certified Organic Rose Water
Love from the first spritz, a must have and a repurchase for the last 3-4 years, do I need to say more? If you want to hear more, please hit the search bar for the reviews
Check Dutch Health Store for Evolve, Living Libations, Abloom & OmPur
GREAT NATURAL ITEMS I WON'T GET FOR NOW DUE TO THE SIZE OF MY STASH/ OTHER
Evolve Organic Beauty 360 Smoothing Body Contour
This is great product, but I am enjoying their Tropical Blossom Body Butter so much more, so I am probably going to get that one again. I have a small backlog of body butters and oils to go through at the moment.
Fushi Shea Light Body Butter
This, along with their shea and shea with cocoa were the things that saved me time and time again this winter, also helped heal the skin after dermatitis breakouts. The only reason I am putting it into this category is because I have a lot of products to go through for right now, but I am definitely getting it come next winter.
Abloom Organic Day Cream
Lovely light organic face cream, I liked it and am likely to get it again sometime. Not for now though, I already repurchased Evolve and have my eyes on new DrHauschka Soothing Lotion.
Alteya Organics Irridescent Light Serum
Again, same story, lovely product, but not repurchasing for right now, because I've other new products to try.
Scentered Escape Therapy Balm
A purchase influenced by IG, loved it, but not repurchasing right now due to living La Vida Broka right now, I cannot afford to repurchase everything I want, I have to plan my purchases very carefully. This will stay at the back of my mind though, and I would like to try more Scentered products too. Sometime in the future, that is.
Check Love Lula for Alteya Organics, Bloomtown & Geoganics
GREEN BEAUTY ITEMS I A NOT REPURCHASING 'COS THEY WEREN'T SUITABLE FOR MY NEEDS/ DIDN'T WORK FOR ME/ OTHER REASONS
OmPur Life Everlasting Facial Cream
Nothing wrong with this product, it is lovely, but due to it irritation my dermatitis patch (but not the rest of the skin) I am probably not getting it again.
Meta Pora Hydrating Mist
Lovely natural brand from Australia, this is available at Live Lin The Light. This has great ingredients, but the vitamin C in it seemed to irritate my dermatitis patch. It is a great product, just not for me. All my ladies with not uber sensitive skin (gents too), be my guest.
DrJackson's Everyday Oil
This was just "meh" for me, have not noticed any changes to my skin, plus it stayed oily on top of my skin, so I felt like the user experience and the performance was not there. I have tried so hard to use it up – I used it every day for more than a year as my under eye oil, but now I am well over it.
See matching Youtube video here:
TOTALS
Uhh, I might be regretting my decision to put this out in public already ?
Skincare – 10 products – 242.5€
Eeek! I want to go back to head-in-the-sand method!
Bodycare – 5 products – €124
Health & Wellness – 10 products – €145
Totals for this month – 25 products – €511.5
Definitely head in the sand from now on!
TOTALS PER YEAR SO FAR
Skincare – 14 products – 493.5€
Body care – 9 products – 185€
Hair – 1 product – 10€
Make up – 1 product – 28€
Health & Wellness – 25 products – 341€
Other – 5 products – 45€
Totals this year to date: 55 products – 1102.5€
Ok, I am ready to faint or have a stiff drink now! Never have I ever thought I am spending that much – eek! Don't show this to my husband, it is between us girls, ok?
Thanks for reading, I appreciate that. Now, Your turn – what have You guys finished lately? Have You ever budgeted what You are spending on skincare & stuff? Let me know, I want to hear from You.
Sending Love & Light,
Renata.