Hi Lovelies,
Welcome back! And welcome if You are new here xo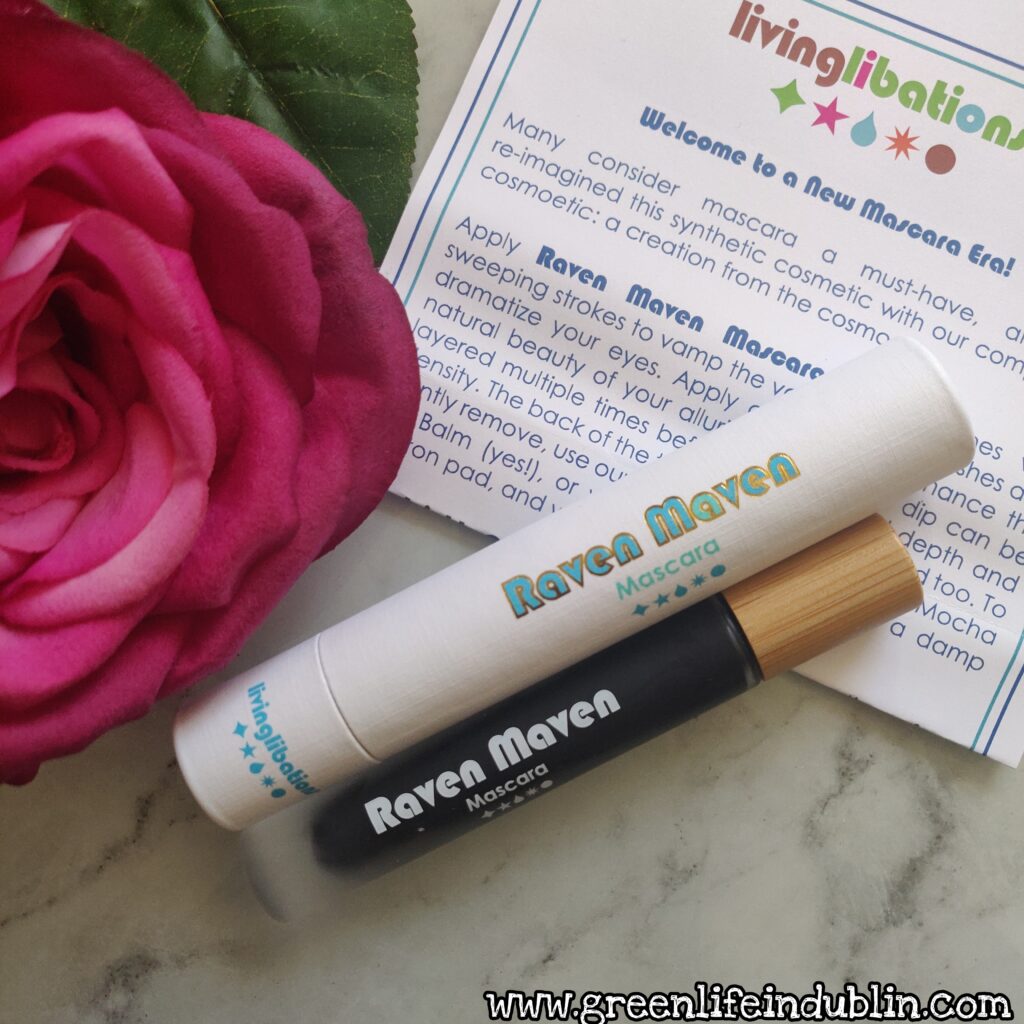 How are all of You, I hope You are well? Today I am coming at You with a first impressions of a newest product from a brand I absolutely adore, Living Libations. Want to know more? You are in the right place!
What do You do when the brand that has Your heart releases a new product? You want to know more, of course! You guys might know about my never ending love for the Living Libations, but if You are new here, I will link some of the blog posts with lots of more info to check out. Read up and be ready to fall in love with the brand. You will be pressed hard to find cleaner ingredients & products than this. And that's exactly why they have my heart!  See here for more on their philosophy. Beyond organic, beyond sustainable, beyond fair trade, just beyond!
So when You are reviewing something from the brand You love, it is nice in a way that I don't have to go and search the brand's credentials, ethos and background – I know they have hearts in the right places and are committed to everything I believe in. Knowing the quality of the ingredients Living Libations use I expected nothing short of awesome, and awesome I got! But let's not get too ahead of myself, let's see what Living Libations have to say of their new mascara?
"We're waxing poetic about what makes this maven mascara magnetic. The heart and soul of creating a lash-loving classic, besides pitch perfect charcoal, is how it hugs the lashes. Here the wax is key so that the mascara sets and is smudge free. To create this, wondrous waxes were mixed, melted, poured, and adored to find the golden ratio that would provide a silky sheath around each lash that seamlessly stays from dusk to dawn. In formulating, we found that by combining the varying melting points of a talented trio of waxes we could achieve a holy trinity of iconic lash effects: a lengthening effect with the high melting point of Carnauba's hard wax, the more malleable medium melting point of Beeswax that creates a curling-lift effect, and the low melting point of Bayberry Fruit's creamy, thicker textured wax for natural volume. To this trilogy, Cacao butter adds conditioning and cancels clumping. Frankincense and coniferous resins keep lashes glistening, and a cache of Kaolin clay keeps it thick. Plus, a measure of peptides further nurture future lash longevity — all fused in the obsidian hues of iron oxides to create this Renegade Beauty cosmoetic classic.
Typically, modern mascaras use coal tar for color, film-forming polymers and shellac derived from the bleached exudate of the lac insect for texture and set, plastic and nylon to make a lengthening gel, parabens as preservatives, and ammonium methacrylate, polyvinylpyrrolidone, and polyethylene derived from petroleum for stability and emulsion, Yet, when the cosmos provides such exquisite and effective elements to lengthen, strengthen, and darken our lashes, it is amazing that petroleum products and plastics are used instead.
Directions: Apply with sweeping strokes to the eyelashes. Focus on one lash-line at a time. Repeat, slowly sweeping brush through the lashes from root to tip before it sets. One dip can be layered multiple times onto lashes before it sets to build depth and density. The back of the top lashes can be coated too. It will wash away with water, yet a little oil will make the cleanup quicker and conditions lashes further. Use our Goodnight Oil, Seabuckthorn Best Skin Ever Cleansing Balm, Chocolate Mocha Lip Balm (yes!), or your fave Best Skin Ever on a damp cotton pad, and whisk it away.
Tip: Avoid pumping the wand and keep the lid on tight to keep air out and moisture in.
We wanted to formulate the cleanest mascara possible that is ophthalmologist approved, safe for contact lens wearers, and safe for sensitive eyes. After much research and experimentation, it was established that these two green beauty approved, eye-safe, and earth-safe synthetics (1,2-Hexanediol and Tropolone) make a clean and safe mascara worth wearing. Here's why: the mascara wand is brushed through non-sterile eye lashes and then put back into the container over and over again, which creates a unique microbial challenge and very real safety concerns that must have absolute answers. And using a fresh wand for every application would waste so much mascara that it isn't a viable solution.
These two extraordinarily effective ingredients are imperfect in that they are synthetic, yet they are heavily tested and established as harmless. Also, both Tropolone and 1,2-Hexanediol meet the clean beauty standards for the Environmental Working Group as well as the higher green beauty standards of the Detox Market and Credo Beauty.
Ophthalmologist Approved
Safe for Contact Lenses
Safe for Sensitive Eyes
Long Lasting
Volumizing + Lengthening
Let's see the ingredients?
INGREDIENTS: Water/Aqua/Eau, Iron Oxides (CI 77499), Beeswax, Stearic Acid, *Copernicia cerifera (Carnauba) Wax, Arginine, Pullulan, Propanediol, Methyl Hydrogenated Rosinate, Glyceryl Stearate, Pisum sativum (Pea) Peptide, Pentylene Glycol, Kaolin, Caprylyl Glycol, 1,2-Hexanediol, Xanthum Gum, *Theobroma cacao (Cocoa) Seed Butter, Myrica cerifera (Bayberry) Fruit Wax, Boswellia carterii (Frankincense) Extract, Sodium Phytate, Glycerin, Leuconostoc/Radish Root Ferment Filtrate, *Rosmarinus officinalis (Rosemary) Leaf Extract, Tropolone, Eucalyptol, Beta-Caryophyllene, Limonene, Linalool, Camphor, Carvone, Alpha-Pinene, Beta-Pinene. *Certified Organic.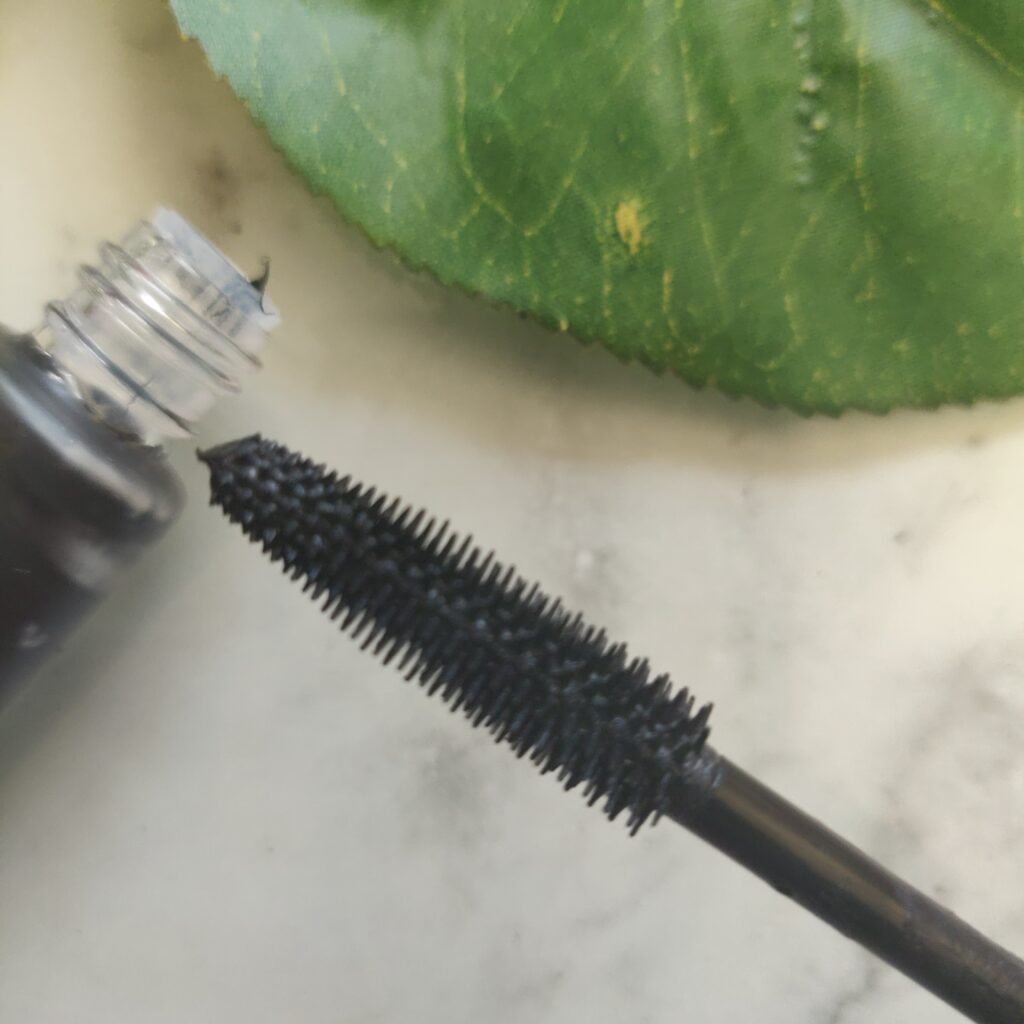 MY FIRST IMPRESSIONS OF IT:
Well, let's me just tell You that I didn't see my lashes this long, ever! Naturally I am "blessed" with short and straight lashes, plus very sensitive and runny eyes  – I cried off any conventional mascara as soon as I'd step outside back in the day. Natural mascaras are a tricky thing to formulate, so the products on the market differ wildly. I kissed a lot of frogs and found some good ones along the way, but finding new fantastic products is still something that gives me joy. You'd think I'd be jaded a decade into my green beauty journey, but no, I still love to happy dance once I find a good natural product. Does this makes me to happy dance? Yes it does! Bear in mind that this is a first impressions review, I will keep testing it over a few upcoming weeks and will keep You guys posted. As You can see in the photo above, it has this nice silicon-y bristles brush that's easy to navigate and coat all the lashes. It is very easy to take off at the end of the day, Living Libations recommend using their Goodnight Oil or Chocolate Mocha Lip Balm (yes, really) or Your favourite cleansing oil on the damp cotton pad.
So that's it for today, thank You for taking the time You chose to spend with me, I really appreciate it. Have You tried this Living Libations mascara yet? What about other Living Libations products, what are Your favourites? Please share, I would love to know!
CHECK THEM OUT AT:
Living Libations Online Shop
The Dutch Health Store
Live In The Light - 

use GREENLIFEINDUBLIN15 to save 15%
& other places
Sending Love & Light,
Renata.

see everything I own