Hi Lovelies,
Welcome back! And welcome if you are new here 💕💕💕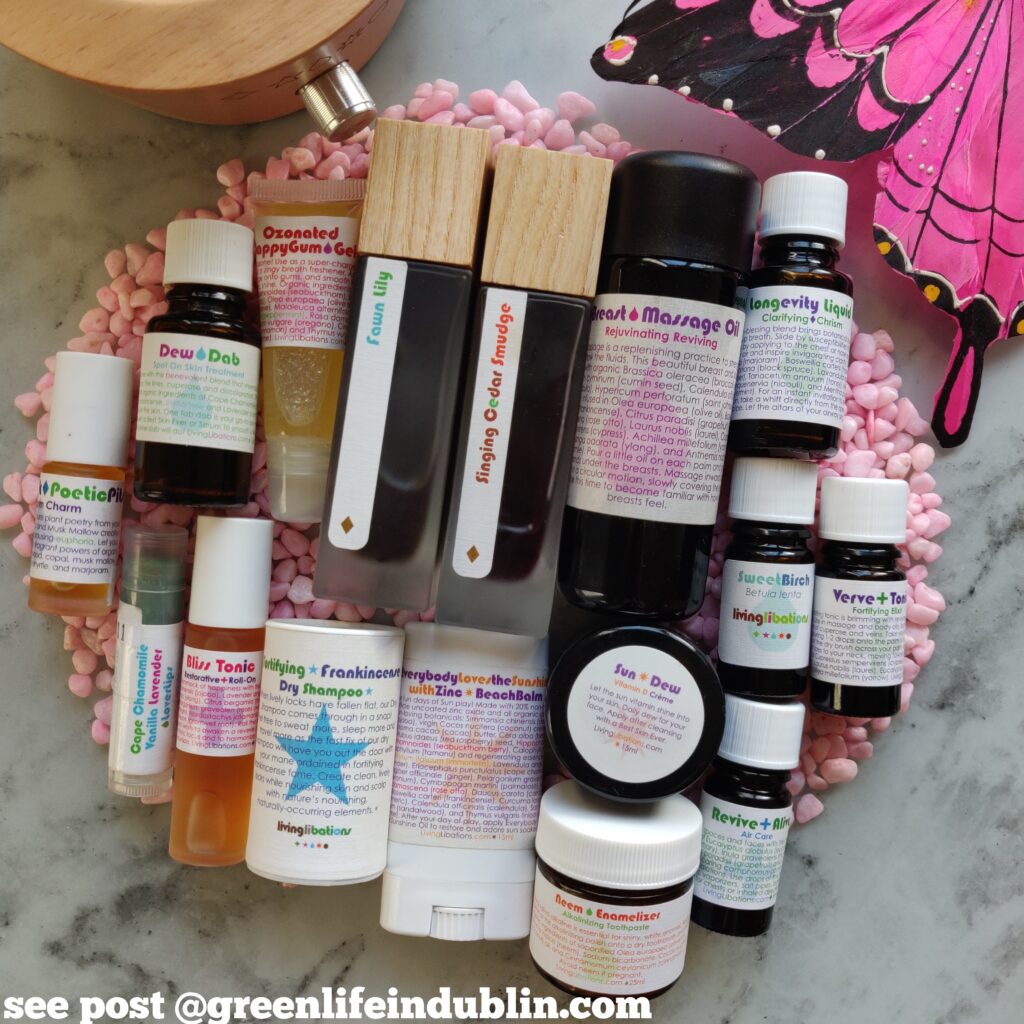 .
You guys know Living Libations have my heart (check this FB album for 10+ reviews & posts if you don't). I have been asked in IG to share my favourite products, so here I am reporting with my best Living Libations products! I defy you to read any of their products ingredients list and Not To Fall In Love with it! Nadine is a true visionary and committed to provide the most natural products & essential oils there is. Everything is as organic as possible, wildcrafted, raw as much as it is possible, reef safe, beyond fair trade, gluten free, GMO free, food grade, synthetic free and animal friendly – if that does not make your heart sing, I don't know what will!
Pst, did you know that they are offering 30mins complimentary skincare consultations?

ESSENTIAL OILS
This for me was the big draw to the brand – knowing the (highest) standards Nadine has, I can rest assured these are as pure as you can get. There are many and many single essential oils and a few blends available, we are enjoying Longevity Liquid, Revive Alive for respiratory issues and general upkeep of good health, Dew Dab for skin issues (review) for skin issues & Verve Tonic for my dry brushing. Prices start from 10$ CA, but I am happy to pay up  – in this case You get what You pay for!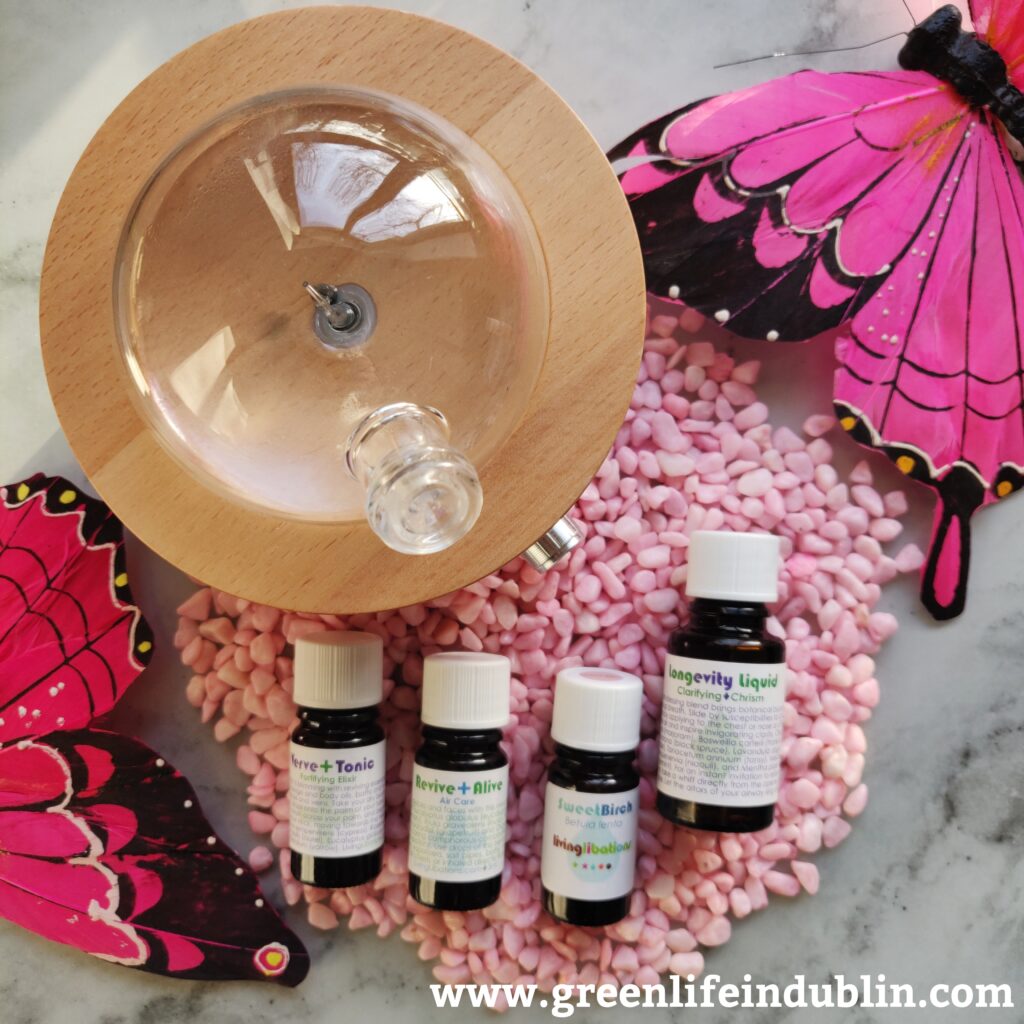 Nebulizing Diffuser
I chose it specifically because it is waterless diffuser, due to mold problems in my apartment. When I soon discovered I don't need to clean & dry it after every single use, it became an extra extra  favourite!  See review here.
EVERYONE LOVES THE SUNSHINE BEACH BALM WITH ZINC
What a name, huh? Say that three times fast 🙂 Love this product because it not only protects you from the sun, has the best ingredients you will ever see in the sunblock product – ever heard of sunscreen with Schizandra Berry Oil, Immortelle, Carrot Seed Oil, Rose Otto, Frankincense, Chamomile, Sandalwood? I am not even finished yet. Gentle enough for kids and so healing to the skin that it tackled my dermatitis patches with gusto when no other products could. Not kidding, not exaggerating – see review here. How can one not fall in love with the brand after experiences like this?
Poetic Pits
How about deodorant(s) made out of essential oils entirely? Now, tell me if your mind is blown? Because mine was. I didn't rest until one ended up in my hands & reviewed it to the best of my ability here. As a deodorant it needs a reapplication mid-day for me, but I don't mind – because it doubles as a perfume you guys! From poking around the blogosphere I learned that not all of them work equally, so now I want to try all the minis there is. Because they came out with them not too long ago – I think they call them Travel Pits?. I hope the minis will also have gemstones for roller ball like full sizes do?
Ozonated Happy Gum Gel
l am in love with their whole dental care line (post), but Ozonated Gum Gel is a true star in my opinion.The products are so pure and therapeutic, that they even recommend ingesting them after you are done swishing/ applying. More info on Living Libations site – don't forget to check out their blog section for vast information that will delight any of us.  In the midst of this plan-demic, pardon, pandemic l started getting a toothache and this was exactly the thing that helped it not to go into a full blown infection. l never want to be without it, ever.
True Blue Spirulina shampoo
One of the most natural and the best natural shampoos out there. Did you know it takes 6 weeks to make it? Me neither, until I started researching it. See review here, where I touch on Frankincense dry shampoo too, which is also going strong. Dry shampoo with probiotics? Yes please!
 Night Nectar Beauty Balm
I talk about getting it here, but, umm, l am talking only from first impressions standpoint of view – I remember it making my skin feel AMAZING the only two times I used it. Unfortunately soon after I lost it and can't find it, despite deep cleaning the house for weeks. House elves, if You are reading this, I would like to get it back please!
Sea Buckthorn Best Skin Ever
I feel this is what Living Libations are known for, and for a good reason I would say. You can use it as a oil cleanse or as a face serum. l am eyeing the Rose, Chocolate or Vanilla ones next.
Dew Dab
Another magical creation made entirely out of essential oils – aimed at treating all kinds of skin blemishes. Works great, smells great and lasts for months & months. Find full review here.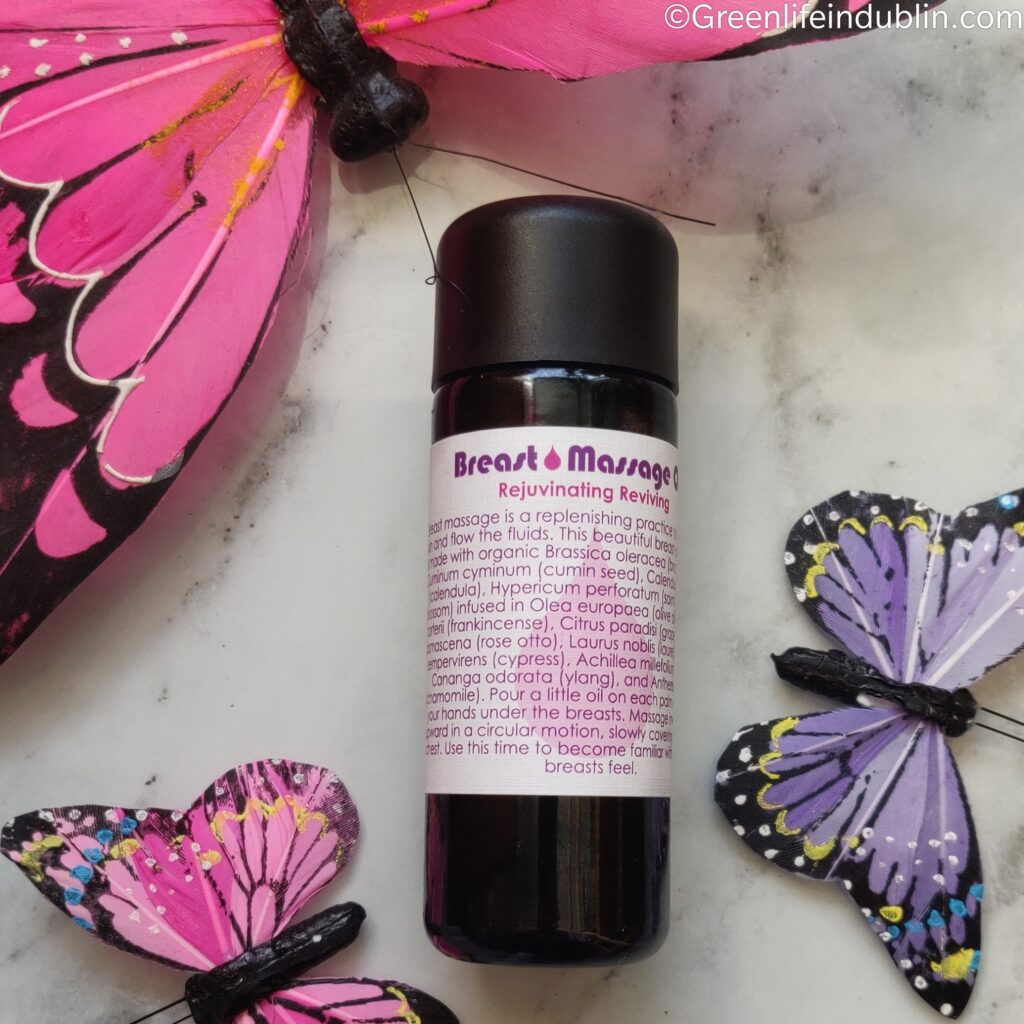 breast massage oil
I admit Breast Massage Oil might be a bit of an odd choice, but hear me out, there's a couple of reasons why I bought this product – for breast health reasons, not as extra pampering product, mind You. First of all, You might know my Mom battled & won breast cancer a few years ago, and long and heartbreaking journey aside, you are quite never the same person after, nor you are looking at breasts the same way either. My mom's cancer cause was estrogen dominance and I am in a weird spot in my life where hormones start going funny too, so when I found out it is possible to massage away excess oestrogen from the breasts (in Nadine Artemis Renegade Beauty book, no less!), my mind was blown and I immediately ordered the oil & reviewed it some time later here.
books
Speaking of Nadine Artemis books, she has two of them – Renegade Beauty & Holistic Dental Care. I can't say enough good things about both! Your mind will be blown multiple times, I can tell You that straight away. If You buy only one book this year, make sure it is one of those – You can thank me later 🙂
perfumes
One of the Libations strong points too! Potent, powerful, beautiful! Make sure to read the descriptions to find the one You like the most – or order samplers to try out first.  At the moment I am culling a lot of products from my life, but not these – these and all the Living Libations products are staying put!
Well, that is it, my favourites from what I have tried so far. I hope this helps someone to find their best products – I would be a very happy woman if it did.
Did I tell You about FREE Living Libations skincare consultations? Schedule yours here now ?
CHECK THEM OUT AT:
Living Libations Online Shop
The Dutch Health Store
Live In The Light - use GREENLIFEINDUBLIN15 to save 15%
Now, Your turn – have You tried Living Libations? What are Your favourite products?
See full list of my best products here:
That's it for today, thanks for reading! See You here next Tuesday if not sooner.
Sending Love & Light!
Renata.

see everything I own