Hi Lovelies,
Welcome back! And welcome, if you are new here xoxo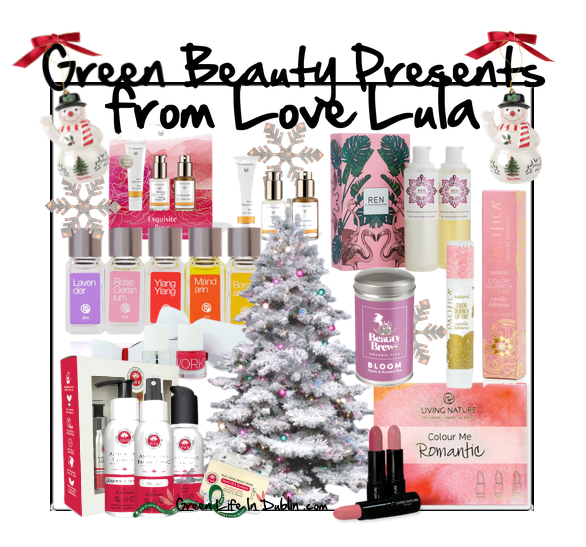 Are you guys ready for Christmas yet, shopping done and all? If you are, more power and respect for you! If you are like me, you still might have some bits and bobs to buy, so I thought I would give you some ideas for your Christmas shopping, would you like that? The main idea behind my blog is to be helpful to you guys, and what better way than recommending great natural products at all price points? Love Lula has great Christmas Shop here and here are my recommendations from it. I thought you might like the idea of getting all your presents in one shopping spree not leaving the house, and it is all delivered to your door? Me too! Oh, the joys of internet shopping! You can also rest assured everything you will pick is natural and cruelty free, with focus on organic ingredients where possible. All that, and the delivery is free worldwide for all orders above £15. Do I need to say anything more? I think not! One stop shop for all your needs. And no harming of bunnies or humans here. I will limit each category to five to seven items as not to overwhelm you, I hope that's ok.
*sadly Love Lula is no more.. Sob!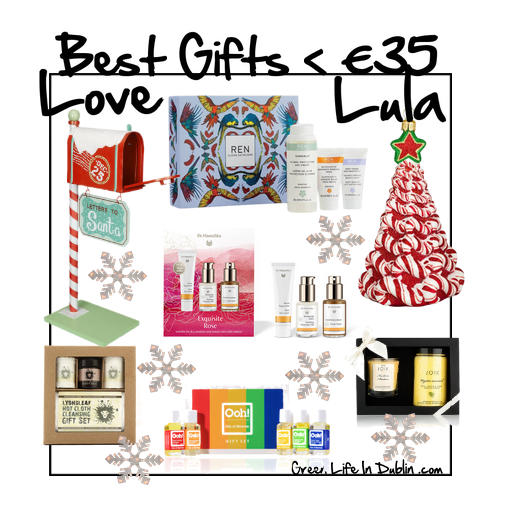 Best Natural Gift Sets under €35
⛄ DrHauschka Radiant Rose Gift Set
This lovely set includes their famous Rose Day Cream, which is easily my favourite face cream when it comes to products from Love Lula – as well as two deluxe travel sized side kicks, Soothing Cleansing Milk & Facial toner, both of which I adored too. All for the same price of the cream itself – how amazing is that? Find my review at the end of this post, and bear in mind it also comes in Light version too, which I also loved.
⛄ Ooh! Oils of Heaven Gift Set
This is a perfect set for someone who loves facial oils, and for someone who is new to them as well. Comes with five minis, housed in the cutest little bottles – my favourite is definitely rosehip oil, but you also get cacay, argan, moringa and marula oils. They last for ages too, so you will definitely get the feel of whether these oils are for you before investing in the full size of one of them. Retails for 20£ or just below 23€ for a box of five samples.
⛄ Madara Smart Glow Glow Enhancing Power Couple
Madara came out with a few different present sets this year, and they are packaged so cute, you will need no additional gift wrapping, promise! If you are into mud masks and facial oils, look no further than this set. If not, check out some of their other offerings 🙂
⛄ Walden Natural Perfumes Gift Set (5 x 5ml)
Walden is amazing natural perfume brand, and their A Different Drummer one shot straight into my Top Three Natural Perfumes of all times – and I loved it that much I bought it in a cute 10ml roller ball format too.  If you aren't sure which one you or your recipient would like, this gift set is a perfect present. There's a roll on set of all the perfumes too.
⛄ Kiss The Moon Love Sleep Recovery Set 
Hmm, I have to come clean here, I am adding this set purely for selfish reasons – I want this for myself! Primarily for that luxe eye mask, but I would be excited to try all those cute 5ml samples of oils too. Having tried a few bits from the brand I know they use high quality ingredients, their Love hand cream is something that made into my recent favourites, and the bath salts are dreamy. Love the brand's focus on good quality sleep – it is very important on so many levels – our bodies rejuvenate at a cellular level at night. If your budget is bigger, you might treat yourself to their full sized gift set, which includes the mask, the luxe hand cream, and bath salts I mentioned earlier, but also full size of aromatherapy soy candle and 5ml of face oil. If you love lavender scent, you will be in heaven!
⛄ Natura Siberica Oblepikha Hair Care Kit
For only £17.99 or €20.47 you'll get full sized 400ml Oblepikha shampoo and volume conditioner (450ml) as well as hair styling spray – not bad, huh?
Natural Beauty Gifts For A Luxury Lover
⛄ Jane Scrivner Firm Believer
This award winning range is taking green beauty world by storm and if you want to, a piece of it in a form of body serum can be yours for 49£. Choosing core performance oils and naturals to bring your skin back to fabulous condition. Oils for calming skin, oils for rejuvenating skin, creams for protecting skin, balms for cleansing skin, essential oils for performance and fragrance and much, much more. Formulated for great skincare results because there really is no other reason to apply. FIRM BELIEVER is a treatment oil for the body. The core oils blend to bring lustre, luminescence and glow back to your skin. The fragrant essential oils have a double effect. The blend including neroli, red mandarin and *bergamot is based on the original eau de cologne formulation derived from the French fragrance houses, but not only does this smell divine and is beautiful to wear, the therapeutic qualities of these essential oils are toning, skin softening and regenerative.
⛄ Dafna Skincare Nutrition Night Treatment
75£ for 50ml, but boy, let me tell you, I am enamored with this brand! Natural aromatherapeutic cream based on essential oils botanical extracts and the most advanced Biotechnology. The cream is designed to provide you with a unique feeling of relaxation, repair your skin cells and slow down skin's aging process. The cream contains 21 active ingredients of the highest quality and revolutionary in skin care, making our cream highly effective and unique. Our active formula includes antioxidants such as Ginseng and Green Tea, probiotics like Propolis, and skin's regenerators as Reishi and Rose Wood Bio essential oil. You will look and feel great! Won Beauty shortlist editor´s choice award on 2016 and a few other awards.
⛄ PHB Ethical Beauty Pressed Minerals 18 Piece Professional Palette
This palette features 18 pieces, and it's got  8 Eye Shadows • 4 Lipsticks • 4 Blushers • 1 Bronzer • 1 Finishin Powder. • Shades that suit all skin tones • For all skin types • Great for sensitive and acne prone skin PHB Ethical Beauty is a family business – 20% of profit goes to charity. Key Benefits: • 100% Natural • Vegan • Cruelty Free • Halal Certified • Gluten Free • Paraben Free • No Nano Particles • No Talc or Fillers • No Mineral Oils • No GM Ingredients. 69.95£ for 90gr of product
⛄ Esse Plus Ageless Serum
Probiotic skincare is all the rage at the moment, and this serum is what I want myself, so that is why I picked for this gift guide. This is something you might be a bit hesitant to buy yourself, but would love to get as a present, right? The firming and lifting effects of this age-defying serum are enhanced with long-term use. Inactivated probiotic Lactobacillus cells are added to stimulate the skin's production of β-defensins. These peptides shift the populations of microbes in the skin to favour beneficial species so that they can out compete pro-ageing species. Suma Root, Muira Puama Bark, and Madonna Lily extracts are used in combination to improve the strength of capillary walls and aid in tissue repair. Over time, skin firmness and youthfulness improve.
147£ for this magical potion, but it that is too pricy for you, Esse have many other products, starting from 14£, so you can pick and choose.
⛄ Neal's Yard Remedies Frankincense Intense™ Lift Age Defence Collection 
As I already mentioned, NYR as a brand holds a special place in my heart and I love everything about them – they do everything the way I like things to be done, all ingredients are not only sustainable and fair trade, but as organic as it possibly be. Frankincense as a skincare ingredient is a superstar when it comes to anti- aging, and reducing stress as well – fantastic on so many levels! Studies show that 84% of women agree inhaling the aroma of the Frankincense Intense™ Lift Serum helps them to feel more relaxed immediately†. 71% agree their eye area is visibly lifted after using the Eye Cream†. 75% agree their jawline feels firmer and cheeks more taut after using the Creamǂ. This set might seem like it is very pricy for a second – £175.00 or €199.16, but when you actually see that it contains Frankincense Intense™ Lift Serum 30ml Frankincense Intense™ Lift Cream 50g Frankincense Intense™ Lift Eye Cream 15g, it is actually a fair price. If your skin is ready for Frankincense, this is a fantastic gift that will last at least six months if not more with daily use. Plus NYR have Christmas gift packaging down to a T – the best around if you ask me. You definitely need no more packaging or wrapping materials, that's for sure!
FOR MEN IN YOUR LIFE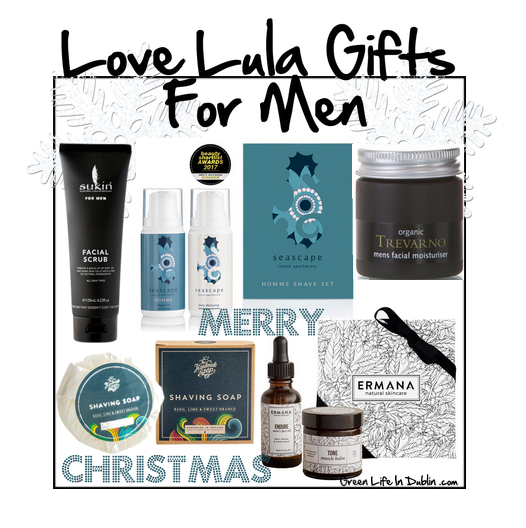 Natural Beauty Gifts For Men
⛄ Ermana Endure Men's Gift Set 
Let's start from the most expensive things in descending order with these men's gift sets shall we?
This Ermana gift set costs 45£ (or just above 50€) but it will give your man almost a year of use, I find facial oils and balms do last for ages! I picked this set because it is suitable even for most sensitive skins. All natural ingredients too.
⛄ Ceyx Travel Kit
Ceyx is brand aimed at men, they do natural grooming products enriched with petitgrain and patchouli oil. Ceyx is Vegetarian friendly / Cruelty free / Paraben and sulphate free brand. Ticks all the right box if you ask me. Mr Green Life In Dublin is testing this kit at the moment, but I find myself stealing products from it one by one – they are good and the smell of sandalwood is dreamy. Shh, don't tell! Review to come soon.
⛄ Handmade Soap Company Men's Shaving Puck Soap
Another bargain present for any man in your life that shaves already – designed to give close shave and packed with essential oils. The official blurb is too funny – it says it's citrussy lather boosts moisture and ego in equal measures! Priced at 7.95£ or 9.04€ – great budget option.
In addition to the brand mentioned above, I would also suggest looking into Be In Blossom, Natura Siberica, Neals Yard Remedies, Stop The Water While Using Me, Macho & Bling Unisex Skincare, Madara, Sukin  all those brands have some fantastic products for men. I would also suggest Terra Nova Supplements & Kiki Health for health related gifts!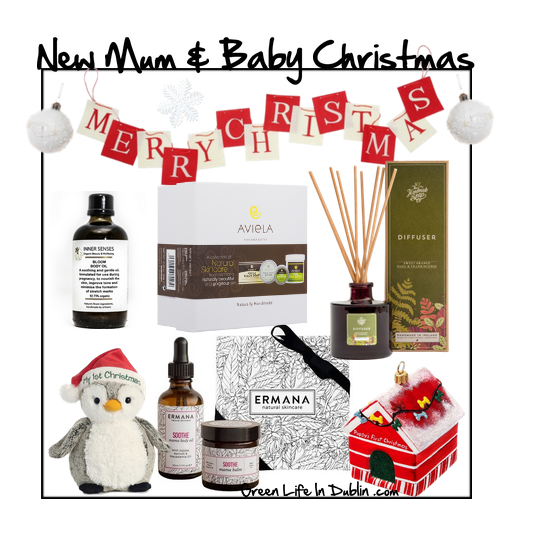 New Mum And Baby Christmas Gifts
⛄ Ermana Soothe Mama Gift Set
Ermana is a range of skincare products made from a blend of botanicals and all things natural. Products are all preservative free and contain no parabens, sulphates, artificial fragrances or colourings. Ermana is nourishing and hydrating nutrition for your skin.
44£ set contains 50ml Soothe Mama body oil and 60ml Soothe Mama balm
⛄ Inner Senses Bloom Pregnancy Body Oil
 This line of products created by aromatherapist Lissa Basso with 25 years of experience! I love love love their body oils (please see the review at the end of this post), so I imagine this pregnancy oil is equally impressive. Fantastic ingredients for sure! 26£
⛄ The handmade Soap Company Reed Diffuser
While candle seems like a good choice for a new mum, I would advise choosing a reed diffuser over a candle, for one simple reason. I don't know how about you, but I certainly didn't get enough sleep for the first couple of years when my kids were little, and I certainly didn't light any candles until they were at least 1. With all the sleep deprivation I was afraid I would burn the house down. Insert blushing emoji here. 24.95£
⛄ Aviela natural treatment collection
Aviela is a brand who uses wonderful shea butter as a base for all their products, and shea is something all mums and babies need, it softens and soothes the skin like nothing else. 35£ set contains Pure Shea Butter – 100g Shea Foot Butter Mini – 35g African Black Soap – 120g Pure Shea Butter Mini – 15g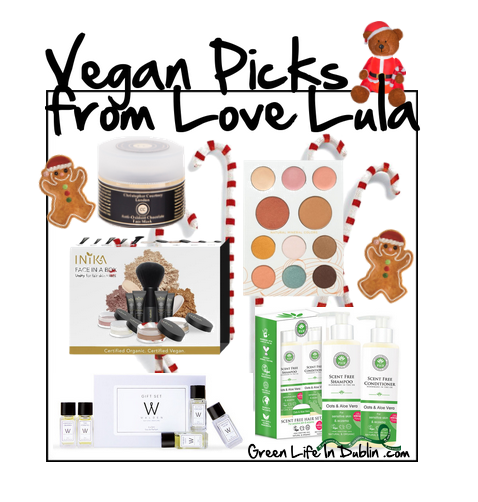 Natural Gifts For Vegans
⛄ Inika Face In A Box Starter Kit
49.95£ and you get everything you need for the perfect complexion. You get 8 pieces in the set, some full size, some samples, plus a brush and a bag. Inika is a wonderful vegan make up brand that holds a special place in my heart. Their products are amazing. Foundation, mascara and the Peachy Keen blush are one of my favourite green beauty products ever! Well worth checking out.
⛄ Phb – any gift set or product
All products are vegan, and the prices start al 3.95£
⛄ Pacifica Solar Colour Mineral Palette
For 33.99£ you get the palette that will give you multiple looks for every occasion! The Solar Complete Mineral Palette is a full set of eye shadows, blush, bronzer and coconut highlighters all in one beautiful, recyclable palette.
⛄ Cristopher Courtney London Antioxindant Chocolate Face Mask
Ultimate festive treat for your face! Value 43.95£
For tons of other vegan products, see here. Walden perfumes are also vegan. You will be spoiled for choice!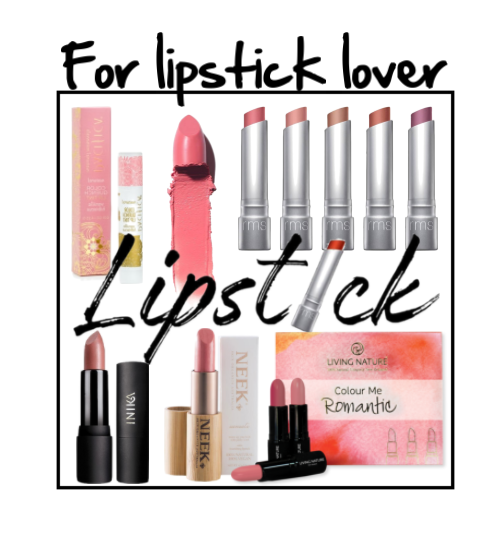 Natural Beauty Gifts For Lipstick Lover
⛄ Inika Lipstick, for example Nude Pink (18£)
⛄ RMS lipstick. Or two (30£ each)
⛄Neek Lipstick  (15£)
⛄ Budget option – Pacifica Lip Quench (7.50£)
⛄ Dozens of other lip products can be found here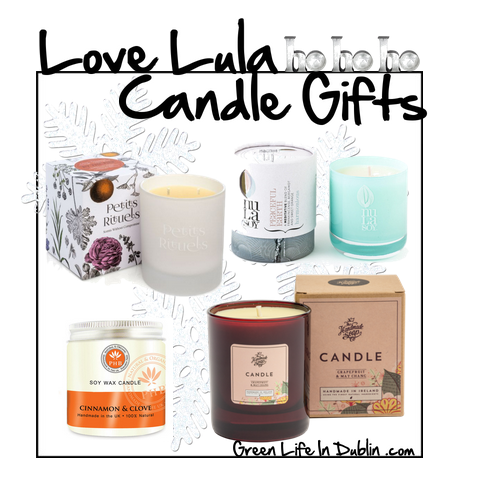 Natural Candles
⛄ Omnisens Paris Secrets De Massage Candles
Now, if you fancy a gift not only for your other half, but for yourself too, as well as a bit of a sexy time, why don't try this set of massage candles? You get tree candles in a cute box, all made with natural oils and without paraffin. The scents are musk, ginger and amber. Retails for 41.50£ or a bit over 47€
⛄ Nula Soy Peaceful Earth Alto Candle In Celeste
Comes in three sizes, larger one is 38£, middle one 24£ and the travel size is 14£, so you can pick and choose which one you want to try.
⛄ Nizou Relaxing Sandalwood Scented Candle
You had me at sandalwood! If that is not your cup of tea, there are other scents available. 14.90£
⛄ Petits Rituels Candles
 These have the most gorgeous packaging, you don't even need to wrap these! 36£
STOCKING FILLERS FOR UNDER 15€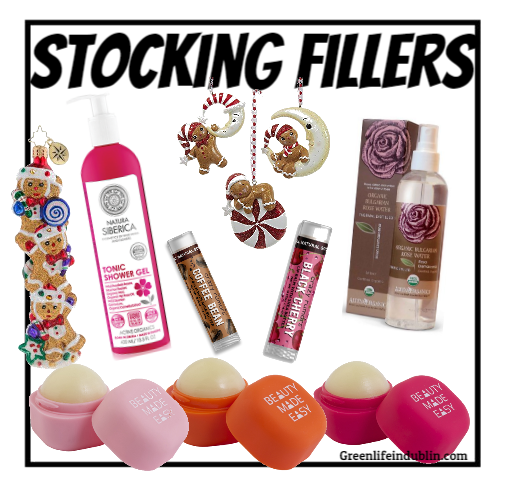 ⛄ Hurraw lip balms
I love all of them, but the Moon Balm is my fave, plus it is winter proof as well, so that is the one I am going to recommend. Priced for a bit less than 5£.
⛄ Organic muslin cloths
These are always handy, it is something I always appreciate as a gift. After all, the gift that you use every day is the best kind of gift in my opinion.Priced from 2£ for one from Lyons  or you can get a Balm Balm set of 3 for £9.
⛄ Pacifica Colour Quench Lip Tints
Great for someone like me, who wants a light wash of colour in their natural lip balm. Perfect everyday lip if you ask me.Retails for 7.49£ or 8.50€. Well worth it in my opinion.
⛄ Pure Chimp Matcha Tea
Matcha is a superfood in my opinion, full of antioxidants that we all need – ten times per cup than a regular green tea would have. It is my little everyday luxury, and I would be chuffed to get it for a present! Pure Chimp has three different sizes, and a few flavours as well, starting from  only £4.95 or around €5.63 for 20gr.
⛄ Glossworks Nail Polishes
These are always handy in Holiday period, even for someone like me, who does not wear nail polish for the rest of the year – there's something in the air that makes you want to get all dolled up for Christmas! 12£ each. Their cuticle oil is fantastic too.
⛄ Beauty Made Easy Cube Lip Balms
I find these cute little cube lip balms better than Eos, so all three of us gals have one each. You can never have too many lip balm, am I right or am I right?
⛄ Neal's Yard Remedies Nurture Winter Hands Wild Rose Hand Care Gift
NYR is a brand that is close to my heart and I am very impressed by everything about it, from company's ethos, to the products and their ingredients I've tried to date. Wild Rose and the Bee Lovely are my two favourite lines, and I've gone through countless tubes of their hand creams in the last few years. Sinks in quickly, great ingredients. Recommend.
⛄ Alteya Organics Facial Sprays
Alteya is the brand that captured my full attention as soon as they appeared on Love Lula – and I knew I was hooked from the first spritz of their Rose Facial Mist – see review below and keep your eyes peeled for more reviews coming! Try it for yourself too – you will know it is a real deal in an instant. If you are not a rose scent fan, I still recommend you try it, because Alteya's products smell of authentic rose, the way it should be – not synthetic sickly sweet or that musty "grandma's house" rose scent you might have sniffed in some shops. Other type of facial mists available as well.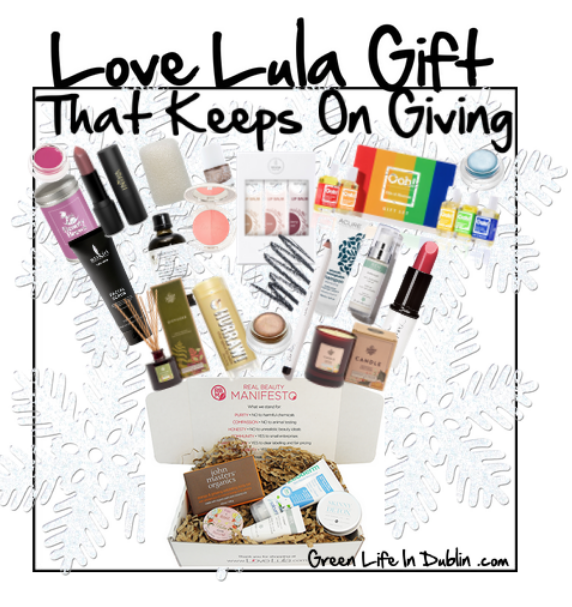 The Gift That Keeps On Giving
One more option I would suggest for a gift is a wonderful Love Lula Beauty Box – the recipient (or yourself) will get a beauty box full of natural and organic products each month -that's the only beauty box I am getting and it feels like Christmas come early each time! The value is always more than 50£ and you are guaranteed to get at least 2-3 full sized products in the box. So it is well worth it, the value far exceeds what you pay for. And don't you love the idea of a gift that keeps on giving for the whole year? To see what products came in the previous boxes please peruse my FB Love Lula album here.
*Update a few days later – I just noticed Love Lula Christmas Selection Box pop up on the website too – almost 80£ value for only 55£. It has Walden, Ooh Oils of Heaven, Balm Balm and Hurraw products, all of which can be seen here -don't you think you deserve that treat for yourself? You have been good all year, and didn't just you compiled all this huge present list for everyone else? Think about it 🙂
Related Posts:
DrHauschka Rose Day Cream Review
Walden Natural Perfumes Review
Alteya Organics Facial Sprays Review
My Love Lula Must Haves or Blogger Recommends
Five Current Love Lula Favourites (Kiss The Moon Hand Cream)
Be In Blossom Black Coral Serum Review
I hope You found this helpful! Happy Shopping my darlings xo
Lots of Love
Renata.

Enjoy my content? A  tip into my PayPal Tip Jar -  will get You my eternal gratitude and more awesome green beauty reviews Your way! I weed out all the greenwashing products so You won't have to.