Hi Lovelies,
Welcome back! And if you are new here, welcome ???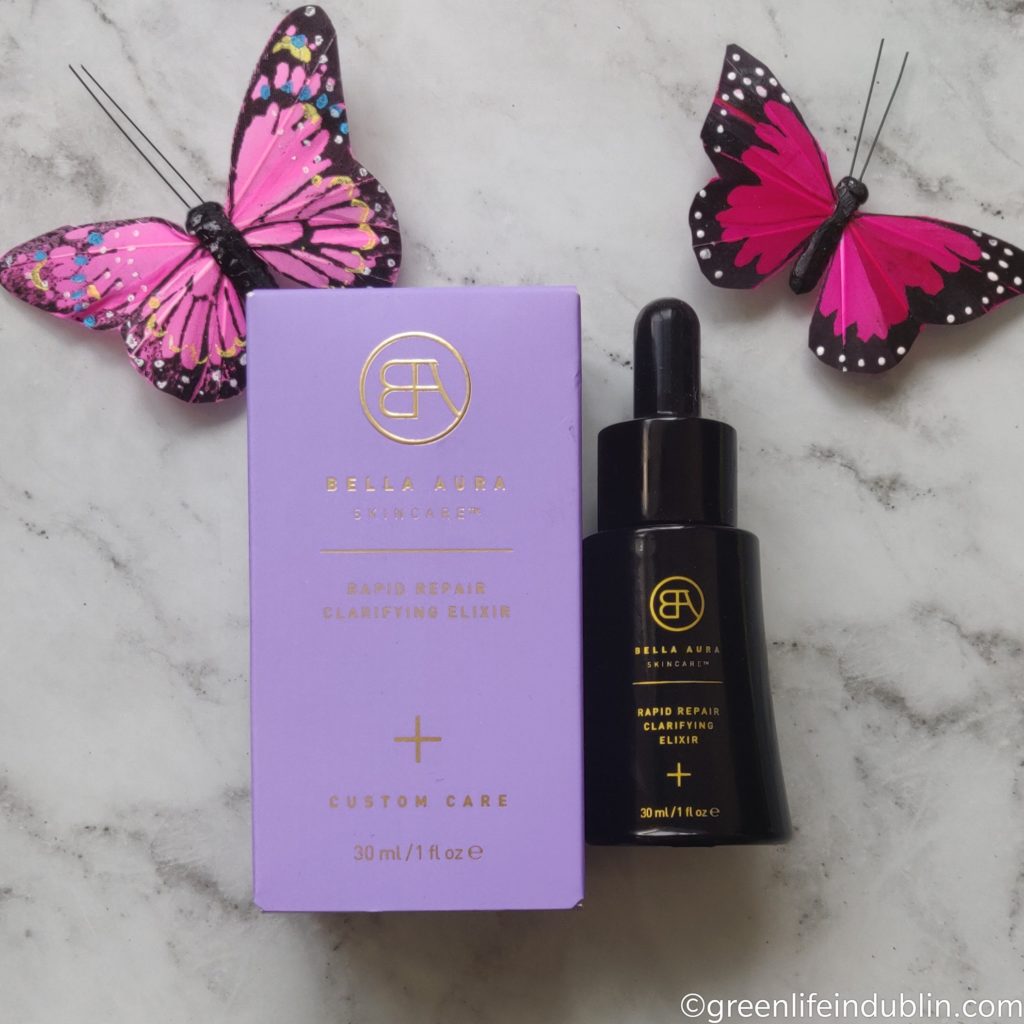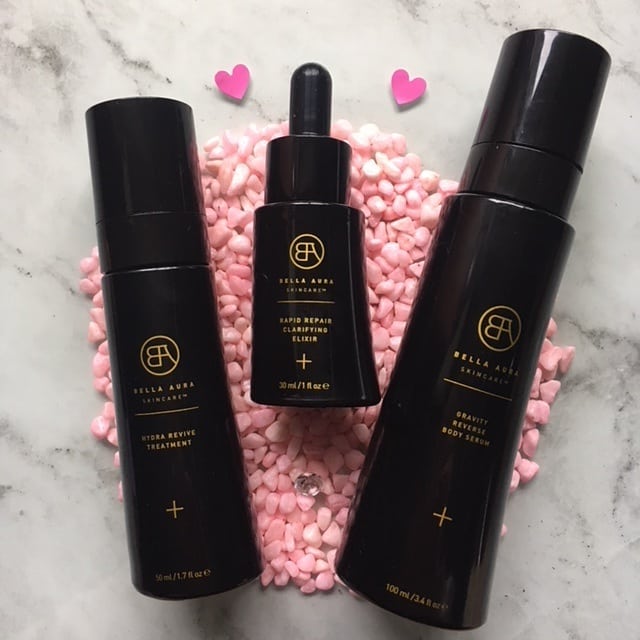 If your skin is (winter) stressed as mine, I have just the BEST thing for you! Please step forward Rapid Repair Elixir by Bella Aura*. This product is a part of not-so-newly launched Custom Care Collection that came out just a couple of months ago, and as one lucky duck I am, I got the privilege to try it. (therefore I should mark it as an #AD). As we all know, my love for Bella Aura Core Collection has no bounds (see here), and I touched on it in this Custom Care First Impressions Review here, and now that I  have tested/ used it for a couple of weeks already, I can give you more rounded review. So shall we begin?
So what exactly is Rapid Repair Clarifying Elixir?
It is a multifunctional antimicrobial elixir that is packed full of skin loving ingredients, is deeply clarifying, soothing, and hydrating, and is expertly formulated to calm inflammations and redness, diminish and prevent future breakouts, and replenish moisture. Gentle enough for the most sensitive complexions, this serum consists of concentrated antioxidants from Norwegian spruce, micro silver, rosemary, blackcurrant seed oil, and sunflower seed oil. 8-in-1 Benefits – it targets inflammation, acne, dehydration, redness, congestion, itchiness, eczema, hyper-sensitivity. Well, hello, that's me in a nutshell!
Let's look at the ingredients in it first, and then I'll tell you all about my user experience, aka whether or not it actually works?
INGREDIENTS:

Purified Water/Aqua/Eau, Capric / Capric Triglyceride, *Carthamus Tinctorius Oleosomes, Propanediol, *Octyldodecanol, *Ribes Nigrum Seed Oil, *Picea Abies Extract, *Helianthus Annuus Seed Oil, *Cardiospermum Halicacabum Flower/Leaf/Vine Extract, *Rosmarinus Officinalis Leaf Extract, *Silver, *Helianthus Annuus Seed Oil Unsaponifiables, *Tocopherol, *Gluconolactone, *Helianthus Annuus Seed Oil, *Microcrystalline Cellulose, *Cellulose Gum, Xanthan Gum, Caprylhydroxamic Acid, 1,2-Hexanediol, *Sodium Benzoate

*ECOCERT or COSMOS Listed ingredient
As you can see from the ingredients list, it is an emulsion format again of purified water, gorgeous oils and extracts. This is another product I was dying to try and for a good reason – it has a highly concentrated antioxidants from Norvegian Spruce extract, as well as other amazing ingredients of course, but hear this – ten drops contains the same concentration of Lignans as the following:
50 cups of green tea?
100 cups of tomatoes ?
510 cups of lettuce
1800 cups of apples ?
70 cups of oranges ?
30 cups of cauliflowers
150 cups of onions
40 cups of cherries ?
160 cups of cabbage
50 cups of strawberries ?
40 cups of kiwis ?
77 cups of oats
Powerful antioxidants 24x more than flaxseeds
Norwegian Spruce is an antioxidant and is rich in lignans and polyphenolic compounds, which have proven strong free radical scavenging properties to fight against a multitude of different ROS.
Micro Silver supports aging, sensitive, irritated and inflamed skin in its regulation process and in protecting a stable skin flora. It aids in therapy for the recovery of atopic skin conditions, allergic irritations, diabetic skin, age-related skin problems.
Swiss Bio-Actives are highly effective in alleviating stressed, sensitive and irritated skin. The outstanding properties of Blackcurrant Seed Oil and Balloon Vine Extract in combination with Sunflower Oil reduce inflammatory processes and replenish the damaged skin barrier. The botanicals soothe various forms of skin irritation, markedly relieve dry, itchy, allergy-prone skin, and give those with eczema a new lease of life.
This product is a bit different from the others in terms of colour and smell – as you can see from the photo, it has a slightly darker than white colour, almost grey, and the smell isn't of neroli like the other products. I actually like the smell, it is slightly herbal and forest like, it is like you would take a walk in the pine forest in sunshine and absorb all the smells around you. The texture is the same as all the other products, might be ever so slightly thicker, but it sinks in within seconds, leaving no residue, no tight or uncomfortable feeling or anything of that sorts. I am happy to report I had none of the initial reactions, and my skin is uber sensitive! It actually holds up alone if I use instead of moisturizer, and it carries me through the day beautifully on it's own. As many of you might know, I was testing /judging for The Beauty Shortlist Awards 2019 (see here) – so let me just say that my skin wasn't happy with me for testing so many products. And this Elixir, as well as the whole Core Collection is what helped me to nurse my skin back to normal! Seriously, if it helped me in these circumstances, imagine how it would help your skin too. I also use it as a spot treatment too – it truly helps them go away faster.
To sum it up – my final thoughts on it – it is a big YES from me!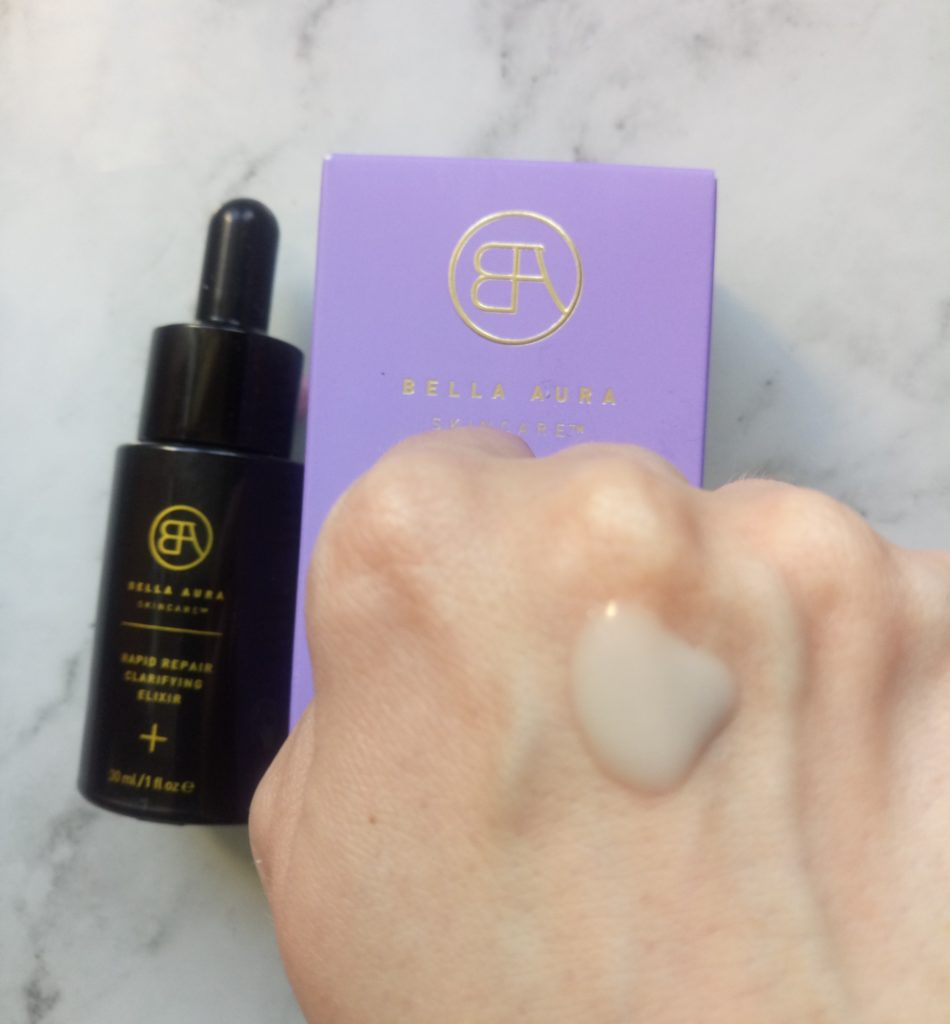 A few words about Bella Aura as a company – Bella Aura line came about when Yasmine Jones, the creator of the line, was suffering from deteriorating skin & acne scars after going through a traumatic experience with her mother's battle against leukemia (You can read her full story on Bella Aura website, link at the end of this post). After spending thousands on skincare products and consulting with skincare specialists, she found nothing was working to improve her skin. It was during a trip to Morocco that she met a prominent chemist/herbalist who believed that his oils would help her skin and after months of trying them, she began to see her skin improving. Yasmine wanted to add active ingredients to these oils, and with the help of Swiss skincare technology, Bella Aura line was born. According to Yasmine, most skincare regimens incorporate both serums and creams in order to balance out the advantages and disadvantages of each. By combining them into an emulsion for Bella Aura's blends, the best of both is fused into one.
Bella Aura is proud to source the ingredients from ethical and fair trade farms and artisan producers. All products are certified cruelty free and have high percentages of organic ingredients. I always knew Bella Aura is a fabulous brand, and I am happily witnessing it collection various awards and certifications – don't just take my word for it, check their social media! Natrue and Nagoya compliant, Halal certified and bear both Ecocert and Cosmos certifications, no less. Bella Aura bioactives are made with Swiss actives blended from ancient traditions, which are also certified Halal, Ecocert, Cosmos, Natrue, and Nagoya. Products are based on botanical extracts of plants, herbs, and trees and the protein content in their roots, leaves, flowers, fruits. They are 100% natural botanicals and biologically advanced ingredients essential to healthy skin.
The Swiss laboratory that Bella Aura partnered with is an international family business based in Switzerland that has been operating for over 75 years. As an innovative technology company, they supply demanding industries with natural and organic raw materials. They combine high-quality products, in-depth expertise and comprehensive services to offer their customers tailor-made integrated solutions. They think long-term, respond quickly, take a cooperative approach and are prepared to enter into and stand by commitments. They assume social and cultural responsibility and trust in the ability and loyalty of their employees and business partners. If that doesn't make you happy, then I don't know what will?
This product was included in the worldwide giveaway I did in collaboration with Beauty Wise Shop on IG – we gave away the whole new Custom Care collection. What can I say? It pays to follow me on social media, so make sure you do 🙂 I am sure there will be more amazing giveaways to follow, but if you don't want to wait and leave it to chance, I have some good news for you too – If you are interested in trying this or any other Bella Aura  (and we both know you want to), here are some more good news – you can save 15% off them with my ambassador code "Renata15", so make sure to use it at the checkout at BellaAura.com . They ship worldwide!
You can get 10% off with my "Renata10" (affiliate) code shopping at Beautywiseshop.be. (shop no longer exist)
*Update on why I no longer stand by this brand, even though I still think their products are fantastic here, scroll down to the very end.
How about you? Have you tried Rapid Repair Elixir and what are your thoughts on it?
Please like and share my posts on social media, it really helps to get the green beauty word out – and you will forever have my gratitude!
Follow me on
That's it for today, see You here next Tuesday xo
Lots of Love,
Renata.