Hello Lovelies,
Welcome back! And if you are new here, welcome xoxo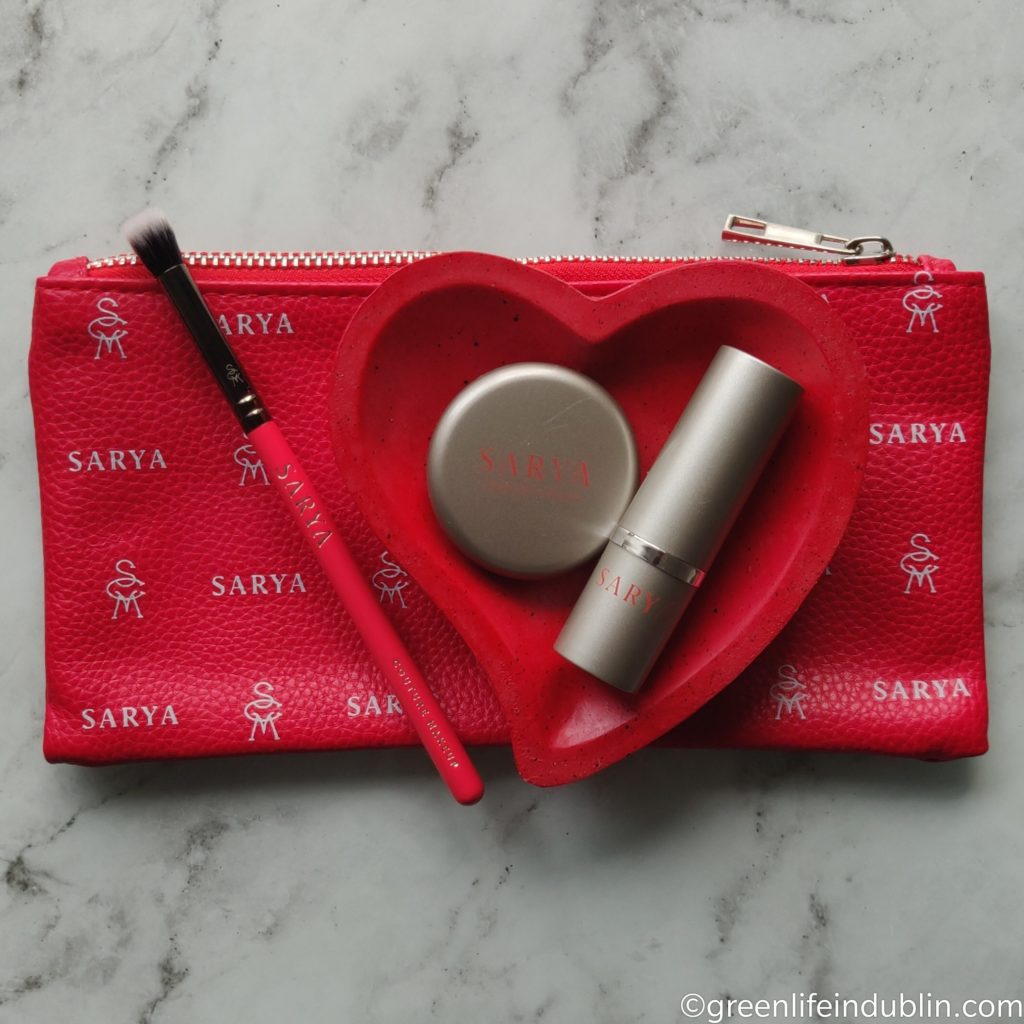 How are all of you, I hope you are well?
I had my eye on Sarya Couture MakeUp as soon as the brand appeared in Love Lula* – it is a couture cosmetics line created with the finest natural and organic ingredients, so naturally it called my name. Imagine my delight when Love Lula asked me if I'd like to try some of the products – are you guys kidding me, yes please! After a little while of testing the products, here I am with my first impressions review and a make up look. Want to know more? You are in the right place!
*sadly Love Lula is no more…


Sarya Couture Make up was found by two women Claudia Negru and Teodora Saguna, who wanted to create a makeup line natural and pure for the conscious woman seeking a beauty brand that she can fully rely on.
Fortunately they don't see clean beauty as a trend, but rather becoming a standard in the industry. We believe that all women should be more conscious and responsible of what they are putting on their skin.
Made in Italy, a country well known for producing quality and luxury goods, initial makeup line launched in the summer of 2018, includes lipsticks, eyeshadows and a set of 100% vegan brushes traditionally crafted from wooden handles and pure vegan Taklon hair. It took them more than 2 years to develop the brand, from product research and testing, to design and they are proud to be certified Organic (by Cosmetici Biologici) Gluten Free and Cruelty Free (by PETA organisation).
INGREDIENTS THAT WORK
Sarya uses natural and organic ingredients such as:
• Coconut and Beet Oil as an excellent moisturizer for skin and lips
• Palm butter to create a creamy feeling for our products
• Diatomaceous flour, derives from the fossilized fragments of aquatic algae. Thanks to its micro porous structure, it has good 
absorbent power and contributes to the demi matt effect of our lipsticks
• Bio Shea Butter which is rich of natural Vitamins A, E and F
• Karanja oil that has bactericide properties
• Avocado oil that acts like a perfect moisturizer action
Their products are:
• Certified organic (eyeshadows)
• Certified cruelty-free
• Free from Parabens
• Free from Petrochemicals
• Free from preservatives and synthetic fragrances
• 100% Organic or Vegetarian
I have received a Vanilla eye shadow*, Pure Vanity lipstick*, Eye Blender brush* brush and it all came in vegan leather make up bag*. The brand promises the products that are easy to wear, moisturizing due to selected certified ingredients and long lasting –  the perfect mix of couture design, natural formula, beautiful shades and long lasting finish. I have to say I agree with this statement and I am very happy with the products I have got – all of them proceeded to live in my make up collection, which is not always a case when I get some new make up goodies. The products are easy to apply, pigmented, easy to wear and they last well – what's not to like? Shall we look into the ingredients? *PS – be sure to double check the ingredients if you are a vegan, some products do contain carmine.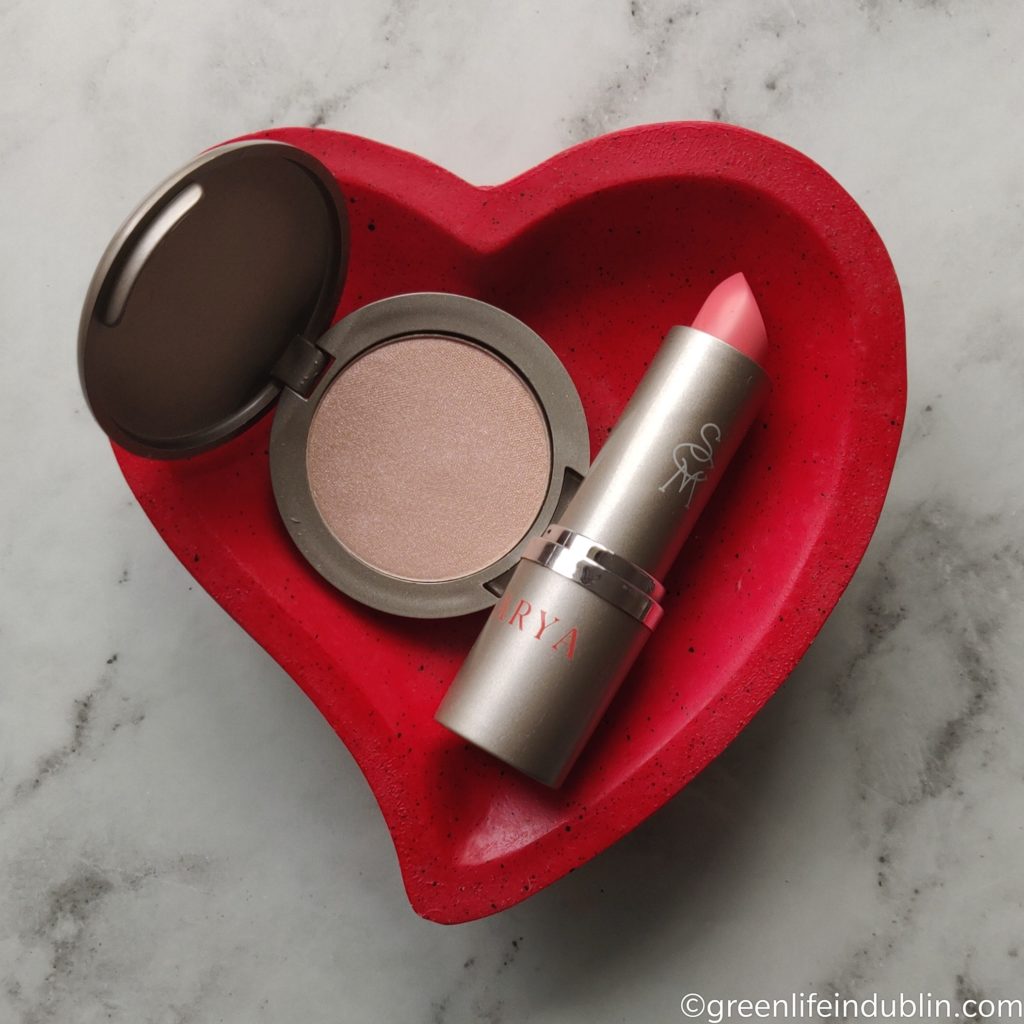 Sarya Couture Makeup Organic Eyeshadow – Vanilla
Ingredients: certified organic, 100% natural and bio ingredients. Contains luxurious, organic ingredients such as: Bio Shea Butter : rich of natural Vitamins A, E and F, Karanja oil: bactericide properties, Avocado oil: moisturizer action MICA, ZEA MAYS STARCH (ZEA MAYS (CORN) STARCH)*, SQUALANE, ZINC STEARATE, GLYCERYL CAPRYLATE, TOCOPHEROL, SILICA, BUTYROSPERMUM PARKII BUTTER (BUTYROSPERMUM PARKII (SHEA) BUTTER)*, PRUNUS ARMENIACA KERNEL OIL (PRUNUS ARMENIACA (APRICOT) KERNEL OIL)*, PERSEA GRATISSIMA OIL (PERSEA GRATISSIMA (AVOCADO) OIL)*, PONGAMIA GLABRA SEED OIL, MACADAMIA TERNIFOLIA SEED OIL*, MAY CONTAIN +/-: CI 77891 (TITANIUM DIOXIDE), CI 77491 (IRON OXIDES), CI 77492 (IRON OXIDES), CI 77499 (IRON OXIDES), CI 77510 (FERRIC FERROCYANIDE), CI 77007 (ULTRAMARINES), CI 77742 (MANGANESE VIOLET), CI 75470 (CARMINE) *From organic source
Sarya Couture Makeup Vegetarian Lipstick – Pure Vanity
Ingredients: Vegetarian product. Contains luxurious, natural ingredients such as: - Coconut and Beet Oil: Provides smoothness and a light skin feel on the lips - Palm butter: merging into body temperature, it gives a dark and creamy feeling - Diatomaceous flour: it derives from the fossilized fragments of aquatic algae. Thanks to its microporous structure, it has good absorbent power and contributes to the demi matt effect RICINUS COMMUNIS SEED OIL;TRIETHYLHEXANOIN;ISOAMYL LAURATE;CAPRYLIC/CAPRIC TRIGLYCERIDE;SYNTHETIC BEESWAX;MICROCRYSTALLINE WAX;SYNTHETIC WAX;TRIBEHENIN;C10-18 TRIGLYCERIDES;POLYMETHYL METHACRYLATE;STEARALKONIUM HECTORITE;AROMA;POLYHYDROXYSTEARIC ACID;ISOAMYL COCOATE;DIATOMACEOUS EARTH;PROPYLENE CARBONATE;1,2-HEXANEDIOL;CAPRYLYL GLYCOL;LECITHIN;DIETHYLHEXYL SYRINGYLIDENEMALONATE;TOCOPHEROL;ASCORBYL PALMITATE;CAPRYLIC/CAPRIC GLYCERIDES;CITRIC ACID ± CI 15850, CI 77891, CI 77492, CI 77491
Want some swatches? Here you go, anything for you guys!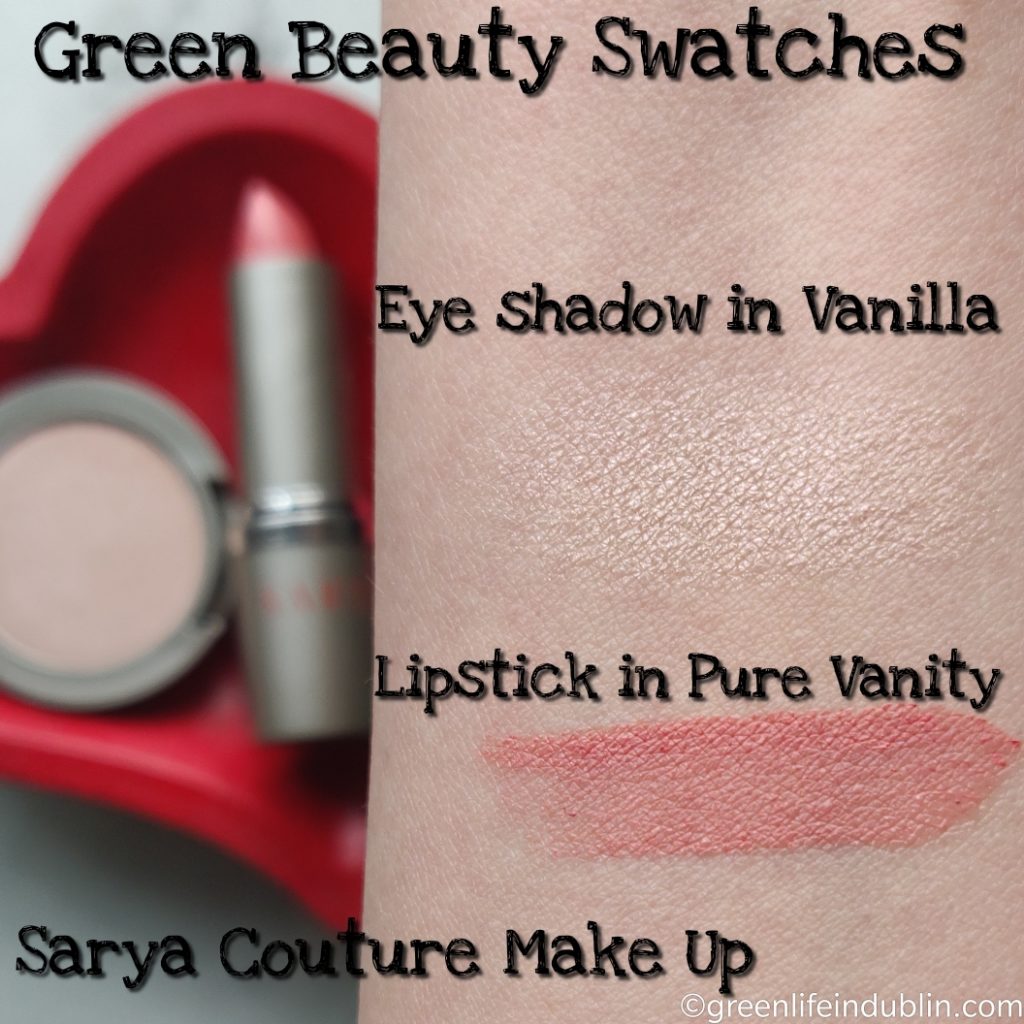 Here's the make up look I came up, I hope you like it? I myself am loving it! As per usual, the photo was taken in a natural daylight and untouched in any way – no filters, no photoshop. Not the easiest thing to do in these times, especially if you are on the wrong side of 30's and have dermatitis prone skin. That's how much I love you guys, I want you to see how the products look in real life and not hide behind a filter to show touched-up-glossed-up and thus not real me.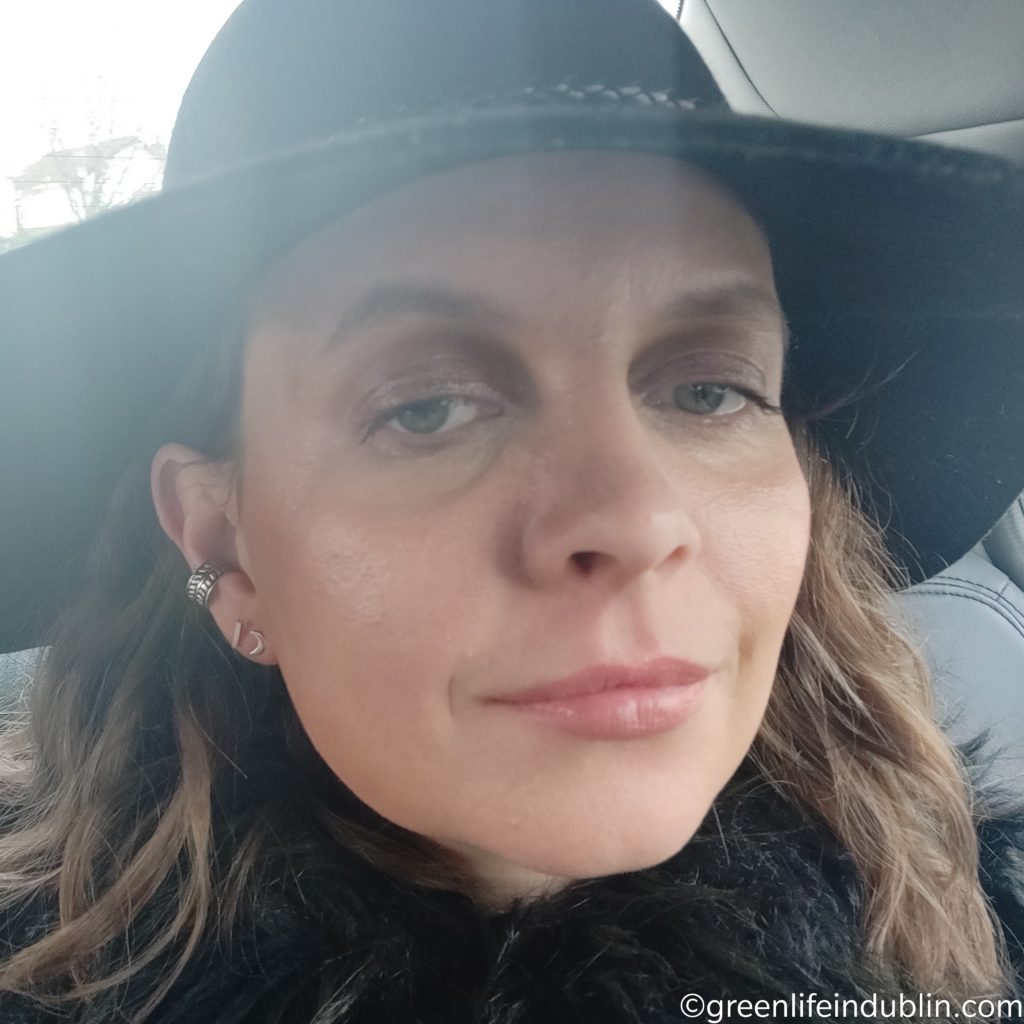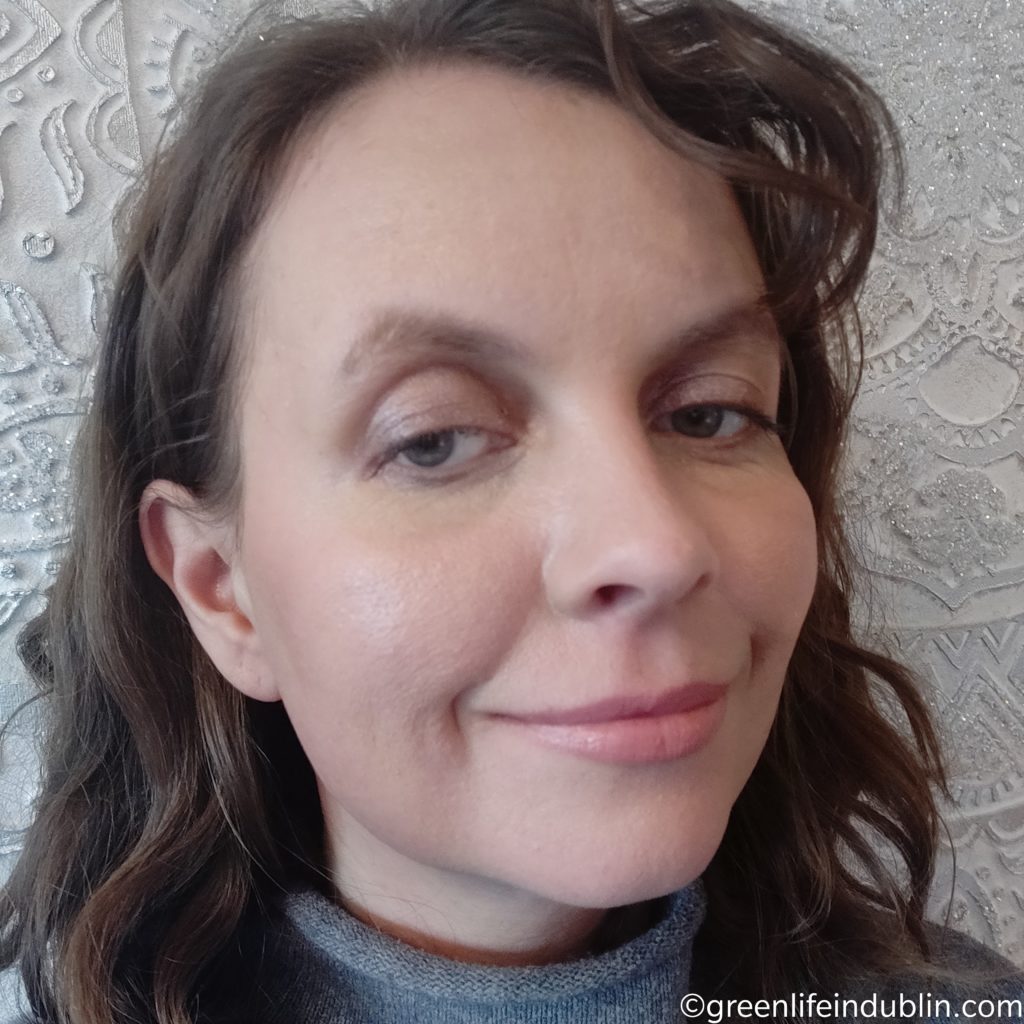 So what are my final thoughts on Sarya Couture Make Up? As you can tell from my smile, I am clearly happy with the look I created, and I love the products too – pigmentation is way better than some other brands, so that makes them worth the price in my mind. Ingredients are great, maybe apart from carmine (which took me a long time to get used to it) and I am really happy with the products in overall. If you asked me to nit pick and find any negatives, it would be a hard thing to do, although one thing comes to mind – the names of the products are printed on the boxes but not on the packaging, so unless you are very good at remembering the names of all your products, you might have to go back to the website to double check the name of your lipstick you are wearing – I know I did 🙂 And maybe, just maybe the products could do with a bit of more luxurious packaging down the line? It is fine as it is, but it doesn't strike as couture to me – please don't hold that against me, we are all entitled to our own opinion 🙂
There you go, my very honest review of the Sarya Couture Makeup! I will make sure to pick up a few more products from the brand and I am certainly keeping an eye on the brand – if they will release more products in the future, I want to know!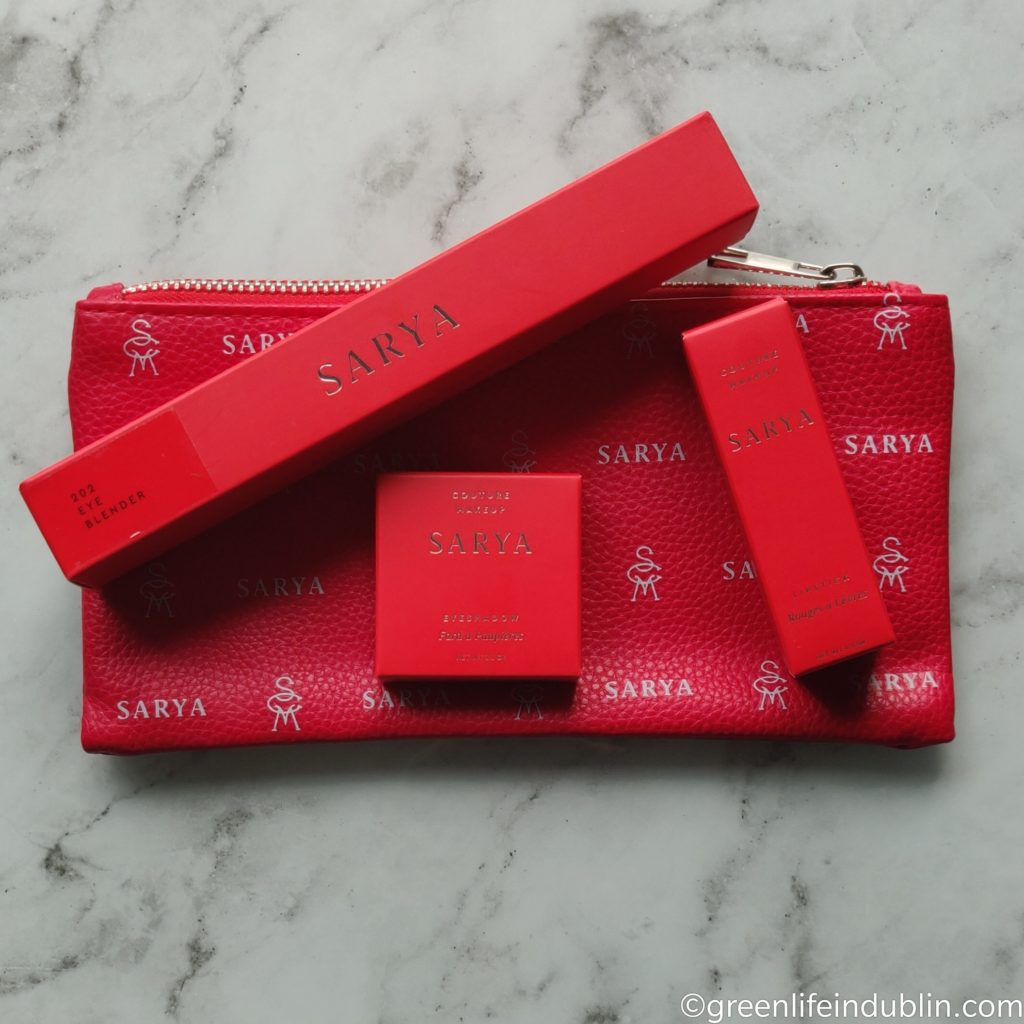 Now, your turn – have you tried any of Sarya Couture Make Up? How did you like them? Please share, I would love to know.
Please like and share my posts on social media, it really helps to get the green beauty word out – and you will forever have my gratitude!
Follow me on
Thanks for reading and see you here again next Tuesday xo
See my last Love Lula related post here - My February Love Lula picks, Weleda, Tabitha James Kraan & Nature's Wish.
Lots of Love,
Renata.

Enjoy my content? A  tip into my PayPal Tip Jar -  will get You my eternal gratitude and more awesome green beauty reviews Your way! I weed out all the greenwashing products so You won't have to.