Hi Lovelies,
Welcome back! And welcome if You are new here xoxo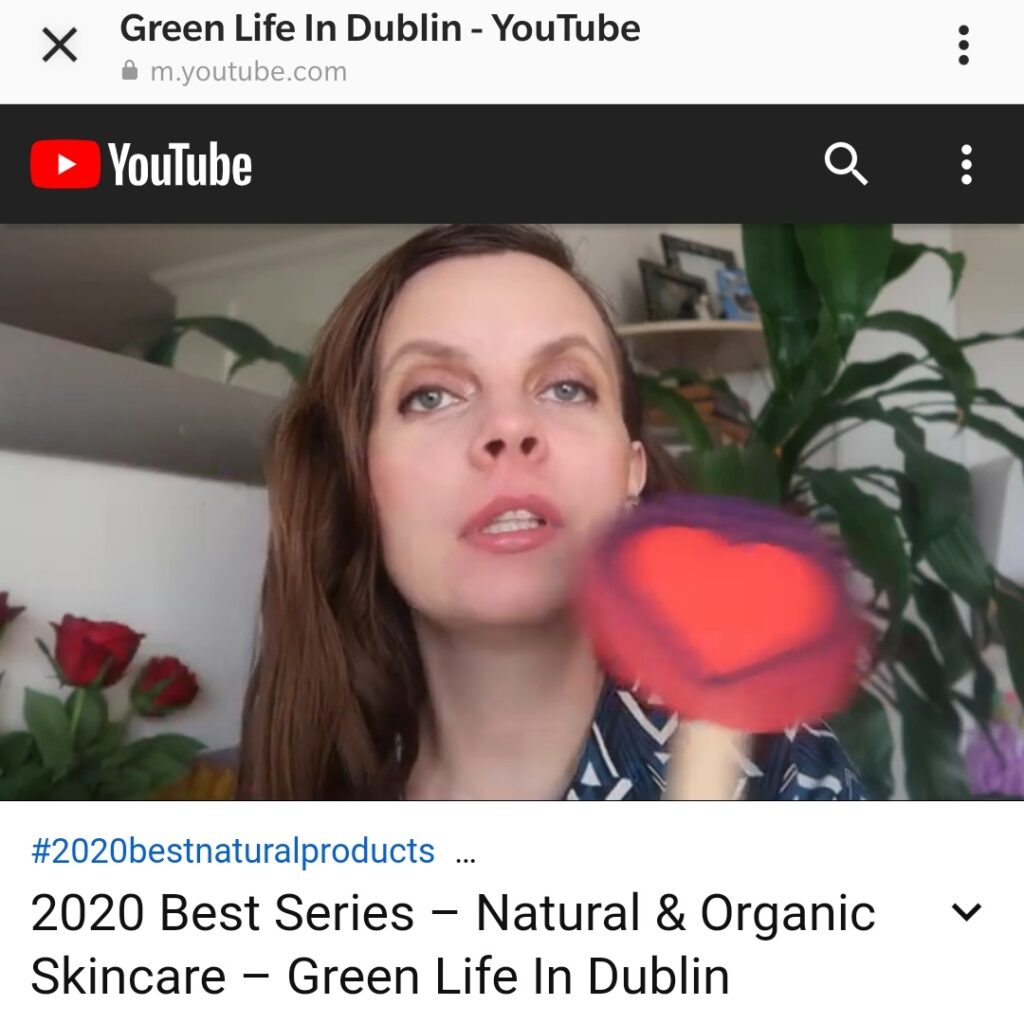 How are all of You, I hope You are well? A tad bit late, but I am here to report on my 2020 Best Skincare Products. If Green Life In Dublin Green Beauty Awards existed, these would be it! Pass the drum roll please 🙂
I also made a YouTube video on it, if You prefer videos to blogs, hop on over there. Please subscribe while You are over there too 

?
My Natural & Organic Fall Skincare Routine – Evolve Organic Beauty, Living Libations, Alteya Organics, Khadi & More
MOISTURISER
Evolve Organic Beauty Daily Renew Facial Cream
Dr Hauschka Rose Day Cream
Green Life In Dublin loves Living Libations Sea Buckthorn Best Skin Ever [AD]
FACIAL OIL
Living Libations is on another level when it comes to the true natural products and ingredients. You might balk at the price first, but soon you will be a convert, trust me. This oil is a true multitasker, you can wash with it and use as your only one product if you like – it is good for face, body or as a hair treatment. Ingredients are fantastic. Living Libations review here.
(Pai Rosehip oil is also very good, but I didn't have it the whole year)
WATER/ ALOE BASED SERUM
Living Libations Sandalwood Supreme
Evolve Organic Beauty Bio Retinol + C Skin Booster Review [AD]
OIL BASED SERUM
Evolve Organic Beauty Bio – Retinol + C Skin Booster
(HEALING) BALM
Get this, one sample pot of this was enough for me to put this into my Yearly Favourites! Amazing healing properties like no other, so so good for my #dermatitis that I consider it as my Holy Grail product ever since I discovered four or five years ago. Went through a few full sizes and I never want to be without it ever again. Pricy, but worth every penny to me. Mahalo review here.
May Lindstrom The Blue Cocoon
Holy Grail product for my dermatitis prone skin, it works like magic healing it in no time. Can't be without it. won't be without it. Expensive, yes, but worth every penny to me.
*PS – I don't have them both at the same time, only one, as not to waste a good product. I get whichever is on a good deal at the time (always watch deals like a hawk, haha!) – I find that in terms of efficiency they are both equally impressive.
My Favourite Natural & Organic Lip Balms [That Stay On The Lips]
LIP BALM
I am a bit of lip balm connoisseur – I need my lip balms to be very nourishing & stay on the lips for long time! These are the best!
Hurraw Moon Balm
DrHauschka Lip Care Stick
DrHauschka Lip Balm Pot
Flying Wild Rosemary & Honey Lip Balm
(ISUN Skincare Golden Balm is also amazing, but I did not have it all year).
ACNE TREATMENT
Pricy, yes, but once you try any of Living Libations product, you won't want to go back to whatever you had before. The quality is far superior to anything else on the market and this 15ml bottle of pure essential oils blend is guaranteed to last you over a year. Review here.
DERMATITIS TREATMENT
Mahalo Rare Indigo
May Lindstrom The Blue Cocoon
See descriptions above, both are way better than any dermatitis products I've tried to date. Both worth every penny. Watch the deals if you are on a budget like me. One jar lasts a year and doubles up as an under eye "cream", so I deem them both worth the price.
LaVigne Mayan Magic Balm
Fushi Shea Butters, particularly Shea Coco
FACE CLEANSER (GEL /CREAM/ LIQUID)
Alteya Certified Organic Rose Otto Cleansing Milk
My second favourite, a very gentle milky cleanser that does not irritate my uber sensitive skin. A rare find indeed, as 98% of them do that. Very good value for money as you get a huge 200ml bottle.
Brand overview – Evolve Organic Beauty – Green Life In Dublin
GEL CLEANSER
Evolve Organic Beauty Cleansing Melt
Check Evolve Organic Beauty  at:
EVOLVE BEAUTY UK
THE DUTCH HEALTH STORE
GLOW ORGANIC BRIGHTON
CONTENT BEAUTY
OIL CLEANSER
Another great multitasking product with amazing healing ingredients! This oil can be used as a cleanser, moisturiser for the face or the body, hair treatment and so on.
MOISTURISER WITH SPF
Kimberly Sayer Ultra Light Organic Facial Moisturiser SPF30 – 120ml
Possibly the best city face SPF product – you get a giant 120ml bottle with a sanitary pump, the product is non drying, quickly absorbing, no dreaded white cast, no breakouts – could you ask for more? I always come back to this. A firm favourite for the last five years.
Living Libations Everybody Loves the Sunshine with Zinc Beach Balm Review
BALM WITH SPF (BEACH BALM & LIP BALM)
ALL FAMILY SPF PRODUCT (INCLUDING BABIES)
Green People Organic Children Scent Free Sun Lotion SPF30
No review per se, but this is what we all use on sun holidays for well over a decade – and no sun burn in sight!
EYE MAKE UP REMOVER
Make up remover
See oil cleanser, I do not buy separate make up remover product.
TONER/ MIST
Evolve Organic Beauty Mist
Evolve Organic Beauty Glycolic Toner Mist
Alteya Organics Certified Organic Chamomile Water
Alteya Organics Certified Organic Rose Water
Alteya Organics stuff is really pure, you can tell it straight away. (review)
Evolve Organic Beauty Evolve Liquid Radiance Glycolic Toner Review [AD]
UNDER EYE CREAM
Evolve Organic Beauty 360 Eye & Lip Contour
FACE MASK
Evolve Organic Beauty Bio – Retinol Gold Face Mask
Evolve Organic Beauty Radiant Glow Mask
Khadi Sandalwood Powder Mask
Innersenses Organics Quiet Earth
FACE /NECK TOOLS
Kathleen Natural Facial Sonic Cleansing Device
Kathleen Natural Facial Ionic Treatment Device
Ermana Jade Face Roller
Ermana Rose Quartz Face Roller
Living Libations Rose Quartz Facial Roller
My favourite online shops where I got everything:
LOVE LULA
More yearly best:
2020 Best Series – Natural & Organic Hair & Body – Green Life In Dublin
2020 Best Series – Lifestyle, Health & Wellness – Green Life in Dublin
2020 Best Series – Natural & Organic Make Up – Green Life In Dublin
That's all of my Holy Grails, thank You for reading, I appreciate You taking Your time to visit my little corner of internet 🙂 Please see my make up faves, which is posted already & stay tuned for hair, make up and health & wellness + lifestyle, which is yet to come.
Sending Love & Light,
Renata.

Ps. Up until last year I would recommend lots of Bella Aura products, and while I still think the products are fantastic, I also have to say I am ghosted and probably dropped as an ambassador. I still love the products & I will try to repurchase them with my own money when I am in better financial position. At the moment the story is that my DMs and emails go unanswered for months. The only time I got a reply, it was very vague "we do not know what we will do with Ambassador program" type, yet I see it is still going strong – just without me. It stings and I have to think if I still want to continue to support the brand who would play ghosting games and not be straight with me once asked head on. I have no time for shadiness, when I was nothing but loving and supporting towards them. That's not the energy I want to bring into this year and my life going forward.