Hello Lovelies,
Welcome back! And if you are new here, welcome xoxo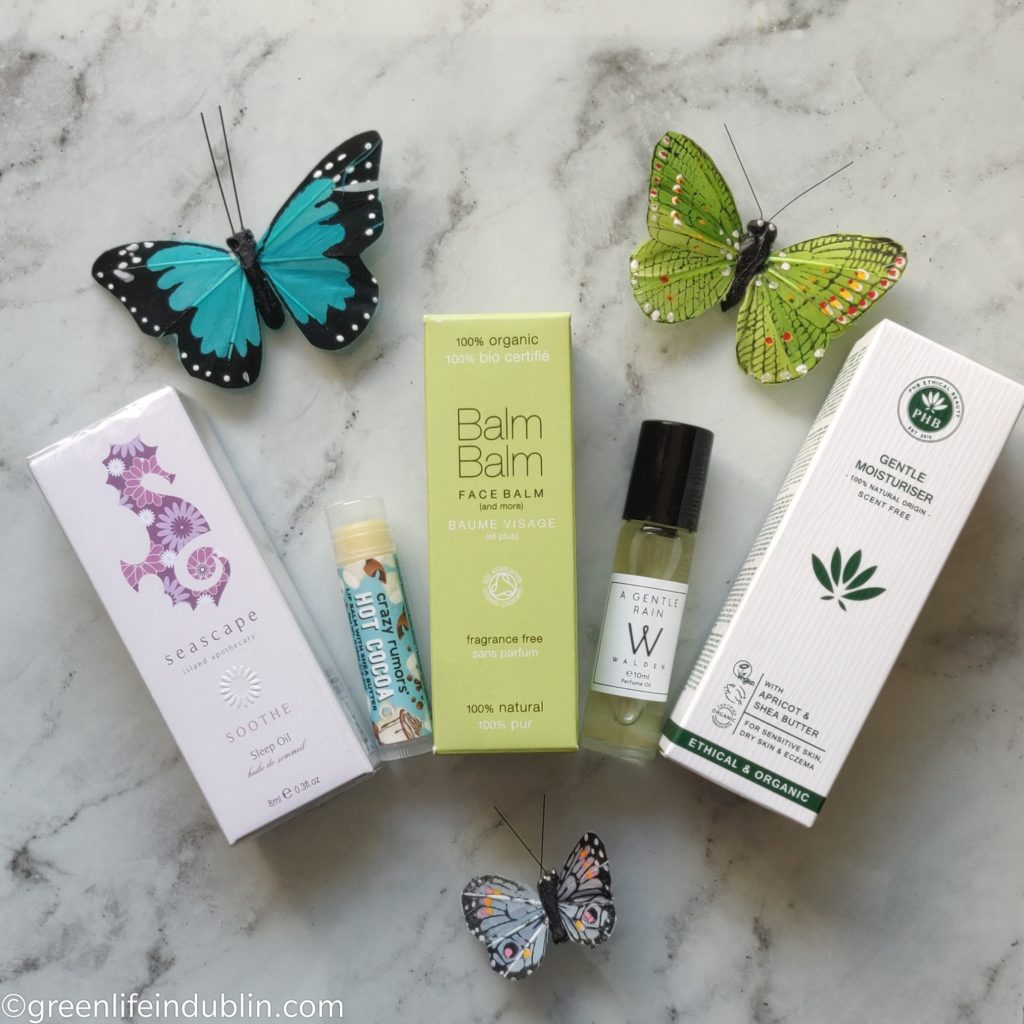 As you might know, Love Lula* is not only awesome online shop, but they do their own monthly beauty box – which feels like Christmas or Birthday present each month, mind you! I don't know about you, but I certainly am looking forward to getting it each month.
*Sadly Love Lula is no more…
I *might* be stalking postman like a hawk around the time I expect my package. What? He has my precious Love Lula goodies, it is allowed 🙂 They ship worldwide, and the price is 14.95£ monthly recurring for UK customers, and for us international gals there are two options of three months (52.50£) or a year (210£) including post and packaging. It is all well worth it in my  opinion as your money will go far and beyond with this beauty box – let me tell you the boxes are most likely be 60£ or more in value! The lowest I have seen is 49£ I think – if that isn't a great value for money, then I don't know what is. You are guaranteed to get 2-3 full sized products in every box each month, but they often go far and beyond that – February's beauty box contains 5 full size natural beauty products and it's worth £60- see, told you it is amazing value! Even if you will get samples, they are most likely be deluxe or travel size, I think I have seen sachet samples twice in over a year.
Green beauty boxes are a great way to discover new items you might have missed otherwise, and I love that anything coming from Love Lula is cruelty free and guaranteed not to have any toxic ingredients – they have very strict criteria for any product they accept, and that is taking the guesswork off your shoulders.
So let's see what's in our second 2019 box? By the way, don't forget to check out my interview with the owner and co-founder Sonia White as a part of my Natural Beauties segment here. I still can't believe Sonia said yes!
BALM BALM FACE BALM (FRAGRANCE FREE) – £9.50 for 30ml*
Balms are one of my favourite things in winters (see this post) as they really do protect your skin against harsh elements. We do have pretty mild winters here in Ireland, but still, the wind often is icy, which is not good new for my super sensitive skin. Oftentimes I get a wind burn just by doing a school run – so I am looking forward to trying this in the last few remaining weeks of winter. This is the true multitasker product – it can be used on your face, neck, lips, elbows, hands, feet, you name it. Because of the minimal and truly clean ingredients, it is safe for pregnant or nursing mamas. Or babies bottoms. You get the idea, a perfect all rounder product. I do own a few Balm Balm products and they are all lovely.
INGREDIENTS: Butyrospermum parkii (shea butter), helianthus annuus (sunflower oil), cera alba (beeswax), calendula officinalis (calendula oil), simmondsia chinensis (jojoba oil)
SEASCAPE ISLAND APOTHECARY SOOTHE SLEEP OIL – 10£ FOR 8ML*
I am familiar with this product already because it was one of the things I tested for The Beauty Shortlist Awards this year (can't wait to see the winners!). I will be honest here, because of the faint scent (I sooo wish all these roller aromatherapy thingies would have a stronger scent!) and personal dislike of lavender, I will be passing this product to one of my friends who loooves lavender. A win win situation if you ask me.
INGREDIENTS: itis Vinifera (Grape) Seed Oil, Prunus Amygdalus Dulcis (Sweet Almond) Oil, Citrus Arantium Amara (Bitter Orange) Flower Oil, Lavandula Angustifolia (Lavender) Oil, Citrus Nobilis (Mandarin Orange) Peel Oil, Limonene (a fragrance component naturally occurring in fruits and plants), Linalool (a fragrance component naturally occurring in fruits and plants), Canaga Odorata (Ylang Ylang) Flower Oil, Geraniol (a fragrance component naturally occurring in fruits and plants), Citronellol (a fragrance component naturally occurring in fruits and plants), Hydroxycitronellal (a fragrance component naturally occurring in fruits and plants), Tocopherol (a skin conditioner sourced from Vitamin E), Benzyl Benzoate (a fragrance component naturally occurring in fruits and plants), Citral (a fragrance component naturally occurring in fruits and plants), Benzyl Salicylate (a fragrance component naturally occurring in fruits and plants), Farnesol (a fragrance component naturally occurring in fruits and plants).
Crazy Rumors Hot Cocoa 100% Natural Lip Balm – 3.99£ FOR 4GR*
Now, this is definitely one thing I won't be passing on! As a lip balm addict I will probably be fending off people to keep it for myself, haha. Crazy Rumor is a brand well loved in Casa Green Life In Dublin, and for a good reason – they are all natural, come in a million of nice flavours and everyone loves them. Just see my Green Life In Dublin Princess's Jr stash here. I bet it is only a matter of time she confiscates it from me 🙂
INGREDIENTS: 100% Natural & Vegan Ingredients (the good stuff): Macadamia Ternifolia (Macadamia) Seed Oil, Olea Europaea (Organic Olive) Fruit Oil, Butyrospermum Parkii (Organic Shea) Butter, Euphorbia Cerifera (Candelilla) Wax, Glycine Soja (Non GMM Soybean) Wax, Simmondsia Chinensis (Jojoba) Seed Oil, Copernicia Cerifera (Organic Carnauba) Wax, Aroma (Natural Flavours), Tocopherol (Vit E), Eupatorium Rebaudianum Bertoni (Stevia)
PHB Ethical Beauty – NEW Gentle Moisturiser – 20£ for 30ml*
PHB Ethical Beauty recently had an overhaul, lots of new changes in all areas, from new formulations to new packaging, and this is one of the brand new products I believe. Despite swearing to myself to not try any new skincare for at least six months post judging for The Beauty Shortlist Awards 2019, the curiosity got the better of me and I tested this product already. What can I say, the blogger in me always wins 🙂 It really is gentle moisturiser, love the fact that it is essential oil free too, sometimes all these actives and essential oils in all the products really do get too much. Happy to report no initial reactions, but after trying the product only once, I obviously can't give my final opinion on it just yet. Time will tell. I am keen to try more products from the brand down the line too – like PHB Ethical Beauty  NEW Skin Perfector Bio-Gel, PHB Ethical Beauty  NEW Conditioner & Detangler, and PHB make up, of course 🙂 Just check my Pinterest wishlist here.
INGREDIENTS: Aqua, Aloe barbadensis** (Organic Aloe) leaf extract, Helianthus annuus** (Organic sunflower), Butyrospermum parkii** (Organic Shea Butter), Cetearyl alcohol, Stearic acid, Cetyl alcohol, Veg Glycerin**, Prunus Armeniaca** (Organic Apricot) Kernel Oil, Phenethyl alcohol, Caprylyl glycol, Glyceryl stearate, Coco glucoside, Tocopherol, Phytic acid, Benzyl alcohol, Sodium Bicarbonate. **Certified Organic Ingredients
Walden 'A Gentle Rain' Natural Perfume Oil – 17£ for 10ml*
I saved the best for the last. I did a happy dance once I heard Walden released a new fragrance! You see, WALDEN happen to be one of my top favourite natural perfumes, especially A Different Drummer, which I still adore a couple years on and use on a weekly if not daily basis. See my review here. Needless to say when you hear that your favourite brand released new product, you want to try it. And you jump for joy when you learn it is coming your way in the beauty box! Now, you get my reason for stalking the postie?
A Gentle Rain is a luxurious fragrance that grows with a blend of oak moss, labdanum and patchouli. The heat that follows is composed of bergamot, smooth orris, sandalwood and timeless rose de mai. With base notes of vetiver, lavender green and clary sage.
Here are my first impressions of the fragrance – it is definitely more masculine of the scent, but I didn't like it as much as A Different Drummer, which is just dreamy.  But that's ok, as I can always use that for layering – I will let you in on a little secret, I love mixing my perfumes and smelling like no one else does! If you want to see a post on my perfume collection, please let me know and I will be happy to do it.
INGREDIENTS: Caprylic/capric triglyceride, Citrus aurantium bergamia fruit oil, Santalum album oil, Pogostemon cablin leaf oil, Myrocarpus frondosus wood oil, Salvia sclarea oil, Vetiveria zizanoides root oil, Lavandula angustifolia oil, Evernia prunastri extract, Cistus ladaniferus oil, Iris pallida root oil, Viola odorata oil, Rosa centifolia flower extract, Hibiscus abelmoschus seed oil, *d-Limonene, *Linalol, *Oakmoss extract, *Farnesol, *Citral, *Benzyl Alcohol, *Geraniol, *Citronellol, *Benzyl Benzoate, *Eugenol. *Naturally occurring in essential oils.
So, all in all I am happy with this month's box – this provided us with three full size products, so you are more than tripling your money here – this box is worth whopping 60£! Even if I can't use one of the products myself, I'll take that. One of my girlfriends surely will be up for it. Let's not forget there is always 25% off coupon for the brands featured that month, so that gives you substantial additional savings too.
I think this is a great way to switch your products to clean products without spending a fortune if you are only starting out your green beauty journey. Even if you are advanced in it, it is always fun to discover something new, isn't it?  I know I still love getting new products, nearly ten years in into my green beauty journey I still get excited getting boxes in the mail. What about you?
Psst, I will tell you one secret – after a couple of weeks of releasing their Beauty Boxes, Love Lula is giving them away for free with any orders above £60, so keep your eyes peeled! Also know that you can buy their previous month's boxes at a very reasonable prices – you will see them under "Special Offers" tab on the website. In addition, Love Lula has a great up to 15% sale happening right now. Be sure to take advantage of it all maybe? Here are are my recommended products to get you started?
So that is all for now, see you here shortly! Please make my day and subscribe and share this or any of my blog posts on social media. Thank You! It really helps to get the green beauty word out.
Follow me on
Ta ta & Lots of Love,
Renata.

Enjoy my content? A  tip into my PayPal Tip Jar -  will get You my eternal gratitude and more awesome green beauty reviews Your way! I weed out all the greenwashing products so You won't have to.