Hi Lovelies,
Welcome back! And welcome if you are new here ???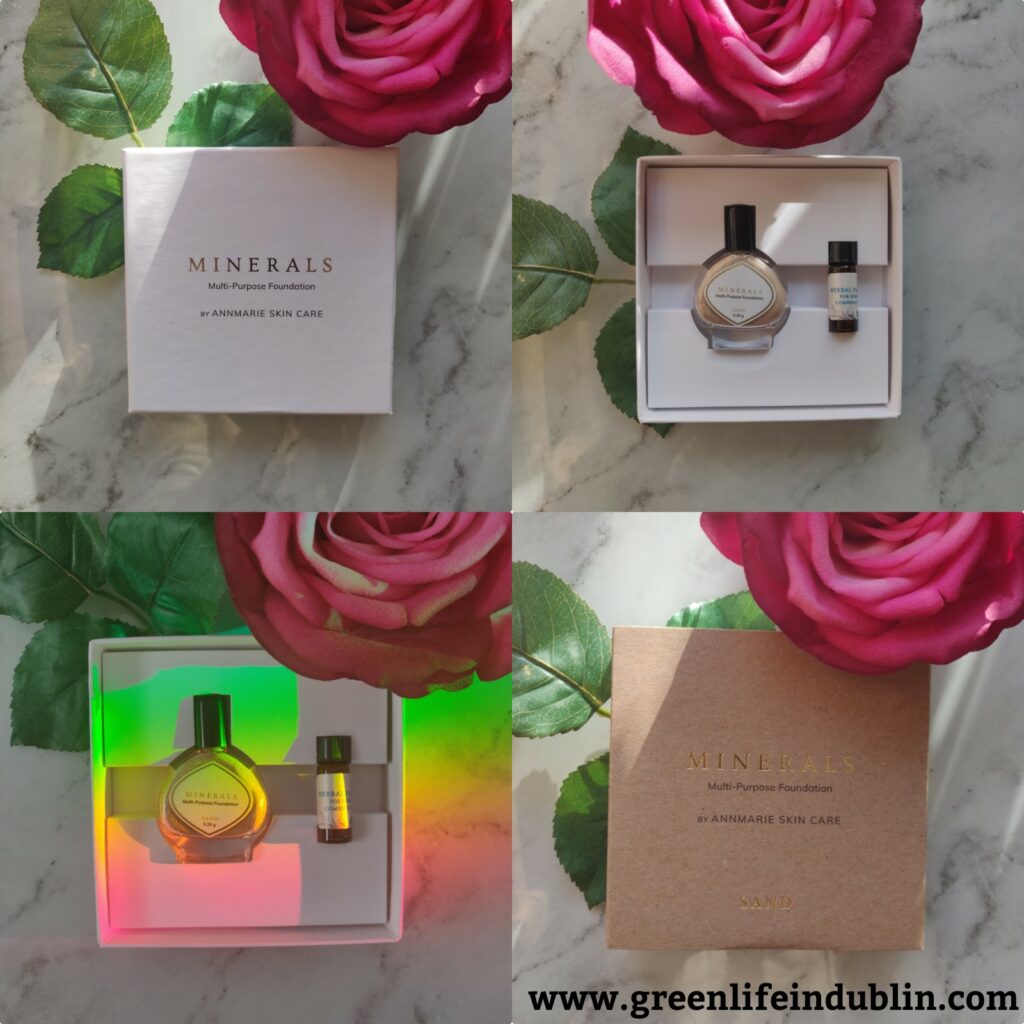 I hope You are well? Today  I am coming at You with a review of AnnMarie Gianni (or AnnMarie Skincare) mineral make up review. If you are after truly clean natural make up & full coverage with only one layer, this is for you! 
AnnMarie Gianni brand and products are one of those rare breed ones, where all the ingredients are beyond organic, beyond fair trade – and it shows! I follow the founder AnnMarie Gianni and her husband Kevin for about the decade, ever since their raw food video days (all documented on Youtube), so the brand was born practically before our eyes. After not being able to find natural enough products for a really long time, Kevin & AnnMarie were very impressed by Bunnie Gullick's products (the founder of ISUN Skincare, which I adore & have many reviews on their products). With Bunnies help they launched the products and the rest is history – they are going from strength to strength. I don't know why, but the fact that Bunnie helped formulate the products, makes me so happy! If you are familiar with any of ISUN Skincare products, you know that they feel on another level, not only physically, but energetically too – and I am sure you will get the same vibes from AnnMarie Gianni brand. They  carefully select organic and wildcrafted ingredients — including herbs and plant extracts — to meet the highest standards of quality and effectiveness for your skin and body. They carefully audit the sources to ensure that they continue to meet AnnMarie Gianni standards of purity and sustainability. Then they then infuse selected herbs into aloe vera and into skin nutritive oils for up to 30 days at low heat (never over 95°). These infusions are used as a potent base for all  products. Then they add additional, selected natural plant extracts, high antioxidant plant and seed oils, skin supporting nutrients and aromatherapy to make the most active and effective natural products available. Additionally, they package these products with intention using Miron glass and sustainable materials. If that does not make your heart sing, I do not know what will?
Let's look at the mineral foundation today, shall we?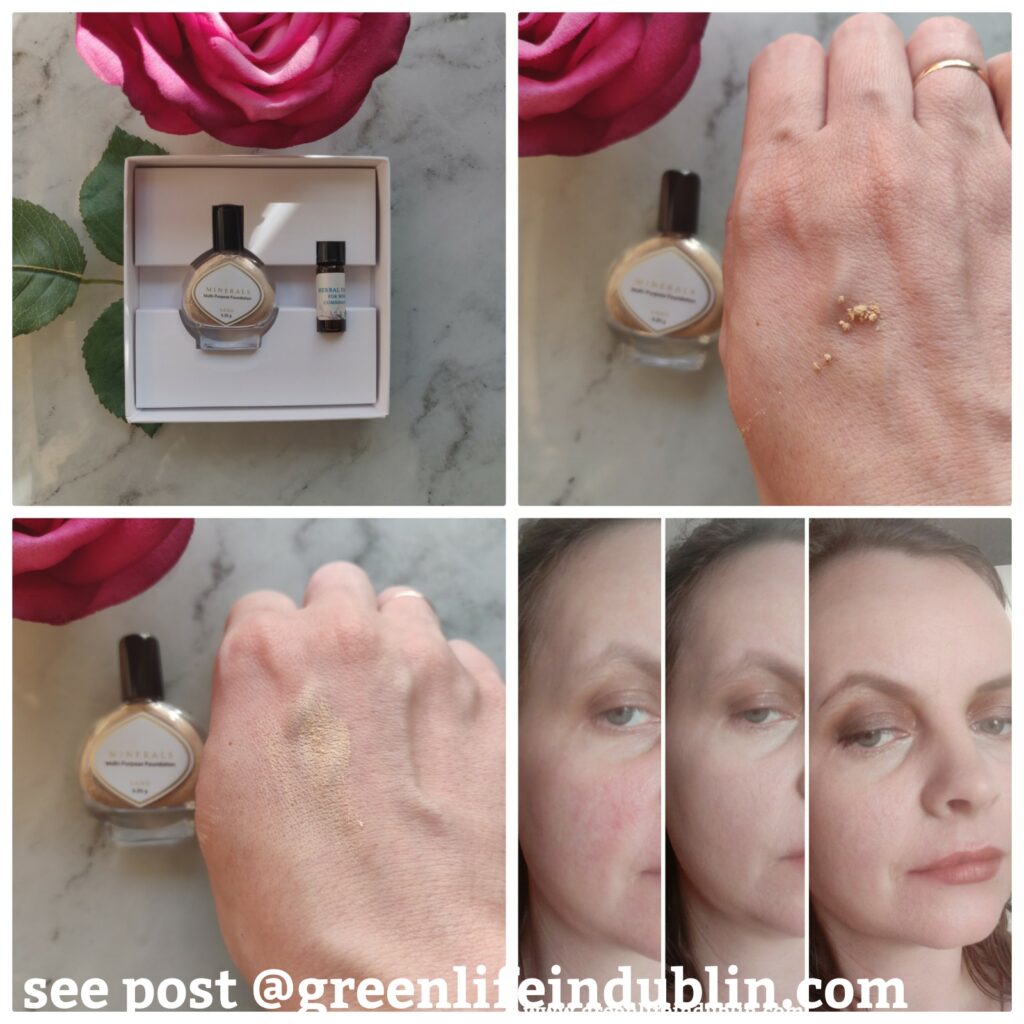 This is something special! Truly natural mineral formula (only four ingredients people! No bismuth oxycloride in sight), full coverage after only one layer – you can't go wrong here I think. As you can see in my picture, I have quite a lot of redness in my skin. This covers everything beautifully without any hitch – the second and third picture are showing skin with only one layer. I am very happy with the coverage and the product! Seriously impressive if you ask me – one layer of this equals to about seven layers of other popular brands. I would go as far as to say that this is more pigmented than some of the (powder) concealers out there. The quirky packaging is quite unusual, but I like it, because it is glass bottle. Oh, wait, maybe I should add it to my Plastic Free Natural Make Up post? I think I have to 🙂
If you are new to the minerals, you should know that there's a bit of a learning curve to this or any other mineral foundation – you should put it on the skin that is very well prepped. By prepped I don't mean primer, it can be skin prepped with your favourite skincare. Don't skip this step because it is key to your foundation looking great and not chalky. But here's a beauty of it – you can customize it to your liking. Using facial cream? Add a bit to make it into DIY tinted moisturizer, or more for fuller coverage? Using facial oil? That works too, mix it in! Have a primer? Go ahead, layer it in, mix it in, your make up, your rules! As this is not a new product to me, I wrote a first impressions review on a sampler pack back in 2017 (see it here), I am happy to report that I have tried it multiple different ways and it has not let me down. Oh, I forgot to mention that You can get a sampler pack to see what shade you are – it comes in 8 shades, together with a facial oil in a very cute and sturdy cardboard box. Do not throw away the other shades, they can be used to adjust other mineral foundations that are quite not right for you. Oh,  I am in the shade SAND, so please keep that in mind if you are anywhere near my skin tone. There are 8 shades in total, but I would say they are pretty inclusive, the last shade on the colour spectrum is pretty dark in my opinion. There are two sizes for sale, 5.25gr for 30$ and 10.5gr for 50$. Whatever size you will end up getting, bear in mind that it will last you absolutely ages – I can see it lasting for years, because you need so little.
Swipe to see foundation swatches on this IG post. Check out this post for more green beauty swatches.
Related - see my nearly 70 natural and organic make up posts here
My final thoughts – I do not know how many times I used the word "love" in this post, but that pretty much sums it up! This is not the end of AnnMarie Gianni you hear from me, I will be reviewing lots of more of their products in the near future.
check it out at:
& now some good news – there's 20% off at AnnMarie site until 30 April with code EXCLUSIVE20 on full sized products.
Now, Your turn! Have You tried anything from AnnMarie Skincare? What are Your favourites? Please share, I would love to know 🙂
That's all for today, see You here next Tuesday.
Sending Love & Light,
Renata.